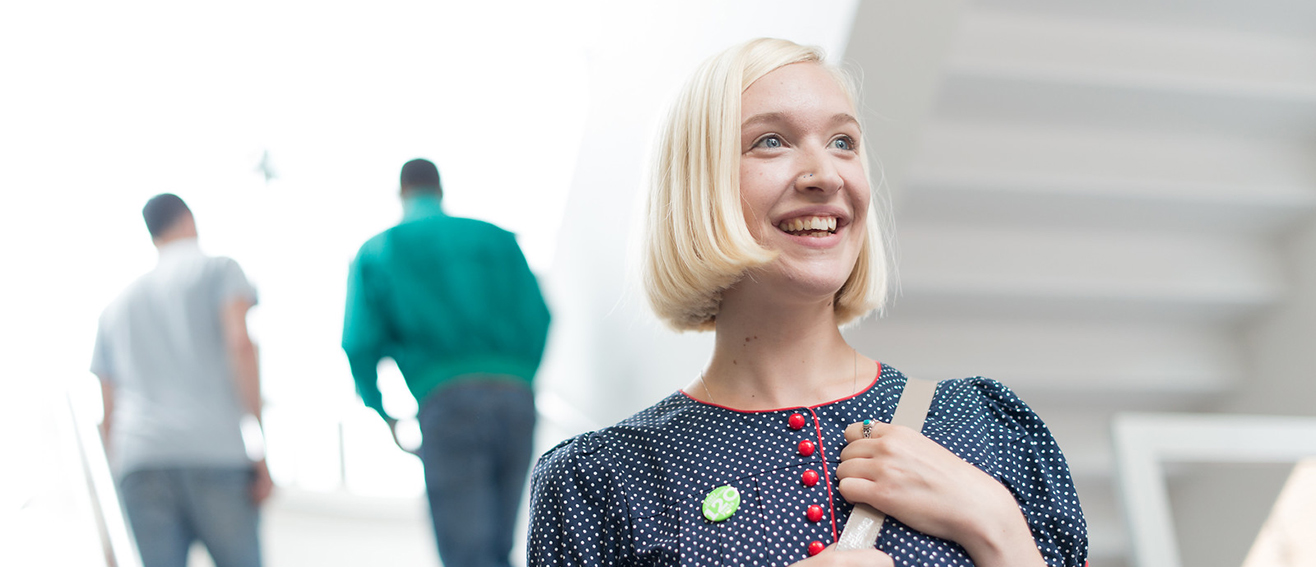 Student Enterprise
Student Enterprise inspires students and graduates to grow their skills, take opportunities and shape their futures
Enterprise isn't just about starting a business. It's about developing skills, thinking and actions to stand out from the crowd, now and in the future. We offer free activities, events and programmes to support students and graduates into employment, self-employment or to start their own business.
Subscribe to our email updates to keep up-to-date with our latest news, programmes and events.
All our activities are currently being delivered online, making it even easier for you to connect, learn and grow, from wherever you are in the world.
Develop your knowledge and confidence
Successful entrepreneurs share their experiences and top tips at our free talks and workshops. Students and graduates get the chance to find out what it's like to be an entrepreneur, develop employability skills, network and enhance their CVs. Our sessions also help to build skills that are vital to any graduate's career or setting up a business.
Check out upcoming events on the Student Enterprise events page.
Get a Certificate in Enterprise
LSBU students and alumni that attend six of our events can receive a Certificate in Enterprise. It's a great way for students to demonstrate to employers that they have expanded their skills, knowledge and network, whilst studying. Contact us once you have attended six sessions.
Certificates are accredited by the Higher Education Achievement Report Award (HEAR) for LSBU undergraduate students only.
Start-up and accelerator programmes
Do you want to try out a business idea or develop an existing business? Our start-up and business accelerator schemes provide students and alumni with free access to workshops, networks of entrepreneurs, mentors and specialist legal and intellectual property advice.
One-to-one appointments are also available if you would like to discuss your idea in more detail with a member of the Student Enterprise team. To get started, please complete our short pre-1-2-1 appointment form and we will be in touch to arrange an appointment with you.
IdeaHub
Open exclusively to LSBU students and alumni (graduated in the last five years), IdeaHub begins with a 2-week hackathon called IdeaHack.
If you successfully launch your idea and can prove it works, you'll become part of IdeaHub; an exclusive community of entrepreneurs with access to further funding and legal support to keep growing your idea.
Competitions
Competitions provide a great way for students and graduates to work in teams to develop their skills, practice pitching their ideas or gain access to funding for their business.
We run a series of competitions and hackathons in partnership with different external organisations throughout the year, including: The Mayor's Entrepreneur Competition, CreativeHack and Engineers in Business.
Internships and consultancy
We also offer students and graduates opportunities to intern or work on consulting projects with local SMEs (small and medium enterprises) and start-ups. Internships with small companies allow you to see what it really takes to run a business and make an impact in a small team. Consultancy projects apply students' academic knowledge in real-world scenarios and help solve real issues facing businesses.
Intellectual property support and workshops
Whether it's an idea, a design or a product, Intellectual Property (IP) is a valuable asset that can be licensed or sold to generate income. We offer one-to-one guidance, support and a series of workshops to help students get to grips with what IP is and how it can work for them.
International graduate support
LSBU is a Start-up Visa endorsing body, meaning we can issue endorsement to LSBU international graduates who have completed their degree programme within the last two years.
To secure endorsement from LSBU, you have to demonstrate that you meet LSBU's criteria for endorsement. The criteria are:
An original idea for a business that meets new or existing market needs with potential to add value to the UK economy. Rather than a routine business that will compete with other traders.
Demonstration of credibility and viability of the idea.
Evidence of the potential for the business to scale,
The entrepreneurial skills and commitment to develop that business.
A strong reason for the business to be based in the UK.
Financial resources to develop the idea.
The commitment to spending the majority of your working time on developing the idea and the business (at least 3 days per week).
Application deadlines for 2020-21 academic year
For more information about the Start-up Visa application process, please email international.advice@lsbu.ac.uk.
For more information on any of our services, please contact:
Student Enterprise Team
Tel: 020 7815 6912
Email: studententerprise@lsbu.ac.uk