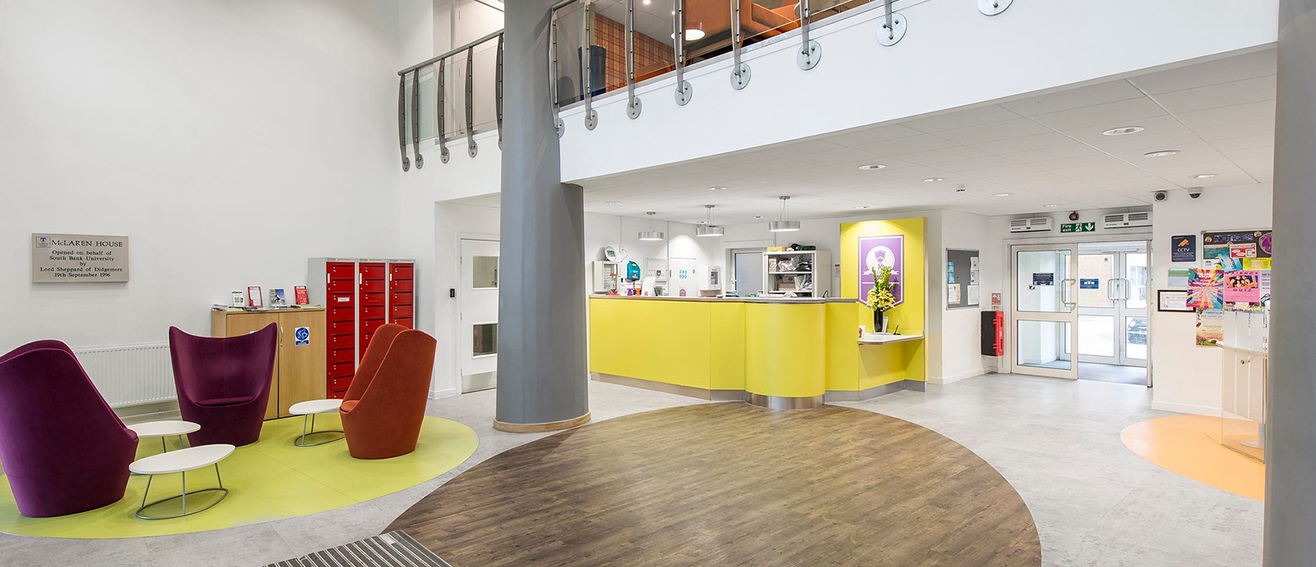 Accommodation
Our student residences provide an affordable, convenient home in the centre of London
Register your Interest
Our residences aren't currently open for applications, but you can register your interest above to make you're the first to hear any news.
LSBU has four halls of residence right in the heart of central London, giving students a perfectly-located yet safe and comfortable base. All of our halls are within a 10-minute walk of our Southwark campus.
Our residences have great public transport connections, whether you're travelling by bus, train or London Underground, and are a close to many of London's key attractions and amenities.
We have over 1,400 single occupancy bedrooms spread across the four self-catered halls. Our residences feature:
A choice of en-suite or standard room
Rooms with single or queen beds (queen rooms are limited)
Shared kitchen facilities
Wi-Fi internet and access to the University network
Communal common areas
On-site laundry facilities
on-site management teams, wellbeing support and on-call staff for emergencies
All rooms are non-smoking and have access to a kitchen. Flats accommodate between two and nine residents, depending on the building.
Alongside our standard single bed offering, we also offer a limited number of Queen and Premium bedrooms. Queen bedrooms are larger rooms with a queen-sized bed and our premium rooms have been furnished to a high standard and are available with standard or queen-size beds.
If you're studying at our Havering campus, we'll help you find safe and affordable private accommodation.
First year accommodation
LSBU aims to prioritise accommodation allocation to all first year full time students for September entry, with an unconditional offer who have firmly accepted through the UCAS application process by the agreed deadline date of 17:00 hours on 10 June 2020.
LSBU do not allocate on 'first come first served' but allocates on the priority order identified in section 3 of the LSBU Accommodation Allocation Policy (PDF File 158 KB).
Accommodation Service
Our Accommodation Service:
processes applications to live in LSBU's halls of residence, and allocates and offers places.
provides an information and advice service about alternative accommodation options.
They cannot offer any legal advice but is your first point of call for basic information and assistance.
Additional services
Students with disabilities

The University has a number of bedrooms adapted for students with disabilities. If you need adaptations or adjustments made to your accommodation, contact the Accommodation team.

Students with a disability can also contact the Disability and Dyslexia Support team for advice on 020 7815 6454 or email disability@lsbu.ac.uk.

Private accommodation

If you'd prefer to rent privately, the Accommodation Service has information and guides to help.

Couples/families/single parents

The University does not have suitable accommodation on campus for couples or single parents. However, the Accommodation Service can provide private accommodation lists.
Croydon
Our city based Croydon campus does not currently offer accommodation. Our Accommodation Service are on hand to provide information and advice about options in the local area. Please contact accommodation@lsbu.ac.uk if you have any questions.
LSBU Croydon is a short walk from both East Croydon and West Croydon station, with regular trains from Central London and the South of England. Our new campus is also accessible via local buses and the tram network.
Contact us
If you need any information regarding your hall or Residence please email or call:
McLaren House
Email: mclaren@lsbu.ac.uk Mob:07583239804
Dante Road
Email: dante@lsbu.ac.uk Mob:07909534063
Bomberg House
Email: bomberg@lsbu.ac.uk Tel: 02074039129
Having trouble paying your accommodation fees? Go to Pay Online or email accommodation@lsbu.ac.uk for alternative options.
Further information