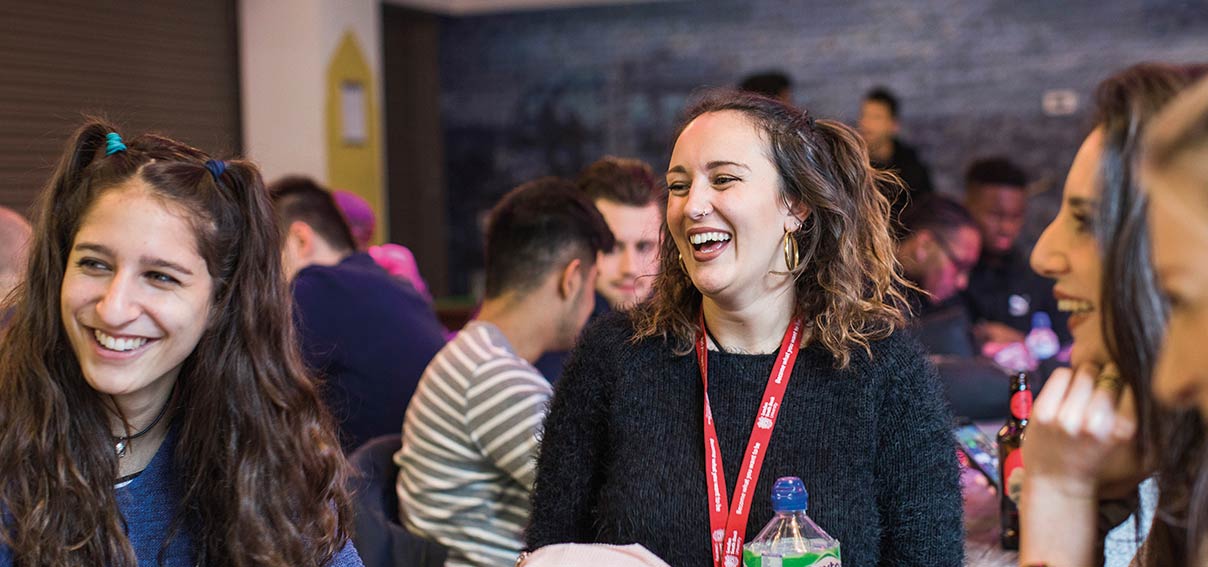 Accessibility
This page is only relevant to pages that use our web templates and display a link to this page.
In accordance with the Equality Act 2010, LSBU is actively working towards improving accessibility and usability standards for its websites. The University improves accessibility through implementing valid, semantic and well-formed HTML and CSS code for its corporate templates.
Web Content Accessibility Guidelines (WCAG) 2.1 AA extends the World Wide Web Consortium (W3C) recommendation made on 11 December 2008. The purpose of the guidelines is to make web content more accessible. London South Bank University (LSBU) supports and encourages widening participation and social inclusion, and web pages and services which use this web template comply with a wide range of guidelines in WCAG 2.1 AA. . We aim to make our web content accessible to people with a wide range of disabilities and are working towards further compliance with WCAG 2.1 AA for all documents that are available on our website. By improving access to people with disabilities we also aim to improve the usability of our website for users in general.
Our latest web templates include the following features to improve accessibility and usability:
Text is sized relatively to allow text scaling for visually impaired users.
Logical HTML headers allow screen reader users to skip between page content easily by moving between headings.
Links are written to define their target, so will make sense when read out of context.
All meaningful images have been assigned alternative text; if for some reason you cannot see the images you will still be provided information on what the image is showing.
'Breadcrumb navigation' is used to provide location information within the website's information architecture and can be used an as additional navigation tool.
CSS is used to style page content - separating presentation from content - enabling users to access content using their own CSS.
Older browsers that do not implement CSS correctly will still display content and function correctly.
JavaScript is implemented unobtrusively so that if users disable JavaScript in their browser, pages degrade gracefully and continue to display key content.
Videos
To ensure our videos can be enjoyed by as many people as possible, we are working towards providing captioning for videos which appear on pages using the web template.
To turn captioning on and off, and to translate captions into a language of your choice, use the captions button in the tools menu which you can access from the button on the far right of the video player menu bar.
Videos published on LSBU's YouTube channel also include captions which can be turned on and off. Where they currently do not have captions, we are striving to ensure they reach compliance.
DisabledGo access guide
For further information about access to buildings and facilities, visit our accessibility guide created in partnership with DisabledGo.
Recite Me web accessibility toolbar
Recite Me is an innovative web accessibility toolbar that helps make our website accessible and inclusive for as many people as possible. It provides support for people who have a disability, including those with common conditions such as sight loss and dyslexia, to access our website in the way that suits them best. Recite Me is compatible across desktop, laptop and mobile devices.
How do I access the Recite Me toolbar?
You can open the accessibility toolbar by clicking on "Accessibility Tools" link located at the bottom of every page in our website.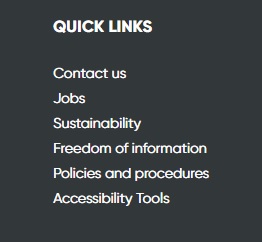 After you click on the link, the Recite Me toolbar opens and displays a range of different options for customising how the website looks and how you can access the content.

How does Recite Me help me access this website?
The Recite Me toolbar has a unique range of functions. You can use it to:
Have the text and PDFs read aloud
Download the text as an MP3 file to play it where and when it suits you
Change font sizes and colours
Magnify sections of the page with the magnifying glass tool
Customise the background colour
Make the text more readable with a ruler or screen mask
Remove images and view the pages in plain text mode
Access a fully integrated dictionary and thesaurus
Save your preferences
Disclaimer
It is possible that some of our older pages on some of our microsites may not conform to recent standards and guidelines. The Web Team is working with web administrators across the University to ensure that old web pages are rebuilt using the new template and future web pages adopt the corporate template. Where this is not appropriate, for example when websites are developed in partnership with external organisations, the Web Team is providing support and advice concerning accessibility.
We have done our very best to ensure that our pages work well for any user and on a wide range of devices, including browsers on mobile phones. However it is impossible to predict and therefore test for every possible problem. If you experience accessibility problems while viewing our websites, please contact the Web Team and we will do our very best to resolve the problem for you or provide you with additional methods to obtain the information you require.
Write to:
The Web Team
Room GD15
London South Bank Technopark
90 London Road
London SE1 6LN
Tel: 020 7815 6037
Email: accessibility@lsbu.ac.uk
Moodle Virtual Learning Environment (VLE) (vle.lsbu.ac.uk accessibility statement)
Using the Virtual Learning Environment (VLE)
This site is run by London South Bank University (LSBU). We want as many people as possible to be able to use this site. For example, that means you should be able to:
zoom in up to 200% without the text spilling off the screen
navigate the site using just a keyboard
listen to this site using a screen reader (including the most recent versions of JAWS, NVDA and VoiceOver)
We have also made the site text as simple as possible to understand.
AbilityNet has advice on making your device easier to use if you have a disability.
How accessible is Moodle
We are aware that some parts of this website are not fully accessible and we are working towards improving the overall accessibility of the site. Current known issues include:
you cannot change the colours, font or text size of this site
you cannot modify the line height or spacing of text
On some screens there is insufficient contrast between background and foreground colours
most older PDF documents are not fully accessible to screen reader software
live video streams do not have captions
we have not tested navigation of this site using speech recognition
What to do if you cannot access parts of the VLE
The Disability & Dyslexia Support (DDS) team are available on campus and provide a dedicated service for students who have a disability, mental health condition, medical condition or specific learning difficulties (including dyslexia). DDS provide advice on available support and will help coordinate your support to ensure that there are no barriers to your learning, enabling you to get the most out of your time at LSBU. You can contact them by emailing disability@lsbu.ac.uk.
If you need information on this website in a different format like accessible PDF, large print, easy read, audio recording or braille, or have a general question about accessibility email crit@lsbu.ac.uk. We will review your request and get back to you.
Third party content
Our VLE may include access to third party content and functionality or links to other websites. This may direct you to a related service, a partner we work with, or supporting documentation. We are not responsible for the accessibility of third party content.
If you do encounter problems accessing third party content, please contact us at crit@lsbu.ac.uk.
Reporting accessibility problems with the VLE
We are continuing to improve the accessibility of the VLE for all users. If you find problems that are not listed on this page or think we are not meeting the requirements of the accessibility regulations, contact: crit@lsbu.ac.uk.
Enforcement procedure
The Equality and Human Rights Commission (EHRC) is responsible for enforcing the accessibility regulations. If you are unhappy with how we respond to your complaint, contact the Equality Advisory and Support Service (EASS).
Contact us
The Centre for Research Informed Teaching is based in building K2, on the Southwark Campus of LSBU. You can contact us by email: crit@lsbu.ac.uk.
Technical information about the VLE accessibility
LSBU is committed to making its VLE accessible, in accordance with the Public Sector Bodies (Websites and Mobile Applications) (No. 2) Accessibility Regulations 2018. This VLE is partially compliant with the Web Content Accessibility Guidelines version 2.0 standard. Moodle.org maintains a list of accessibility issues. This is the main list of accessibility issues. We are reviewing many of these issues and the University is planning to upgrade its Moodle version and theme to continue to make improvements.
Structure of VLE
The main structure of the VLE, including login and main page, is maintained by the LSBU ICT team.
Course and Module content including uploaded learning materials, are the responsibility of the teaching team.
Use of Images, Video and Audio
If you encounter issues with video and / or audio on the VLE please contact the course / module team in the first instance for assistance. Known uses include:
Some images do not have alternative text.
There is limited use of live video on the VLE site, in most situations the video resources are pre-recorded and uploaded for use in the VLE.
Some courses / modules embed YouTube videos as part of the content.
Some videos on the VLE are not captioned because they have been captured from a live lecture or other event and made available.
If you have specific issues with the videos provided on the VLE contact crit@lsbu.ac.uk.
We are not currently aware of any other specific issues with the tools and interactions on this site. If you become aware of any issues or have any concerns, please contact crit@lsbu.ac.uk.
This statement was prepared on 21st August 2019. It was last updated on 25th November 2019.