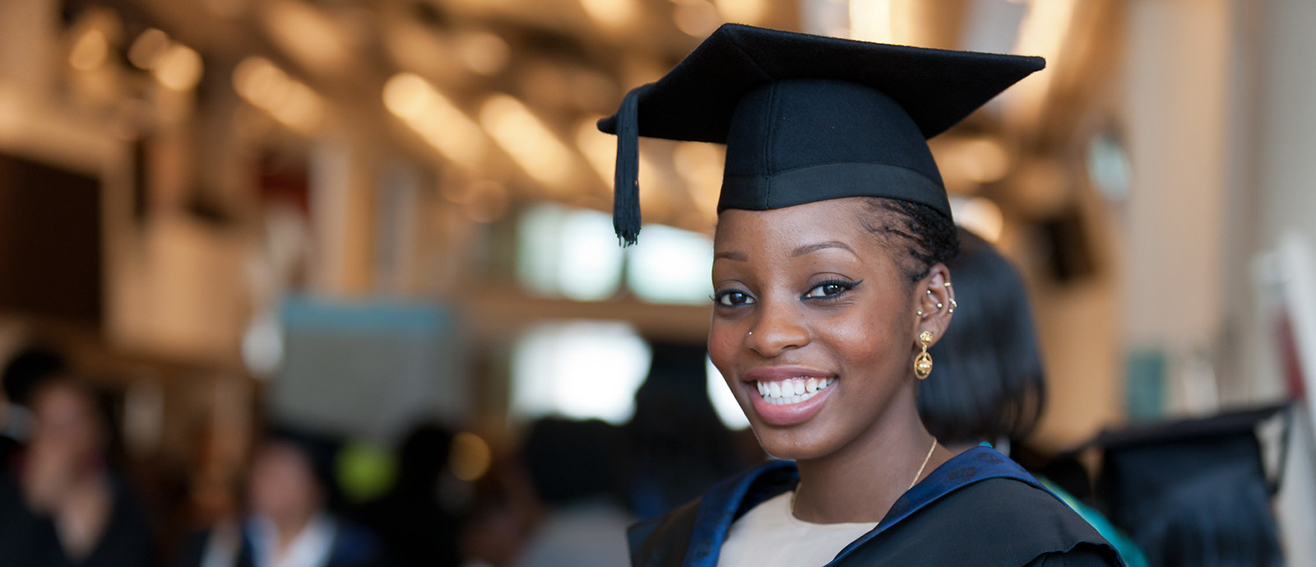 Graduation
Annual graduation ceremonies are the highlight of the University calendar
As a consequence of public health actions to minimise the spread of the COVID-19 virus, we have taken the very painful decision to cancel our autumn 2020 Graduation ceremonies.
We know that graduation ceremonies are the highlight of the academic year – and more importantly, they are the culmination of your hard work and an opportunity for you to celebrate your achievements with your friends and family.
We do hope to hold a ceremony for the Class of 2020 and we are working with our venue on what the options could be for holding your ceremony in 2021. With the guidelines currently not allowing large events and use of exhibition and conferencing spaces, we would rather wait until we have something more definitive than give a date and have to disappoint you if it has to be changed again.
We're really sorry that Graduation 2020 is cancelled and we do apologise for the inconvenience this will cause. We will keep you updated as new plans are formed and please be assured that we are working hard to find a new way to celebrate with you.
After careful consideration, we believe this to be the best decision for our students and their guests. The health and safety of our students and their friends and family is of the utmost importance to us.

Provost Professor Pat Bailey
Celebrating your achievements
We are truly disappointed that we can't give you the ending you expected and rightly deserve. However, that does not take away from your important accomplishment, hard work, and all of the amazing memories and people you met at LSBU. We are working hard with our venue supplier and taking their advice on when they will be able to hold large events.
Your award, certificate and transcript
Please don't worry, if you are eligible to graduate this autumn you will have your award conferred as expected. You will have access to your certificates and transcripts, which will be posted out as usual by the exams and conferments team who have been allowed back on campus for that purpose. Members of Student Administration will also be on-site soon to dispatch the transcripts. The fact that we are not holding graduation ceremonies will not affect this in any way.
Confirm your details and stay in touch
In order for you to receive any updates regarding graduation we need the most up to date contact information, we need all students who would have been graduating this year to:
Confirm the details that will be on your degree certificate, and make sure we have the right address;
Register and join LSBU alumni to tell us how you would like to receive communications from the University after you leave.
Register with alumni today and get your free and exclusive Class of 2020 lapel pin - register here
How we'll support your next steps
Employability support
Trained advisors can speak to you about your job search and offer direct support to help you into the world of work after you graduate, providing a tailored package of skills advancement, 1-2-1 support, industry delivered webinars, careers coaching, CV reviews plus access to placements, internships and jobs.
Go to the Careers Hub and click on the appointments tab to book your appointment. You can also email careershub@lsbu.ac.uk or call 020 7815 6441.
Postgraduate study discount of 20%
As an LSBU graduate starting a postgraduate course in 2020/21 you'll qualify for a 20% discount. Click here to find out about fees and funding options.
Future careers
We listen to what industries and employers want and use this as the basis for all our courses. Our graduates have gone on to find success in all kinds of industries. Read our alumni stories to get a better sense of the varied career paths open to you as a graduate of LSBU.
Will the October and November 2020 graduation ceremonies still go ahead?
No, this years ceremonies have been cancelled until further notice.
Why are there no revised graduation ceremony dates?
We are working with the ceremony venue (The Royal Festival Hall) to arrange new dates, but until we have clarity on when we can host large gatherings we cannot commit to new dates just yet.
How will I be notified when the new ceremony dates are confirmed?
Please bookmark this webpage where we will post updates and keep an eye on your email.
Why are you taking this decision now?
We wanted to give you and your family/supporters clarity as early as possible and before confirmation of exam results.
Am I still a graduate if I do not attend the graduation?
Yes, not attending the graduation ceremony does not affect the credentials of your qualification. You are still a Class of 2020 Graduate.
How and when do I receive my degree certificate?
What will happen if I have summer resits?
As you have not yet achieved your intended award, you have of course not missed out on your opportunity to graduate. If you are permitted to re-take any of your exams or are in the process of an appeal, you will be re-invited to the next set of ceremonies once you have successfully completed your course. You will resit as normal and it won't hold up your certificate.
Will postponing graduation mean I will have to pay for my ticket?
Graduation is free to all graduates to attend and the cancellation will not affect this.
Will I still be able to bring guests and buy guests tickets?
Yes, booking and paying for guest tickets happens on the Southbank Centre website, we will notify you when this is also open.
I may not be able to attend the ceremony on the next proposed date so can I attend a future ceremony?
Yes, you will be able to attend and graduate with the Class of 2021, with those ceremonies taking place in the autumn.
When should I plan to make travel arrangements for the new ceremonies?
This will be confirmed. Please do not make travel or accommodation plans until we have notified you of the new dates.
Will social distancing still be enforced for these new ceremony dates and will this then affect how many guests I can bring?
Social distancing requirements at the venue are yet to be confirmed. We are yet to confirm if the amount of guests you can bring will be affected.
If I have to move back abroad before the new ceremony dates is there an online option to attend graduation?
Unfortunately, we will not be hosting a digital graduation experience, but the ceremony will be live streamed, and we can send you the link to watch the ceremony.
Can I buy graduation merchandise that says Class of 2020?
Yes, we are working on a new online merchandise store and will notify you when this is live.

Please note that the merchandise available will not have a list of names of all the graduates attending graduation but you will have the opportunity to personalise merchandise with your own name. However, if you were to attend future ceremony dates then your name alongside all graduates from your school will appear on the back of the t-shirt and jumpers.