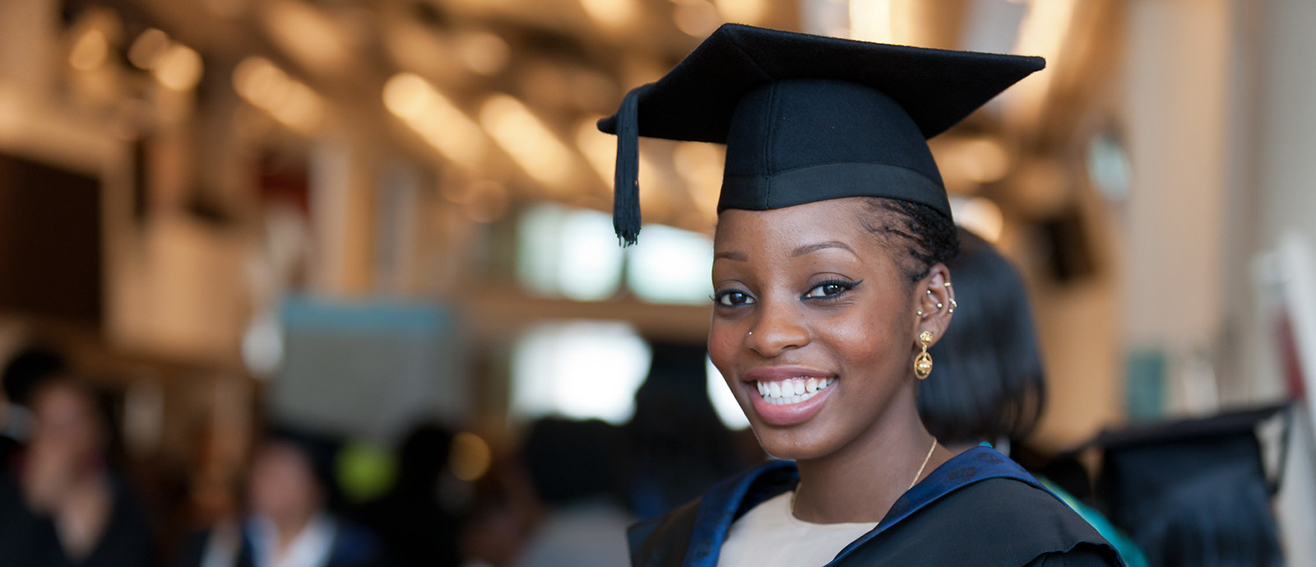 Graduation
Annual graduation ceremonies are the highlight of the University calendar
We are so happy that your graduation ceremony dates have been confirmed and that so many of you have registered to attend.
We are aware of the increasing concerns around the COVID-19 Omicron variant. Your safety is our top priority, and we will be following all advice and guidance set out by the Government.
Subject to no further changes in guidance for large-scale events, the graduation ceremonies in January 2022 will go ahead as planned. We will continue to review the situation and will notify you in early January 2022 if anything changes.
We hope you have a fun and relaxing festive season and that you, your family and your friends stay safe in these challenging times.
Registration for January ceremonies is now closed, but is still open for March ceremonies.
Find your ceremony date and time:
You are Class of 2020 if you completed your degree in the academic year 2019 - 2020
You are Class of 2021 if you completed your degree in the academic year 2020 - 2021
School of Applied Science
| DATE | TIME | STUDENT GROUPING |
| --- | --- | --- |
| Sat 15 Jan | 6pm | All students Class of 2020 and 2021 |
School of Arts and Creative Industries
| DATE | TIME | STUDENT GROUPING |
| --- | --- | --- |
| Fri 28 Jan | 10am | All students Class of 2020 and 2021 |
School of the Built Environment and Architecture
| DATE | TIME | STUDENT GROUPING |
| --- | --- | --- |
| Sun 23 Jan | 2pm | All students Class of 2020 |
| Sun 23 Jan | 6pm | All students Class of 2021 |
LSBU Business School
DATE

TIME

STUDENT GROUPING

Sat 15 Jan

10am

Business and Enterprise Division Class of 2020 and 2021

Sat 15 Jan

2pm

Management, Marketing and People Division Class of 2020 and 2021
Accounting, Finance and Economics Division Class of 2020 and 2021
School of Engineering
| DATE | TIME | STUDENT GROUPING |
| --- | --- | --- |
| Sun 23 Jan | 10am | All students Class of 2020 and 2021 |
Institute of Health and Social Care
DATE

TIME

STUDENT GROUPING

Wed 2 March

10am

All Class of 2020 post-registration students, plus *Class of 2021:

Advanced Clinical Practice (MSc/PgDip)
Advanced Nurse Practitioner – Mental Health (MSc/PGDip)
Leadership and Service Improvement in Health Care (Msc/PGDip)
PgCert Leadership in Health Care

Wed 2 March

2pm

All Class of 2020 pre-registration students

Thurs 3 March

10am

All Class of 2021 post-registration students except those on Wednesday 2 March*

Thurs 3 March

2pm

All Class of 2021 pre-registration students
School of Law and Social Sciences
| DATE | TIME | STUDENT GROUPING |
| --- | --- | --- |
| Fri 28 Jan | 2pm | All students Class of 2020 |
| Fri 28 Jan | 6pm | All students Class of 2021 |
Update your contact details
Please sign-up to or log-in to our alumni family to make sure your details are up-to-date so we can get in touch with you with the latest graduation news updates.
Next Steps
Find out the next steps you need to take before your ceremony at the Graduation Hub here.
Covid Safety
Your safety is extremely important to us, so we will be making sure that all ceremonies will comply with the government and venue guidelines at the time. We will be keeping you up-to-date with all the safety measures we are taking, as we are aware things can change quickly.
Overseas students
If you are a graduate based overseas and unable to travel to the UK for your graduation ceremony date, you may be able to defer until Autumn 2022 and graduate alongside our class of 2022. Choose the defer option when you register for your ceremony through the Graduation Hub.
FAQ for students and graduates
Will I need an NHS Covid Pass to attend graduation?
Yes, in line with government and venue guidelines if you are over the age of 18 you will need either:
an NHS Covid Pass showing proof of double vaccination
or documentation to prove a negative PCR or lateral flow Covid test taken within 48 hours of your visit.
If you are travelling from outside of the UK, please check the latest UK government rules and guidance for arriving in England from another country. If you were vaccinated in another country, you can show alternative proof of vaccination if this is accepted at the UK border. International visitors can also show a valid text or email confirmation of a negative rapid lateral flow or PCR test from NHS Test and Trace.
We will check your COVID-19 status on arrival. Anyone not meeting the requirements will be denied entry to the venue.
For more details visit the venue website.
Will I need to wear a mask in the venue and in the ceremony?
Yes, following government guidance the venue, The Royal Festival Hall, requires you to wear a face covering in their buildings throughout your visit including during the ceremony. The only exceptions to this are for those who are exempt from wearing face coverings, children under the age of 11, and when you are eating and drinking.
For more details visit the venue website.
What if I arrive at the venue without a face covering?
If you forget your face covering we will be happy to provide you with one. If you are exempt from wearing a face covering please advise a member of the team upon arrival.
Will there be handshaking on stage?
No, graduates will instead be presented with a scroll and the person distributing these will be wearing gloves.
Will there be social distancing in the ceremony?
No, in accordance with current national and University guidelines (as stands on 13 December 2021), there will not be social distancing at the graduation ceremonies. We will take a number of precautions, such as hand sanitiser stations, adequate ventilation, as well as requiring attendees to demonstrate their COVID-19 status and wear face masks (unless exempt).
Can I get a refund for my gown, photography and guest tickets if I am unable to attend on the day?
Yes, you will receive a full refund for guest tickets (minus the venue's booking fee), your gown and photography.
​
For guest ticket refunds please email customer@southbankcentre.co.uk​ and include your booking reference number.
For photography and gowns you can cancel or amend your order by going to the My Account section in the header of the Ede and Ravenscroft website or logging in on this page: Graduation Services | Ede & Ravenscroft. Once you have logged in you will see your previous orders. Click on the order you wish to cancel or amend by selecting 'View/Edit'. You will then see the 'Amend/Cancel' button to start the process of amending or cancelling your order
Can I defer to a future ceremony?
If you would like to defer your graduation ceremony until Autumn 2022 please tell us using this form. Dates for graduation ceremonies will be published in March 2022.
Can I cancel my guest tickets?
Can I cancel my robes and/or photography?
Can LSBU cover my additional graduation costs if I decide to defer Graduation or my ceremony does not go ahead?
If you chose to defer your ceremony, or the graduation ceremonies cannot take place or are delayed due to circumstances beyond the control of LSBU, including (without limitation) fire, explosion, terrorist act (or threat of terrorist act), act of God, pandemic, or as a result of any industrial action or dispute involving LSBU, or the venue at which the ceremonies are due to be held, LSBU will not be liable for any losses, direct or otherwise, incurred by graduates or their guests. LBSU will, where at all possible, make alternative arrangements for any graduates affected, but graduates and their guests should ensure that they have sufficient insurance protection to cover any losses they might suffer as a result of a ceremony being cancelled or delayed covering activities such as flights, accommodation and travel.
Please see above points on how to contact suppliers for gowning, photography and guest tickets.
What happens at a graduation ceremony?
Ceremonies take place in a large theatre space with a stage. Along with your fellow graduates you will be invited up on stage to receive your scroll from our university academics. You can choose to hire a gown and cap to wear if you wish, but you don't have to - it's your choice.
When are the graduation ceremonies?
Please check the table above for details of your ceremony which will be in January or March 2022.
Where are the graduation ceremonies being held?
All graduation ceremonies will be held at:
Royal Festival Hall
The Southbank Centre
Belvedere Road
London
SE1 8XX
You can find more about the venue on their website.
Will I be able to bring guests and buy guests tickets?
Yes, you can bring guests. You will need to buy tickets for your guests and can buy up to six tickets. We know that sharing this unique moment with your friends, family and supporters is key and a core reason for a decision to move ceremonies to 2022 is so we can make this happen for everyone. Guest tickets are now on sale here and ticket sales will not close until the day of your ceremony, if they don't sell out. We recommend you purchase all your tickets at the same time if you want your guests to sit together.
How many guests can I bring?
You will be able to bring up to six guests with you. Please note this is subject to ticket availability.
Will it be safe to hold the graduation ceremonies in January and March 2022?
The safety of our graduates, our staff and your family and friends is of utmost importance to us. We're carefully planning for early 2022 to ensure we can deliver an event that fully celebrates the achievements of our graduates whilst keeping everyone safe. We will be guided by Government advice at all times and will only continue with our plans if it is safe to do so. If our plans need to be adapted in line with government advice, we will update you.
Will the ceremonies be shown online?
Yes, your family will be able to watch on live-stream if they are unable to attend for any reason.
Are certificates handed out at graduation?
No, certificates are dispatched within 6 to 8 weeks after an award has been made. If your award was made in June or July, you should have received your certificate by now. If you were awarded in the Summer and have not yet received your certificate please contact the Conferments Team:
APS and BUS awards: laydenk@lsbu.ac.uk
ACI, HSC and LSS awards: wrighm13@lsbu.ac.uk
BEA and ENG awards: jenkinta@lsbu.ac.uk

Certificates for awards made at the September exam boards will start to be dispatched at the beginning of October.

You will receive a ceremonial scroll on the day.
When will I receive my invitation?
You will receive your invitation in November to the email address we hold for you in our alumni list. Please make sure you update your account details if you need to.
I have booked into the Graduation Event and have purchased guest tickets but due to a family emergency I am no longer able to attend, will I be able to defer to a later date?
In exceptional circumstances you may be able to defer - please contact the Graduation Team: graduate@lsbu.ac.uk
Am I still a graduate if I don't attend the graduation?
Yes, not attending the graduation ceremony does not affect the credentials of your qualification.
Do I have to pay for a graduation ticket?
Graduation is free to all graduates to attend.
If I am unable to attend the ceremony on the date I've been given can I attend a future ceremony?
Yes, you will be able to attend and graduate with future graduates later in 2022.
How does LSBU finance Graduation?
LSBU doesn't make a profit from Graduation. Income from guest ticket sales and limited commission from other activities enables graduation to be delivered free to our graduates.
My question isn't covered here