Integrated Masters in Physiotherapy
Overview
Effective and resourceful
Physiotherapy is a competitive professional field. But this course could put you in the lead – by developing your knowledge and skills to enable you to become a reflective and resourceful physiotherapist in a fast-moving healthcare environment. It provides an excellent platform from which to progress your career, in line with the Chartered Society of Physiotherapy's vision for the profession.
By the end of your 3rd year of studies you will be ready for clinical practice. Completing the 4th and final year of the programme will allow you to accelerate your physiotherapy career by giving you the Masters level education increasingly required for senior roles.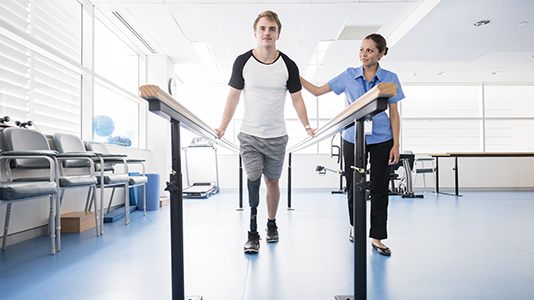 We hold strong links with physiotherapists working in health and social care, as well as the private sector and in social enterprise settings across the Greater London area. We utilise the expertise of clinicians to contribute to the course design, teaching sessions and provision of practice placements.
Our programme provides an accelerated 2-year route for graduates with a first degree in a related field.
Why Physiotherapy at LSBU?
Ranked 4th amongst London modern competitors for Overall Score in Physiotherapy (Complete University Guide 2023).

This course is approved by the Health and Care Professions Council (HCPC) and accredited by the Chartered Society of Physiotherapy (CSP).

Exciting work experience opportunities – we work closely with many of London's internationally renowned teaching hospitals, Community Trusts and services, where you can gain clinical experience.

Our excellent staff members are experts in their respective fields.

Our dedicated facilities include clinical skills labs and outstanding virtual learning environments on campus – as well as access to the gym facilities.

£5,000 non-repayable annual grant to support your studies.

LSBU Health and Social Care graduates are the second highest paid amongst all London Modern university graduates, and the sixth highest in the UK one year after graduating (DfE LEO data 2022).
Mode

Duration

Start date

Application code

Application method

Mode

Full-time

Duration

4 years

Start date

September

Application code

5003

Application method

UCAS
Location
London South Bank University student union is located at 103 Borough Rd, London SE1 0AA.
If you are visiting our Southwark Campus, you may wish to use our downloadable campus map (PNG File 466 KB). For information on accessibility, see our DisabledGo access guides.
Walk or bicycle
The University is in easy walking distance of underground and leading overground stations. We are only 20 minutes away from the Thames. We encourage walking and cycling and have bicycle racks on campus. Please check the Transport for London cycling website for London cycling maps and route planners.
By bus
LSBU is very well connected, and a large number of buses travel to and connect in the Elephant and Castle area from across London.
By train or tube
The Bakerloo and Northern lines stop at Elephant & Castle underground station, which is right next to campus. The closest rail stations are Elephant & Castle, London Waterloo and London Bridge. To plan your train journey, visit the National Rail website.
By car
London South Bank University does not provide public parking space. There is a limited amount of parking in the area, so we strongly advise using public transport.
Do consider the Congestion Charge if you are driving through London to reach the campus. Find out if you'll be crossing the Congestion Charge zone to reach our Southwark Campus.
TfL journey planner
You can travel to Southwark Campus by using public transport, plan your journey using the Transport for London journey planner.
1.ABB or above at A level, normally at least 2 sciences, preferably biology. General studies and key skills not accepted, or
2.BTEC Level 3 Extended Diploma (18-unit award, formerly ND): DDM, Applied Science or Medical Science, or
3.Pass in a recognized Access to HE course in Science or Health Studies or similar (60 credits of which 45 credits will be at Level 3 including 30 at Distinction grade, 15 at merit grade), or
4 A foundation degree/higher apprenticeship in a professionally relevant subject With
5 . GCSE - 5 passes - English Language, Mathematics and 2 Sciences
- Grades A-C
Potential students may also apply for exemption for certain modules on the basis of prior learning and/or experience through the AP(E)L process when applying. This will be reviewed by the APEL team in the school for consideration of exemption.
Consideration will also be given to other relevant qualifications recognised as equivalent to the above.
English language
If your first language is not English you must have the following minimum International English Language Test Score (IELTS) results at the time of applying:
7.0 overall or equivalent
7.0 in the listening and reading sections
7.0 in the writing and speaking sections
Interviews
If your initial application to a Health and Social Care course is successful, you'll be invited for an interview.
The interview is an opportunity to explain face-to-face why you are the right student for the course. As a result of the ever-changing situation in relation to the coronavirus (COVID-19) pandemic, our selection interview days on campus will be replaced with telephone or virtual interviews.
The telephone interview will be used to assess your suitability for the course and to ensure that you meet the necessary academic and skills required for the course you have chosen. You will be asked to consider realistic scenarios related to elements of health care practice or the core NHS values.
Visit our interview page for information on preparing for the day and what to bring. Please note: there is no written component to the Physiotherapy interview.
Tuition fees are subject to annual inflationary increases. Find out more about tuition fees
Possible fee changes
The University reserves the right to increase its fees in line with changes to legislation, regulation and any governmental guidance or decisions.
The fees for international students are reviewed annually and, additionally, the University reserves the right to increase tuition fees in line with the RPIX measure of inflation up to 4 per cent.
Scholarships
We offer several types of fee reduction through our scholarships and bursaries. Find the full list and other useful information on funding your studies on the scholarships and fee discounts page.
Fee status
Please check your fee status and whether you are considered a home, EU or international student for fee-paying purposes by reading the UKCISA regulations.
Funding for pre-registration postgraduate programmes
Since August 2018 new postgraduate pre-registration nursing, midwifery and allied health professional students have been able to access loans from the Student Loans Company. Accessing loans provides at least 25% more up-front living cost support whilst you study. You will also have access to the Learning Support Fund, which is administered by the NHS Business Services Authority, for support while attending clinical placements.
Background to these changes can be found on Gov.uk.
Council of Deans have prepared a briefing paper and Student Finance have outlined who qualifies. The Funding Clinic provides further information on what support is available.
NHS Bursary will produce guidelines and information once the information has received parliamentary approval.
International students
The course is not currently open to international students.
International (non Home) applicants should follow our international how to apply guide.
Home/EU applicants
Mode
Duration
Start date
Application code
Application method

Mode

Full-time

Duration

4 years

Start date

September

Application code

5003

Application method

UCAS
This course is not open to international students.
Postgraduate students and research students should apply through our dedicated application system. Full details of how to do this are supplied on our How to apply section for postgraduate students and our How to apply section for research students.
See our admissions policy (PDF File 1,043 KB) and complaints policy (PDF File 516 KB).
Accommodation
Students should apply for accommodation at London South Bank University (LSBU) as soon as possible, once we have made an offer of a place on one of our academic courses. Read more about applying for accommodation at LSBU.
Finance
It's a good idea to think about how you'll pay university tuition and maintenance costs while you're still applying for a place to study. Remember – you don't need to wait for a confirmed place on a course to start applying for student finance. Read how to pay your fees as a postgraduate student.
Postgraduate Application Service
Book a session with one of our specialist Postgraduate Advisors. Over a one on one Advice Session they'll advise you on postgraduate degrees at LSBU that match your interests and experience.
Prepare to start
We help our students prepare for university even before the semester starts. To find out when you should apply for your LSBU accommodation or student finance read the How to apply tab for this course.
Enrolment
Before you start your course we'll send you information on what you'll need to do before you arrive and during your first few days on campus. You can read about the process on our Enrolment pages.
The course modules are assessed using written exams, projects, coursework and practical examinations. During the course you'll undertake 30 weeks of clinical placements in a range of health settings, giving you essential opportunities for you to put theory into practice. You must achieve the requisite academic credit and specified practice hours and competencies in order to be eligible for the appropriate academic award and professional registration as a Physiotherapist.
Your first 3 years will focus on your preparation for professional practice, with your 4th year focusing on advancing your skills in the areas of leadership, research, education and future professional development.
Some compulsory skills sessions may take place in the evening.
Year 1
Concepts of inter-professional and collaborative practice (20 credits)
This module introduces the place and value of interprofessional and collaborative working in health and social care delivery. The module aims to support the development of the necessary communication, personal, partnership working and reflective practice skills required to meet the needs of clients/carers and diverse populations who are at the centre of interprofessional health and social care delivery. You'll work collaboratively online to explore and develop understanding of the purpose, scope and range of interprofessional and collaborative working.
Functional Anatomy and Kinesiology (20 credits)
The module enables you to gain an understanding of the structure and function of normal human anatomy while providing a basis for the understanding and analysis of posture and normal human movement. It encourages you to apply your knowledge of anatomy in a practical setting through the use of manual therapy and palpation skills. It explores the concepts and terminology surrounding the study of kinesiology and its relevance to physiotherapy practice in practical settings.The module introduces clinical reasoning skills to enable the inclusion of normal and abnormal functional anatomy and kinesiology to inform clinical practice and intervention
Human Structure and Function (40 credits)
This module is designed to provide the foundation knowledge of the structure and function of human body and changes resulting from the development of illness and disease. The principles of pathological change and of healing are considered alongside a consideration of the effects of development of common illnesses and disease and their impact on the normal physiological processes and the function of the body.An understanding of the impact of pathophysiology on the structure and function of the human body is developed in relation to physiotherapeutic interventions and patient-centred management.
Core Physiotherapy Skills (20 credits)
This module explores the role of the physiotherapist across a range of environments. Different models of health and wellbeing are considered in relation to the four pillars of physiotherapy practice.
Students will gain an understanding of how biological, physical, psychological, and social factors impacts on the health and wellbeing in individuals and populations.
Students will explore the role of the subjective assessment / clinical interview and learn the importance of person-centred assessment in physiotherapy care.
Physical Activity and Health Improvement (20 credits)
This module will develop an understanding of key knowledge underpinning physical activity and exercise-based interventions.This module will develop the practical skills to undertake health-related fitness assessment, including heart rate, blood pressure, body composition and submaximal exercise evaluation. It will develop knowledge of responses and adaptations to aerobic exercise, as well as activities involving strength, speed, flexibility and power. Through the awareness of key concepts of training principles, this module additionally aims to develop an understanding of the basic design of training programmes in line with expected physiological adaptations. Models of health and wellbeing, and their importance to core physiotherapy practice are considered, discussed and practised, such as making every contact count, exercise prescription and the value of exercise in maintenance of general health.
Year 2
Appraising Evidence for Research Informed Practice (20 credits)
This module extends your understanding of the concept of evidence based practice and research in practice. The module equips you with the core skills and understanding to appraise evidence and assess its appropriateness to be implemented into practice. The steps in conducting research, main research methods, approaches to data analysis and presentation are explored. You'll be equipped with the knowledge and core skills that are pre-requisite for critical appraisal and evidence synthesis.
Patient-centred Physiotherapy through the Lifecycle (60 credits)
This module introduces students to concepts underpinning the treatment and management of individuals as they present for physiotherapy across the life cycle. Students will also explore the role of physiotherapy in promoting health and wellbeing and develop the clinical knowledge and skills necessary to work with individuals in meeting their therapeutic and rehabilitation goals whilst on placements.
Integrated Care for Physiotherapy Practice (20 credits)
This module explores integrated care in its widest sense across patient care models, frameworks and pathways in order to facilitate an understanding of the implications of working in different ways, whilst developing the knowledge and skills necessary for this area of practice. The legal and policy frameworks governing physiotherapy practice are identified and applied, supported by evidence across the field, in relation the concept of patient-centred care and emergent physiotherapy practice.
Physiotherapy in Practice 1 (20 credits)
This module affords students the opportunity to apply their learning in the practice setting. Students will apply the theoretical knowledge and skills learnt in academic module/s, in the practice environment in one of the 4 pillars of physiotherapy practice (Leadership, Education, Research and Clinical).
Year 3
Improving Quality, Change Management and Leadership (20 credits)
This module is the final interprofessional learning module that will explore leadership, quality improvement and change within organisations from an interprofessional perspective. The module looks at a strategic, evidence based approach to change management in a range of environments, and will integrate the perspectives of service users.
Optimising Clinical and Therapeutic Outcomes (20 credits)
This module focuses on wider determinant of health and key opportunities that exist in contemporary physiotherapy and health care practice to optimise clinical and therapeutic outcomes. It develops an understanding of pharmacology, nutrition, and homeostasis in relation to impact on human performance, function and recovery. Models and frameworks supporting patient management are explored alongside the development of specific knowledge and skills that support the effectiveness of interventions for individual service users.
Contemporary Issues in Physiotherapy (20 credits)
This module will provide an understanding of the current healthcare policies and their impact upon the provision of health and social care. It will build on knowledge achieved on practice placements and other areas within the course, looking formally at existing and emerging government initiatives. The legal and policy frameworks governing physiotherapy practice are identified and applied, supported by evidence across the field, in relation to the provision of patient-centred care and emergent physiotherapy practice.
Advancing Physiotherapy Practice (20 credits)
This module builds on the learning in previous modules to support the development of knowledge and clinical skills at a more advanced level across a range of physiotherapy practice areas. It will focus on developing clinical reasoning skills at a higher level, incorporating a greater complexity of knowledge. The module will promote the integration between theory and practice learning.
Physiotherapy in Practice 2 (40 credits)
This module affords students the opportunity to apply their learning in the practice setting. Students will apply the theoretical knowledge and skills learnt in academic module/s, in the practice environment in one of the 4 pillars of physiotherapy practice (Leadership, Education, Research and Clinical). Students will develop their critical thinking skills and application of evidence-based principles to their practice in preparation for working as an autonomous practitioner by the end of year 3.
Year 4
Contemporary Issues in Health and Social Care (40 credits)
This module will provide students with an understanding of the current healthcare policies and their impact upon the provision of health and social care. It will build on knowledge achieved on practice placements and other areas within the course, looking formally at existing and emerging government initiatives across health and social care.

The legal and policy frameworks governing healthcare practice, along with their underpinning evidence, are explored and critically appraised in relation to the provision of patient-centred care and evolving practice in health and social care.

Students will explore leadership, quality improvement and change and look at strategic, evidence-based approaches to change management in a range of environments. Students will then consider how they might use these skills to deliver the service development needed to support emergent areas of practice.

Professional Development Through Practice Learning (20 credits)
This module allows the student to investigate and develop in a specialist area of practice in collaboration with the practice learning provider. Learning outcomes and the mode of assessment will be agreed in advance and the student will have significant input into the form of assessment. With a focus on planned personal and professional development, it is intended that this module with help student develop the skills necessary to accelerate their own personal and professional development and so increase their post qualifying career opportunities.
Physiotherapy Research Project (60 credits)
This module provides the student with an opportunity to undertake, and disseminate, an original piece of research. Students will work through the process of planning, managing, conducting, and writing up a research project related to an area of physiotherapy practice. Students will write up their findings in the style of an academic journal and present their findings in the form of an academic conference poster which they will be asked to defend.
Careers
Employability Service
At LSBU, we want to set you up for a successful career. During your studies – and for two years after you graduate – you'll have access to our Employability Service, which includes:
Free employability workshop and events for student all year round, more details can be found on our event section.
Online board where you can see a wide range of placements: part-time, full-time or voluntary. You can also drop in to see our Job Shop advisers, who are always available to help you take the next step in your search.
LSBU Careers Hub offering group workshops on CVs, interview techniques and support, guidance on future careers, as well as loads of career resources, connecting you with employers, exciting events, 1-1 support and relevant workshops.
Our Student Enterprise team can also help you start your own business and develop valuable entrepreneurial skills.
As a physiotherapist, you could play an important role in helping people improve their health, wellbeing and quality of life – using a broad range of treatment approaches focused on restoring movement and function, often following illness or injury. Physiotherapists often work within a multidisciplinary team and may do this in a variety of clinical environments such as outpatient clinics, inpatient wards, in the patient's home or in a sport or performance setting. Graduates of this course go on to work in a variety of NHS and private practice settings, including specialists in stroke care, weight management services, elite sport and private practice settings.
LSBU has collaborative research links with Guy's and St Thomas' NHS Foundation Trust Therapies department and with other key healthcare providers in the independent sector. This includes community, acute and specialist settings, reflecting the diverse nature of physiotherapy practice.
Placements
This course is planned to ensure that students complete the requisite number of hours in both theory and practice which builds knowledge across complex and. Academic and clinical practice blocks are structure to help you link effective theory to practice. Throughout your assessed practice placements, you will complete a minimum of 1,000 hours in local NHS organisations as well as community, private and voluntary sectors agencies. The LSBU Physiotherapy Practice Placement team take responsibility for allocating practice placements. As we believe in supplying well-rounded experiences, we will always try but can't always guarantee to allocate placements within 2 hours of your registered term time home address.
Placements include comprehensive contemporary experience across this range of sectors and settings can include acute, long term, inpatient and community environments. At least one of your placements will be in a speciality area such as respiratory, neurology, musculoskeletal systems, orthopaedics, medicine, obstetrics and gynaecology, or working with elderly, amputee or paediatric patients.
Year 2: 2 x 6 week practice placements (max 450 hours combined)
Year 3: 3 x 6 week practice placements (max 675 hours combined)
Year 4 1 x 3 week practice placements (max 112.5 hours combined)
Teaching and Assessment
Facilities
You'll benefit from an array of outstanding facilities, providing the perfect environments for you to practice and develop your skills. Some of the facilities you'll have access to include:
Clinical skills labs
We have a variety of skills labs which replicate real-life work environments, and provide an ideal setting for simulation learning using the latest technologies. Facilities include adult wards, physiotherapy suite, and critical skills lab.
Human Performance Centre
Equipped with modern technology, the Human Performance Centre enables world class research in the fields of sport, health, physical activity and exercise science.
Academy of Sport
You'll have access to a range of facilities and equipment within the Academy of Sport, including a fully equipped fitness suite with SMART Centre Technology, a Functional Training Zone, Free Weights Room and Sports Hall.
You can explore these facilities further, including viewing virtual tours of some of the areas, by selecting the links above.
Teaching and learning
This course takes a blended approach to learning. It provides a range of learning formats and teaching delivery styles – and allows an individual approach, providing you with some flexibility in your preferred learning style.
Interactive lectures will introduce key subject matter. Practical sessions, small group teaching and demonstrations will be used to facilitate skills development.
A range of other approaches will be incorporated into students' learning which can include online worksheets, guided independent study, e-learning, peer group learning, and group discussions.
When it comes to assessment, we use a variety of approaches to promote different skills and abilities while reflecting the nature of the module of learning. The main rationale for choosing the assessment method is helping students in the development of a wide range of professional knowledge and skills. The types of assignments demonstrate progression of skills and abilities as students' progress on the course. Typical assessments include written examinations, written assignments, verbal (case study) presentation, practical examination and clinical assessments.
Personal tutoring
As a Health and Social Care student, you will be allocated a named tutor during your first three weeks at LSBU. The role of your tutor is to be your primary contact for academic and professional development support.
Your tutor will support you to get the most of your time at LSBU, providing advice and signposting to other sources of support in the University. They should be the first person at the university that you speak to if you are having any difficulties that are affecting your work. These could be academic, financial, health-related or another type of problem.