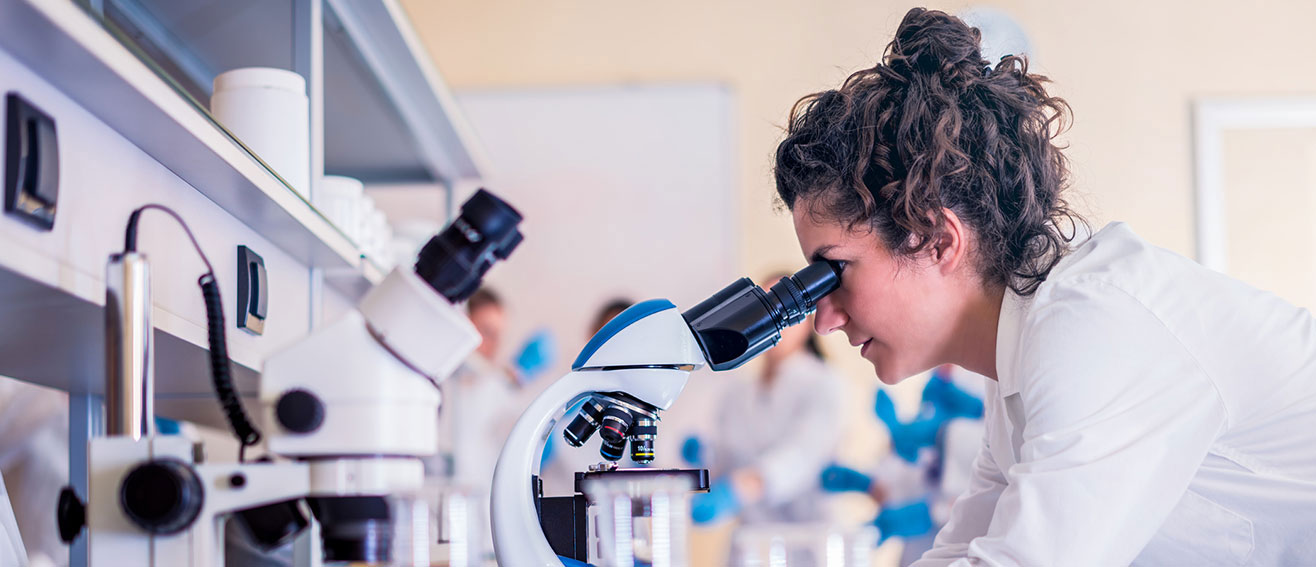 BSc (Hons) Biomedical Science
Southwark Campus
Mode: Full-time
Overview
This is a unique and innovative multifaceted programme designed for students wishing to pursue careers in laboratory-based biomedical research, pharmaceutical and biotechnology industry, or in Science policy, and regulatory professional bodies, as well as for students wishing to study medicine after graduation. The course is designed to equip you with the skills required for these career pathways.
According to Prospects, more than 50% of biomedical science graduates were employed in the UK within 6 months of graduation, while most of the remaining chose to study further.
The programme is designed to offer students the opportunity to develop technical skills linked directly to relevant placements and real-world experiences. This approach will be further reinforced by an opportunity to spend a sandwich year in an industrial/NHS laboratory or governmental organisation placement, thus improving your future job prospects. Key features of this course are its interdisciplinary nature, and its research-based teaching.
Key course information - ordered by mode
Mode
Duration
Start date
Location

Mode

Full-time

Duration

36 months (48 with sandwich year)

Start Date

September

Location

Southwark Campus
Modules
BSc Biomedical Science aims to enable you to understand the biology of human health and disease, including the basic knowledge of human anatomy and physiology, cell biology, genetics and molecular biology, biochemistry, immunology and microbiology, as well as a practical grounding in data analysis, statistics and numeracy.
Modules:
All modules provided are 20 credits except for the Project module in Year 3 (40 credits) and the Work Experience module offered in Year 2 (zero credit). All modules are assessed by a mix of coursework and examinations (57% assessed by coursework).
You will have the opportunity to study the following modules:
Year 1
Chemistry for life
Starting from a basic description of the atom, this module leads steadily to cover key aspects of fundamental physical, inorganic and organic chemistry. This module will also teach the basic practical and data analysis skills required by students studying chemistry.
Biology of the cell
This module provides a foundation for further studies in all areas of biomedical science. The cellular organisation of living organisms is introduced, as well as the structure and function of prokaryotic and eukaryotic cells, and the cell as the fundamental unit of life. Focus will be on the regulation of cell division, cell cycle, cell death, cell specialisation and cooperation, stem cells and their self-renewal and differentiation. All this will be introduced in context of human health and disease. In addition, current research approaches and methods for studying cells and manipulating genes will be highlighted.
Human anatomy and physiology
This module will develop student knowledge and understanding of the human anatomy and physiology. It will explore the structure, function, neurological and hormonal control of the human body, its component parts. Major body systems will be studied (musculoskeletal, circulatory, respiratory, digestive, renal, urogenital, nervous, endocrine) and their relationship to each other will be looked into. The physical and chemical principles that underlie physiological function and metabolic processes will be reviewed. Overall, this will lead to appreciation of human functioning through understanding of physiological systems and their integration.
Microbiology
This module introduces you to the microbial world, through the historical significance of microbiological discoveries, fundamental concepts of microbiology and how these are applied, especially in relation to medical microbiology. In parallel, students will undertake a series of practical activities to develop Good Laboratory Practice, Aseptic Techniques and an understanding of Standard Operating Procedures.
Biochemistry
This module will cover key chemical principles relevant to biological systems through understanding of the four main classes of biomolecules, namely, carbohydrates, proteins, lipids and nucleic acids. It will examine the structure, types, functions, synthesis (anabolism) and degradation (catabolism) of each biomolecular class and their regulation. The module will draw pointers to metabolic pathways into which these molecules and/or their component monomers feed and overview the interconnections between the biochemical pathways mediated via these molecules. The module will also cover the principles of selected basic techniques used to detect these molecules in the laboratory and perform a related laboratory practical.
Genetics and molecular biology
This module will introduce the fundamentals of genetics and molecular biology. It will explore the underlying principle of the central dogma of molecular biology while defining the structures and functions of DNA, RNA, proteins and human genes, up to chromosome level. Principles and modes of gene inheritance in human will be discussed. The basics of genetic variation in human will be extended to understand population genetics and evolution. Specific examples of genetic disorders with biomedical significance will be cited and studied. Moreover, molecular events that govern cell function such as the epigenetic mechanisms will be highlighted.
Year 2
Human haematology
This module will compare the elements that constitute blood in normal and diseased states. It will review the process (structure function and production of blood cells) and regulation of normal haemostasis. Further on, it will explore the pathological nature, diagnosis and laboratory investigation of anaemias, haematological malignancies, haemorrhagic and thrombotic diseases. Knowledge will be extended to the understanding of the structure and function of individual components of the immune system in defining innate and acquired immunity. Moreover, acute and chronic inflammatory states will be discussed, as well as the cause and consequences of abnormal immune function, neoplastic diseases and transplantation reactions together with their detection, diagnosis and treatment.
Bioinformatics and Biostatistics
This module is intended to develop your understanding and skills in the analysis and management of high volumes of biological data using computational and statistical methods. It will provide the knowledge on the applications of bioinformatics and biostatistics to a range of disciplines in biology and medicine. The students will gain practical experience in how to use specialised software in bioinformatics and biostatistics and will receive an introduction to the OMICS world.
Cellular pathology and imaging
This module is intended to develop your understanding and skills in microscopic examination of normal and abnormal cells (cytopathology) and tissues (histopathology) for indicators of disease. It will also provide knowledge about principles and methodologies of different microscopic imaging techniques, including light and electron microscopy, as well as fluorescent and confocal microscopy. You will gain practical experience in the preparation of tissue slides and in the histo- and cyto-pathological examination of cells and tissues using a variety of techniques.
Skills for biomedical scientists
This module is intended to develop your understanding and skills of research, and data analysis in the area of biomedical science. It will provide knowledge about main research principles and methodologies for data collection and analysis. The students will gain practical experience in developing a research proposal and analysing data with a variety of software packages.
In addition, you will select two optional modules, one in Semester 1 and one in Semester 2:
Cancer biology and therapy
This module introduces the students to different aspects of cancer biology including the origin and hallmarks of cancer, diagnosis and treatment with emphasis on cell biology, cancer signalling networks, and an introduction to the clinical management of cancer across a range of cancer types. The module will include group work to discuss seminal discoveries in cancer research and key experiments in the field.
Public health
Improving public health requires a multi-disciplinary/multi-professional approach in order to gain increased control over the determinants of health and wellbeing. In both developed and developing societies, an evidence-based approach to public health is of increasing importance. This unit gives insight into a variety of key concepts associated with the complex influences on human health and disease. An epidemiological approach is emphasized and strategies for disease prevention and management critically evaluated. Various modes and means of communication to diverse audiences are examined.
Work experience (0 credits)
This module is intended to develop students' skills for real world challenges. Students will be exposed to numerous work situations to give an overall appreciation of the total operation of the employer. In other cases, students may be assigned to a singular role. Nonetheless, these are certain core learning outcomes which will apply to all placements. In this module students will learn how to write their CVs, personal statements, and cover letters, as well as project reports.
Year 3
Clinical biochemistry and blood transfusion
This module will cover the principles of clinical biochemistry and blood transfusion. Under clinical biochemistry, the module will explore the investigations involving the functionality and dysfunctionality of human systems by measuring biochemical markers in different sample types. Under the topic of blood transfusion, the module will cover the genetics, structure and function of red cell antigens, while exploring the significance of blood group antigens and antibodies and the selection of blood components in safe transfusion.
Clinical OMICS and precision medicine
This module will cover Genomics and other OMICS, and their applications in precision medicine, and it covers the topics required in clinical genetics by IBMS for accreditation. It will begin with a review of the structure and function of genes and chromosomes, which will set the ground for the following four themes – (i) Genomics (including mapping, sequencing technologies, the human genome project, and model organisms), (ii) Introduction to bioinformatics and databases for sequence analysis, (iii) Proteomics (including protein structure and function, analysis of protein sequences, structural and/or functional motif recognition, technologies for the analysis of the proteome), (iv) Introduction to other OMICS (including transcriptomics and metabolomics).
Project (40 Credits)
This module is intended to develop competencies and skill-sets needed to undertake independent scientific research. The module work consists primarily of a library and/or laboratory or fieldwork‐based investigation on a defined pre-selected topic. The students present their findings in form of a scientific paper that is assessed and subjected to a presentation and viva voce examination. Students are expected to manage their own research activity with tutorial support from their research supervisor.
In addition, you will select two optional modules, one in Semester 1 and one in Semester 2:
Clinical nutrition
Clinical nutrition encompasses the understanding of the role of diet in the causation, prevention and management of disease. This unit will examine these themes through examination of a range of disease states and associated nutritional perspectives. The role of nutrition in clinical science and the hospital setting will be examined.
Current perspectives in bioscience
This unit takes a critical look at science, its past, present and future and examines how it relates to the society it serves and is perceived by scientists and non-scientists alike. The unit will explore the links between pure science and applied science which give rise to technological advances. It also considers science as culture and explores the way in which science is communicated and features in the cultural life of nations. The ethical dimension of scientific endeavours is also examined along with the importance of professionalism within the scientific community.
Employability
Maximising graduate employment opportunity is a central consideration in the design of the proposed career pathways in Biomedical Science. A graduate employability workshop will be offered during year 1. This workshop will host representatives from diverse professional bodies. The purpose of this workshop is to help you to identify a career pathway as well as improving practical skills in presentation, CV writing and communicating to diverse audiences.
At the end of year 1, you will choose the career pathway you would like to follow, as well as option modules relevant for each career pathway. The three available career pathways are:
(i) Applied Medical Sciences: students who choose this pathway may pursue careers in biomedical research or in clinical NHS or private health laboratories. Additionally, students who meet the requirements for graduate entry into Medical Schools, or the requirements of enrolling in a physician associate training program may apply to relevant Schools providing these courses. Optional modules available for students in the applied medical sciences include modules of clinical relevance such as "The Cardiovascular System", "Diabetes and Endocrine Disorders", "Neuroscience and Ageing" and the "Microbiome". Placements and future job opportunities can be sought in NHS laboratories, health-related institutions or in biomedical-focused industries such as those working in small molecules, clinical research and monitoring, next-generation sequencing, diagnostics, blood stem cell & bone marrow transplantation.
(ii) Pharmaceutical and Biotechnology Industry: students who choose this pathway may pursue careers in the pharmaceutical, or biotechnology industry. Optional modules available for students in this career pathway include "Introduction to Pharmacology and Toxicology", "Entrepreneurship", "Drug Design and Development" and "Bioreactors". Placements can be sought at pharmaceutical or biotechnology companies that deal with technologies for drug discovery and development, Antibody production, Biologics, Cell Therapies, Cancer Drugs, Vaccines, RNAi, Gene Therapy and CAR-T cell therapy.
(iii) Regulatory Sector/Science Policy: Optional modules available for students in this career pathway include "Current Perspectives in Bioscience", "Ethics and Law", "Legal Skills and Intellectual Property Rights" and "Public Health". Students pursuing careers in Science policy may seek placements in Scientific societies and charities such as Cancer Research UK., international organisations such as the International Council for Science, government bodies, and NGOs. Science communication is an essential skill required for this career pathway. This skill will be developed throughout several modules such as Skills for Biomedical Scientists, Project and Current Perspectives in Biosciences.
Employability Service
We are University of the Year for Graduate Employment for the second year in a row - The Times and Sunday Times Good University Guide 2018, 2019.
At LSBU, we want to set you up for a successful career. During your studies – and for two years after you graduate – you'll have access to our Employability Service, which includes:
An online board where you can see a wide range of placements: part-time, full-time or voluntary. You can also drop in to see our Job Shop advisers, who are always available to help you take the next step in your search.
Our Careers Gym offering group workshops on CVs, interview techniques and finding work experience, as well as regular presentations from employers across a range of sectors.
Our Student Enterprise team can also help you start your own business and develop valuable entrepreneurial skills.
Placements
An optional 'sandwich year' with placement opportunities is also available between years 2 and 3. This offers you considerable benefits in terms of skill enhancement, first-hand experience of current scientific practices in industry as well as improving employment prospects. A placement and employability handbook that includes a list of relevant placement options will be available to students before enrolment. The placements officer will brief you and provide you with support and advice in applying for positions, as well as maintaining a noticeboard where opportunities are posted. During the placement, you will spend 40 weeks in industry or equivalent employment.
Teaching and learning
All modules offered at the first year are delivered through a blend of keynote lectures, tutorials, group work, flipped learning, and problem-based learning activities. Many of the first year modules develop and assess practical skills.
All modules employ teaching methods that encourage students to consider and challenge the evidence with which they are presented.
A wide range of subject-related resources are available within the LSBU Library. This includes access to textbooks, E-journal subscriptions, scientific databases, interactive e-learning platforms and multimedia. Moreover, students have access to site-licensed software and assisstive technologies to support their learning (if registered for Disability and/or specific learning difficulties).
There are a total of 4 teaching and research laboratories that provide a rich learning environment for combining theory and practice. Each contains state-of-the art equipment to support delivery across all core and specialist modules.
The course will use a blend of formative and summative assessment, as well as self- and peer assessment. All career pathways share a similar variety of summative assessment, while the majority also include a final exam. Most modules carry several points of assessment.
Entry requirements
In order to be considered for entry to the course, applicants will be required to have the following qualifications:
Level 4
A Level: BCC to include Biology and a second STEM subject or;
BTEC National Diploma DMM ideally with a good Biology profile or;
Access to Science with 18 Distinctions, 24 Merits and 3 Passes including 12 credits in Science related subjects or;
Equivalent level 3 qualifications worth 104 UCAS points
Applicants must hold 5 GCSEs minimum grade C including Maths, Biology and English or equivalent (reformed GCSEs grade 4 or above).
We welcome qualifications from around the world. English language qualifications for international students: IELTS score of 6.0 or Cambridge Proficiency or Advanced Grade C.
Direct entry to Level 5
Students with the knowledge and skills equivalent to the required learning outcomes for Level 4 modules of the BSc (Hons) Biomedical Science will be encouraged to make direct entry to Level 5. Such knowledge and skills should be commensurate with those identified in the Policy and Procedures for the Accreditation of Prior Learning (APEL), of London South Bank University APEL, and in the guidelines on levels and learning outcomes produced by the South East of England Consortium for Credit Accumulation and Transfer (SEEC/CAT, May 1996, SEEC Credit Level Descriptors for HE, 2010).
Advanced entry
If you have already completed some studies at another university, we may be able to consider you for advanced entry. Please see our advanced entry page for more information.
How to apply
International students
International (non Home/EU) applicants should follow our international how to apply guide.
2020 entry
Home/EU applicants
Mode
Duration
Start date
Application code
Application method

Mode

Full-time

Duration

36 months (48 with sandwich year)

Start date

September

Application code

C500

Application method
Accommodation
Once we have made you an offer, you can apply for accommodation. You can rent from LSBU and you'll deal directly with the university, not third party providers. That means we can guarantee you options to suit all budgets, with clear tenancy agreements and all-inclusive rents that include insurance for your personal belongings, internet access in each bedroom and on-site laundry facilities.
Or, if you'd rather rent privately, we can give you a list of landlords – just ask our Accommodation Service.
Read more about applying for accommodation at LSBU.
Finance
You don't need to wait for a confirmed place on a course to start applying for student finance. Read how to pay your fees as an undergraduate student.
Prepare to start
Applicant events
After you've received your offer we'll send you emails about events we run to help you prepare for your course.
Enrolment
Before you start your course we'll send you information on what you'll need to do before you arrive and during your first few days on campus. You can read about the process on our Enrolment pages.
Fees and funding
Fees are shown for new entrants to courses, for each individual year of a course, together with the total fee for all the years of a course. Continuing LSBU students should refer to the Finance section of our student portal, MyLSBU. Queries regarding fees should be directed to the Fees and Bursaries Team on: +44 (0)20 7815 6181.
UK/EU fee:

£9250

International fee:

£14470

AOS/LSBU code:

5578

Session code:

1FS00
Total course fee:
UK/EU
£27750
International
£43410
For more information, including how and when to pay, see our fees and funding section for undergraduate students.
Please check your fee status and whether you are considered a Home, EU or International student for fee-paying purposes and for our regulatory returns, by reading the UKCISA regulations.
See our Tuition Fees Regulations (PDF File 160 KB) and Refund Policy (PDF File 102 KB).
Possible fee changes
The University reserves the right to increase its fees in line with changes to legislation, regulation and any government guidance or decisions.
The fees for international students are reviewed annually and the University reserves the right to increase the tuition fees in line with the RPIX measure of inflation up to 4 per cent.
Scholarships
We offer several types of fee reduction through our scholarships and bursaries. Find the full list and other useful information on our scholarships page.
Contact information
Course Enquiries - UK
Tel: 020 7815 7815
Due to COVID-19, call waiting times may be longer than usual. Any questions? Use the green bubble on the bottom right hand corner to start a live chat with us
Get in touch
KIS Data
No results were found