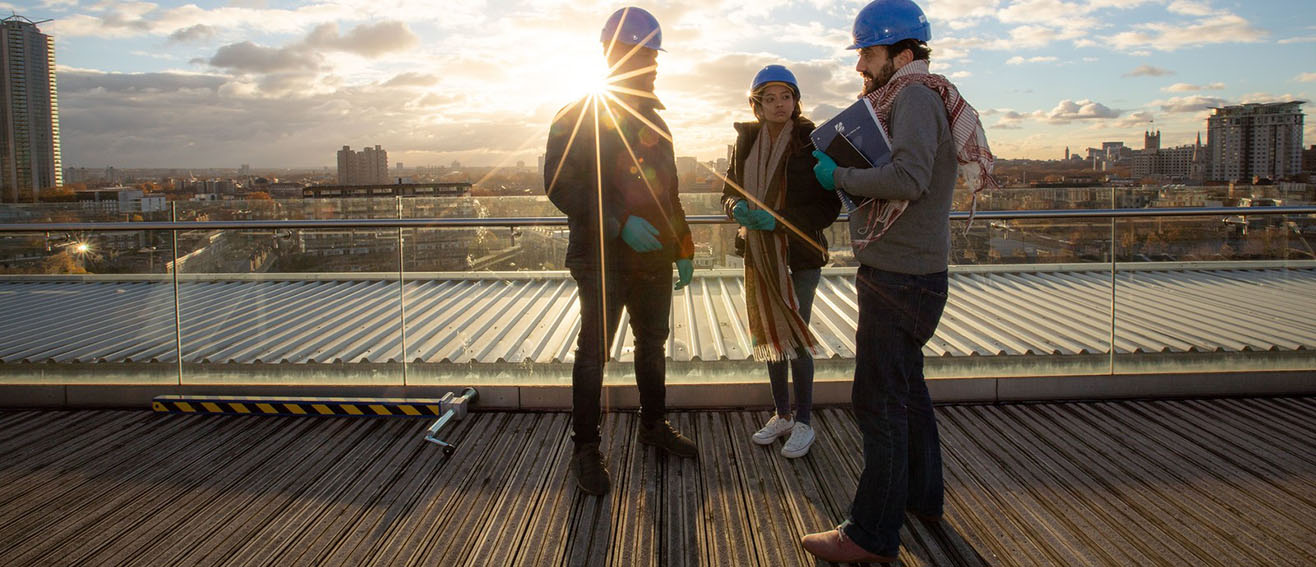 Apprenticeships
Get in touch today to learn how LSBU can help you develop your new and existing staff.
Contact us
What is an apprenticeship?
An apprenticeship is a genuine job with an accompanying assessment and skills development programme. It is a way for individuals to earn while they learn, gaining valuable skills and knowledge in a specific job role. The apprentice gains this through a wide mix of learning in the workplace, formal off-the-job training and the opportunity to practise new skills in a real work environment.
Apprenticeships benefit employers and individuals, and by boosting the skills of the workforce they help to improve economic productivity.
A professional focus
Higher and degree apprenticeships bring together universities, employers, professional bodies and apprentices in a formal relationship to meet the skills needs of the economy. Higher and degree apprenticeships are a priority for us and we are delivering a range of apprenticeships driven by employer demand.
How do they work?
Apprentices must spend at least 20% of their time on off-the-job training. It may include regular day release, block release and special training days or workshops. It must be directly relevant to the apprenticeship standard and can be delivered at the apprentice's normal place of work as long as it is not part of their normal working duties. It can cover practical training such as shadowing, mentoring, industry visits and attending competitions.
On-the-job training helps an apprentice develop the specific skills for the workplace and they should be supported by a mentor.
Once an apprentice completes their apprenticeship they should be able to demonstrate that they can perform tasks confidently and completely to the standard set by industry. Read more information on what can and can't be counted towards the 20% (PDF File 213 KB).
Apprenticeship levels
Apprenticeships are offered at different levels - with the most recent additions being degree and higher level apprenticeships.
| Name | Level | Equivalent education level |
| --- | --- | --- |
| Intermediate | 2 | 5 GCSE passes |
| Advanced | 3 | 2 A level passes |
| Higher | 4, 5, 6 & 7 | Foundation degree and above |
| Degree | 6 & 7 | Bachelor's or master's degree |
Who are they for?
Individuals over the age of 16, spending at least 50% of their working hours in England over the duration of their apprenticeship and, not in full-time education, can apply for an apprenticeship. Employers can offer apprenticeships to new entrants or use them to grow talent among current employees. Apprenticeships equip individuals with the necessary skills, knowledge and behaviour they need for specific job roles, future employment and progression.
Apprentices must meet our entry requirements – these vary by apprenticeship standard and can be found on the relevant apprenticeship standard page. If an apprentice already holds a degree, their qualification must be significantly different to the content of the apprenticeship. Take a look at who can be an apprentice.
Elements
An apprenticeship is formed of three main parts, which are undertaken while the Apprentice is employed in a relevant job role. It's comprised of:
A programme of study e.g. degree, HNC or BTEC
A full-time paid job linked to your study e.g. surveyor, engineer, nurse
An assessment at the end of the programme of study (End Point Assessment)
Apprenticeships at LSBU are offered at higher and degree level and come with rigorous entry requirements.
The apprenticeship levy
Businesses have access to the apprenticeship levy – a pot of money held by the Government, which is used to pay for the apprenticeship. Find out more about accessing the levy.
The benefits of apprenticeships are numerous
Apprenticeships are a cost effective way for businesses to develop their new and existing staff and hire fresh talent, while giving someone a life-changing opportunity. Take a look at the benefits of apprenticeships to find out more.
"Working with LSBU has been a big part of our scheme's success. Their team understands how our scheme fits into our wider strategy, which makes for a better recruitment process. Their commitment to ensuring a cultural fit with the businesses they partner with is key to making the experience of the apprentices themselves the best it can be."

- Simon Birchall, Director at Equals Consulting
Differences to employer sponsored study
Apprenticeships require that apprentices spend a certain amount of time on the job, in a role related to their subject. They are also required to spend an allocated amount of time (20%) off the job learning (e.g. at LSBU). Apprenticeships also have an End Point Assessment built in, which can lead to professional accreditation. These are specific features of apprenticeships, which do not apply to employer sponsored study.
The Apprenticeship Standards have been developed specifically to align with the needs of employers and making applicants' skills match. Employer sponsored study does not have these requirements. As part of the apprenticeship, we will offer feedback to you and your apprentice on their attendance and progression on the apprenticeship.

Apprenticeships are funded by the Education and Skills Funding Agency (ESFA). Apprentices who are employed by non-levy employers are on programmes part financed by the European Social Fund (ESF).