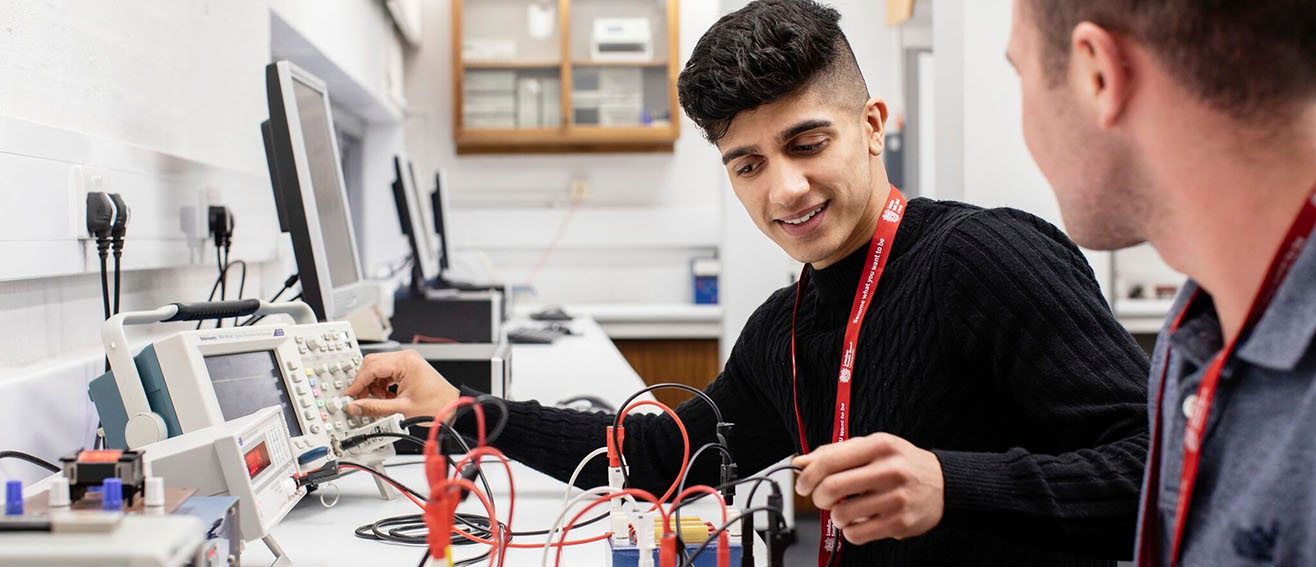 Electrical and Electronic Engineering
Employers seek out LSBU graduates for their technical knowledge and applied skills
Electrical and Electronic Engineering
What is EEE?
Electrical and Electronic Engineering (EEE) is one of the fundamental disciplines of systems engineering (2.0 Fundamentals of Systems Engineering | NASA). It covers the design and manufacturing of equipment, devices, and systems for countless of applications. On average, each person in the world owns at least two electronic and electrical devices that makes EEE one of the most sought-after expertise in engineering. Indeed, the electrical and electronics industry is the largest global industry by employment.
What do we offer?
Excellent student-staff relations: Each year, we organize several extra-curricular activities for students that promote meeting peers from other courses and work as a team outside the formal teaching. All students are invited for Pizza with the Dean events where they can have a one-to-one chat with the head of the whole school. We also have social gatherings such as playing table tennis at the sport centre booked during semester times and a social gathering before Christmas where we also announce prizes based on student achievements. Overall, we have different activities to facilitate direct human interaction to create a friendly atmosphere for staff and students.
Applied research projects: Projects are embedded in all our courses from the first year to the final year and they all have an applied and a research element into it. Students work on solutions to existing problems that can make a positive change somewhere in society.
First year: A multidisciplinary group of students (Electrical, Mechanical and Chemical Engineering) tackle grand challenges published by Engineers Without Borders, where some groups nationally compete with their ideas and prototypes.
Second year: Students learn entrepreneurial skills while doing a group project in Electrical and Electronic Engineering subjects by focusing on project management in the context of building a simple yet full technical prototype. Technical projects feed from real problems faced by long standing extracurricular activities such as running a bike in the Nevada desert, driving a formula one car in Silverstone or building rail modelling kits to be used in our Rail and Rail Systems Engineering apprenticeship courses.
Third (final) year: Students individually work on major projects with their supervisor that align with the academics' research ideas and interests. Students also submit a poster highlighting their progress and a full fledge project report with a revised literature review, and all the technical details of their achievements. They put into practice the presentation skills they learned via an oral presentation and a short video recording demonstrating their product.
MSc project: Students work on cutting edge research projects in the fields of electronics, sensing and imaging, wearable technologies, renewable energy, robotics and other future technologies. Most of these projects are linked to either the research interest of the supervisor or a problem proposed by an industrial partner either via IET partners or Industrial Advisory Board members. Most of these projects' results are encouraged to be published in international conferences or leading scientific journals along with the academic leader as a co-author.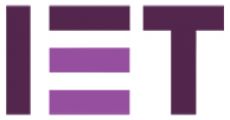 IET accredited courses: Over the last 35 years, all our bachelor's honours undergraduate courses have been accredited by the Institution of Engineering and Technology on behalf of the Engineering Council for the purposes of fully meeting the academic requirement for registration as an Incorporated Engineer and partly meeting the academic requirement for registration as a Chartered Engineer. Our Master's degree is accredited as meeting the further learning requirement for the underpinning knowledge and understanding requirement for CEngregistration. Accreditation ensures that our degree programmes meet the degree quality standards set by the engineering profession.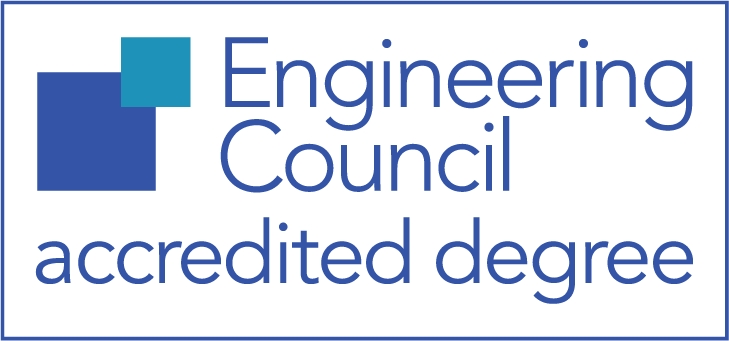 In an increasingly global market for engineering education, achieving a professionally accredited bachelor's degree BEng (Hons) means that you have satisfied the educational requirements of becoming a Chartered Engineer (CEng). This is a highly respected qualification earned by professionals working in engineering, which can lead to higher earning potential and better career prospects. Professional registration ensures that you have obtained industry-relevant skills, you demonstrate, both nationally and internationally, a high standard education towards a career in the engineering profession.
Level of student support provided by staff: Our support starts at day one, where all new EEE students are allocated a personal tutor. Tutors and tutees meet at least twice each semester. The aim of these meetings is to help students in their personal development and create an inclusive environment. This tutoring partnership continues in the second year while in the third year the project supervisor becomes the personal tutor; they meet at least 8 times during the semester. Students, at any level meet the course director to discuss progress or to receive feedback and orientation. The personal tutor, project supervisor or course director can write reference letters when new graduates receive their first offer of employment. Students also meet weekly with the module leaders and technicians for workshops. So, all students can meet and interact with all the staff on their courses.
Daily support: To support students in their learning journey, academic and support staff are available during the normal operating hours of the University via prior appointment. Academic staff also operate surgery sessions where no prior appointments are needed. The University buildings and library are opened from 8am to 9pm during term time, while the library operates for an extended period during examinations.
Widely support: In addition to those, the LSBU Skills for Learning Centre offers students a range of interactive workshops, one-to-one tutorials and drop-in sessions delivered by experienced learning developers. It also offers Language support for international students as well as other services.
Industrial partners: We keep an Industrial Advisory Board (IAB). A group of industrialists who advise us on matters such as curriculum design and delivery, often they also offer direct support for example by providing lectures, site visits, projects, placement opportunities etc.
We are all together: In our Electrical and Electronic engineering division, we adopt an inclusive approach to engineering practice and recognise the responsibilities, benefits and importance of supporting equality, diversity and inclusion. Finally, our staff and students embody and embrace our values of excellence, professionalism, integrity, inclusivity and creativity for our students to succeed, to make real world impact, to have access to opportunity and to fit for the challenging and competitive future.
Students at the centre: All modules are designed for EEE students and delivered by full-time academic staff. Our lectures focus on enhancing student knowledge and understanding through handouts/recorded videos and supporting material on the Virtual Learning Environment (VLE). In addition to lectures, our modules have tutorials and laboratory practical exercises, which include analysis and/or design of newly learnt methods. To further catalyse student learning, we deliver revisions and problem-solving sessions, which reinforce the lecture content. Students can access all relevant teaching and learning material such as module guides, lecture notes, teaching slides, tutorial and seminar sheets, workshop exercises, past exam papers, assignments, video recordings, forums, and supplementary material on VLE. In addition to on-campus facilities, all specialized software is also available for remote access from home in Windows PCs and laptops via the University portal https://appsanywhere.lsbu.ac.uk
Part-time degree provision: We offer a unique opportunity to those students who are employed or those having full-time job commitment to study our courses on a part time route. The BEng part-time course is delivered across 4 years. The MSc part-time course is delivered across 2 years. The part time course usually involves a full day of teaching per week, requiring attendance at the University on one day per week during semester time.
Welcome from the Head of the division
Electrical and Electronic Engineering has the longest tradition within LSBU. We are at the heart of central London around 10 minutes' walk from Waterloo station and 15 minutes' walk from London Eye. We are about 20 permanent members of academic staff to serve over 400 students at various stages of our undergraduates and post-graduate courses. All our staff are experienced academics and most are active researchers making and reporting new scientific discoveries in international venues. Our priority is to support all our students throughout their studies.
We offer three BEng courses and two BSc top-up courses at undergraduate level, and one course at postgraduate level. Our courses have full-time and part-time modality with a delivery of two semesters per academic year. Every module or subject you take in our courses develops a skill that is linked to job opportunities and has a practical hands-on element in any of our six specialised teaching labs. Your journey with us is complemented with several extracurricular activities where you build things and have fun; some examples are driving a bike aimed at setting a new world record Aim93 or drive a Formula 1 car. I am sure you will have a very enjoyable journey with us to become a future engineer in this exciting era where we engineers develop innovative technologies that assist our society in progress and wellbeing.
Our Vision
Engineering a brighter future for everyone through excellence in education and research.
Our Mission
To produce well-rounded engineers through a first-rate educational experience that can tackle complex engineering problems in a fast-changing world.
To undertake internationally leading research and innovation across the discipline of electrical and electronic engineering aligned to the needs of industry and wider society.
To be recognized for our dedication to continuous improvement and supporting the needs of students, staff and wider stakeholders.
Our Values
Excellence – At LSBU we are known for working to a high standard and providing a quality service to all.
Professionalism – At LSBU everyone takes personal responsibility and accountability, leads by example and inspires others.
Integrity – At LSBU we communicate with transparency and respect, creating a working and learning environment based on trust.
Inclusivity – At LSBU we celebrate being a diverse and vibrant community, where there are no barriers to inclusion and where we view the differences between people as a source of strength.
Creativity – At LSBU we are innovative, generating ideas and opportunities that are useful in solving problems and enhancing the reputation of the University.
University Support
LSBU's Employability Service offers advice on how to shape your career. This complete service provides free professional information, advice and guidance while you study at LSBU and for up to two years after you graduate.
The practical approach we adopt means our students gain the essential knowledge and skills required to meet future demands for products and services in areas such as analogue and digital electronics, energy converters and drives, wireless communications, control systems, computer networks, electrical machines and power electronics.
Laboratories
Control and Robotics

Used for demonstrating and working on open and closed loop control systems in mechanical, chemical and electrical systems. We use computer-based methods and practical demonstrations. Robotics is one of the major practical applications of control engineering, and this is supported by a laboratory for students and separate research areas.

Hardware and Software Interfacing

Used for Computer Aided Engineering (CAE) using Multi-Sim or other virtual environment circuit design software packages, and for hardware/software interfacing between electronic circuits and software.

Analogue and Digital Electronics

Used for practical experimentation with analogue and digital circuits, and some electrical materials experiments. Supports CAE using Multi-Sim.

Telecommunications and Networking

Supports data transfer electronics including Radio Frequency (RF) technology and communication networks. Here students explore telecommunications and networking techniques, and can experiment with fibre optics for data transmission and with microwave energy technology. This lab has benefitted from recent investments in industry-standard (Cisco) communication and networking technology.

Engineering Stores

Our engineering stores contain a range of specialist engineering tools and test equipment, as well as soft modelling material, wood and metal.

Electronics Project Room

This is a controlled study space for students engaged in electronics projects - not only students of electronic engineering, but also other engineering students for whom electronics is a key constituent of their work. This facility includes workspace plus advice and support, reference material, specialist tools and test equipment and limited (funded) spares.
Software packages and training
LabVIEW

LabVIEW is a graphical programming platform that helps engineers scale from design to test and from small to large systems. It is a development environment for problem solving, accelerated productivity, and continual innovation.

MATLAB

MATLAB® is a high-level language and interactive environment for numerical computation, visualization, and programming. You can use MATLAB for a range of applications, including signal processing and communications, control systems, test and measurement. More than a million engineers and scientists in industry and academia use MATLAB, the language of technical computing.

CISCO certification

Cisco Career Certifications are IT Professional certifications for Cisco Systems products. The five levels of certification are: Entry, Associate, Professional, Expert, and Architect along with targeted certifications for Specialist and Technician. These are available in different subject tacks: Routing & Switching, Design, Security, Service Provider, Service Provider Operations, Data Center, Voice, Wireless and Video.

C++ programming

C++ is one of the most popular programming languages and is implemented on a wide variety of hardware and operating system platforms.

Microsoft training courses

LSBU is an authorised provider of Microsoft training courses, which offers our students the opportunity to enhance their employment prospects by attending courses on the Microsoft Certified Systems Engineer certification route. These courses are offered at heavily discounted rates to our enrolled students.
Accessing our facilities
Facilities, students and staff feature regularly in our knowledge transfer and consultation activities with industry. Read more about how we work with business at LSBU. You may also be interested to find out more about facilities and venue hire at LSBU.