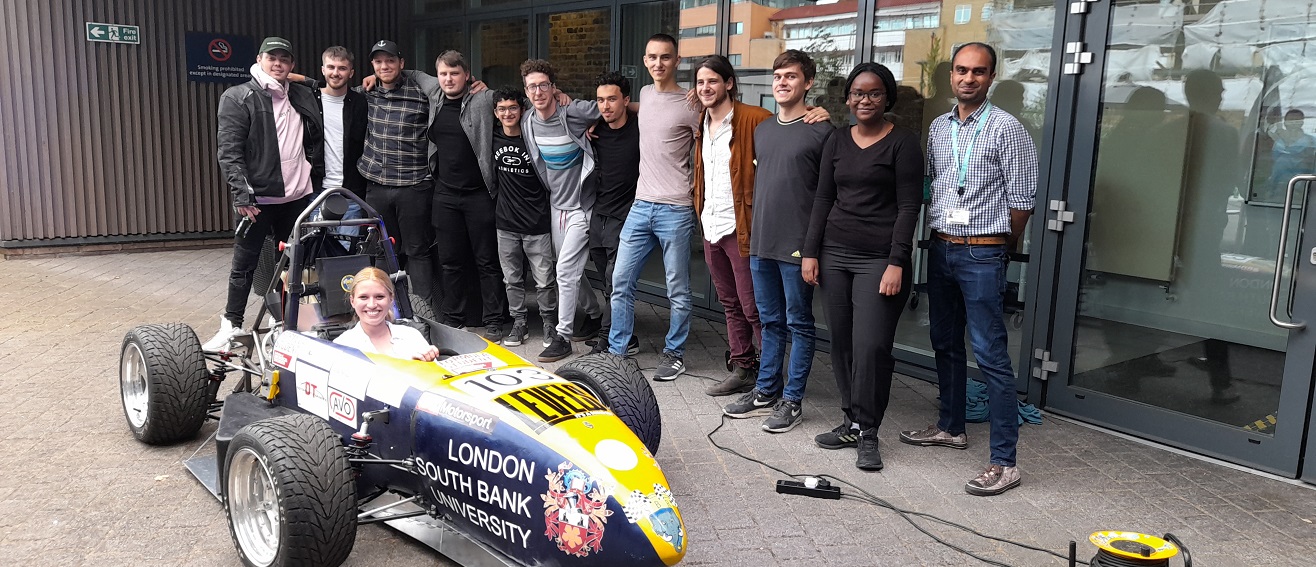 LSBU students unveil Formula Student car ahead of Silverstone weekend
05 July 2022
London South Bank University (LSBU) students unveiled their Formula Student (FS) vehicle on Friday [1st July]. The South Bank Racing Team is made up of students from LSBU's School of Engineering who designed and built the single seater open race car.
The student team led the design, development and the manufacture of the race car which made use of LSBU's workshops. Overseen by the Division of Mechanical Engineering and Design at LSBU, the project brings together students from across the school but has also expanded recently with the School of Business introducing marketing, website and sponsorship aspects to the project.
The LSBU students will now race the car at Formula Student (FS) Championships at Silverstone on July 9th and 10th. Over 100 universities from around the globe will travel to and compete in the race weekend.
Giovanni Cornaglia, Mechanical Engineering student at LSBU and Team Principal, said: "Unveiling the car after such a long time designing and building it was incredible. It's been a real team effort and we've worked with such a range of different people along the process.
"We're now all fully focused on the race weekend at Silverstone and look forward to seeing how the car performs in testing."
Alessio Corso, Head of Mechanical Engineering and Design at LSBU, comments: "The final result from the team was incredible to see and everyone involved in the project should be incredibly proud. It's extra-curricular projects like this which mean LSBU students are able to apply the theory they've learnt in lectures in a practical setting.
"Not only have they built a fantastic race car, they've also developed skills such as teamwork, problem solving, how to work to a tight deadline, model making and many others."
Further information on the South Bank Racing team can be found here: https://sites.google.com/view/southbankracing/home