MSc Electrical and Electronic Engineering
Southwark Campus
Mode: Full-time; Part-time
Electrical and Electronic Engineering MSc
Overview
Our Masters in Electrical and Electronic Engineering is an advanced course designed for engineering graduates to enhance their skills in this area of high technology. The ever increasing pace of developments in all areas of electrical and electronic engineering, (and in particular in the systems that are related to energy and the environment), requires engineers with a thorough understanding of operation principles and design methods for various modern electrical and electronic systems. As a graduate you'll be able to not only respond to the latest changes but also to look ahead and help in shaping future developments.
The unique features of this course are that the traditional electrical and electronic engineering subjects are supported by the more current topics of Robotics, DSP and Real Time Systems and Advanced Instrumentation, Interfacing and Design, all of which explore state-of-the-art software programmable technology which is at the forefront of modern electrical and electronic systems in industry today. This course also offers an integrated systems approach to engineering, incorporating modules in Advanced Power Electronics and Renewable Energy Systems and Optical and Microwave Communications. The technical content is offered alongside essential Research and Professional skills that are also trained and developed in the Project.
There is an increasing demand for skilled engineers who are able to design and maintain electrical and electronic systems that are at the forefront of current technologies. These positions cover many industries, hence graduates from this course can expect significantly enhanced job prospects in electrical, electronic as well as systems engineering.
We're the number one London modern university for graduate prospects in Electrical and Electronic Engineering (Complete University Guide 2019).
Accreditations
Key course information - ordered by mode
Mode
Duration
Start date
Location

Mode

Full-time

Duration

1 year

Start Date

September

Location

Southwark Campus

Mode

Part-time

Duration

2 years

Start Date

September

Location

Southwark Campus
Modules
Robotics
The module introduces students to the basic elements and principles of robotics. Essential geometric concepts of rigid-body displacements will be introduced and applied to the kinematic analysis of different machines. Differential kinematics will be developed and applied to study the statics and dynamics of robots. Some problems concerned with the control of these machines will be considered. Laboratory exercises are designed to consolidate understanding of robot kinematics and programming as well as giving an appreciation of practical considerations.The coursework assignment is intended to develop student's knowledge of practical state-of-the-art applications and developments in the field.
Optical and microwave communications
This module provides an in-depth study of optical and microwave communications, with the emphasis on wired and wireless broadband access systems. Part A covers topics on keyphotonic devices, fibre-optic system design, and applications of passive optical networks. It aims to provide students with in-depth understanding of optical fibre transmission and optical networking. An evolution of global optical telecom markets is described. Part B focuses on microwave devices/components that comprise communication systems. Microwave link design and power budget analysis are covered. As an application of lower microwave frequencies, ultra-wide band (UWB) technology is described. An introduction to 5G technology is also given. Engineering design cases and application examples are used throughout lectures.
Advanced instrumentation and design
This module develops advanced techniques in data acquisition and manipulation required for instrumentation and control applications. The instrumentation content explores graphical methods which include structures of virtual instrumentation, data acquisition tools and wizards. Embedded software system design for rapid electronic prototyping is also covered. Further, it consolidates lectures with experimental computer-based assignments using industry standard hardware and software (LabJack DAQ and LabVIEW IDE, Microchip PIC and Mplabx IDE). Specifically, the course will focus on practical interfacing, coding (both graphical and in C), signal acquisition, processing and digital module integration into a bespoke embedded platform.
Advanced power electronics and renewable energy systems
The material in this module is divided into two parts. The first part covers the analysis and operation of power electronics and machines and their application in the areas of power conversion, power conditioners and electrical machine drives mostly, found on the 'load' side of the electrical power system but sometimes integrated into the supply network. This part will also include elements of computer control systems that are designed to produce non-sinusoidal waveforms and methods of dealing with undesirable harmonics and their effects on the power network. The second part of the module will focus on renewable energy and sustainability. This will include: solar cells, biomass, wind and wave power; intelligent environmental sensing and feedback (in areas of pollution, petroleum, energy consumption, etc.); and renewable design and effectiveness (solar, wind and wave).
Technical, research and professional skills
This module provides training for the skills that are necessary for successful completion of the MSc studies in the near future and for professional development in the long-term future. More specifically, the module teaches how to search and gather relevant technical information, how to extract the essence from a piece of technical literature, how to carry out a critical review of a research paper, how to write a feasibility report, how to give presentations and put your thoughts across effectively, and how to manage a project in terms of time and progress in a group project environment. These are designed to enhance the technical and analytical background that is necessary for the respective MSc stream.
Digital signal processing (DSP) & real-time systems
This module aims to develop an understanding of the fundamental principles of low SP algorithms reimplemented in practice, both in software and hardware. Students will be introduced to the theory behind DSP by progressively increasing the depth and breadth of their knowledge using Matlab software and its signal processing toolbox. Students will gain an in-depth understanding of DSP algorithms and how to implement them in hardware for real-time applications.
MSc engineering project
This module requires MSc students to undertake a major project in an area that is relevant to their MSc course. Students choose their projects by contacting relevant research centre academics and engage on actively creating a project title and expected outcomes, carrying it out under the guidance of their supervisor. At the end of the project, the students are required to present a dissertation, which forms a major element of the assessment. The dissertation assesses the student's ability to integrate information from various sources, to conduct an in-depth investigation, to critically analyse results and information obtained and to propose solutions. The other element of the assessment includes an oral examination (viva-voce). The Individual Project carries 60 credits and is a major part of MSc program.
Employability
The acquired skills in computer control and AI techniques offer additional scope for jobs in the design of decision support systems that cross traditional boundaries between engineering and other disciplines. (i.e. medical, finance). Successful graduates will enjoy exciting career opportunities from a wide range of industries, such as electrical energy supply and control, electronics and instrumentation products and services, intelligent systems and automation to include: automotive, aerospace, electrical and electronic consumer products, telecommunications. The students can also pursue PhD studies after completing the course.
Engineering management skills
Engineering employers have expressed their need for engineers with a solid grasp of the business requirements that underpin real engineering projects. Our course incorporates a management-related module focused on entrepreneurship and project management. This management module develops our graduates' commercial awareness and ensures that they have the skill-set valued by industry employers.
Employability Service
We are University of the Year for Graduate Employment for the second year in a row - The Times and Sunday Times Good University Guide 2018, 2019.
At LSBU, we want to set you up for a successful career. During your studies – and for two years after you graduate – you'll have access to our Employability Service, which includes:
An online board where you can see a wide range of placements: part-time, full-time or voluntary. You can also drop in to see our Job Shop advisers, who are always available to help you take the next step in your search.
Our Careers Gym offering group workshops on CVs, interview techniques and finding work experience, as well as regular presentations from employers across a range of sectors.
Our Student Enterprise team can also help you start your own business and develop valuable entrepreneurial skills.
Professional links
The School has a strong culture of research and extensive research links with industry through consultancy works and Knowledge Transfer Partnerships (KTPs). Teaching content on our courses is closely related to the latest research work.
Accreditation is a mark of quality assurance that the degree meets the standards set by the Engineering Council, who represent the engineering profession. This course will go forward for Partial CEng/IEng accreditation by The Institution of Engineering and Technology (IET) in the academic year 2022/23. Formal accreditation can only be granted after an accreditation visit and approval from the IET's Academic Accreditation Committee.
The IET accreditation that will take place in the academic year 2022/23 will be backdated to the September 2020 intake.
Over the last 30 years, all our BEng (Hons) courses have been accredited by the Institution of Engineering and Technology on behalf of the Engineering Council for the purposes of fully meeting the academic requirement for registration as an Incorporated Engineer and partly meeting the academic requirement for registration as a Chartered Engineer.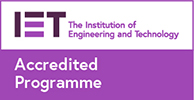 This course is accredited by the IET as meeting the further learning requirements for CEng registration. The IET is one of the world's largest engineering institutions with over 167,000 members in 127 countries.
Entry requirements
This Engineering Masters course is aimed at graduates in the science and engineering fields who have prior experience of various technical backgrounds: i.e. electronics/electrical, telecommunication, computing, telemetric, networking, healthcare; who wish to obtain further specialised study and training in Electrical and Electronic Engineering.
In order to be considered for entry to the course applicants will be required to have the following qualifications:
A Bachelor degree equivalent to UK Second Class Honours Lower Division in Electrical, Electronics, Communications or Computer Engineering; or
Professional qualifications (e.g. CEng) along with several years of relevant industrial experience (should include analytical work). The relevant industrial experience is to be assessed by the Course Director.
Overseas applicants are required to have a minimum English language IELTS score of 6.5 with no less than 5.5 in any of the components.
How to apply
International students
International (non Home/EU) applicants should follow our international how to apply guide.
Home/EU applicants
Mode
Duration
Start date
Application code
Application method

Mode

Full-time

Duration

1 year

Start date

September

Application code

4321

Application method

Mode

Part-time

Duration

2 years

Start date

September

Application code

4322

Application method
Postgraduate students and research students should apply through our dedicated application system. Full details of how to do this are supplied on our How to apply section for postgraduate students and our How to apply section for research students.
See our admissions policy (PDF File 544 KB) and complaints policy (PDF File 127 KB).
Accommodation
Students should apply for accommodation at London South Bank University (LSBU) as soon as possible, once we have made an offer of a place on one of our academic courses. Read more about applying for accommodation at LSBU.
Finance
It's a good idea to think about how you'll pay university tuition and maintenance costs while you're still applying for a place to study. Remember – you don't need to wait for a confirmed place on a course to start applying for student finance. Read how to pay your fees as a postgraduate student.
Postgraduate Application Service
Book a session with one of our specialist Postgraduate Advisors. Over a one on one Advice Session they'll advise you on postgraduate degrees at LSBU that match your interests and experience.
Prepare to start
We help our students prepare for university even before the semester starts. To find out when you should apply for your LSBU accommodation or student finance read the How to apply tab for this course.
Enrolment
Before you start your course we'll send you information on what you'll need to do before you arrive and during your first few days on campus. You can read about the process on our Enrolment pages.
Fees and funding
Fees are shown for new entrants to courses, for each individual year of a course, together with the total fee for all the years of a course. Continuing LSBU students should refer to the Finance section of our student portal, MyLSBU. Queries regarding fees should be directed to the Fees and Bursaries Team on: +44 (0)20 7815 6181.
UK/EU fee:

£9590

International fee:

£14470

AOS/LSBU code:

4321

Session code:

1FS00
UK/EU fee:

£4262.22

International fee:

£6431.11

AOS/LSBU code:

4322

Session code:

1PS00
Total course fee:
UK/EU
£9590
International
£14470
For more information, including how and when to pay, see our fees and funding section for postgraduate students.
See our Tuition Fees Regulations (PDF File 160 KB) and Refund Policy (PDF File 102 KB).
Possible fee changes
The University reserves the right to increase its fees in line with changes to legislation, regulation and any government guidance or decisions.
The fees for international students are reviewed annually and the University reserves the right to increase the tuition fees in line with the RPIX measure of inflation up to 4 per cent.
Postgraduate loan (PGL) for Masters study
If you are starting a Masters course, studying either full- or part-time, you may be entitled to apply for a postgraduate study loan. Find out more at our postgraduate fees and funding section.
Scholarships
We offer several types of fee reduction through our scholarships and bursaries. Find the full list and other useful information on funding your studies on the scholarships and fee discounts page.
Fee status
Please check your fee status and whether you are considered a Home, EU or International student for fee-paying purposes and for our regulatory returns, by reading the UKCISA regulations.
Contact information
Course Enquiries - UK
Tel: 020 7815 7815
Due to COVID-19, call waiting times may be longer than usual. Any questions? Use the green bubble on the bottom right hand corner to start a live chat with us
Get in touch