LSBU's Chancellor, Richard Farleigh, is an entrepreneur who has much to share on the subject of business success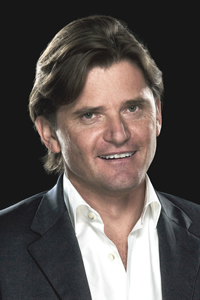 Richard was appointed Chancellor of London South Bank University (LSBU) in summer 2012 – a post he will hold for four years. As the University's ceremonial head, his role includes awarding degrees and acting as an ambassador to promote the university's work and ambitions. At the forefront of this is the university's goal of becoming 'London's Enterprising University'.
Richard's life experiences certainly give him the correct credentials for the post. As a highly successful entrepreneur and self-made man he very much embraces the 'entrepreneurial and enterprising spirit' of LSBU. He became known to the British public through the BBC television show 'Dragon's Den' which highlighted his interest in backing inspirational start-up businesses.
Slow start to success
Richard was born in Victoria, Australia; one of 11 children of an itinerant sheep shearer. Taken into care at the age of two, as a young child he was assessed as being 'backward'. Discovering an early talent for chess helped boost his confidence and he went on to excel at school.
He won a scholarship from the Central Bank of Australia to study economics and econometrics at the University of New South Wales, graduating with first-class honours.
Inspirational working track record
His career was a stellar one from the start. Following 10 successful years with Bankers Trust Australia, he was headhunted to run a hedge fund in Bermuda. Within three years he had earned enough to retire. But a life of leisure was not for him, and he and his friend, chess grandmaster David Norwood, decided to become business angels, investing and advising start-up companies in the very early stages of their development.
Read more about LSBU's Chancellor, Richard Farleigh in our People Finder.
Top of page