Vice-Chancellor
Professor David Phoenix took up the role of Vice-Chancellor at London South Bank University (LSBU) in 2014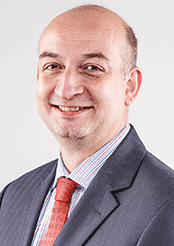 Prof. Phoenix has a background in biochemistry having obtained his Bachelor of Science degree from the University of Liverpool before going on to complete a Doctorate, again in biochemistry. The university later awarded him a higher doctorate, DSc, for his contribution to this field of study.
In 2000 he launched UCLan's Department of Forensic and Investigative Science and later as Dean of Science, led on the opening of a new School of Pharmacy, the re-launch of chemistry and the development of architecture.
In 2008 he became Deputy Vice-Chancellor at UCLan with responsibility for strategic planning and performance across the University of Central Lancashire Group where he oversaw UCLan's inclusion in the QS World Rankings and was instrumental in creating UCLan's first overseas research institute in China as well as its new campus in Cyprus.
With over 250 publications, Prof. Phoenix remains a visiting professor at King's College London and Sichuan University, China, as well as a Fellow of the Royal Society of Chemistry, The Royal Society of Biology, The Institute of Mathematics and Its Applications and the Royal Society of Medicine. He has also held visiting Chairs in Russia and elsewhere in the UK.
Memberships and honours
In 2010 he was made an Officer of the Order of the British Empire in the Queen's Birthday Honours List for Services to Science and Higher Education, and his contribution to education was further recognised by the Academy of Social Sciences which awarded him the prestigious title of Academician in 2012.
He has been awarded an Honorary Doctorate by the University of Bolton for his contribution to scholarship and was elected as a non-medic to the Royal College of Physicians (Edinburgh) for his contribution to medical research and education, and made a Principal Fellow of the Higher Education Academy.
Prof. Phoenix is currently Chair of university think-tank Million+, is a Deputy Lieutenant of London and in 2009 was appointed as an Ambassador to the Government Equalities Office to support work focused on increasing diversity in public life.
He was recently appointed by the Prime Minister as a Trustee of the Science Museum Group.