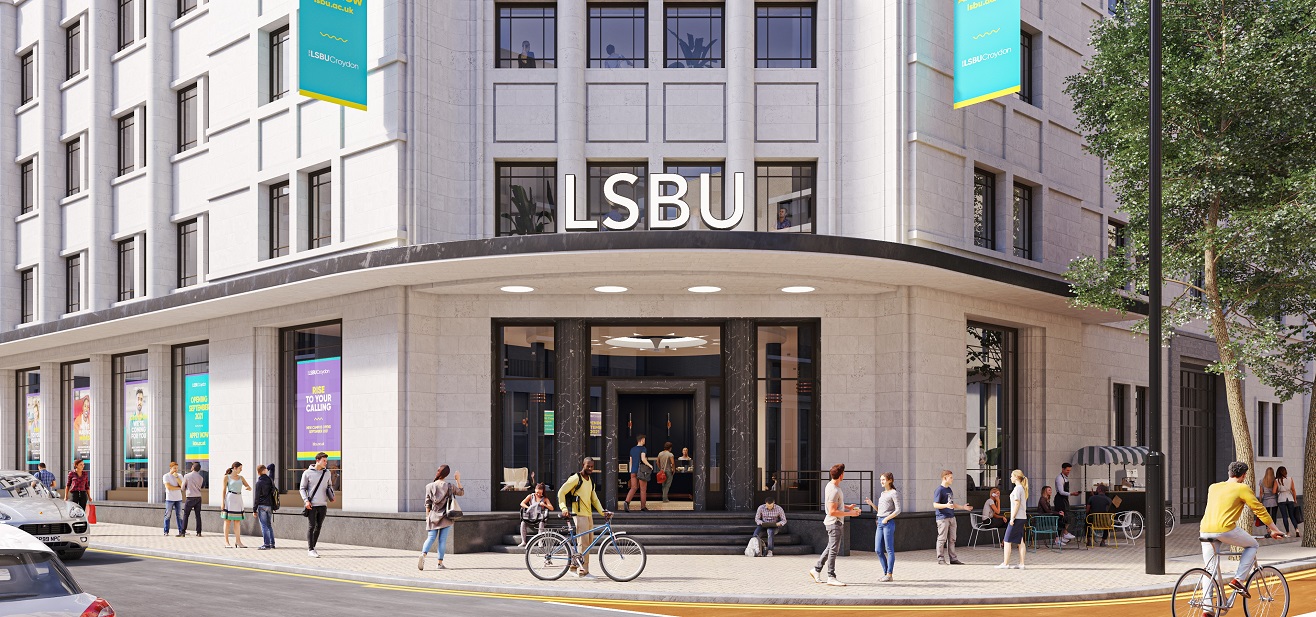 LSBU Croydon Campus
Are you ready for a new opportunity? Opening in September 2021, LSBU Croydon will play a key role in our mission to transform lives, communities, businesses and society through applied education. Why Croydon? It is becoming one of London's largest growth centres, and our new home in Electric House is the first and only university in this thriving community.
Our Croydon Campus will be a home for those who want to make a difference in our society. Through courses that are accredited or designed in partnership with employers, and a focus on personalised learning, LSBU Croydon will help you become a nurse, business leader or entrepreneur. So where better to get new skills, confidence and real world experience that employers genuinely value, than right on your doorstep?
Discover LSBU Croydon courses
Healthcare
Business

We're a name with value when it comes to healthcare and enhancing our support for the NHS is one of our key goals for the future.

We're training the next generation of nurses to meet the needs of the area's physical and mental wellbeing, and addressing a severe shortage in Croydon. By pairing specialist facilities with local placements in multidisciplinary environments, we make career-ready carers that make an impact on their communities as soon as they graduate.

Our brand new Croydon Campus is home to the only Chiropractic course in London, bringing you closer to the heart of the action, and a head start into employment.

You will be graduating from LSBU Croydon with the right skills, experience and confidence, knowing that opportunities will be knocking at your door!

BSc (Hons) Mental Health Nursing

We are providing ambitious, business-minded Londoners with a brand new business hub, Electric House: a shared space brimming with entrepreneurial spirit, where students and non-students alike gather to share knowledge and ideas.

You'll be exposed to networking opportunities unlike anywhere else. From household names and big brands to ambitious start-ups, Croydon is home to some of London's most exciting businesses.

Where better to study Accounting and Finance or Business Management than on a brand new, purpose-built campus, in the heart of one of London's fastest growing areas?

The economy needs people like you right now. Business-minded, ambitious, adventurous and ready to take on anything 'the new normal' has to throw at you.

BA (Hons) Accounting and Finance
Electric House
Our brand new campus is the latest in a string of exciting developments in one of London's most ambitious areas. Home to big businesses, startups and a uniquely South London buzz, Croydon is one of the city's biggest growth centres, and we're playing our part in its multi-million pound regeneration.
Electric House will include a lecture theatre, classrooms and a café. It will be home to nursing skills suites that replicate hospital wards, as well dedicated chiropractic labs.
How to apply?
You can apply now for a full-time course starting in September 2021 through the Universities and Colleges Admissions Service (UCAS). You'll need the LSBU institution code L75 and the unique UCAS code for each course, which you can find on the relevant course page. To study at LSBU Croydon please put a C on your UCAS application.
Register your interest