BSc (Hons) Operating Department Practice Degree Apprenticeship (subject to validation)
Southwark Campus
Mode: Part-time
Operating Department Practice Degree Apprenticeship
Overview
A crucial role
Please note: this course is currently subject to validation.
Operating Department Practitioners are vital members of the multidisciplinary team working within theatre departments. They ensure safe, effective, and holistic care throughout the patient's perioperative journey. ODPs can also be found working in other areas of the hospital such as A+E, critical care areas, endoscopy units, and imaging departments. The profession is regulated by the Health and Care Professions council (HCPC), and upon qualification apprentices can apply to the HCPC for registration to practice under the protected title of 'Operating Department Practitioner'. The integrated apprentice degree at LSBU allows apprentices to work alongside other ODP students undertaking the standard degree pathway
Why Operating Department Practice at LSBU?
1st in London for career prospects (Guardian League Table 2020).

The course is accredited by the College of Operating Department Practitioners.

Thanks to our professional links, you can become a registered operating department practitioner, approved by the Health and Care Professions Council.

Take valuable work placements across a variety of clinical settings, such as NHS acute Trusts, community placements and the independent sector.

Our Operating Department Practice critical care laboratory is part of the great facilities available and has been carefully designed to reflect hospital acute care environments.

1st in UK for academic support and learning opportunities (National Student Survey 2019).
Accreditations
Key course information - ordered by mode
Mode
Duration
Start date
Location

Mode

Part-time

Duration

3 years

Start Date

September

Location

Southwark Campus
Modules
The university programme is based on a 3-year model, taking 36 months to complete. Apprentices undertake work-based clinical placements interspersed with attendance at university study blocks, and complete the corresponding assessments during semester's 1 and 2 of each academic year (September-June). Then during the summer months (June-Aug), apprentices undertake further work-based learning according to their level; surgery and anaesthetic placements during year 1, surgical, anaesthetic and recovery placements during year 2, and advanced perioperative placements and preparation for their end-point assessment during year 3. Throughout the summer, apprentices will be required to complete reflective learning logs for all placements undertaken and utilise feedback received from their mentors/practice supervisors to identify additional areas for development.
Year 1
Basic anatomy and physiology for peri-operative practice
This module will introduce you to anatomy and basic physiological principles. It will introduce the concept of systems, and how the relationship of the different body systems contributes to homeostasis. Functional anatomy of the respiratory and cardiovascular system will be covered in detail. Anatomy, disease process and treatment modalities relevant to surgical procedures will also be covered for a number of systems.
Introduction to peri-operative practice skills
This module provides some basic principles of peri-operative practice. It is intended to be an introduction to the clinical area with a lot of emphasis on working safely within the Operating Theatre environment. This module will enable you to develop an awareness of the key structures, policies and principles which govern the healthcare sector with particular relevance to the Operating Department. It will prepare you to better understand and appreciate the peri-operative environment.
Caring for individuals in the peri-operative environment
This module will introduce the concept of individualised care of the surgical patient. You'll be encouraged to consider the breadth of impact a surgical procedure may have on an individual's life. Ways in which practitioners may be able to alleviate or reduce such an impact, through improved understanding of cultural and social issues and development of interpersonal skills will be appreciated.
Understanding fundamental surgery practice
During this module, you'll undertake core aspects of the Operating Department Practitioner's scrub and circulating activities, in a variety of clinical specialities. A series of University lectures and workplace tutorials will underpin the placement activity, and encourage you to identify and apply the theoretical basis to your practice.
Understanding fundamental anaesthetic practice
During this module, you'll undertake core aspects of the Operating Department Practitioner's anaesthetic related activities, in a variety of clinical specialities. A series of University lectures and workplace tutorials will underpin the placement activity, and encourage you to identify and apply the theoretical basis to your practice.
Concepts of inter-professional and collaborative practice
During this module you'll be introduced to the place and value of inter-professional and collaborative working in health and social care delivery. The module aims to support the development of the necessary communication, personal, partnership working and reflective practice skills required to meet the needs of clients/carers and diverse populations who are at the centre of inter-professional health and social care delivery. You'll work collaboratively online to explore and develop understanding of the purpose, scope and range of inter-professional and collaborative working.
Year 2
Developing Operating Department Practice skills – complex care needs
This module provides the opportunity to apply knowledge of advanced altered physiological parameters, and more complex clinical conditions to the anaesthetic and surgical management of patients. You'll develop basic skills attained in year 1, in order to be able to participate fully as a member of the multi-professional team in all areas of main theatre care. In particular, mandatory specialist areas of Trauma, Obstetrics (planned and emergency) and ENT/Maxillo facial will be covered. Completion of the module will be dependent on achieving specific competencies from the practice assessment document, including attainment of IPL specific competences.
Ambulatory care/ Day surgery practice skills
This module focuses on the development of skills associated with the whole patient journey through day surgery / ambulatory care. You'll build on practice skills from year 1, developing skills and responsibilities in patient assessment, short stay anaesthetic and surgical management, and an understanding of step down and discharge.
Applied anatomy and physiology for peri-operative practice
This module will develop your knowledge of anatomical and physiological principle, exploring human anatomy and physiology in greater detail and building upon content studied in year 1. Using a systems approach, it aims to broaden your understanding of renal physiology, Endocrine disorders, the nervous system and disease process.
Post anaesthesia care skills
This module will develop your knowledge and practical skills pertaining to the unique needs of the patient in the immediate post-operative period. You'll learn to identify potential or actual problems or complications which may occur whilst patients are recovering from general, regional or local anaesthesia. The patients' emotional and psychological needs will be considered in addition to physiological issues.
Scope of professional practice for Operating Department Practitioners
This module gives the opportunity to consider and discuss the scope of practice for a qualified Operating Department Practitioner, and how this will develop with the profession.
Appraising evidence for research informed practice
This module will extend your understanding of the concept of evidence based practice and research in practice. The module will equip you with the core skills and understanding to appraise evidence and assess its appropriateness to be implemented into practice. The steps in conducting research, main research methods, approaches to data analysis and presentation are explored.
Year 3
Pathophysiology and pharmacology for peri-operative practice
This module aims to consolidate your understanding of human anatomy and physiology, as well as introduce the pharmacological principles of a range of drugs relevant to the peri-operative arena. Using the systems approach, it aims to facilitate a wider understanding of structural anatomy and the physiological principles that underpin daily human function, and how these are affected by a range of drugs.
Contemporary issues in peri-operative practice
This module aims to prepare you to work in a changing environment and develop awareness of issues that impact on patients and professionals. Particular emphasis will be placed on the management of patients with complex needs or co-morbidities in the context of professional and technological developments, and changes in health care policy. It will enable critical evaluation of professional responsibility in relation to clinical, service and patient experience within the context of ethical frameworks and evidence-based practice.
Improving quality, change management and leadership
This module is the final inter-professional learning module that will explore leadership, quality improvement and change within organisations from an inter-professional perspective. The module looks at a strategic, evidence based approach to change management in a range of environments. It will integrate the perspectives of service users and take an inter-professional approach.
Preparation for advanced peri-operative skills
This module recognises the need for all health care professionals to monitor and develop their skill sets in relation to service provision. During this module you'll develop of a set of advanced peri-operative skills in both anaesthetic and surgery, in preparation for joining the multidisciplinary workforce as a skilled autonomous practitioner.
End point assessment (EPA)
To complete the BSc (Hons) Integrated degree, the apprentice must gain a total of 360 credits. 340 credits of which are derived from 'on-programme' standard degree modules. The final 20 credits of the award are gained from the End Point Assessment (EPA). The assessment will take place in a clinical area familiar to the apprentice, in either an anaesthetic, surgical or recovery setting. The assessment comprises 2 components: 1: Professional Discussion (1 hour, +/- 10%) 2: Observation of Practice and follow up questions (2 hours, +/- 10%) EPA assessments are conducted by an independent 'third-party' assessor according to assessment standards set up and monitored by the university in its role as the End Point Assessment Organisation (EPAO).
Employability
When you finish the course, you'll be eligible to apply for registration as an ODP with the Health and Care Professions Council (HCPC). This allows you to practice both within the UK and a range of other countries. In recent years, all students who qualified as operating department practitioners through LSBU have gained employment in theatre departments in UK hospitals. Day-to-day duties range from preparing the operating theatre and equipment, to providing the surgical team with items needed during an operation. After surgery, ODPs provide care and expertise to patients in recovery.
ODPs need to be well-organised, have effective communication skills, maintain composure and act calmly. They usually work shifts, which can mean evening and weekend work. Promotion routes include progressing to team leader or senior ODP. There are also opportunities in research, education, training and management.
In recent years, all students who qualified as operating department practitioners through LSBU have gained employment in theatre departments within UK hospitals.
If you graduate from this course, you will be able to apply for further study at postgraduate level as well as gaining additional specialist skills and expertise through continuing professional development frameworks. You can find out more about professional development courses on offer through our online CPPD prospectus.
Employability Service
We are University of the Year for Graduate Employment for the second year in a row - The Times and Sunday Times Good University Guide 2018, 2019.
At LSBU, we want to set you up for a successful career. During your studies – and for two years after you graduate – you'll have access to our Employability Service, which includes:
An online board where you can see a wide range of placements: part-time, full-time or voluntary. You can also drop in to see our Job Shop advisers, who are always available to help you take the next step in your search.
Our Careers Gym offering group workshops on CVs, interview techniques and finding work experience, as well as regular presentations from employers across a range of sectors.
Our Student Enterprise team can also help you start your own business and develop valuable entrepreneurial skills.
Professional links
We're proud of our professional links with the College of Operating Department Practitioners and the Health and Care Professions Council, the regulator of health, Psychological and Social professionals.
---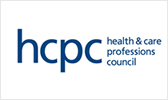 The Health and Care Professions Council is the regulator of health, Psychological and Social professionals.
---
Placements
This course is heavily practice-based; you'll spend the majority of your time involved in clinical practice within a broad variety of healthcare settings and the rest in academic study. You will attend seven University study blocks, usually one week at a time, approximately every five-seven weeks. The rest of the year is spent in placements, with holidays at set times.
A clinical practice placement allows you to work with a range of health professionals in clinical situations to develop the skills, knowledge and experience required to become a competent Operating Department Practitioner. Although initially challenging, practice learning is one of the most interesting and exciting aspects of learning to be an Operating Department Practitioner.
Clinical placements
At LSBU we work closely with a number of healthcare organisations to provide a wide range of suitable clinical placements. By the end of the course, you'll have experienced wide ranging healthcare provision. Placements take place across a variety of clinical settings, including NHS acute Trusts, community placements and the independent sector.
Support from a mentor
Each Trust has a Practice Educator who undertakes the organisation and allocation of individual placements. They provide an interface between the University and the Trust and act as work-based mentors.
The Practice Educator will regularly meet with and provide you with a year-on-year practical training programme, designed to make best use of learning and assessment opportunities. They are also responsible for providing regular structured tutorial sessions for you, collating clinical assessment documentation and ensuring all required competencies are facilitated. Practice Educators are able to assist you with portfolio construction and management, and are the first point of contact if you are experiencing difficulties in the workplace.
Facilities
Critical Care Laboratory
The Operating Department Practice (ODP) critical care laboratory has been carefully designed to reflect hospital acute care environments. At one end it resembles an operating theatre and at the other there is a recovery/intensive therapy unit.
The theatre has an operating table, theatre lights, anaesthetic machine with oxygen pipelines, patient monitoring, suction machine, resuscitation trolleys and the fully functioning SimMan equipment. There is also a scrub area, with sinks, gowns and gloves so students can get "scrubbed up" when taught to handle instruments.
There are various anatomical trainers and we can teach students about airway management and intubation as well as CPR. The operating table is used to teach patient positioning and patient anaesthetic scenarios are recreated using equipment and a mannequin.
Teaching and learning
A varied teaching and assessment diet is used to allow apprentices to learn in a variety of ways and build competence in various methods of assessment. Teaching includes lectures, seminars, skills-lab training, online learning, role-play, debates/discussion, computer labs, as well as supervised learning within the clinical area. Assessment methods utilised include assignments and projects, written examinations, presentations, and OSCEs.
Apprentices must demonstrate competence in all skills, knowledge, and behaviours, as defined by the integrated Degree Apprenticeship Standard. In order to successfully complete the award apprentices must also evidence a minimum of 20% of their time in 'of the job training' activities, this can be achieved in a variety of ways; attending lectures, seminars/workshops, tutorials, skills-lab sessions, e-learning, blended learning and self-managed learning.
Entry requirements
All applicants must hold:

5 GCSEs A-C including Maths, Science and English or equivalent (reformed GCSEs grade 4 or above), or equivalent in functional/key skills.

Additional requirements

Entry requirements: equivalent of 112 UCAS points e.g.
A Level BBC or;
BTEC National Diploma DMM or;
Access to HE qualifications in Nursing or similar with 15 Distinctions and 30 Merits or;
Equivalent level 3 qualifications worth 112 UCAS points

Alternatively: applicants will be considered who have:

An appropriate Level 3 qualification e.g. Senior Healthcare Support Worker/Theatre Apprenticeship or NVQ level 3 in Health and Social Care.
Such applicants must also be able to evidence 20 credits at level 4
Evidence of study within the last 3 years.
The care certificate must be completed before the commencement of the HEI taught component of the apprenticeship. Candidates will be expected to be up to date with all their Trust's mandatory training requirements including basic life support and manual handling.
Candidates must be at least 18 years old upon commencement of the programme.
Offers are also subject to a satisfactory joint interview with the employer and HEI, and completion of apprenticeship pre-course documentation.
How to apply
Home/EU applicants
Mode
Duration
Start date
Application code
Application method

Mode

Part-time

Duration

3 years

Start date

September

Application code

TBC

Application method
Please note: this course is currently subject to validation.
See our admissions policy (PDF File 298 KB) and complaints policy (PDF File 448 KB).
An Apprenticeship Standard is comprised of a programme of study, an End Point Assessment and on-the-job learning. This means that in addition to meeting academic requirements, you'll need to be employed in a role related to your apprenticeship. The process of applying depends on whether you have an employer to sponsor (and support) you.
If you are employed and your employer has confirmed they will support your apprenticeship:
You are welcome to submit an application via our online application system. You'll need to provide details of your employment/employer as part of the application. You'll also need to ensure you and your employer meet the requirements – find out who can be an apprentice to see if you meet the entry requirements and employer commitments to find out more about your employer's role.
If you are not employed:
You will need to find a job role related to the apprenticeship you wish to apply for, with an employer who is happy to support you. If you would like to find an employer to support your apprenticeship with LSBU, you can search which employers are currently advertising Apprenticeships via the National Apprenticeship Service website searching for 'London South Bank University' as keywords.
If there are no search results, this means there are currently no vacancies. We update our vacancies regularly, so please do check back regularly.
Many employers advertise their apprenticeship vacancies on their websites or via other portals. You could search for 'find an apprenticeship' online.
When you're ready to apply, see the government's advice on how to write a winning apprenticeship application and make your application using our online application system.
Further information for apprentices
If you're a prospective apprentice, you can find out more about who can be an apprentice on our student pages.
Further information for employers
If you're an employer, you can find information about the employer commitments and further related information on the related pages for business.
Prepare to start
There are steps the apprentices, the employer and the University need to complete before you start your course. Take a look at the steps to be completed in the Enrolment section. Employers may also like to look at our steps to offering an apprenticeship.
Fees and funding
Funding
The cost of the apprenticeship is paid fully by the employer (sometimes part funded by the government) through apprenticeship levy. The apprenticeship levy is a pot of money some companies pay into, which all businesses have access to spend on the training costs of apprenticeships. Companies fall into two categories: levy-payers (who pay into the pot) and non-levy payers (who do not). You can find out more in our Levy and Funding section, specifically for employers
The apprentice does not contribute toward the cost of study.
Bands
Apprenticeship standards are all assigned a funding band by the Government – these funding bands are the maximum amount the Government will fund via the levy towards a given apprenticeship standard. There are currently 30 funding bands ranging from £1,000 to £27,000.
Incentives
Employers with less than 50 staff sending an apprentice aged 16-18 will have 100% of the training costs paid by the government. All employers who employ an apprentice aged 16-18 on the first day of teaching will receive a £1,000 incentive from the government. You can find out more in our Levy and Funding section, specifically for employers.
Cost
You can find out the funding band for an Apprenticeship Standard on the Government website. To find out how much we are charging, please get in touch with us at apprenticeships@lsbu.ac.uk
Field trips
Some modules include field with and site visits, which may be residential or outside the United Kingdom, ranging from three to five days. These are organised by the Division and students are required to contribute towards the cost. If there are any field trips or any course visits as part of your course, we will let you know in good time.
Contact information
Course Enquiries - UK
Tel: 020 7815 7815
Due to COVID-19, call waiting times may be longer than usual. Click here to start a live chat with us (Mon-Fri, 9am-5pm)
Get in touch