International Accounting and Finance (with internship) - MSc
Overview
Accounting and Finance professionals have central roles in all types and sizes of organisations whether in the UK or abroad. This programme is likely to be of interest to current or intending finance or accounting professionals wishing to gain an academic qualification in both domestic and international financial operations.
The course offers a specialist pathway in accounting (linked to the ACCA Fundamentals papers), but also provides you with the opportunity to select modules in the areas of finance and strategy. This programme focuses on accounting and finance matters within an international context, addressing current challenges and issues faced by businesses and companies around the world.
We're top 3 for research intensity in Accounting and Finance among London Modern Universities (Complete University Guide 2021).
Accountancy College of the Year- Public Sector

PQ Magazine 2017, 2018 and 2019 awards
You'll be provided with analytical and business-led tools that combine academic study with a pragmatic and well structured finance content for decision making (including the use of databases such as Bloomberg). The course also includes training in specialist software (SPSS and N-Vivo).
You'll take part in a residential weekend, exchanging experiences and discussing current events and specific problems affecting the accountancy and finance fields, with academics and a visiting practitioner.
You'll benefit from a wide range of extra-curricular activities including "Academic skills for Finance, Accounting and Governance" and Research Techniques, a range of Bloomberg Aptitude Tests, specialist visitor speakers, and expert symposiums and conferences.
There may be a possibility to undertake an optional work placement to enhance your employability skills and professional experience (subject to validation).
ACCA and CIMA exemptions
ACCA Exemptions
On completion of the course, you will be on a fast track to becoming ACCA qualified, and exempt from the following modules:
F1 - Accountant in Business
F2 - Management Accounting
F3 - Financial Accounting
F4 - Corporate and Business Law
With completion of the specific LSBU modules, you will get following further exemptions:
| LSBU module | ACCA module exemption |
| --- | --- |
| Financial Reporting (BAF-7-FRE) | F7 - Financial Reporting |
| Audit Risk (BAF-7-AUR) | F8 - Audit and Assurance |
| Corporate Financial Management (BAF-7-CFM) | F9 - Financial Management |

CIMA exemptions
On completion of the course, you will be eligible for the master's gateway route. The Master's gateway route is an accelerated entry route to the CIMA Professional Qualification and the individuals are required to take the CIMA Gateway Exam, and get all 11 exemptions from certificate, operational and management level exams after successfully passing the CIMA Gateway Exam.
Mode

Duration

Start date

Application code

Application method

Mode

Full-time

Duration

27 months

Start date

January

Application code

5593

Application method

Direct to LSBU

Mode

Full-time

Duration

24 months

Start date

September

Application code

5723

Application method

Direct to LSBU
Register your interest
A 2.1 degree in any subject from the UK or Bachelors degree equivalent to a UK Second Class Upper Division; or
A 2.2 honours degree in a relevant subject area; or
Other qualifications plus demonstrably relevant business experience will be considered on an individual basis.
For LSBU Business School's 'MSc with Internship' courses, only a limited number of English tests are accepted, and with different subscores English Requirements 'MSc with Internship (PDF File 62 KB)
Accreditation of Prior Learning:
Required English language skills to undertake this programme: Academic IELTS 6.5 (with min score 5.5 in Listening and Reading, min 6.0 in Speaking and Writing) or equivalent.
Tuition fees are subject to annual inflationary increases. Find out more about tuition fees
For more information, including how and when to pay, see our fees and funding section for postgraduate students.
See our Tuition Fees Regulations (PDF File 391 KB) and Refund Policy (PDF File 775 KB).
Possible fee changes
The University reserves the right to increase its fees in line with changes to legislation, regulation and any government guidance or decisions.
The fees for international students are reviewed annually and the University reserves the right to increase the tuition fees in line with the RPIX measure of inflation up to 4 per cent.
Postgraduate loan (PGL) for Masters study
If you are starting a Masters course, studying either full- or part-time, you may be entitled to apply for a postgraduate study loan. Find out more at our postgraduate fees and funding section.
Scholarships
We offer several types of fee reduction through our scholarships and bursaries. Find the full list and other useful information on funding your studies on the scholarships and fee discounts page.
Fee status
Please check your fee status and whether you are considered a Home, EU or International student for fee-paying purposes and for our regulatory returns, by reading the UKCISA regulations.
International students
The course is not currently open to international students.
International (non Home) applicants should follow our international how to apply guide.
Home/EU applicants
Mode
Duration
Start date
Application code
Application method

Mode

Full-time

Duration

27 months

Start date

January

Application code

5593

Application method

Direct to LSBU

Mode

Full-time

Duration

24 months

Start date

September

Application code

5723

Application method

Direct to LSBU
Postgraduate students and research students should apply through our dedicated application system. Full details of how to do this are supplied on our How to apply section for postgraduate students and our How to apply section for research students.
See our admissions policy (PDF File 1,043 KB) and complaints policy (PDF File 516 KB).
Accommodation
Students should apply for accommodation at London South Bank University (LSBU) as soon as possible, once we have made an offer of a place on one of our academic courses. Read more about applying for accommodation at LSBU.
Finance
It's a good idea to think about how you'll pay university tuition and maintenance costs while you're still applying for a place to study. Remember – you don't need to wait for a confirmed place on a course to start applying for student finance. Read how to pay your fees as a postgraduate student.
Postgraduate Application Service
Book a session with one of our specialist Postgraduate Advisors. Over a one on one Advice Session they'll advise you on postgraduate degrees at LSBU that match your interests and experience.
Prepare to start
We help our students prepare for university even before the semester starts. To find out when you should apply for your LSBU accommodation or student finance read How to apply tab for this course.
Enrolment and Induction
Enrolment takes place before you start your course. On completing the process, new students formally join the University. Enrolment consists of two stages: online, and your face-to-face enrolment meeting. The online process is an online data gathering exercise that you will complete yourself, then you will be invited to your face-to-face enrolment meeting.
In September, applicants who have accepted an unconditional offer to study at LSBU will be sent details of induction, which is when they are welcomed to the University and their School. Induction helps you get the best out of your university experience, and makes sure you have all the tools to succeed in your studies.
Read more about Enrolment and Induction.
Suggested reading
Alexander,Britton and Jorissen. (2011). International Financial Reporting & Analysis.5th edition. South Western - Cengage Learning.
Hillier, D, Ross S. A., Westerfield R. W., Jaffe J., Jordan, B. (2011). Corporate Finance, European Edition,McGraw-Hill.
Cottrell S. (2005). Critical Thinking Skills: Developing effective analysis and argument, Palgrave MacMillan, New York, New York, USA.
You could also read background material on:
International Financial Reporting Standards
Financial Analysis
Look at the on-line annual report of a FTSE 100 company.
You could visit the following websites to read current issues in International Banking, Investment and Finance
www.economist.com
www.liffe.com
www.marketeye.co.uk
www.bankofengland.co.uk
www.imf.org
www.cme.com
www.yahoofinance.com
www.bloomberg.co.uk
www.ftse.com
www.globalinvestor.com
www.fsa.gov.uk
www.isda.com
All modules are assessed by a mix of coursework, individual and group presentations and written exams. A typical 20 credit taught module involves a total of 200 study hours (52 contact hours and 148 group and private study hours).
The use of Bloomberg is embedded within modules.
Modules
Creativity Enterprise and InnovationThe module focuses on the rapidly changing world around us, it is imperative that students are able to think creatively, problem solve and create advantage for themselves (be entrepreneurial) and for the businesses they may work for (be intrapreneurial). The module encourages students to question what they see and experience around them with an aim to enhance their creativity and to discover new and improved ways of doing things.
Curiosity, Creativity and Research
This module introduces students to the research process, the mindset of the researcher and in particular to the idea of creativity in research and what it means to be a 'creative researcher'. In this module, students will identify potential topics for their practice-based dissertation and explore these with the aid of creative thinking techniques. In this way their research ideas can be refined and expressed in terms of clear research questions and objectives making use of the relevant literature and theoretical concepts.
Research in Action
The module focuses on the nature, approaches, methods, tools and techniques of research within relevant disciplines from the business environment. In doing so it attempts to develop the skills and knowledge required to complete Master's level research where the emphasis of the research is in improving aspects of business process and business practice. Thus the module is practically oriented towards the completion of a research proposal that will form the basis of the final practice-based project module.
Management Consultancy in a Global Environment
This module is designed to develop professional consultancy skills by studying organisational structure and culture, situational analysis and diagnosis, communication strategies for consulting and group dynamics. Focusing on the development of business research; client handling and project management skills, completion of this module will enable students to prepare a succinct, clear, evidence based, persuasive consultancy led project plan , aligned to the strategic vision of an organisation and which they are able to effectively pitch to a client.
Audit Risk
This module equips students to develop their knowledge and understanding of the process of carrying out the assurance engagement and its application in the context of the professional regulatory framework. This module will make students critically evaluate the nature and purpose of internal audit and describe its role as part of overall performance and its relationship with external audit. In addition, this module will explore the evaluation of information systems, internal controls, audit evidence, audit planning and the audit report.
Corporate Financial Management
The module deals with the theory and techniques of making value-maximising investment and financing decisions based on key factors such as cash, risk and time. It also incorporates the study of the economic environment in which such decisions are taken, and addresses other specialised areas such as the profit distribution decision, merger and acquisition strategy, management of working capital and international financial management. It applies concepts and theories that are central modern financial management.
Theories & Issues in Accounting and Finance
The purpose of this module is to develop the higher level cognitive skills required at postgraduate level, and the inquisitiveness about current issues in the subject area that is required from the reflective practitioner. This is achieved through emphasis on scholarly reading and research, introducing students to current developments in the theories of accounting and finance, including the major approaches to financial management and environmental accounting.
Financial Reporting
This module develops skills in the comprehension and application of accounting standards as related to the preparation of financial statements. The module covers the preparation of financial statements for individual reporting entities. Key technical aspects of corporate reporting are addresses, theoretical issues such as earnings management and the arguments for and against regulation of corporate reporting.
Capstone Business Project
This capstone, independent research project draws upon the students' skills and knowledge gained thus far enabling application of learning to a scenario resulting in added value to an organisation and creating real world impact. This student driven project must address a current issue or opportunity in an organisational or industrial context. Projects can relate to a student's current role or students can use this opportunity to deepen their knowledge of different sectors or organisations thus make connections utilising the project as a vehicle to impress future employers creating a possible stepping stone to their next job. Alternatively they may wish to investigate possible entrepreneurial opportunities.
Internship
All students will study for a 20 credit internship (instead of taking two 10 credit optional modules). This module allows students to gain valuable work experience while studying their master's degree. The student is supported in finding the internship by the Employment Team.
Take an internship
All students have the option to study for a 20 credit internship (instead of taking two 10 credit optional modules). This module allows the student to gain valuable work experience while studying for a master's degree. Responsibility for securing the work placement lies with the student. However, the student is supported during the search process and when the student is actually working. The work placement should have some direct bearing on what the student is studying - a student studying MSc Inernational Accounting and Finance would be expected to secure an internship with some connection with aspects of accounting or finance within the business community.
Facilities
Specialist industry software prepares our students with the digital skills that employers' value. Students on our programmes have access to Bloomberg, SAGE, FAME, NVivo, and SPSS.
Read more about LSBU Business School's specialist facilities and software.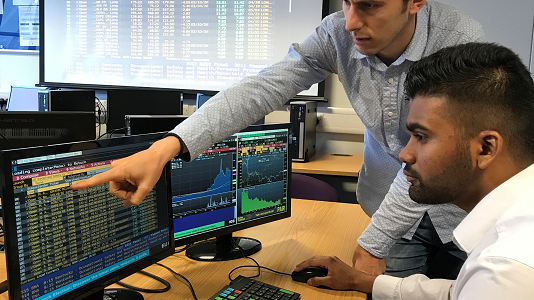 Careers
Employability Service
We are University of the Year for Graduate Employment for the second year in a row - The Times and Sunday Times Good University Guide 2018, 2019.
At LSBU, we want to set you up for a successful career. During your studies – and for two years after you graduate – you'll have access to our Employability Service, which includes:
An online board where you can see a wide range of placements: part-time, full-time or voluntary. You can also drop in to see our Job Shop advisers, who are always available to help you take the next step in your search.
Our Careers Gym offering group workshops on CVs, interview techniques and finding work experience, as well as regular presentations from employers across a range of sectors.
Our Student Enterprise team can also help you start your own business and develop valuable entrepreneurial skills.
We Provide
Academic entry route into accounting and finance for applicants holding non-specialist entry qualifications;
A natural progression route for students of undergraduate programme particularly in the areas of business, economics and finance;
Optional internship to develop the skills required by employers in the accounting and finance professions;
A choice of electives to reflect both student interests and potential career opportunities;
An opportunity to study either full-time or part-time and with intakes in both September and January;
Access to prestigious resources such as the Bloomberg computer suite.
A wide range of extracurricular activities and opportunities to attend expert symposiums and conferences to enhance employability and enhance awareness of contemporary issues and developments within the subject domains;
Two residential weekends;
The opportunity for consultancy practice;
The opportunity to carry out a project suiting the students career needs;
Multiple start dates and modes of delivery to suit;
Business start-up advice and support during the programme for budding entrepreneurs;
Opportunities to network and develop connectivity with our post graduate research and enterprise community;
Life coaching; and extended internship work experience opportunity for all students
Types of careers
Graduates who possess a combination of an LSBU Masters degree and a professional accounting qualification are likely to be highly employable in senior positions in accounting and finance, not only in the UK but throughout the world. Excellent career opportunities exist in accounting and finance. Recent graduates have secured positions in accounting firms, industry, banking, finance and commerce.
Past employability skills events held by the Department include:
"My Employability event"
My dream job
Preparing CVs and cover letters
Using databases to research the company
IT qualifications for your CV
Preparing for interviews
Managing expectations
Internships
ACCA and CIMA exemptions
On completing this course, you will be on a fast track to becoming ACCA qualified, and exempt from the following exams:
F1 - Accountant in Business
F2 - Management Accounting
F3 - Financial Accounting
F4 - Corporate and Business Law
With the completion of the modules:
F5 Performance Management, Management Accounting (BAF-7-MAC)
F8 Audit and Assurance, Audit Risk (BAF-7-AUR)
F9 Financial Management, Corporate Financial Management (BAF-7-CFM)
CIMA Exemptions:
Graduates are eligible for the master's gateway route or direct entry to the operational level objective tests
Subjects
BA1 Fundamentals of Business Economics
BA2 Fundamentals of Management Accounting
BA3 Fundamentals of Financial Accounting
BA4 Fundamentals of Ethics, Corporate Governance and Business Law
Academic progression
This masters degree also prepares you for research and further study in this area which can lead onto a PhD qualification.
Our graduates are highly employable and progress onto a variety of senior roles in the public, private and third sectors, often starting their own businesses and consultancy firms in the UK and abroad.
Successful students will gain a combination of professional body exemptions and also part preparation for various higher professional examinations of the ACCA, CIMA, ICAEW and CISI dependant on the choice of electives studied. This is subject to successful revalidation and professional body accreditation.
Possible links with ACCA China (from 2015).
The course features guest speakers and industry events.
Recent speakers include:
Emmanouil Schizas, Senior Policy Advisor for ACCA and Editor of ACCA's quarterly Global Economic Conditions Survey
Professor Chris Brewster, University of Reading
Past events include:
"Customer Focus in Banking: How to implement it?"
Keynote speaker: Owen Woodley, Managing Director, Lloyds Bank Retail.
Panel: Mark Mullen, Chief Executive, First Direct & Head of UK Contact Centres; Paul Lynam, CEO, Secure Trust Bank; Ashleye Gunn, Consumers Association 'Which?'; Richard Goodman, Policy Director, Financial Ombudsman.
Chairman: Chris Skinner, Chair, the Financial Services Club
"Making Corporate Governance effective in banking"

Keynote speaker: Peter Swabey, Policy and Research Director, ICSA.
Panel: Prof. Andrew Chambers, International Internal Audit Standards Board; Mike Trippit, Director, Equity Research - Banks, Numis; Catherine Howarth, CEO, Share Action; Robert Hingley, Director of Investment Affairs, Association of British Insurers; Charles Middleton, CEO, Triodos Bank.
Chairman: Simon Osborne, CEO, ICSA
"Fixing our banks: What to fix and by whom?"
Participant Speakers:
Chris Skinner - Chairman – European Networking Forum. The Financial Services Club
A bank's perspective: Triodos Bank – Charles Middleton
Board of Directors and Shareholders' issues: ICSA – Patrick Gonsalves
Employees' issues: Unite. Finance & Legal – National Officer – Dominic Hook
Customer's issues: Which? Consumers Association. Head of Money Content – James Daley
Regulatory issues: Internal Audit Guidance for Financial Services, set up by the FSA and the Chartered Institute of Internal Auditors – Professor Andrew Chambers
The conference discussed the different stakeholders' perspectives about the changes that should be introduced in the banking system to deal effectively with the current crisis affecting financial institutions.
Centre of Excellence status is the IoEE's (Institute of Enterprise and Entrepreneurs) flagship organisational accreditation for organisations that promote and deliver enterprise skills development – and is in recognition of the School's entrepreneurial culture and leading-edge practice.
The Association of Chartered Certified Accountants (ACCA) was founded in 1904; the ACCA is the global body for professional accountants offering the Chartered Certified Accountant qualification
Memberships
LSBU Business School is an esteemed member institution of the Business Graduates Association (BGA), an international membership and quality assurance body of world-leading and high-potential Business Schools who share a commitment for responsible management practices and lifelong learning, and are looking to provide positive impact on their students, communities, and the economy as a whole. BGA is the sister brand to the Association of MBAs (AMBA), the world's impartial authority on postgraduate management education.

As a BGA member institution, students of LSBU Business School are able to access BGA's individual membership, which offers a range of tools and resources designed to support the professional and personal development of business students and graduates, free of charge. This includes CV building services, a job search function, skill assessments, thought-leadership, partner discounts and much more.
Teaching and Assessment
Lectures cover concepts which underpin and facilitate informed participative approaches to learning. Workshops, seminars, case studies and student led discussion facilitate more active modes of learning. You'll also benefit from excellent learning materials and small class sizes and receive training in the use of Bloomberg and Thomson-One Banker, and specialist software (SPSS and N-Vivo).
Assessment is by written coursework and exams. Lecturers offer a rich profile of academic and professional qualifications backed by professional teaching and/or research experience. An academic is appointed as your Dissertation/Business Project Facilitator, to offer guidance and constructive advice on the preparation of your dissertation/report.
Personal Tutoring
As a postgraduate student in the Business School, your personal development and wellbeing is very important to us, so we have developed a personal tutoring system that is tailored to your individual and group needs.
Firstly, you will be allocated a personal tutor who will be available to you on a 1:1 basis as well as facilitating group personal tutoring sessions, designed to enhance your academic and personal development within your postgraduate degree programme.
In addition to an allocated personal tutor, there will also be a personal tutor available 'on call' in a designated room, called 'Talk', for confidential 1:1 pastoral care meetings every day of the academic semester from 9am to 8pm. This personal tutor can be seen by appointment or within a few minutes in order to assist you with any concerns that you may have.
Our personal tutoring motto is that we want you to "Achieve, Succeed & Excel".
Contact information
Course Enquiries - UK
Tel: 0207 815 7500
Chat with a course student