BTEC HND Chemical Engineering
Southwark Campus
Mode: Full-time
Chemical Engineering - BTEC HND
Overview
From medicine to plastics
How do you change raw materials into safe, useful products essential to everyday life? Become a chemical engineer. On this two-year course, you'll gain a strong understanding of the core disciplines of chemical engineering, with a strong emphasis on design. Practical work forms an important part of the course, and you'll have the advantage of working in our modern, well-equipped laboratories.
We offer the opportunity for all undergraduate Home/EU students to undertake a work placement, internship or work experience while studying a full-time course starting in September 2019.
Why study Chemical Engineering at LSBU?
Top 10 in UK for career prospects in Chemical Engineering (Guardian 2019).

Specialist staff with great industry contacts.

Clear ways to progress – go on to degrees in either Chemical or Petroleum Engineering.

Our subject-specific facilities include a mix of multi-purpose and specialist labs.

Top 10 in the UK for research intensity in Chemical Engineering (Complete University Guide 2019).
Accreditations
Key course information - ordered by mode
Mode
Duration
Start date
Location

Mode

Full-time

Duration

2 years

Start Date

September

Location

Southwark Campus
Modules
Get the chance to study the fundamentals of chemical engineering through a combination of theoretical, practical and project work. We take an applied approach, so you can expect a strong emphasis on design. This course covers: laboratory skills, engineering mathematics, design and practice, chemical thermodynamics and separation / reaction. In short, everything you need to know to take up a position in the chemical and process industry.
Methods of assessment for course overall: 29% coursework.
Year 1
Introduction to chemical and petroleum engineering
This module provides an introduction to the scope and nature of the chemical and petroleum industries, the role of professional engineers within these industries, and key technical concepts underpinning chemical and petroleum engineering. You'll develop an understanding of the economic importance of these industries and the career pathways available to you. Key concepts in process analysis and resource utilisation will be introduced. Assessment methods: 40% coursework, 60% exam.
Study and laboratory skills
This module provides an introduction to both study and laboratory skills to support study of the Extended Degree programme and for entry into BEng or BSc programmes. The module will introduce study skills considering both individual and team-working skills, it will cover exam preparation, revision and question answering techniques. It will also introduce you to your own Personal Development Planning process. This module will enable you to develop and use appropriate safe working practices in the workshop or laboratory environment specific to your subject /discipline. Assessment method: 100% coursework.
Engineering principles
This module will help you develop your understanding of essential scientific principles for the study of engineering to degree level. It's designed to be accessible to students with a range of prior science specialisation. The module comprises two blocks of study. These will introduce the principles of measurement systems and units, thermal physics and mechanical and electrical principles. Assessment methods: 40% coursework, 60% exam.
Scientific principles for engineering
Applied mathematics 1
This module will provide you with the mathematical knowledge and skills to support study of the Extended Degree programme and for entry into the BEng or BSc programmes. The class this module is designed and intended for is a mix of mature students with some prior learning experience and young students with below A Level of mathematical background. Assessment methods: 30% coursework, 70% exam.
Year 2
Fluids and separation
This module covers the basic concepts and principles underlying the physical separation of ideal binary liquid mixtures. It also covers the design of stage-wise and differential distillation and gas absorption processes for the separation of ideal binary mixtures. Equipment design for separation of particles in suspension from a liquid or a gas will be introduced, looking at mechanical separations and related unit operations such as sedimentation, centrifugation, filtration, membrane separations, fluidisation processes, and crystallisation. The physical principles of fluid mechanics for fluid flow in pipes (with frictional losses) will be taught, together with design of piping systems (parallel or in series), as well as an introduction to single particle dynamics in fluids, associated drag force and drag coefficients and Stoke's law, and the application of Stoke's law in a cyclone separator. Assessment methods: 30% coursework, 70% exam.
Engineering mathematics and modelling
This module consolidates the mathematical skills that underpin the BEng engineering degrees. It's specifically designed to cater for the wide differences in mathematical background of 1st year students, as well as to prepare you for the Advanced Engineering Mathematics and Modelling module that you'll take in the second year. Assessment methods: 50% coursework, 50% exam.
Thermodynamics
Design and practice
This module will cover material design activities, team work, creative problem-solving, project management, sustainable development principles, personal development planning, report writing communication, Computer-Aided Design (CAD), employability and transferable skills. It's also a work-based module for part-time students, utilising the Virtual Learning Environment (VLE) to provide supporting teaching material and assessments. Assessment method: 100% coursework.
Chemical industrial processes
Employability
The chemical industry is firmly focused on meeting the challenges of tomorrow; using the earth's resources as efficiently as possible to provide for the needs of future generations. It's an important and varied area for employment.
Possible roles include becoming a power plant or gas plant engineer. Or, like many graduates, you could top up your HND to degree level – complete the course and you'll be eligible to join either the BEng (Hons) Chemical and Process Engineering or BEng (Hons) Petroleum Engineering in the second year.
Take a look at some potential careers, including chemical engineer, on Prospects.
Employability Service
We are University of the Year for Graduate Employment for the second year in a row - The Times and Sunday Times Good University Guide 2018, 2019.
At LSBU, we want to set you up for a successful career. During your studies – and for two years after you graduate – you'll have access to our Employability Service, which includes:
An online board where you can see a wide range of placements: part-time, full-time or voluntary. You can also drop in to see our Job Shop advisers, who are always available to help you take the next step in your search.
Our Careers Gym offering group workshops on CVs, interview techniques and finding work experience, as well as regular presentations from employers across a range of sectors.
Our Student Enterprise team can also help you start your own business and develop valuable entrepreneurial skills.
Professional links
Accreditation is a mark of quality assurance that the degree meets the standards set by the Engineering Council, who represent the engineering profession. The course is accredited by the Institution of Chemical Engineers (IEng level) offering you the opportunity to become an incorporated engineer. Some employers recruit preferentially from accredited degrees, and an accredited degree is likely to be recognised by other countries that are signatories to international accords.
---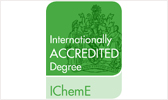 The Institution of Chemical Engineers (IChemE) is the global professional membership organisation for people with relevant experience in chemical engineering. Having this accreditation helps progression towards Chartered Engineer status, which is an internationally recognised qualification.
Teaching and learning
Percentage of time spent in different learning activities

| | Lectures, seminars and lab-based study | Self-directed study |
| --- | --- | --- |
| Year 1 | 27% | 73% |
| Year 2 | 33% | 67% |
Personal Tutoring
As an Engineering student, you will be allocated a named tutor during your first three weeks at LSBU. The role of your tutor is to be your primary contact for academic and professional development support.

Your tutor will support you to get the most of your time at LSBU, providing advice and signposting to other sources of support in the University.
They should be the first person at the university that you speak to if you are having any difficulties that are affecting your work. These could be academic, financial, health-related or another type of problem.
You will have appointments with your personal tutor at least twice a semester. Some meetings will be one-to-one and others will be in small groups. You can contact your tutor for additional support by email or in person.
Entry requirements
A Level DDD or;
BTEC National Diploma MMP or;
Access to HE qualifications with 24 Merits and 21 Passes or;
Equivalent level 3 qualifications worth 80 UCAS points
Level 3 qualifications must include Maths or Science (chemistry preferred)
Applicants must hold 5 GCSEs A-C including Maths and English or equivalent (reformed GCSEs grade 4 or above).
We welcome qualifications from around the world. English language qualifications for international students: IELTS score of 6.0 or Cambridge Proficiency or Advanced Grade C.
How to apply
International students
International (non Home/EU) applicants should follow our international how to apply guide.
Instructions for Home/EU applicants
Mode
Duration
Start date
Application code
Application method

Mode

Full-time

Duration

2 years

Start date

September

Application code

008H

Application method
Accommodation
Once we have made you an offer, you can apply for accommodation. You can rent from LSBU and you'll deal directly with the university, not third party providers. That means we can guarantee you options to suit all budgets, with clear tenancy agreements and all-inclusive rents that include insurance for your personal belongings, internet access in each bedroom and on-site laundry facilities.
Or, if you'd rather rent privately, we can give you a list of landlords – just ask our Accommodation Service.
Read more about applying for accommodation at LSBU.
Finance
You don't need to wait for a confirmed place on a course to start applying for student finance. Read how to pay your fees as an undergraduate student.
Prepare to start
Applicant events
After you've received your offer we'll send you emails about events we run to help you prepare for your course.
Enrolment
Before you start your course we'll send you information on what you'll need to do before you arrive and during your first few days on campus. You can read about the process on our Enrolment pages.
Fees and funding
Fees are shown for new entrants to courses, for each individual year of a course, together with the total fee for all the years of a course. Continuing LSBU students should refer to the Finance section of our student portal, MyLSBU. Queries regarding fees should be directed to the Fees and Bursaries Team on: +44 (0)20 7815 6181.
UK/EU fee:

£9250

International fee:

£13780

AOS/LSBU code:

741

Session code:

1FS00
Total course fee:
UK/EU
£18500
International
£27560
For more information, including how and when to pay, see our fees and funding section for undergraduate students.
Please check your fee status and whether you are considered a Home, EU or International student for fee-paying purposes and for our regulatory returns, by reading the UKCISA regulations.
See our Tuition Fees Regulations (PDF File 143 KB) and Refund Policy (PDF File 102 KB).
Possible fee changes
The University reserves the right to increase its fees in line with changes to legislation, regulation and any government guidance or decisions.
The fees for international students are reviewed annually and the University reserves the right to increase the tuition fees in line with the RPIX measure of inflation up to 4 per cent.
Scholarships
We offer several types of fee reduction through our scholarships and bursaries. Find the full list and other useful information on our scholarships page.
KIS Data