Extended Degree Programme Built Environment
Southwark Campus
Mode: Full-time; Part-time
Built Environment - Extended Degree Programme
Overview
Dream careers can be built
If you're a mature student looking to progress your career, or don't satisfy the requirements for entry onto a degree course; this preparation year is for you. This isn't a freestanding degree. Think of it as the first year in a four-year period of studying that will lead you to a degree linked to one of the built environment professions: architecture, surveying and construction management. The experience you gain during the year, and your discussions with tutors, will help you choose the degree best suited to your interests and abilities.
We offer the opportunity for all undergraduate Home/EU students to undertake a work placement, internship or work experience while studying a full-time course starting in September 2019.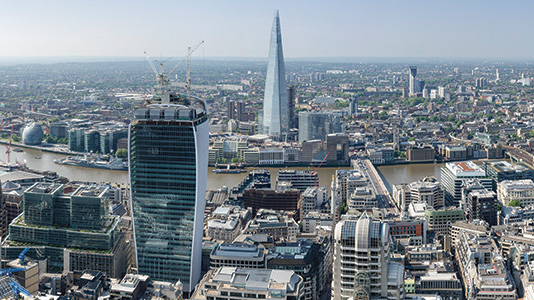 Why study Built Environment at LSBU?
No. 1 London university: for 'satisfied with teaching' and 'satisfied with assessment' in Building, town and country planning (Guardian League Table 2018)

Our subject-specific facilities include a Building Information Modelling (BIM Centre).

History: we've been educating building professionals for over 100 years – and have strong industry connections.

Flexible study: Study full-time or part-time one day a week.

Specialist staff with great industry contacts.
Key course information - ordered by mode
Mode
Duration
Start date
Location

Mode

Full-time

Duration

4 Years

Start Date

September

Location

Southwark Campus

Mode

Part-time

Duration

6 years

Start Date

September

Location

Southwark Campus

Mode

Sandwich

Duration

5 years

Start Date

September

Location

Southwark Campus
Modules
You'll start off looking at the subjects that you'll face in your first year of degree studies, setting you up with the academic and technical grounding you need. For details on modules at degree level please look at the individual course entries of your chosen progression route.
This preparatory year is all about giving you the core grounding of knowledge to move on to a qualification that fits your future career ambitions. You don't have to have it all worked out in advance, your tutors will be on hand to advise you. The results you achieve may restrict your subject choices.
Art and design
This module will introduce you to visual design and seek to strengthen the understanding and appreciation of artistic design in all its many forms. Assessment method: 100% coursework.
Constructing the built environment
This module will seek to develop this context into an understanding of the use of traditional materials and construction technologies in domestic buildings of the past and the development of the modern technologies used today.The module focuses on the history of the built environment, domestic construction and the role of the institutions and regulatory authorities in the construction industry. Assessment method: 100% coursework.
Construction mathematics
This module focuses on the basic mathematical skills required from you, not assuming any level of previous knowledge. It focuses on areas applicable to your choice of future study. Assessment method: 100% coursework.
Design concepts
The module continues to introduce you to visual design and to develop your understanding and appreciation of design in its many forms. Assessment method: 100% coursework.
Integrated project
In this module, you'll work together in groups of 3 or 4 to form multi-disciplinary teams to propose and develop a specific idea for a large scale development. The objective requires the development of an idea through field and desktop research, together with its development into a cohesive design proposal by further research, testing and hands-on design, utilising each disciplinary skill within the team. Assessment method: 100% coursework.
Practical skills for architecture
This module provides an introduction to the workshop and drawing skills associated with students aspiring to a career in architecture. Assessment method: 100% coursework.
Practical skills for construction
This module is designed to introduce some of the basic skills required for those entering the construction/surveying field, by providing an overview of many of the concepts expected from the construction professional today. Assessment method: 100% coursework.
Principles of construction science
This module covers the principles of chemistry and physics, at a level between GCSE and A-level. It serves as a preparatory unit for students intending to undertake Built Environment undergraduate degree courses in the University, and introduces you to a range of skills required in both the chemical and physical sciences, as appropriate to your intended programme of study. Assessment method: 100% coursework.
Study skills
This module provides a foundation in study skills, methodology and presentation for the rest of your studies in the University. You'll develop your IT word processing and spreadsheet working skills. The unit involves group work and develops team-working skills and covers exam preparation, revision and question answering techniques. It will introduce you to your own Personal Development Planning process, which should grow and adapt with you throughout your course of study in the University and beyond. Assessment method: 100% coursework.
Full-time and part-time modes:
Full-time students, subject to assessment, be considered for entry to all the degree programmes listed.
Part-time students undertake five units of study in the year and may then be considered for entry to the HNC Construction programme that may then be credited and counted towards a part-time degree. However, students wishing to study the BA (Hons) in Architecture are advised to study full-time in order to develop their portfolio to the required standard. In all cases, students will need to discuss their options and required grades with the Course Director for their choice of degree.
Employability
This year is your launch pad to further study with us. Complete it successfully and you can choose from a number of courses – take a look to see where the next few years could take you:
Take a look at some potential careers, including building surveyor / architect / quantity surveyor / project manager, on Prospects.
Employability Service
We are University of the Year for Graduate Employment for the second year in a row - The Times and Sunday Times Good University Guide 2018, 2019.
At LSBU, we want to set you up for a successful career. During your studies – and for two years after you graduate – you'll have access to our Employability Service, which includes:
An online board where you can see a wide range of placements: part-time, full-time or voluntary. You can also drop in to see our Job Shop advisers, who are always available to help you take the next step in your search.
Our Careers Gym offering group workshops on CVs, interview techniques and finding work experience, as well as regular presentations from employers across a range of sectors.
Our Student Enterprise team can also help you start your own business and develop valuable entrepreneurial skills.
Professional links
London South Bank University has a long history of educating professionals for the building-related industries. With roots in London Council School of Building (1904), Brixton School of Building (1940) we have been offering training for this sector for over 100 years.
Our current students and alumni hold key positions in their organisation, often as senior managers and business owners.
Teaching and learning
An Extended Degree is a structured 4/5 year programme (when completed full-time), where the first year is designed to prepare you with the necessary knowledge and skills to undertake a degree-level course. On successful completion of this preparatory year you'll naturally progress your studies with LSBU in any of the following branches of the built environment:
The experience that you gain during the initial year, and your discussions with tutors, will ensure that you choose the best degree suited to your interests and abilities. You can transfer from one course to another too. However if you're considering Architecture you'll need to decide by the Semester 2 of the Extended Degree Programme.
Entry requirements
2018 Entry
A Level EEE or
BTEC National Diploma - MPP or
Access to HE qualifications with 45 Passes or
Equivalent level 3 qualifications worth 64 UCAS points
Applicants must hold 5 GCSEs A-C including Maths and English or equivalent (reformed GCSEs grade 4 or above).
We welcome qualifications from around the world. English language qualifications for international students: IELTS score of 6.0 or Cambridge Proficiency or Advanced Grade C.
The Extended Degree is intended for either:
Candidates over 21 who may not have appropriate formal qualifications for direct entry. Such candidates will normally be required to attend for interview at which time they will be encouraged to demonstrate their suitability for and commitment to study at higher education level
Candidates under 21 who do have the requisite number and level of GCSE or BTEC passes, but in the wrong subjects for chosen degree (i.e. student wishing to study architecture, but with A-levels in science subjects).
How to apply
International students
International (non Home/EU) applicants should follow our international how to apply guide.
Instructions for Home/EU applicants
Mode
Duration
Start date
Application code
Application method

Mode

Full-time

Duration

4 Years

Start date

September

Application code

F890

Application method

Mode

Part-time

Duration

6 years

Start date

September

Application code

3189

Application method

Mode

Sandwich

Duration

5 years

Start date

September

Application code

F890

Application method
Accommodation
Once we have made you an offer, you can apply for accommodation. You can rent from LSBU and you'll deal directly with the university, not third party providers. That means we can guarantee you options to suit all budgets, with clear tenancy agreements and all-inclusive rents that include insurance for your personal belongings, internet access in each bedroom and on-site laundry facilities.
Or, if you'd rather rent privately, we can give you a list of landlords – just ask our Accommodation Service.
Read more about applying for accommodation at LSBU.
Finance
You don't need to wait for a confirmed place on a course to start applying for student finance. Read how to pay your fees as an undergraduate student.
Prepare to start
Applicant events
After you've received your offer we'll send you emails about events we run to help you prepare for your course.
Enrolment
Before you start your course we'll send you information on what you'll need to do before you arrive and during your first few days on campus. You can read about the process on our Enrolment pages.
Preparatory Reading List
Marion Temple (2004) Studying the Built Environment, Palgrave.
Mike Riley & Howard (2001), Construction Technology 1, House Construction.
Bird J.O and May A.J.C.(1987) Technician Mathematics, Levels 1 and 2, Longman.
GCSE Mathematics. The Revision Guide, Higher Level. CGP ISBN 1-84146-001
Lawson, B. (1990) How designers think, Butterworth Architecture, Oxford.
Banham, R. (1992) Guide to Modern architecture, Architectural Press.
Balcombe, G. (1985) History of Buildings, Batsford Academic and Educational, London.
Fees and funding
Fees are shown for new entrants to courses, for each individual year of a course, together with the total fee for all the years of a course. Continuing LSBU students should refer to the Finance section of our student portal, MyLSBU. Queries regarding fees should be directed to the Fees and Bursaries Team on: +44 (0)20 7815 6181.
Year1FTSouthwarkArchitectureSEPT
UK/EU fee:

£9250

International fee:

£13780

AOS/LSBU code:

3188

Session code:

1FS00
Year1FTSouthwarkConstruction ManagementSEPT
UK/EU fee:

£9250

International fee:

£13780

AOS/LSBU code:

3188

Session code:

1FS02
Year1FTSouthwarkSurveyingSEPT
UK/EU fee:

£9250

International fee:

£13780

AOS/LSBU code:

3188

Session code:

1FS01
Year1PTSouthwarkArchitectureSEPT
UK/EU fee:

£6166.67

International fee:

£9186.67

AOS/LSBU code:

3189

Session code:

1PS00
Year1PTSouthwarkConstruction ManagementSEPT
UK/EU fee:

£6166.67

International fee:

£9186.67

AOS/LSBU code:

3189

Session code:

1PS02
Year1PTSouthwarkSurveyingSEPT
UK/EU fee:

£6166.67

International fee:

£9186.67

AOS/LSBU code:

3189

Session code:

1PS01
For more information, including how and when to pay, see our fees and funding section for undergraduate students.
Please check your fee status and whether you are considered a Home, EU or International student for fee-paying purposes and for our regulatory returns, by reading the UKCISA regulations.
See our Tuition Fees Regulations (PDF File 143 KB) and Refund Policy (PDF File 102 KB).
Possible fee changes
The University reserves the right to increase its fees in line with changes to legislation, regulation and any government guidance or decisions.
The fees for international students are reviewed annually and the University reserves the right to increase the tuition fees in line with the RPIX measure of inflation up to 4 per cent.
Scholarships
We offer several types of fee reduction through our scholarships and bursaries. Find the full list and other useful information on our scholarships page.