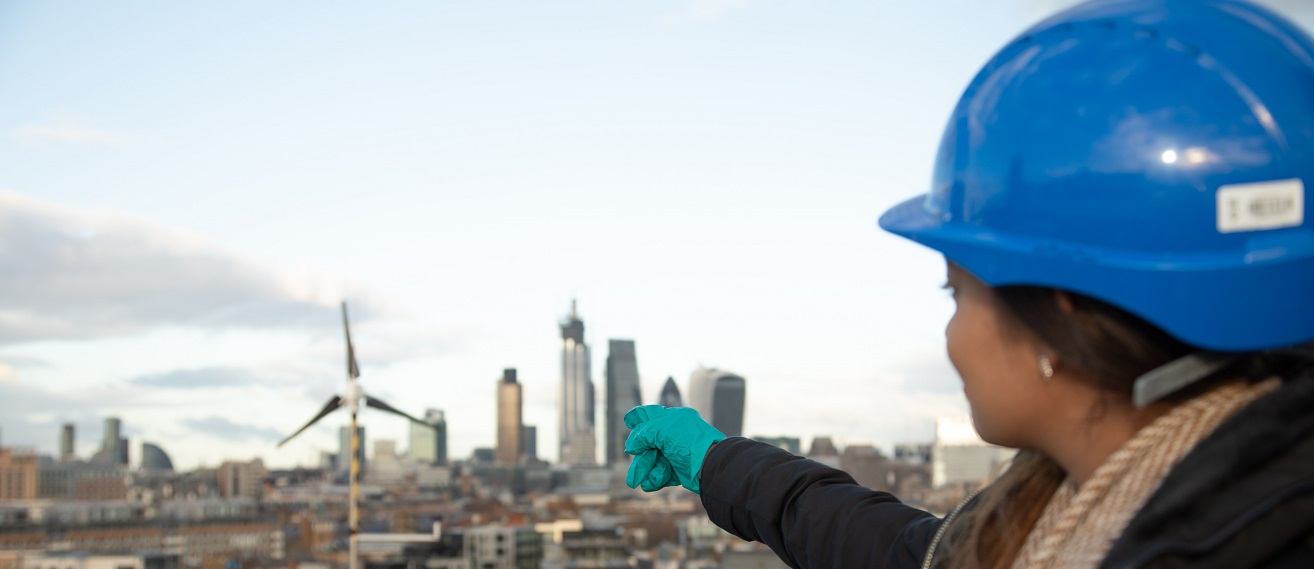 BSc (Hons) Construction Management
Southwark Campus
Mode: Full-time; Part-time; Day release
Construction Management - BSc (Hons)
Overview
Oversee the build
How about combining site action with the business side of the building industry? This accredited course will equip you with the skills for a career in construction management, allowing you to be involved at every stage of exciting developments across London and beyond.
You'll build a range of technical and managerial construction expertise, along with up to date knowledge of legislation and regulations – the byelaws, health and safety regulations and legal and financial implications of construction projects. We'll also prepare you to lead multidisciplinary teams and deliver with confidence in complex environments.
This course, accredited by Chartered Institute of Building (CIOB), will prepare you for a career in a range of fields within the built environment, including project management, contracting, consultancy and house building. The CIOB is the professional body representing the building industry.
We offer the opportunity for all undergraduate Home/EU students to undertake a work placement, internship or work experience while studying a full-time course starting in September 2021.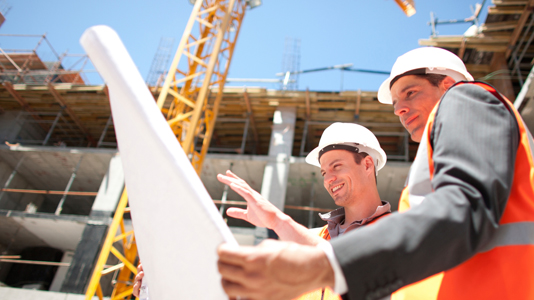 Why study Construction Management at LSBU?
Ranked 1st amongst London modern competitors for Overall Score in Building (Complete University Guide 2021 and Guardian University Guide 2021).

Professional accreditation: we're fully accredited by the Chartered Institute of Building.

Our subject-specific facilities include a Building Information Modelling (BIM Centre).

You'll be taught on a site which is part of a multi-billion pound regeneration area in the heart of London, so you'll be close to a range of employment opportunities for work placements, internships and networking.

History: we've been educating building professionals for over 100 years – and have strong industry connections.
Advanced entry
Those holding a relevant HNC/D will be considered for advanced entry. To apply, use UCAS (full-time) or apply direct to LSBU (part-time) and simply indicate which year of the course you wish to join.
Accreditations
Key course information - ordered by mode
Mode
Duration
Start date
Location

Mode

Part-time

Duration

5 years

Start Date

September

Location

Southwark Campus

Mode

Full-time

Duration

3 years

Start Date

September

Location

Southwark Campus

Mode

Sandwich

Duration

4 years

Start Date

September

Location

Southwark Campus
Modules
The knowledge gained enables you to have the confidence to work with other professionals and to deliver in complex project or process environments. We'll cover: management and business practice, the legal aspects, economics, construction technology and materials, construction planning, project management and finance, and estimating and tendering.
Methods of assessment for course overall: 71% coursework
Year 1
Construction practice
This module aims to provide you with the knowledge of the interrelationships between industry, professional bodies and education, and an understanding of key professional and research requirements. It will provide you with a roadmap for your professional career, and will enable you to prepare for employment in the construction discipline. Assessment method: 100% coursework.
Surveying and setting out
This module focuses on the principles and application of surveying in the construction industry using both traditional and modern surveying technology, including the establishment of horizontal/vertical control and basic setting out techniques and processes. Assessment method: 100% coursework.
Legal and economic context
The legal content of this module will introduce the sources and basic rules of UK law, including common law and statute law, as it affects construction and property professionals. It will provide an introduction to construction contract law, and tort and restitution law as they affect professionals. It will explain the differences between common law and equity and criminal law, and their relevance to construction and property professionals. It will establish the legal and ethical framework of Health and Safety regulation. The economics content of the module will introduce you to micro and macro economics, and will examine the theoretical and empirical framework of economics, including price formation, the theory of the firm, degrees of competition, Government economic objectives, monetary policy, behavioural economics, contract theory, inflation and unemployment. Assessment method: 100% coursework.
Construction technology and materials
This unit will introduce you to the study of building materials and how buildings are pieced together (i.e. building technology). Assessment methods: 50% coursework, 50% exam.
Construction technology and structures
This module will introduce you to the study of building technology associated with larger, more complex buildings, as well as to the fundamentals of structural analysis. Assessment methods: 50% coursework, 50% exam.
Building services and environmental science
This module focuses on building services and the environmental performance, and develops an understanding of how buildings perform in the areas of acoustics, heat and moisture transfer, lighting, ventilation and air conditioning design. The underlying principles of each topic will be covered, together with more advanced applications, enabling you to demonstrate an understanding of building performance to other professionals within the industry. Assessment methods: 50% coursework, 50% exam.
Year 2
Construction contract law
This module examines the various types of construction contracts, including families of standard construction contracts, and the common law and legislation and administrative procedures which govern them. It provides a working knowledge and understanding of construction contract legal problems, and related applicable law, such as non-contractual liabilities. It examines when a dispute arises in legal terms, and how dispute resolution methods may be employed to resolve problems and disputes. Assessment method: 100% coursework.
Measurement and documentation
This module provides an understanding of the fundamental concepts underlying the requirement to quantify and specify construction work. You'll establish the underlying principles required for the independent production of tender documents. The module will also provide the basic practical skills in measurement required for private practice, contracting and public service. Assessment method: 100% coursework.
Estimating and tendering process
This module is designed to provide you with an understanding of the basic methods of procurement, the characteristics and operation of each method, and the skills to decide the most suitable method for various circumstances. In addition, you'll develop an understanding of the methods used for preparing an analytical tender and the choices available to the builder when submitting his bid to obtain a project. Assessment method: 100% coursework.
Production management
This module will introduce the concepts of site investigation, tender, pre-construction and construction planning. You'll receive basic knowledge in temporary works, choice of plant, erection systems for traditional and multi-storey steel and concrete structures. You'll learn about site layout planning, materials handling, build ability, method, work sequence and basic programming. Theory will be underpinned by application to practical problems. Health, safety, welfare and environmental systems, procedures, inspections, statutory records will be examined within the requirements for safe practice, environmental protection, economy and general welfare. Assessment methods: 50% coursework, 50% exam.
Construction planning
This module focuses on the management of the production phase in the construction of buildings, and the need to complete the project within an agreed time span, to an appropriate quality and to an agreed cost using appropriate resources. A working knowledge of planning and programming techniques and the associated analytical skills will be developed so that strategies can be formulated to achieve a satisfactory product matching the needs of the client. The module will emphasise analysis, decision making and team work, together with a good standard of presentation. Assessment method: 100% coursework.
Management of organisation
This module has two broad approaches. The first is an analytical approach to understanding organisations and managerial actions by considering the development of management theory, through the Classical Schools of thought up to the present day. This includes the nature of the roles of management, and the competencies required to manage organisations. The second approach introduces human resource management, the principles of personnel management and industrial relations, with particular reference to the construction industry. In parallel to the above broad areas of analysis and management practice, you'll spend time developing aspects of personal skills important in carrying out future management roles. Assessment method: 100% coursework.
Year 3
Year 4
Research project
This module applies research method skills on a project-based, applied research topic chosen by you, which includes two main phases: an initial research project proposal submitted for approval and the preparation of the full research project at the end of the module. Assessment method: 100% coursework.
Project management
In recent years the specialism of construction project management has been developed by construction professionals working within construction companies, construction consultancies and the public sector. This specialism is required to achieve effective and efficient management of the whole construction process from inception to completion. This module seeks to support this response by introducing the theory underlying project management and applying this to practical issues and problems in the construction industry. Assessment methods: 50% coursework, 50% exam.
Corporate management and finance
This module will provide an introduction to financial and corporate management through an outline of the types of firm, their sources of finance, and the requirement to keep accounts and develop corporate strategy to match the firm's specific objectives. The module will explore the changing nature of financial and business markets, the need to budget and to plan in uncertain environments, and will provide an understanding of corporate governance and business ethics. The development of an understanding of finance and accounts supplemented by an understanding of markets, of opportunities and threats, will lead to the wider issues of corporate and strategic planning. Assessment method: 100% coursework.
Contract practice and administration
This module provides the knowledge necessary for the execution of the contractual duties of the quantity surveyor and commercial manager in contracting and development companies, consultancy practice, public service and private corporations. It's designed to build on and apply knowledge obtained from a study of construction law. The module is an introduction to the period of professional training necessary to qualify as a professional and covers key areas of practice. Assessment methods: 50% coursework, 50% exam.
Sustainable construction and the environment
This module looks at the increasing important role of energy and environmental factors that are increasingly impacting on buildings, their use, and their occupants. Assessment methods: 50% coursework, 50% exam.
Construction management project
This module will require you to prepare a case study based on a site of your choice, for the evaluation and development of that site for a beneficial and viable purpose. It will include a large amount of field work, and you'll work away from the classroom. It will focus on using your own initiative and entrepreneurial skills to develop and satisfy certain criteria. The aim of this module is to draw upon a significant pool of knowledge from other units of study and to demand advanced understanding of the whole construction process. Assessment method: 100% coursework.
Employability
Construction management can be a fantastic career for those who love buildings and working with people and want to work in a professional capacity. Look at London's changing skyline and the demand for professionals in the built environment becomes obvious.
Take a look at some potential careers, including construction manager, in our Prospects section.
The course will enable you to develop a wide range of employability skills. How? Well, we take an applied approach to teaching and learning – and you'll have lots of opportunities to build your work experience and professional network through an optional placement and an optional summer work placement.
With our combination of technical and management skills, this fascinating course opens up a range of opportunities within the industry. Areas you could go into include project management, contracting, consultancy and house building. Recent graduates have become contract managers, property managers, building contractors and construction managers. And, of course you can choose to extend your qualifications by taking on further postgraduate study.
Our graduates now work with companies such as Balfour Beatty, Capita Symonds, Croudace, EC Harris, Galliford Try, Kier, Laing O'Rourke, Mace, McAlpine, St George, Wates, and Willmott Dixon. Numerous graduates have set up their own firms after receiving chartership status from Chartered Institute of Building (CIOB).
Employability Service
We are University of the Year for Graduate Employment for the second year in a row - The Times and Sunday Times Good University Guide 2018, 2019.
At LSBU, we want to set you up for a successful career. During your studies – and for two years after you graduate – you'll have access to our Employability Service, which includes:
An online board where you can see a wide range of placements: part-time, full-time or voluntary. You can also drop in to see our Job Shop advisers, who are always available to help you take the next step in your search.
Our Careers Gym offering group workshops on CVs, interview techniques and finding work experience, as well as regular presentations from employers across a range of sectors.
Our Student Enterprise team can also help you start your own business and develop valuable entrepreneurial skills.
Professional links
This course will provide you with a CIOB-accredited degree in preparation for a career in construction manager in the construction industry.
The Chartered Institute of Building (CIOB) is the professional body representing the building industry. It focuses on those entering and already in a management career in construction and it delivers qualifications and certifications that meet the needs of a changing industry.
Expertise and history
London South Bank University has a long history of educating professionals for the building-related industries. With roots in London Council School of Building (1904), Brixton School of Building (1940) we have been offering training for this sector for over 100 years. You'll benefit directly from our longstanding ties to the industry.
Our current students and alumni hold key positions in their organisation, often as senior managers and business owners.
Teaching and learning
Percentage of time spent in different learning activities

| | Lectures, seminars and workshops | Self-directed study |
| --- | --- | --- |
| Year 1 | 34% | 66% |
| Year 2 | 21% | 79% |
| Year 3 | 20% | 80% |
Personal Tutoring
As a Built Environment and Architecture student, you will be allocated a named tutor during your first three weeks at LSBU. The role of your tutor is to be your primary contact for academic and professional development support.
Your tutor will support you to get the most of your time at LSBU, providing advice and signposting to other sources of support in the University.
Your tutor should be the first person at the university that you speak to if you are having any difficulties that are affecting your work. These could be academic, financial, health-related or another type of problem.
You will have appointments with your personal tutor at least once a year for approximately 30 minutes throughout your course. You can contact your tutor for additional support by email or phone.
Entry requirements
A Level CCC or;
BTEC National Diploma DMM or;
Access to HE qualifications with 45 Merits or;
Equivalent level 3 qualifications worth 112 UCAS points
Applicants must hold 5 GCSEs A-C including Maths and English or equivalent (reformed GCSEs grade 4 or above).
We welcome qualifications from around the world. English language qualifications for international students: IELTS score of 6.0 or Cambridge Proficiency or Advanced Grade C.
Advanced entry
If you have already completed some studies at another university, we may be able to consider you for advanced entry. Please see our advanced entry page for more information.
How to apply
International students
International (non Home/EU) applicants should follow our international how to apply guide.
Home/EU applicants
Mode
Duration
Start date
Application code
Application method

Mode

Part-time

Duration

5 years

Start date

September

Application code

2313

Application method

Mode

Full-time

Duration

3 years

Start date

September

Application code

K252

Application method

Mode

Sandwich

Duration

4 years

Start date

September

Application code

K252

Application method
Accommodation
Once we have made you an offer, you can apply for accommodation. You can rent from LSBU and you'll deal directly with the university, not third party providers. That means we can guarantee you options to suit all budgets, with clear tenancy agreements and all-inclusive rents that include insurance for your personal belongings, internet access in each bedroom and on-site laundry facilities.
Or, if you'd rather rent privately, we can give you a list of landlords – just ask our Accommodation Service.
Read more about applying for accommodation at LSBU.
Finance
You don't need to wait for a confirmed place on a course to start applying for student finance. Read how to pay your fees as an undergraduate student.
Prepare to start
Applicant events
After you've received your offer we'll send you emails about events we run to help you prepare for your course.
Enrolment
Before you start your course we'll send you information on what you'll need to do before you arrive and during your first few days on campus. You can read about the process on our Enrolment pages.
Preparatory Reading List
Temple, M.(2004) Studying the built environment. Hampshire: Palgrave Macmillan.
Parker, D. (1994) Tackling coursework: assignments, projects, reports and presentations. London: Letts Educational
Domone, P. & Illston, J., 2010: Construction Materials. Their Nature and Behaviour
Using Light Steel Framing: Design of Residential Buildings
Seward, D., 2009: Understanding Structures(4th Ed), Palgrave Macmillan
Taylor, G.D., 2000: Materials of Construction (3rd Ed), Longman
Bradney, A., Cownie F., Masson J., Neal A.C., Newell D., (2010) How to Study Law (6th edn.) Thompson, Sweet & Maxwell, London.
Coyle, D., (2004) Sex, Drugs and Economics, an Unconventional
Introduction to Economics, Thomson, Australia, New York.
Mankiw, N.G., and Taylor, M. P., (2010), Economics, Thomson, London.
Turner C., and Hodge S., (2010) Unlocking Torts (2nd edn.) Hodder, Turner, London.
Turner C., (2010) Unlocking Contract Law (3rd edn.) Hodder, Turner, London.
McMullan R, Environmental Science in Building, Macmillan, 6th Edn, 2007
Hall F and Greeno R, Building Services Handbook, Butterworth Heinemann, 5th Edition, 2009
Irvine, W, Surveying For Construction 8th Edition McGraw Hill, 2008
Uren and Price, Surveying For Engineers (5th Ed), Palgrave Macmillan.
Brookes, A.J. & Meijs, M., Cladding of Buildings, 2007
Eisele, J. & Klaft, E. (Eds.), High Rise Manual: Typology and Design, Construction and Technology, 2003
Reichel, A., Ackermann, P., Hentschel, A. & Hachberg, A., Building with Steel: Details, Principles, Examples, 2007
Fees and funding
Fees are shown for new entrants to courses, for each individual year of a course, together with the total fee for all the years of a course. Continuing LSBU students should refer to the Finance section of our student portal, MyLSBU. Queries regarding fees should be directed to the Fees and Bursaries Team on: +44 (0)20 7815 6181.
UK/EU fee:

£9250

International fee:

£14470

AOS/LSBU code:

2312

Session code:

1FS00
Total course fee:
UK/EU (excluding any optional years)
£27750
UK/EU (including any optional years)
£27750
International (excluding any optional years)
£43410
International (including any optional years)
£43410
Year 1 PTDER Southwark SEPT
UK/EU fee:

£5550

International fee:

£8682

AOS/LSBU code:

2313

Session code:

1PS00
Total course fee:
UK/EU
£27750
International
£43410
For more information, including how and when to pay, see our fees and funding section for undergraduate students.
Please check your fee status and whether you are considered a Home, EU or International student for fee-paying purposes and for our regulatory returns, by reading the UKCISA regulations.
See our Tuition Fees Regulations (PDF File 160 KB) and Refund Policy (PDF File 102 KB).
Possible fee changes
The University reserves the right to increase its fees in line with changes to legislation, regulation and any government guidance or decisions.
The fees for international students are reviewed annually and the University reserves the right to increase the tuition fees in line with the RPIX measure of inflation up to 4 per cent.
Scholarships
We offer several types of fee reduction through our scholarships and bursaries. Find the full list and other useful information on our scholarships page.
Contact information
Course Enquiries - UK/EU and Employer-sponsor
Tel: 0800 923 8888
Tel: +44 (0) 20 7815 6100
Due to COVID-19, call waiting times may be longer than usual. Any questions? Use the green bubble on the bottom right hand corner to start a live chat with us
Get in touch
KIS Data