Politics and International Relations - BA (Hons)
Overview
Immersive approach
Become an active agent of change with this fascinating interdisciplinary degree that combines specialisation in both domestic and international politics. Delivered by experienced, expert and enthusiastic academics, you will learn to critically engage with topics such as international development, war and conflict-resolution, security and terrorism, globalisation, and political activism, to provide an in-depth study of contemporary politics from the local to the global.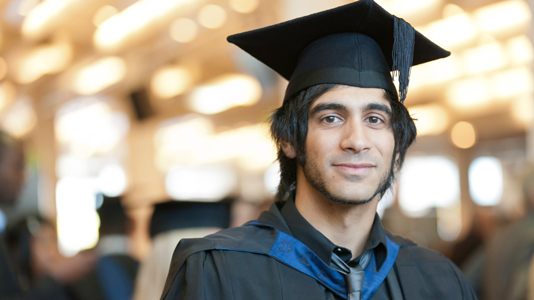 Why Politics and International Relations at LSBU?
Be part of an academic community dedicated to social justice and global responsibility – and be taught by experts with wide-ranging research interests: US foreign policy, Middle East politics, gender, sexualities and society, peacebuilding, transitional justice, colonialism, global political economy, visual politics, global sports, sustainability and climate change.

Interactive seminars and workshops encourage free and open debate, for you to share ideas and learn from each other.

'Work placement' module and volunteering programme.

The LSS Social Justice and Global Responsibility research centre offers inspiring guest speakers, events, volunteering opportunities, and a forum for the exchange of ideas.

Study International Relations with Politics at the heart of political power in the UK, at our campus on the doorstep of Westminster.
Mode

Duration

Start date

Application code

Application method

Mode

Full-time

Duration

3 years

Start date

September

Application code

5779

Application method

Direct to LSBU
Register your interest
112 UCAS points
Or equivalent level 3 qualifications.
If you do not meet the entry criteria above we also review any previous skills, knowledge or experience you have gained outside of your education and are happy to talk through any extenuating circumstances you feel relevant.
Visit UCAS for guidance on the tariff.
Missing English and Maths qualifications?
If you do not have the required English and Maths qualifications needed to satisfy the entry requirements for this programme, we have courses available at our partner College that you can take to upskill in these areas. Find out more at Southbank College site.
Advanced entry
If you have already completed some studies at another university, we may be able to consider you for advanced entry. Please see our advanced entry page for more information.
Course status
Tuition fees are subject to annual inflationary increases. Find out more about tuition fees for Undergraduate or Postgraduate courses.
Full-time

BA (Hons) Politics and International Relations (FT) - Year 1

UK fee:

£9250

International fee:

£14900

AOS/LSBU code:

5779

Session code:

1FS00

Total course fee:

UK:

£27750

International:

£44700

BA (Hons) Politics and International Relations (FT) - Year 2

UK fee:

£9250

International fee:

£14900

AOS/LSBU code:

5779

Session code:

2FS00

Total course fee:

UK:

£27750

International:

£44700

BA (Hons) Politics and International Relations (FT) - Year 3

UK fee:

£9250

International fee:

£14900

AOS/LSBU code:

5779

Session code:

3FS00

Total course fee:

UK:

£27750

International:

£44700
For more information, including how and when to pay, see our fees and funding section for undergraduate students.
Please check your fee status and whether you are considered a Home, EU or International student for fee-paying purposes and for our regulatory returns, by reading the UKCISA regulations.
See our Tuition Fees Regulations (PDF File 391 KB) and Refund Policy (PDF File 775 KB).
Possible fee changes
The University reserves the right to increase its fees in line with changes to legislation, regulation and any government guidance or decisions.
The fees for international students are reviewed annually and the University reserves the right to increase the tuition fees in line with the RPIX measure of inflation up to 4 per cent.
Scholarships
We offer several types of fee reduction through our scholarships and bursaries. Find the full list and other useful information on our scholarships page.
International students
The course is not currently open to international students.
International (non Home) applicants should follow our international how to apply guide.
Home
Mode
Duration
Start date
Application code
Application method

Mode

Full-time

Duration

3 years

Start date

September

Application code

5779

Application method

Direct to LSBU
For full-time courses, please send your applications through the Universities and Colleges Admissions Service (UCAS) using our code L75. UCAS is the organisation responsible for managing applications to higher education courses in the UK.
For part-time courses, you can apply directly to the University.
For more details on how to apply (full-time and part-time) see our how to apply page.
International students can either apply through UCAS or directly to LSBU. See the international how to apply page for details.
Accommodation
Once we have made you an offer, you can apply for accommodation. You can rent from LSBU and you'll deal directly with the university, not third party providers. That means we can guarantee you options to suit all budgets, with clear tenancy agreements and all-inclusive rents that include insurance for your personal belongings, internet access in each bedroom and on-site laundry facilities.
Or, if you'd rather rent privately, we can give you a list of landlords – just ask our Accommodation Service.
Read more about applying for accommodation at LSBU.
Finance
You don't need to wait for a confirmed place on a course to start applying for student finance. Read how to pay your fees as an undergraduate student.
Prepare to start
Applicant events
After you've received your offer we'll send you emails about events we run to help you prepare for your course.
Enrolment
Before you start your course we'll send you information on what you'll need to do before you arrive and during your first few days on campus. You can read about the process on our Enrolment pages.
Modules cover an array of enticing topics. You'll cover politics, decision making and democracy in the context of globalisation and internalisation. Other topics include crimes against humanity, political activism and social movements, as well as the application of IR and political concepts to forge a more just and sustainable future.
Year 1
Semester 1
International Society: Conflict, Revolution and Empire
This module examines key moments in international history to introduce some of the building blocks that make up the current international system. The module is concerned with historical events from around the globe and seeks to include perspectives and experiences from the global south. Such events and concepts include the emergence of democracy and the Glorious Revolution, empire-building and colonialism, struggles for liberation, such as the Haitian revolution, and 9/11 and the war on terror.
Political Ideas in Practice
This module introduces students to key concepts in political thought and contextualise them in contemporary political events, movements, systems and institutions. These include power, justice, race/racism, rights and equality. These ideas and concepts are explored with reference to the social and historical contexts in which they developed, and students will also be encouraged to explore the way that these ideas and concepts have been transformed historically and the manner in which they are mobilised in contemporary political debates. Part of the module will be devoted to the exploration of the contribution that political theory can make to contemporary issues and controversies.
Social Sciences in the Contemporary World: Themes, Concepts, and Higher Education Skills
This module provides an introduction to the study of social sciences and their global significance through an examination of key concepts and approaches to the subject. Each year, the subject matter will explore topical issues, current examples of which include the rise of #BLM, COP26 and climate change and sustainability. The selected issues will form the basis for the development of academic literacy and higher education skills in weekly workshops.
Semester 2
International Relations in Theory and Practice
This module introduces students to contemporary global issues and theoretical perspectives of International Relations that will be further developed during their studies. Each theoretical perspective will be studied alongside a real-world issue to illustrate how the theory works, how theory informs our ideas about the world and teach students the usefulness of theories in IR. The content is not fixed but will be amended each year to reflect innovation in the discipline of IR as well as real-world controversies and events, such as Brexit, the global management of COVID-19, the Global Right and the rise of populist leaders and conspiracies.
State, Society and Institutions
This module engages with political institutions and decision making at local, national and international levels to develop students' understanding of and engagement with political processes. Key state institutions, and their relations with civil society, are analysed and evaluated. The module also explores democracy and political processes beyond the formal realm, including the role of media and pressure groups in shaping governance and policy making. While the focus of the module is largely national, the impact of the international sphere is also explored.
Social Justice in Action
This module develops students' understanding of the concept of social justice (as a goal and a process) and its wider implications. The module also encourages students to focus on their interests, motivations, skills and abilities in employability terms and make connections between their studies and their future careers. Central to the module is a career and networking event. This event will provide students with the opportunity to meet and speak with individuals working in organisations concerned with social justice, particularly individuals who have themselves overcome challenges relating to their gender, race, class, age, sexuality, religion etc. Front line staff such as police officers, probation officers, social workers; activists, campaign work, researchers to voluntary sector representatives will be involved.
Year 2
Semester 1
Foreign Policy Analysis
This module introduces students to the study of decision-making in international relations and foreign policy case-studies. It looks at how international, domestic and individual pressures shape the decisions leaders make toward other states, regional and non-state actors. The module will discuss conceptual matters, gradually building a toolkit of theoretical approaches that explain how foreign policy is imagined and implemented. Later the module works through a series of detailed case studies, covering the foreign policy of key international actors and regions like the US, the UK, the EU, China, Israel and Latin America.
Social Research Methods
This module introduces students to key concepts, methods and techniques used in social research. Students learn how to evaluate the methodological choices of researchers and to conduct their own social research. Students are introduced to both qualitative methods in the first half and quantitative methods in the second half. Within each half the module focuses on evaluative criteria (e.g. ethics and measurement validity) for social research, data collection methods (e.g. qualitative interviews and surveys) and data analytic methods (e.g. grounded theory and statistical methods).
Plus one optional module from:
Decolonisation and Legacies of Empire
The module explores the contested legacies of the British empire and how they shaped both Britain and the spaces it formerly colonised. This module allows students to explore the social, cultural, political and economic impact of British imperialism across a range of geographies, as well as their interconnectedness past and present. The post-colonial theory will serve as a basis for understanding how the history of colonialism has shaped ideas about race and nation, and material realities in the colonies and the metropole. Students will consider the impact of empire on the colonised communities that lived through and with it, including the issues relating to religious and ethnic identities, the division of land and the establishment of new nations. Students will also consider how the experience of empire has shaped the politics of whiteness in the present.
Gender, Sexualities and Society
This module focuses on sociological understandings of the related concepts, gender and sexuality. It offers comprehensive theoretical overviews of gender and sexuality. It challenges the binary distinction of gender construction by exploring alternatives such as transgender and gender fluidity. The module explores the intersections of gender and sexuality with race, ethnicity, social class and geographic location and how they can reproduce inequalities. An in-depth approach to the study of gender and sexuality is provided by covering the following areas: masculinities, femininities, bodies and sexualities: homosexuality, heterosexuality, bisexuality and their historical, cultural, social and political dimensions.
Contemporary Policy Making
This module introduces students to social policy, covering the mechanisms, actors, and organisations involved in policymaking. It will look at the frameworks within which policymakers act. The module will encourage students to apply and develop their understanding of policy through following contemporary social policy issues as they unfold during the module. Students will analyse and critique the developments in their areas of interest during the course of the module. By engaging with policymakers and policy processes, students will gain practical experience of seeking to make and shape policy.
Semester 2
Political Ideologies
The module explores what is meant by 'ideology' in academic debate as well as in concrete political and social settings. While considering the challenges inits definition it aims to encourage students to reflect upon the relevance and importance of ideology as an organising principle in contemporary societies across the global north and south. The module will enable students to understand and analyse different political arguments in their wider contemporary national and international context ideological context and gain nuanced understanding of the of the cultural, and social embeddedness of political actions, discourses and rhetoric.
Working in the Social Sciences
This module provides an opportunity for students to work in settings related to their studies and, more generally, gain meaningful workplace experience in which to apply their social scientific learning. It will also reinforce their studies through the application and integration of relevant workplace experience into the academic context. Voluntary and community sector organisations, charities, academic research and most political organisations are particularly suitable for work placements, although much can also be learned from placements in commercial settings. Students who do not secure a formal external placement will form groups to work on an applied project related to LSBUs 9 identified UN Sustainable Development Goals.
Plus one optional module from:
Environmental Justice, Sustainability and Climate Crisis
This module addresses the social and political dimensions of ecology. It examines defining features of the concept of (environmental) sustainability, introducing various political perspectives. We will see how local and global environmental risks demand new forms of urban, national and international governmentality. The module will discuss how societies affect and are affected by changes in the natural environment. Finally, we will engage with how climate change impacts on our understanding of time, including how we imagine the end of the world. Throughout the module, we will research and look at the activities of organisations and movements involved in environmental sustainability.
Contemporary Issues in International Development
This module will provide a comprehensive and detailed introduction to international development, and the contemporary challenges facing developing countries. It draws on innovative real-world examples, addresses multiple perspectives on development – such as gender - and engages with development practitioners throughout the module to provide students with cutting edge, industry-relevant, knowledge. Topics will vary from one year to the next to maintain contemporary relevance, but contemporary topics covered include poverty reduction; climate change and the global COVID-19 pandemic and subsequent events. The course also assesses the main development strategies followed by selected middle and low-income countries, with detailed case studies drawn from Asia, Africa, and Latin America.
Policing and Society
This module will seek to create a critical understanding of historical, social and contemporary problems and debates in the development of modern policing, with specific reference to England and Wales. Within this framework, a range of theoretical and practical topics will be addressed, including, legitimacy, accountability and representation, in relation to significant policies and programs. An analysis of police culture and ideology, in the context of human rights, democracy, and governance, will be undertaken as part of this. Also discussed will be the impact upon police strategies and practices of globalisation, consumerism, politicisation, and the New Public Management.
Year 3
Semester 1
Research project (double module running across two semesters)
This level six double module covers two semesters and consists of the research for and completion of an academic project with a 9,000-word limit. Each student chooses a subject relevant to the study of International Relations in which they wish to specialize, and then uses the skills and knowledge that they have accumulated and developed through modules studied at previous levels to undertake and complete the project. During the whole process, from a choice of subject to final submission, each student will have the support and guidance of a supervisor allocated for this purpose.
International Security
This module introduces students to the study of international security at Level 6, covering a wide spectrum of security issues, including the causes and consequences of civil wars for IR, the impact of terrorism and counter-terrorism, and the idea of 'culture wars'. The second part of this module offers a detailed grounding in the theory and practice of international security by exploring conceptual matters in (critical) security studies such as the debate between 'narrowing' or 'widening' the scope of security. One of the central aims of the module is to encourage students to historicise and think critically about contemporary constructions of 'security', somehow against he narrower field of 'strategic studies', concerned with particular weapons systems and their use in particular wars.
Plus one optional module from:
Politics of the Middle East
This module explores the government and politics of the Middle East, including their regional and international dimensions. It locates contemporary political issues and processes within their historical contexts, including the roles played by powerful external forces, notably (but not exclusively) the United States in the post-1945 era. It understands politics in the broad sense of the organisation and dynamics of state-society complexes rather than in the traditional sense of the actions of state bodies and actors. It encourages students to appreciate the complex interdependencies of the region while also recognising the specificity of national societies and state-society relations.
Visualising the World: Images, Technology, and Social Change
We live in a visual and technologically driven world; the images that surround us shape how we positions ourselves within, and act on, society, from global to local levels. This module provides students with a methodological, practical, theoretical and empirical understanding of visual politics, and specifically how images influence the way in which we understand what problems exist and how they must be tackled. Focusing on these questions within a framework of conflict and social change, the module gives students a chance to develop their own visual account of the world they live in and examine the disruptive possibilities this entails.
Sustainability: Agents for Change
This module offers a learning space to develop an understanding of the climate crisis, explore links between ecology and human activity and examines individual and institutional behavioural change. The module begins with the individual self and moves the introspection to the local and then to the global, providing a sense of place for the individual in the global context. The module themes will include: philosophical overview, global ecology; carbon literacy; lifestyle impact, individual and global impact; eco-psychology, mental health and the psycho-cultural causes of ecological breakdown, ecological and social justice and institutional organisational change using the SDG framework.
Semester 2
Research project (continued)
Diplomacy and Conflict Resolution
This module examines the historical, theoretical, normative and practical aspects of diplomacy and conflict resolution. Having defined the key concepts, the module explores a range of approaches to the subject, including political, economic and legal approaches. Whilst the module considers the role of traditional actors, such as states and international institutions, this also closely examines a broad range of actors (e.g. civil society and youth) and approaches (e.g. memory, arts and local justice responses). Key topics covered include the nature, practice and history diplomacy and conflict resolution, and of mechanisms aligned with this, such as peace accords, negotiations, humanitarian intervention, peacebuilding and transitional justice.
Plus one optional module from:
Politics and Protest
This module will examine forms of social and political conflict characteristic of contemporary western societies. The main focus will be on understanding social movements and forms of political contention in the changing social structure of these societies. Although it has a contemporary western focus the course will situate discussion also in the context of historical and comparative material on social movements. The emphasis throughout however will be on examining the ability of social and political theory to understand the nature of political identity and its expression in social movements.
Crimes of the Powerful
This module explores the phenomena of state crime, corporate crime and the involvement of powerful social forces in human rights abuses. It examines the problems involved in conceptualising state crimes and human rights and looks at contemporary crimes against humanity, including in the area of environmental rights. The module also explores the problems involved in regulating and controlling state crime and human rights atrocities in which states and state officials play a key role. The critical engagement with globalization provides a framework within which students explore significant contemporary debates and developments.
Sustainability: Reimagining a Future for Everyone
This module is divided into two parts: Students take a deep dive to develop their own narratives going beyond treating symptoms to understanding the psychological and cultural root causes of ecological breakdown, and its implications for action. The second part moves students to reimagine a future that is ecologically, socially and culturally equitable, and defining their contribution to this new world. This module combines good practice case study examples with an exploration into new innovative technological solutions to unsustainable practices.
Careers
Employability Service
At LSBU, we want to set you up for a successful career. During your studies – and for two years after you graduate – you'll have access to our Employability Service, which includes:
An online board where you can see a wide range of placements: part-time, full-time or voluntary. You can also drop in to see our Job Shop advisers, who are always available to help you take the next step in your search.
Our Careers Gym offering group workshops on CVs, interview techniques and finding work experience, as well as regular presentations from employers across a range of sectors.
Our Student Enterprise team can also help you start your own business and develop valuable entrepreneurial skills.
Graduates are in demand for their skill-mix, including analysis, critical thinking, research, and strong communication skills.
As a graduate you'll be able to appreciate that problems are often multi-faceted and require thoughtful, creative and logical approaches. Such graduates are highly valuable (in both commercial and Not-for- Profit sectors) because of their ability to contribute to strategic decision making.
Typical careers are:
teaching
voluntary sector project management
work in NGOs, local and central government
general commercial businesses
national delegations at the United Nations
Placements
Students will complete a work-based learning module as part of their second year where they will complete an optional work placement or take part in other forms of work-based learning. In the past, our students have volunteered with charities and criminal justice agencies, with local authorities, on programmes ranging from rehabilitation of offenders to victim support and campaigner groups. Through these, students contribute to real world situations linked to their subject of interest. In many cases, students maintain a relationship with the organisation they volunteer for. Placements ground a student's experience, provide confidence and bolster a CV immeasurably.
Our students have taken up work placements at:
Chance UK – a unique early intervention mentoring organisation who provide adult volunteer mentors to work with children aged 5-11 years at risk of developing anti-social behaviour in later life.
Kairos in Soho – a pan-London LGBT Community Development Organisation.
The Naz project London – a sexual health organisation that works to mobilise Black and Minority Ethnic (BME) communities in relation to HIV and other sexual health concerns.
Richmond Advice and Information on Disability (RAID)
Women's Royal Voluntary Service (WRVS)
Teaching and Assessment
You can expect to be taught through a mix of innovative and traditional teaching methods:
social media
blogs
presentations
group work
policy briefs
essay writing
dissertations
Our central London location means that our you can benefit from London's rich resources:
British Library
Imperial War Museum
Institute of Historical Research
Wiener Library
Women's Library @LSE
Black Cultural Archive
Personal Academic Tutoring
As an undergraduate Law and Social Science student, you will be allocated a named tutor during your first semester at LSBU. The role of your tutor is to be your primary contact for academic and professional development support.
Your tutor will support you to get the most of your time at LSBU, providing advice and signposting to other sources of support in the University. They should be the first person at the university that you speak to if you are having any difficulties that are affecting your work. These could be academic, financial, health-related or another type of problem.
Contact information
Course Enquiries - UK
Tel: 0207 815 7500
Chat with a course student