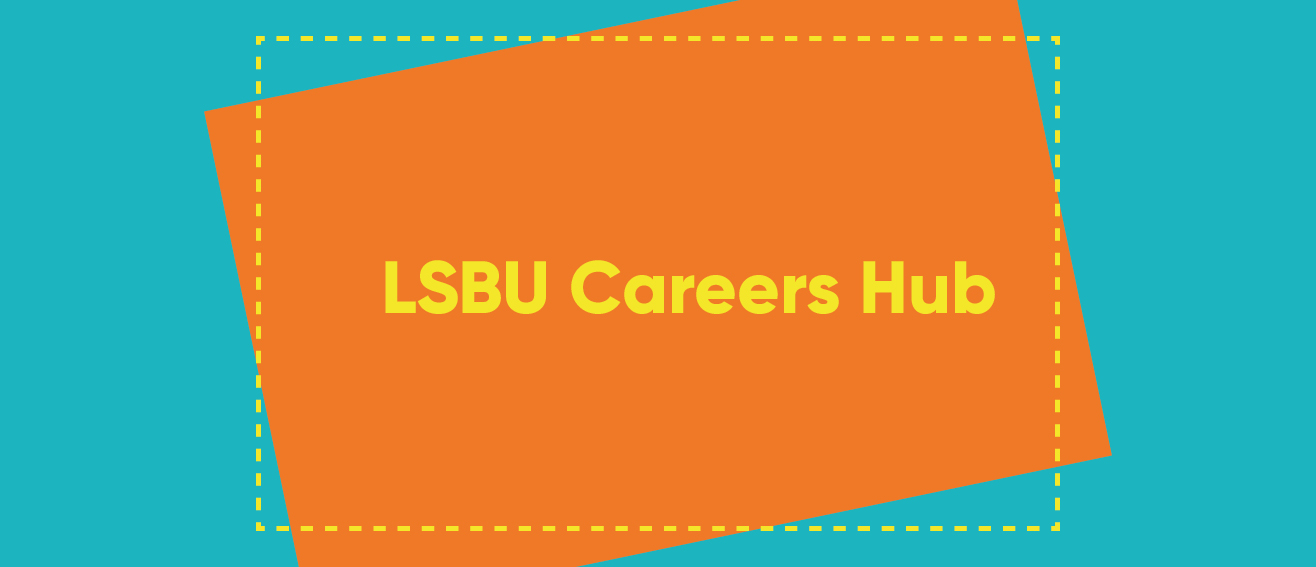 Student
At LSBU Careers Hub we have you covered for job and placement support, as well as loads of career resources, connecting you with employers, exciting events, 1-1 support and relevant workshops.
Use Careers Hub to:
Get advice and guidance on future careers
Book 1-2-1 appointments
Search for jobs and placements
Register for workshops and events, like our careers fairs
Access career resources such as CV360 and Career Planner
For more details contact us on careershub@lsbu.ac.uk
FAQs
What services do you offer?
At LSBU Careers Hub we can offer 1-1 support and workshops/webinars in the following areas:
Finding and applying for jobs, both while you study and once you've graduated
Helping you apply for graduate schemes
CV and cover letter development
Interview training
Assessment Centre training
Assistance with finding your own placement and then logging that placement
Connecting you with employers via webinars and careers fairs
Developing your LinkedIn profile
Can you find me a job?
Although we don't go out and find specific jobs , we have a host of employers who advertise on the LSBU Jobs Board, attend careers and job fairs and run webinars. We can assist you to apply for jobs and support you through the process by offering mock interviews, assessment centre practice, CV preparation and much more.
Can you help me sort my CV?
YES! Our consultants are experts in the latest trends in CVs and cover letters. We also have a fantastic online tool called CV360 where you can upload your CV and get it reviewed by the latest Applicant Tracking System software. Get a 50-point check followed by tips to make it better, in your own time from your own device. You can then submit it for review by a consultant in LSBU Careers Hub.
I've got a job interview can you help me prepare?
We can provide mock interview training with 1-3 people. If you give us the job specification, we can develop specific questions relevant to the job. You just need to book an appointment
You can also access our online interview simulator
Can you connect me with employers?
We run regular careers fairs and webinars where employers are either recruiting or giving advice or guidance on how to gain employment in their industries. Look at our events page
What workshops do you run?
Interview skills
CV and cover letter development
How to find a placement or internship
Myers-Briggs Personality Type
Resilience and dealing with rejection
How to use LinkedIn
Look at our events page
How do I get a placement or internship?
Although we cannot find you a placement we can help you secure one through opportunities posted on the LSBU Jobs Board. We run multiple workshops on finding placements and many LSBU schools have placements built into their curriculum. There are a number of websites promoting placements and internships, the list can be found under our quick links section . Email ss-placements@lsbu.ac.uk or make an appointment for further assistance. Please note that the Health School placements are managed by the School.
What are the benefits of volunteering?
Volunteering can be a great way to get experience, increase your skills and give back to the community, which looks great on your CV. do-it.org is a great website to search for opportunities in your area.