Our services support students' educational, personal, career and spiritual needs
London South Bank University (LSBU) is here to support you in a variety of ways while you study with us. We appreciate that many factors can impact on student success and so we offer a suite of services students can rely on.
Student advice
Our student advice team is based in the Student Life Centre and provides support for a wide range of non-academic issues. To speak to an advisor visit the helpdesk or email studentlife@lsbu.ac.uk.
We also offer a one-to-one appointments to help students with more complex issues such as:
Student finance and funding enquiries
Budgeting and money management
Debt issues
These appointments can be booked at the Student Life Centre helpdesk or by emailing studentlife@lsbu.ac.uk.
The Student Life Centre has received a ServiceMark accreditation from the Institute of Customer Service, in recognition of its excellent customer service provision for students.
Skills for Learning
The Skills for Learning team, through workshops, drop-in and one-to-one sessions, can help you to develop your academic and professional skills to maximise your potential. We offer Mathematics, Statistics and Engineering support and our Study Skills and English provision includes topics such as critical thinking, essay writing and grammar.
As well as providing support during term time, students can also access our services during vacation periods. Classes are free to all enrolled LSBU students.
For further details about our provision please visit Skills for Learning on MyLSBU.
Virtual Tour - Learning Resources Centre
Take a tour of the Learning Resources Centre.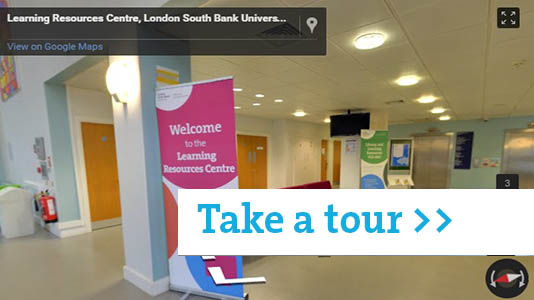 Student life support
Our purpose-built Student Life Centre has a wealth of knowledge on all non-academic issues that can affect students while at university, to ensure you can achieve the most during your time with us. All students are encouraged to visit the centre early in their studies for maximum support. The Student Centre can be accessed from Borough Road or Kell Street. If you have any questions about the support we offer call 020 7815 6454 or email studentlife@lsbu.ac.uk.
Accommodation
We have 1,400 single non-smoking bedrooms and all full-time students are eligible for a place. Read more about Accommodation at LSBU.
You can also discuss accommodation issues and find solutions to problems with your current home at the Student Centre, which can be accessed from Borough Road or Kell Street.
More information for current students is available on our student portal, MyLSBU.
Library resources
Libraries on our Southwark and Havering campuses provide LSBU students with access to a wide range of books, journal articles and other specialist materials they will need to complete their studies. E-resources – including over 18,000 full-text journals – can be accessed off-campus 24 hours a day. A team of experienced, professional staff is on hand to give expert support and provide training. Contact the Perry Library on 020 7815 6669.
Virtual Tour - Perry Library
Take a virtual tour of Perry Library.
IT support
IT support is based in the Learning Resources Centre on our Southwark campus. Here, students have free access to computers – both PCs and Macs – and to software that underpins their course work and research. Specialist software is also available in some departmental labs. Expert IT help and training is provided throughout the year. For advice call our Learning Resources Centre on 020 7815 6678 or email llr-ithelpdesk@lsbu.ac.uk.
International Student Advice
Our dedicated team advise on visa and immigration issues before you arrive in the UK and while you study here. You can also speak to them about general welfare issues, such as settling into life in the UK. Read visa and immigration advice and for more advice call 020 7815 7036 / 6156 or email international.advice@lsbu.ac.uk
Language support for overseas students
The English language you use in higher education can be very different from the English you have learnt at school or college. To help you develop the academic English you need to be familiar with we offer courses and clinics throughout your time with us. Alternatively there is a pre-sessional English course you can take in the months before you join your course. Search for it in our Course Finder.
Healthcare
There are a range of doctors and healthcare providers near the campus and the general health and safety of our students is very important to us. If you need assistance or advice email studentlife@lsbu.ac.uk or call 020 7815 6454.
Mental health and wellbeing support
Our Student Mental Health and Wellbeing service offers short-term support and advice to all students who are experiencing personal difficulties, may be struggling to cope at university, or just need someone to talk to. Our advisors can also help you find support from a counsellor if required.
The service is free and confidential and there are a range of appointment days and times available.Learn more about Student Mental Health and Wellbeing – call 020 7815 6454 or email studentlife@lsbu.ac.uk.
Disability and dyslexia support
Disability and Dyslexia Support provides advice and information about disabilities, specific learning difficulties (including dyslexia), mental health conditions or other medical conditions.
We also coordinate the support that is offered to you while you're studying with us. Our services and facilities can be personalised to meet your individual needs, enabling you to get the most out of your time at LSBU.
In order to get support as a disabled student at LSBU you must register with us. We are based in the Student Centre.
Learn more about Disability and Dyslexia Support – call 020 7815 6454 or email disability@lsbu.ac.uk.
Access guides
LSBU is committed to equal access across campus. Read our access guides on DisabledGo to see summaries of our venues' accessibility and key features.
Free time
We have various food outlets and cafés across campus. Our on-site sports facilities offer a 40-station fitness suite, a free-weights room and a Sports Injury Clinic. Our Students' Union holds many social activities on campus throughout the year, including sports clubs and societies.
Religious support
A number of student societies represent various religions and denominations. We have a dedicated multi-faith chaplaincy to care for students of all faiths or of none.
Equality and diversity
The University is fully committed to equality and diversity. We work together to build a learning community founded on equality of opportunity, that celebrates the rich diversity of our student and staff populations.
Further student support resources
NHS Choices - For health advice 24 hours a day, 365 days a year, you can read the NHS Choices website or speak to someone from NHS Direct.
Samaritans - Get confidential support if you are in a crisis, despairing or feeling suicidal by calling the Samaritans available 24 hours a day, 365 days a year.
London Nightline - London Nightline is a listening support and information helpline run by students, for students.
External links are provided for information only; they are not endorsed by LSBU.
Top of page