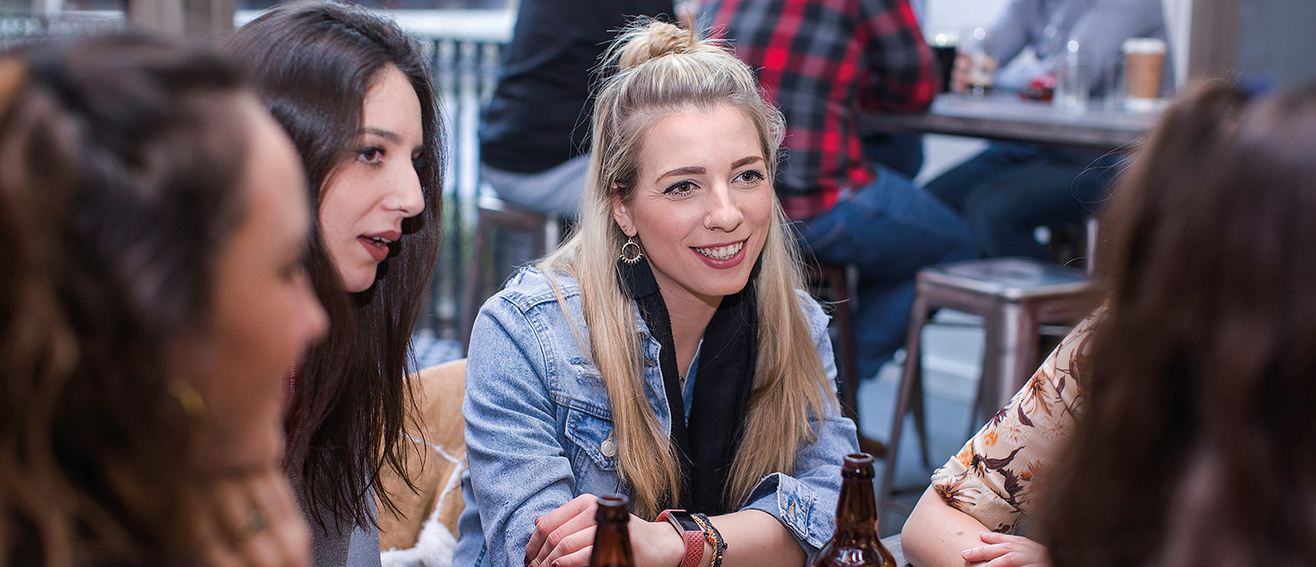 Student experience
We'll give you plenty of opportunities to develop your professional skills through applied learning
LSBU is a diverse community and a place where our students can experience the academic and social aspects of being at university. Student employability and student enterprise is at the core of all we do. All our programmes have a strong focus on practical application, creativity and the development of entrepreneurial skills.
Why join the LSBU Business School?
First overall for career prospects among Modern London universities (Guardian University League Tables 2020).

Joint 2nd for career prospects among London universities (Guardian University League Tables 2020).

2nd for graduate prospects in Marketing in London (Complete University Guide 2020).

First overall for Accounting and Finance among London universities (Guardian University League Tables 2020).

Top 5 for satisfaction with course in London for Economics (Guardian University League Tables 2020).
Student life
At LSBU Business School, we offer opportunities to develop your skills through extracurricular activities such as book club, language club and collaborations with other institutions such as the Chartered Institute of Marketing, PQ Magazine and LSBU Digital for industry skills and business contacts. Read about our recent annual Accounting Conference here.
The Student Centre is available to students to gain additional support in IT, maths and communication skills for academic and professional development if needed. It is also home to the Student's Union who offer a variety of clubs, sports and societies such as Drama, Technology and Music Societies. It is also home to the café and Venue bar.
Our Central London location offers an exciting and wide range of entertainment, bars and restaurants, nightlife, shopping locations such as Oxford Street and Covent Garden, fitness suites and gyms, museums such as the Tate Modern, and other iconic landmarks like the Bank of England and Canary Wharf.
An enterprising approach
Enterprise is not just about starting a business; it's about recognising opportunities and seizing them. Student enterprise develops skills essential for your future, whether you become an entrepreneur, a freelancer or an employee.
During your time with us you will have the opportunity for real life experiences via industry placements or projects. These include everything from consultancy projects on live briefs and work placements to business games and simulations.
There are many opportunities to connect with employers too – through our business networks, our new Business Solutions Centre, partnerships with universities, volunteering, research projects and social enterprises.
School-based activities are often delivered in partnership with professional bodies or the Institute of Directors. These provide you with the opportunity to share the experiences and knowledge of industry experts whilst developing your strategic networks for the development of future opportunities.
Opportunities to engage in student enterprise
At LSBU, we provide students and alumni with a supportive environment to learn entrepreneurial skills and gain the confidence to start and grow successful businesses.
Our support includes inspirational talks from visiting entrepreneurs, practical workshops, taster sessions, competitions, enterprise schemes and other special events.
Visit the South Bank Starters page for more information.
Professional body memberships
Professional body accreditations underpin many of our courses, providing additional expert currency to our qualifications. The Business School has been awarded Centre of Excellence accreditation from the Institute of Enterprise and Entrepreneurship (IoEE). Business School students are eligible for IoEE Student Membership, which affords them exclusive access to the latest and best research and resources needed to expand their expertise and stay current; a network of communication and learning; and access to exclusive student programs such as competitions, scholarships, awards, continuing education courses and events.
The Business School funds IoD student membership for 100 exceptional students. The IoD represents the interests of more than 37,000 business leaders across the UK, giving the LSBU students unprecedented access to some of the most senior company heads in the country as mentors, potential employers and even investors in start-up businesses.
The student membership offers a range of valuable benefits including personal, confidential support from a 'guru panel', and a placement and internship notice-board advertising work experience opportunities.
Personal development
Our personal tutoring system enables staff to work with you to ensure that your individual learning needs are met and supported at all points of your academic journey. All students are allocated a personal tutor who is available on a 1:1 basis as well as facilitating group personal tutoring sessions which are designed to enhance academic and personal development within the degree programme. The dedicated Careers Service team gives further support to ensure you find appropriate work experience opportunities tailored to your individual aspirations.
Case studies