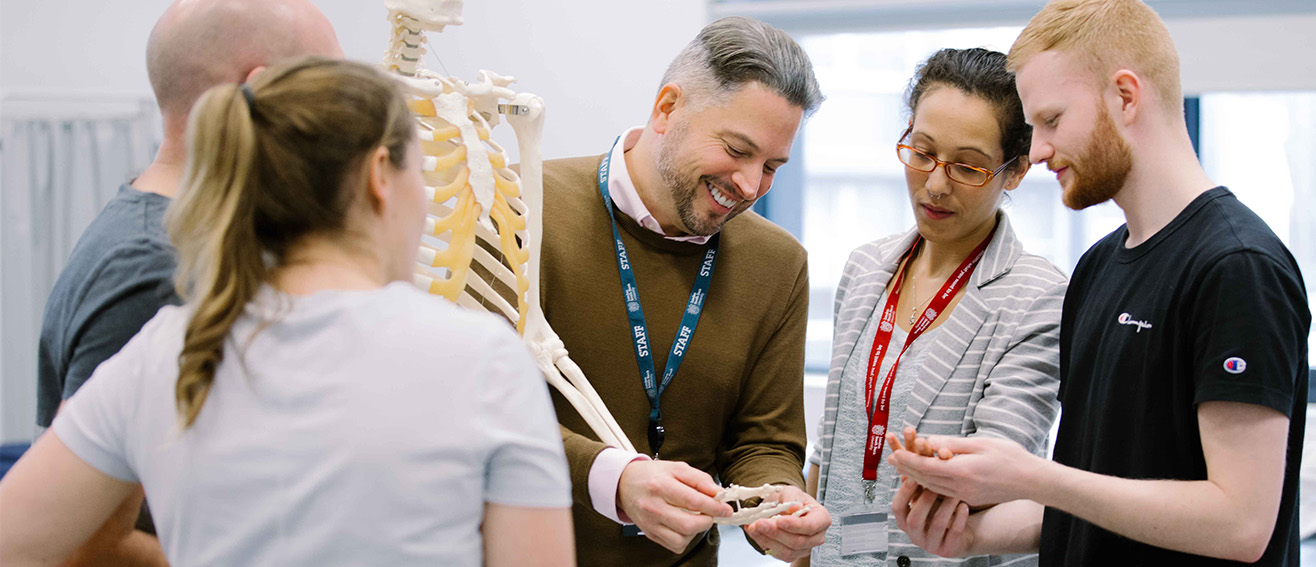 MSc (Pre-Registration) Physiotherapy
Southwark Campus
Physiotherapy MSc (Pre-Registration)
Overview
Effective and resourceful
Become an effective and resourceful physiotherapist, comfortable working within a rapidly changing healthcare environment.
Physiotherapists play an increasingly central role in enabling others to improve their health, wellbeing and quality of life by managing pain and preventing disease. They use a broad range of treatment approaches focused on restoring movement and function, often following illness or injury.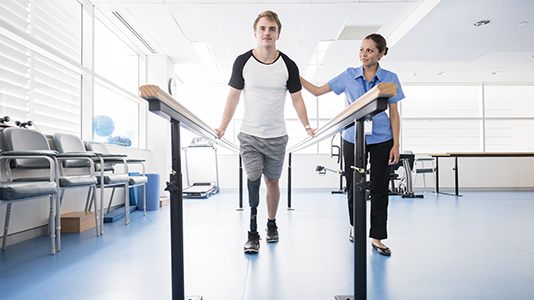 We hold strong links with physiotherapists working in health and social care, as well as the private sector and in social enterprise settings across the Greater London area. We utilise the expertise of clinicians to contribute to the course design, teaching sessions and provision of practice placements.
Our programme provides an accelerated 2-year route for graduates with a first degree in a related field.
Why Physiotherapy at LSBU?
No.1 amongst London Modern competitors for Health Professions (Guardian 2019).

This course is approved by the Health and Care Professions Council (HCPC) and accredited by the Chartered Society of Physiotherapy (CSP).

Course led by a teaching team that includes active researchers and clinicians.

Our dedicated facilities include clinical skills labs and outstanding virtual learning environments on campus – as well as access to the gym facilities within the Academy of Sport.

Ranked 1st amongst London modern competitors for Overall Score in Physiotherapy (Complete University Guide 2021).
Accreditations
Key course information - ordered by mode
Mode
Duration
Start date
Location

Mode

Full-time

Duration

2 years

Start Date

September

Location

Southwark Campus
Modules
Modules are assessed by a variety of approaches, including practical assessment, presentations, written examinations, reflective case studies and clinical placements assessments. All academic modules will develop clinical reasoning and practical skills to the level where biopsychosocial assessment, treatment and management can be applied across a range of health and care settings in a variety of clinical teams and services.
Some compulsory skills sessions may take place in the evening.
Year 1
Human science (foundation)
This module will combine the study of functional anatomy and kinesiology alongside human physiology and pathophysiology to facilitate a sound understanding of the effect of key aspects of trauma and disease on the human body and how it impacts physiotherapy practice.
The principles of pathological change and of healing are considered alongside a consideration of the effects of development of common illnesses and disease and their impact on the normal physiological processes, physiotherapeutic interventions and patient-centred management.
Rehabilitation
This module introduces the concept the clinical practice of physiotherapeutic rehabilitation in its widest sense. It focuses on the rehabilitation of common disorders, disease and dysfunctions.Contemporary physiotherapy practice is considered in relation to a range of clinical environments, pathways and teams to inform and guide the acquisition of clinical and practical skills related to rehabilitation.
Fundamentals of clinical practice 1
The module develops the knowledge and skills around contemporary physiotherapy practice related to assessment and management of key diseases, conditions and presentations across the whole of the lifespan in relation to the core domains of physiotherapy clinical practice. It considers in a range of clinical environments. It supports an understanding of the physiology and pathology of common conditions that need assessment, treatment or management as acute and chronic illnesses or disease across the lifespan and the development of the skills to support this in practice.
Clinical application of physiotherapy 1
3 x 5 week placements. The practice placement provides practical work-based experience with patients/clients. You will apply the theoretical knowledge and skills learnt in academic module/s, in the practice environment and utilise their transferable cognitive, affective and practical skills.

This practical placement module involves three, five week practice placements in a speciality area of physiotherapy. Speciality areas may include care of the elderly, neurology, orthopaedics, respiratory, medicine, outpatients, amputees, obstetrics and gynaecology, paediatrics or community.
Year 2
Fundamentals of clinical practice 2
The module builds upon Fundamentals of Clinical Practice 1 to further develops the knowledge and skills around contemporary physiotherapy practice assessment and management models, tools and frameworks. It considers in an extended range of clinical environments as clinical experience develops. It explores the political, socioeconomic, regulatory and policy agendas on contemporary physiotherapy practice.
Clinical application of physiotherapy 2
The practice placement component provides practice based experience in the treatment/management of patients/clients. Learners build upon prior practice placement experience; integrate theoretical knowledge and skills learnt in academic modules into the practice environment and utilise transferable cognitive, effective and practical skills.This practical placement module involves three, five-week practice placements in a speciality area of physiotherapy. Speciality areas may include care of the elderly, neurology, orthopaedics, respiratory, medicine, outpatients, amputees, obstetrics and gynaecology, paediatrics or community.
Optimising clinical and therapeutic outcomes
This module focuses on wider determinant of health and key opportunities that exist in contemporary physiotherapy and health care practice to optimise clinical and therapeutic outcomes. It develops an understanding of pharmacology, nutrition, and homeostasis in relation to impact on human performance, function and recovery. Models and frameworks supporting patient management are explored alongside the development of specific knowledge and skills that support the effectiveness of interventions for individual service users.
Research in health and social care
The purpose of this module is to consolidate and extend students' knowledge of research approaches and methods and enhance their ability to be critical users of research evidence. The module examines philosophical and theoretical perspectives underpinning health and social care research approaches including exploration of research design and key aspects of data gathering and interpretation of both qualitative and quantitative analyses. The module will develop practical skills for identifying, critical reviewing and synthesising research evidence relevant to professional practice.
Dissertation for allied health sciences
This module enables the student to plan and conduct an in-depth investigation of a topic that contributes to professional practice. It provides the opportunity to apply an understanding of research methods to the investigation and allows demonstration of their ability to work with relative autonomy in undertaking a sustained, in-depth piece of independent learning. It promotes the dissemination of findings to the relevant professional community.
Employability
Physiotherapists play a key role in enabling people to improve their health, wellbeing and quality of life. They use a broad range of treatment approaches focused on restoring movement and function, often following illness or injury. Physiotherapists often work within a multidisciplinary team and may do this in a variety of clinical environments such as outpatient clinics, inpatient wards, in the patient's home, or in a sport or performance setting.
Employability Service
We are University of the Year for Graduate Employment for the second year in a row - The Times and Sunday Times Good University Guide 2018, 2019.
At LSBU, we want to set you up for a successful career. During your studies – and for two years after you graduate – you'll have access to our Employability Service, which includes:
An online board where you can see a wide range of placements: part-time, full-time or voluntary. You can also drop in to see our Job Shop advisers, who are always available to help you take the next step in your search.
Our Careers Gym offering group workshops on CVs, interview techniques and finding work experience, as well as regular presentations from employers across a range of sectors.
Our Student Enterprise team can also help you start your own business and develop valuable entrepreneurial skills.
Professional links
LSBU has collaborative research links with Guy's and St Thomas' NHS Foundation Trust Therapies department and with other key healthcare providers in the independent sector. This includes community, acute and specialist settings, reflecting the diverse nature of physiotherapy practice.
Placements
This course is planned to ensure that students complete the requisite number of hours in both theory and practice which builds knowledge across complex and. Academic and clinical practice blocks are structure to help you link effective theory to practice. Throughout your assessed clinical placements, you will complete a minimum of 1,000 hours in local NHS organisations as well as community, private and voluntary sectors agencies. The LSBU Physiotherapy Practice Placement team take responsibility for allocating practice placements. As we believe in supplying well-rounded experiences, we will always try but can't always guarantee to allocate placements within 2 hours of your registered term time home address.
Placements include comprehensive contemporary experience across this range of sectors and settings can include acute, long term, inpatient and community environments. At least one of your placements will be in a speciality area such as respiratory, neurology, musculoskeletal systems, orthopaedics, medicine, obstetrics and gynaecology, or working with elderly, amputee or paediatric patients.
Year 1: 3 x 5 week clinical placements (max 562.5 hours combined)
Year 2: 3 x 5 week clinical placements (max 562.5 hours combined)
Teaching and learning
This course takes a blended approach to learning. It provides a range of learning formats and teaching delivery styles – and allows an individual approach, providing you with some flexibility in your preferred learning style.
Interactive lectures will introduce key subject matter. Practical sessions, small group teaching and demonstrations will be used to facilitate skills development.
A range of other approaches will be incorporated into students' learning which can include online worksheets, guided independent study, e-learning, peer group learning, and group discussions.
When it comes to assessment, we use a variety of approaches to promote different skills and abilities while reflecting the nature of the module of learning. The main rationale for choosing the assessment method is helping students in the development of a wide range of professional knowledge and skills. The types of assignments demonstrate progression of skills and abilities as students' progress on the course. Typical assessments include written examinations, written assignments, verbal (case study) presentation, practical examination and clinical assessments.
Personal tutoring
As a Health and Social Care student, you will be allocated a named tutor during your first three weeks at LSBU. The role of your tutor is to be your primary contact for academic and professional development support.
Your tutor will support you to get the most of your time at LSBU, providing advice and signposting to other sources of support in the University. They should be the first person at the university that you speak to if you are having any difficulties that are affecting your work. These could be academic, financial, health-related or another type of problem.
You will have appointments with your personal tutor at least once a semester for 45 minutes throughout your course. You can contact your tutor for additional support by email or phone.
Entry requirements
2:2 UK Honours degree in a subject related to science or health, such as biology, sport science, physiology, behavioural science or health science, ideally with human anatomy and physiology content
Personal qualities and values in line with those expected by the NHS Values
Completion of at least one week of work experience in a physiotherapy setting, preferably in either the NHS or other hospital setting
Personal statement
Please provide a concise personal statement that provides evidence of the specific skills, qualities, values and attributes that you believe demonstrate your;
Motivation to become a Physiotherapist
Specific personal skills, qualities and attributes that you bring to the courses and the profession.
Ability to work independently and in small groups within an accelerated professional programme at master's level.
Assessment and interview
If you are shortlisted, you will be invited to complete an interview. The interview panel consists of LSBU staff, lecturers, service users and clinicians.
English language
Those whom English is not their first language must achieve a minimum score of 7.0 overall or equivalent with not less than 7.0 in the listening and reading sections and not less than 7.0 in the writing and speaking sections for the International English Language Test Score (IELTS) at the time of application.
How to apply
International students
International (non Home/EU) applicants should follow our international how to apply guide.
Home/EU applicants
Mode
Duration
Start date
Application code
Application method

Mode

Full-time

Duration

2 years

Start date

September

Application code

5009

Application method
This course is not open to international students.
Postgraduate students and research students should apply through our dedicated application system. Full details of how to do this are supplied on our How to apply section for postgraduate students and our How to apply section for research students.
See our admissions policy (PDF File 544 KB) and complaints policy (PDF File 127 KB).
Accommodation
Students should apply for accommodation at London South Bank University (LSBU) as soon as possible, once we have made an offer of a place on one of our academic courses. Read more about applying for accommodation at LSBU.
Finance
It's a good idea to think about how you'll pay university tuition and maintenance costs while you're still applying for a place to study. Remember – you don't need to wait for a confirmed place on a course to start applying for student finance. Read how to pay your fees as a postgraduate student.
Postgraduate Application Service
Book a session with one of our specialist Postgraduate Advisors. Over a one on one Advice Session they'll advise you on postgraduate degrees at LSBU that match your interests and experience.
Prepare to start
We help our students prepare for university even before the semester starts. To find out when you should apply for your LSBU accommodation or student finance read the How to apply tab for this course.
Enrolment
Before you start your course we'll send you information on what you'll need to do before you arrive and during your first few days on campus. You can read about the process on our Enrolment pages.
Preparatory reading
These publicly available materials provide some excellent preparation for your course, giving insight into the physiotherapy profession and some key concepts for developing into a qualified healthcare professional.
Barrett, K. E., Barman, S. M., Boitano, S., Brooks, H. L (2019) Ganong's Review of Medical Physiology, 26th Edition. New York: McGraw Hill Education.
Dimon, T. and Qualter, J. (2008) Anatomy of the Moving Body: A Basic Course in Bones, Muscles and Joints. 2nd ed. Berkeley, Calif: North Atlantic Books.
Everett, T. and Kell, C. (2010) Human Movement: An Introductory Text. 6th Edition. Physiotherapy Essentials. Churchill Livingstone-Elsevier.
Muscolino, J. E. (2016) Kinesiology: The Skeletal System and Muscle Function. 3rd Edition. Elsevier.
Palastanga, N. and Soames, R. (2018) Anatomy and Human Movement: Structure and Function. 7th Edition. Elsevier.
Schünke, M., Schulte, E. and Schumacher, U. (2014) Thieme Atlas of Anatomy: General Anatomy and Musculoskeletal System. 2nd Edition. New York, New York: Thieme Medical Publishers, Inc.
Waugh, A., Grant, A., Chambers, G. and Ross, J. S. (2014) Ross and Wilson Anatomy and Physiology in Health and Illness. 12th Edition. Edinburgh:
Fees and funding
Fees are shown for new entrants to courses, for each individual year of a course, together with the total fee for all the years of a course. Continuing LSBU students should refer to the Finance section of our student portal, MyLSBU. Queries regarding fees should be directed to the Fees and Bursaries Team on: +44 (0)20 7815 6181.
UK/EU fee:

£9250

International fee:

£16500

AOS/LSBU code:

5009

Session code:

1FS00
Total course fee:
UK/EU
£21954
International
£35898
Possible fee changes
The University reserves the right to increase its fees in line with changes to legislation, regulation and any governmental guidance or decisions.
The fees for international students are reviewed annually and, additionally, the University reserves the right to increase tuition fees in line with the RPIX measure of inflation up to 4 per cent.
Scholarships
We offer several types of fee reduction through our scholarships and bursaries. Find the full list and other useful information on funding your studies on the scholarships and fee discounts page.
Fee status
Please check your fee status and whether you are considered a home, EU or international student for fee-paying purposes by reading the UKCISA regulations.
Funding for pre-registration postgraduate programmes
Since August 2018 new postgraduate pre-registration nursing, midwifery and allied health professional students have been able to access loans from the Student Loans Company. Accessing loans provides at least 25% more up-front living cost support whilst you study. You will also have access to the Learning Support Fund, which is administered by the NHS Business Services Authority, for support while attending clinical placements.
Background to these changes can be found on Gov.uk.
Council of Deans have prepared a briefing paper and Student Finance have outlined who qualifies. The Funding Clinic provides further information on what support is available.
NHS Bursary will produce guidelines and information once the information has received parliamentary approval.
Contact information
Course Enquiries - UK
Tel: 020 7815 7815
Due to COVID-19, call waiting times may be longer than usual. Any questions? Use the green bubble on the bottom right hand corner to start a live chat with us
Get in touch