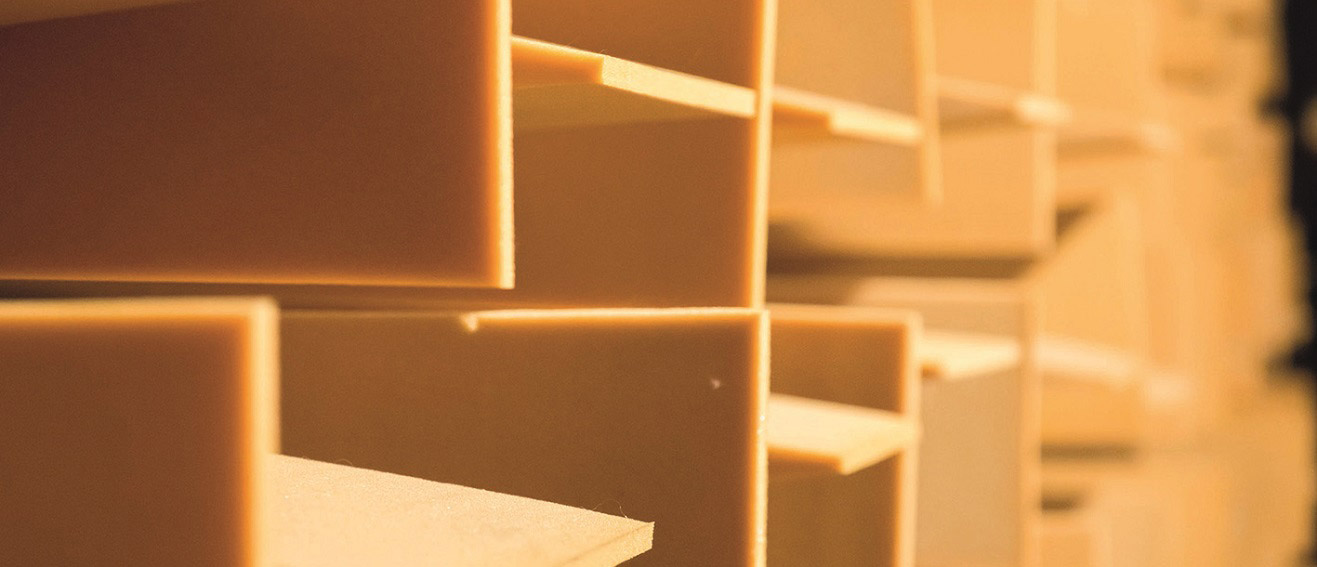 Diploma IOA Acoustics and Noise Control
Southwark Campus
Mode: Part-time; Day release
IOA Acoustics and Noise Control - Diploma
Overview
High level training
The IOA Diploma in Acoustics and Noise Control is widely recognised as the educational qualification of choice for professional practitioners in acoustics, noise and vibration. It can secure you a career in related disciplines, including environmental health, mechanical engineering, building services engineering, architecture, urban planning, health and safety and the music industry.
The Diploma provides sufficient specialist academic training to satisfy the educational requirements for membership of the Institute of Acoustics, the most highly regarded professional membership in the acoustics, noise and vibration industry. The Diploma has been taught since 1975 and is well-known for providing a high level training in acoustics and noise control.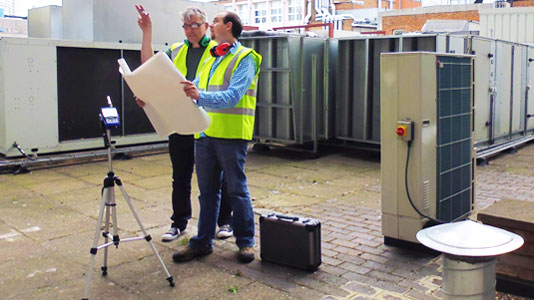 The course runs part-time (one day a week, Thursday) over one academic year (Sept-Oct). You'll have access to our extensive on-site and electronic library, as well as the Learning Resource Centre.
Why IOA Acoustics and Noise Control at LSBU?
Offering courses in Acoustics for over 35 years, we house the only centre for study in the South-East with full-size reverberant and anechoic chambers as well as an exceptionally well equipped and staffed laboratory.

Our teaching team are award-winning. All are actively involved in research and consultancy, drawing on the latest industry developments in both lectures and practical work.

We showcase the high quality output of our acoustic group on the LSBU Acoustic blog.

Successful completion of IOA Diploma exempts you from five out of eight modules of the LSBU MSc Environmental and Architectural Acoustics.
Accreditations
Key course information - ordered by mode
Mode
Duration
Start date
Location

Mode

Part-time

Duration

1 year

Start Date

September

Location

Southwark Campus
Modules
The following five modules are available at LSBU:
General Principles of Acoustics (GPA)
Laboratory
Building Acoustics
Noise and Vibration control
Project
The GPA Module involves around 120 study hours including coursework and tutorials. Each Specialist Module is around 60 hours study time.
Successful completion of IOA Diploma exempts you from five out of eight modules of the LSBU MSc Environmental and Architectural Acoustics.
For further information, please read the IOA Diploma course syllabus.
Employability
This course provides the training needed to satisfy the requirements for corporate membership of the Institute of Acoustics (IOA) and is recognised as a valid qualification towards achievement a Chartered Engineer status (CEng).
The Diploma is well regarded in other countries including the USA, Canada and Australia.
Graduates are particularly sought after in the acoustics, noise and vibration control related industries. Other industry sectors such as Architectural, Building Services Engineering, Sound Engineering, Health and Safety, Environmental Health and Civil Engineering seek this qualification for some of their employees and projects.
If there is a clear link between the number of job ads and growing economic prosperity, then it would appear that the acoustics sector is enjoying something of a boom.

Institute of Acoustics, March 2015
Employability Service
We are University of the Year for Graduate Employment for the second year in a row - The Times and Sunday Times Good University Guide 2018, 2019.
At LSBU, we want to set you up for a successful career. During your studies – and for two years after you graduate – you'll have access to our Employability Service, which includes:
An online board where you can see a wide range of placements: part-time, full-time or voluntary. You can also drop in to see our Job Shop advisers, who are always available to help you take the next step in your search.
Our Careers Gym offering group workshops on CVs, interview techniques and finding work experience, as well as regular presentations from employers across a range of sectors.
Our Student Enterprise team can also help you start your own business and develop valuable entrepreneurial skills.
Professional links
This course meets the educational requirements for membership of the Institute of Acoustics (IOA). Membership can provide you with contacts and networking opportunities, so it's a good platform on which to build your career.
---
The Institute of Acoustics (IoA) is a British professional engineering institution founded in 1974. It is licensed by the Engineering Council UK to assess candidates for inclusion on ECUK's Register of professional Engineers.
The department has extensive links with industry. This means students have the opportunity to go on site visits, receive guest lectures, take part in research initiatives, go to networking events and collaborate on projects with professionals working in the field.
Read more about the activities of our Acoustics group on our blog, featuring recent collaborations, research awards, master classes and projects.
Teaching makes extensive use of industry case studies, consultancy and research to demonstrate theory and best practice. Some of our industrial links include:
Facilities
Our facilities include a full-size reverberation chamber, anechoic chambers, two audiometric booths and an exceptionally well equipped and staffed laboratory, with access to the very latest instrumentation and technology.
Our specialised lab equipment includes:
B&K Shaker
B&K accelerometers
B&K head and Torso Simulator
B&K calibrated sound source
BSWA two channel Standing Wave/sound transmission Tube
Microflown Impedance Gun
2 KayPentax Vocal Load APM
Svantek 6 Channel Vibration Meter
JBL 6112 Subwoofer
2 Dodec Loudspeakers
3 Norsonic Nor 140 Class 1 SLM
2 CEL 593 Class 1 SLM
Svantek 958 Noise/Vibration meter
Norsonic Nor 132 Class 2 SLM
6 NTI XL2 Class 1 SLM
10 SoundBadge Dosimeters
Rion Vibration Suite
B&K Standing Wave Tube
Norsonic Sound Insulation Kit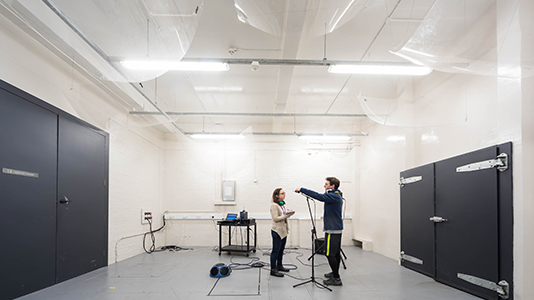 Students work in the reverberation chamber
Teaching and learning
Students learn through a combination of tutorials, lectures, and off-site visits. The Laboratory module consists entirely of hands-on experiments, and the Project module is practical investigative work, conducted under the supervision of a tutor.
Members of the teaching team are all highly-experienced and award-winning lecturers. Senior IOA Diploma teacher Bob Peters is a member of the IOA education committee and author of book Acoustics and Noise Control (3rd edition), widely used by students studying the Diploma.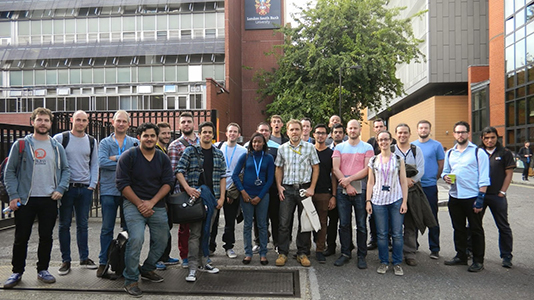 Entry requirements
The standard entry requirement is a 2:2 or above degree (or the equivalent experience and achievement) in a science or branch of engineering, or in a cognate discipline such as construction, sonic arts or environmental health.
Although the IOA Diploma is committed to maintaining academic rigour, it is also committed to an open access policy. If you lack the standard entry level then a qualification in an alternative discipline or substantial relevant professional experience may be an acceptable alternative, as long as you can demonstrate an appropriate level of study skills and baseline knowledge, particularly in mathematics and physics.
The course is considered to be to a postgraduate level. You should seek the advice of the course director if you are seeking non-standard entry.
If English is not your first language you will be required to demonstrate an approved level of proficiency. The minimum requirements for this course are:
IELTS minimum 6.5 overall with a minimum of 6.0 in each individual component
TOEFL IBT minimum 80 with a minimum of 19 in each individual component
or equivalent
How to apply
Home/EU applicants
Mode
Duration
Start date
Application code
Application method

Mode

Part-time

Duration

1 year

Start date

September

Application code

4341

Application method
Postgraduate students and research students should apply through our dedicated application system. Full details of how to do this are supplied on our How to apply section for postgraduate students and our How to apply section for research students.
See our admissions policy (PDF File 544 KB) and complaints policy (PDF File 127 KB).
Accommodation
Students should apply for accommodation at London South Bank University (LSBU) as soon as possible, once we have made an offer of a place on one of our academic courses. Read more about applying for accommodation at LSBU.
Finance
It's a good idea to think about how you'll pay university tuition and maintenance costs while you're still applying for a place to study. Remember – you don't need to wait for a confirmed place on a course to start applying for student finance. Read how to pay your fees as a postgraduate student.
Postgraduate Application Service
Book a session with one of our specialist Postgraduate Advisors. Over a one on one Advice Session they'll advise you on postgraduate degrees at LSBU that match your interests and experience.
Prepare to start
We help our students prepare for university even before the semester starts. To find out when you should apply for your LSBU accommodation or student finance read the How to apply tab for this course.
Enrolment
Before you start your course we'll send you information on what you'll need to do before you arrive and during your first few days on campus. You can read about the process on our Enrolment pages.
Fees and funding
Fees are shown for new entrants to courses, for each individual year of a course, together with the total fee for all the years of a course. Continuing LSBU students should refer to the Finance section of our student portal, MyLSBU. Queries regarding fees should be directed to the Fees and Bursaries Team on: +44 (0)20 7815 6181.
UK/EU fee:

£5460

International fee:

£5460

AOS/LSBU code:

4341

Session code:

1PS00
For more information, including how and when to pay, see our fees and funding section for postgraduate students.
See our Tuition Fees Regulations (PDF File 160 KB) and Refund Policy (PDF File 102 KB).
Possible fee changes
The University reserves the right to increase its fees in line with changes to legislation, regulation and any government guidance or decisions.
The fees for international students are reviewed annually and the University reserves the right to increase the tuition fees in line with the RPIX measure of inflation up to 4 per cent.
Postgraduate loan (PGL) for Masters study
If you are starting a Masters course, studying either full- or part-time, you may be entitled to apply for a postgraduate study loan. Find out more at our postgraduate fees and funding section.
Scholarships
We offer several types of fee reduction through our scholarships and bursaries. Find the full list and other useful information on funding your studies on the scholarships and fee discounts page.
Fee status
Please check your fee status and whether you are considered a Home, EU or International student for fee-paying purposes and for our regulatory returns, by reading the UKCISA regulations.
The total fee shown is inclusive of the IOA exam fees, LSBU fee, course materials and the official IOA course notes (worth £150).
Contact information
Course Enquiries - UK
Tel: 020 7815 7815
Due to COVID-19, call waiting times may be longer than usual. Any questions? Use the green bubble on the bottom right hand corner to start a live chat with us
Get in touch