Sports scholar Anna Sokk balances studying with a hectic training schedule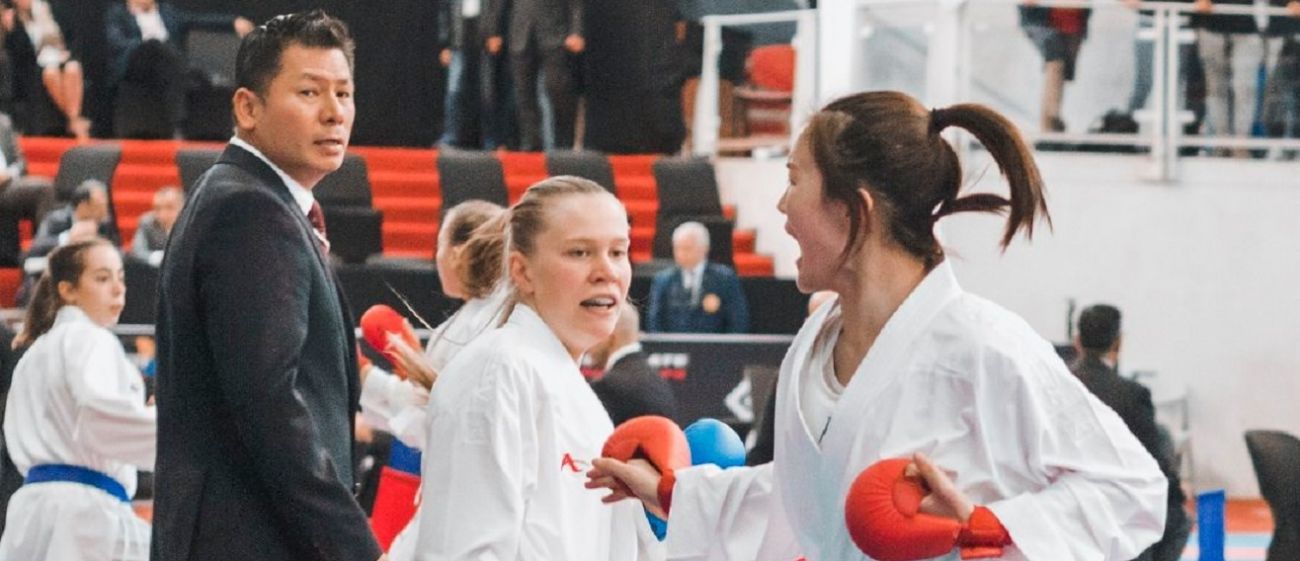 "As a sports scholar, there's a real sense of being part of a team"
LSBU sports scholar Anna Sokk (Integrated Masters Sports Rehabilitation) is a European champion and World bronze medallist in karate and has won more than 20 national medals in her home country, Estonia. She told us how she balances her studies with her hectic training schedule, and how joining the sports scholarship programme has helped her to feel part of the LSBU community.
I started doing karate when I was still in kindergarten, back in Tallinn. I just liked it straight away. When I went to school I changed club, to one that was focused more on sport than play. Pretty soon I was the best in the club and I needed to move on if I was going to continue to progress. I joined another club and from there I became part of the Estonian national team. I was 14.
Normally I'd train at least five times a week. It's a mix of fighting and gym work. I'm carrying an injury to my anterior cruciate ligament at the moment so the focus is very much on strength and conditioning, fitness and drills. I'm going to be having surgery this summer and I want to make sure I'm in the best possible shape for that.
I'm really keen to get back to the arena. The rehab protocol for my injury is a year so I'm going to have to be patient. But I want to win gold at BUCS - that's the major competition for universities in the UK. After that, I want to get to the Senior European Championships in early summer 2023. Those are my main sporting goals.
I came to study in the UK because I felt it would help my development as an athlete. I was interested in sports rehab because of my own experiences of being injured. I wanted to be able to provide other athletes with the support they need to get better and keep competing. LSBU offered me the opportunity to study the subject I wanted while continuing to train at a high level.
The sports scholarship was a big draw for me too. The financial help is great, of course, but there's a lot more too it. It's really useful for me having unlimited access to the gym, for example, so I can always fit a session round my studies. In my first year I had access to a sports therapist too, which was great. I'm also hoping to work with the team at the Human Performance Centre to run some tests to show how I consume oxygen during training. By looking at different parameters - lactate levels, fatigue, you can work out the level of training intensity that's most effective for you.
The other huge benefit is the support you get from the team. Any questions I have, I just go to the LSBU Active team and I know they'll help. It doesn't even need to be about sport or study. I had some admin issues related to my accommodation, and they helped me with that too. I'm in a new country, away from home, and it's very reassuring to know that support is there.
Being a sports ambassador is very rewarding. The scholarship works two ways - you have to be prepared to give something back. As a sport ambassador, it's your job to promote the benefits of sport and physical activity. I get involved in training sessions in schools, participate in campaign events and open days, and help out in the gym. I really enjoy it. It's a great way of getting to feel like you're part of the university community, and it's also opened my eyes to other sports too. When you're so focused on your own sport, it's easy to forget that there is a world beyond karate.
My advice for anyone considering applying for a scholarship would be, do it. It's really benefited me a lot. There's a real sense of being part of a team, of feeling like you're working to achieve something together.
Tags