Ruth Michael: "I don't feel that I chose LSBU, but that LSBU chose me"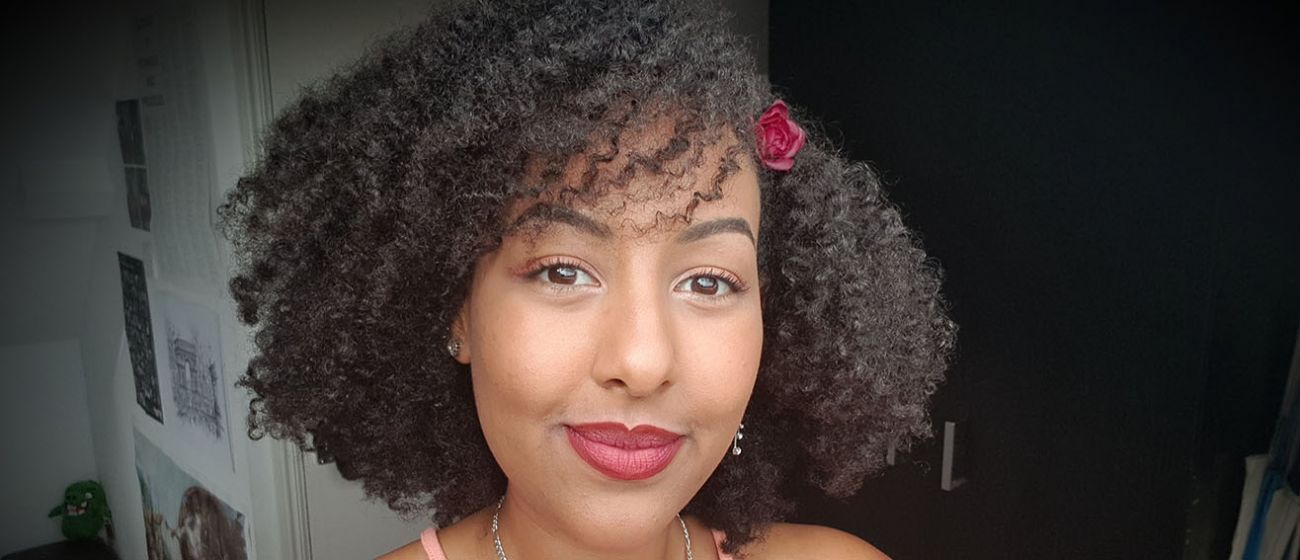 I don't feel that I chose LSBU, but LSBU chose me. I originally started my course when I was 18 but dropped out in the middle of my second year – I didn't take myself, let alone my studies seriously at that time. But, at 22 I came back to LSBU and completed my course.
Trying again
I owe my decision to try again to my father. I met him for the first time when I was 20, just after I had dropped out of my studies. He motivated me to make an impact in the world around me. He went to medical school in the Netherlands and understood how important that level of education is. I didn't have anyone else around me to lead by that example. My mother didn't go to university and I'm the eldest of both my parent's children, so it rests on me to set an example for my siblings. It's a lot of pressure, but it's positive pressure that keeps me going.
The first time I went to university, it wasn't a priority to me, so I allowed other things to get in the way. But the second time, I made a conscious decision to prioritise my studies and that by any means necessary, I would get a first-class degree. However, regardless of the choices you make to improve yourself, life continues. I had rent and bills to pay, so financially supporting myself was very important. I demoted myself at work to fit studying into my life, from being a full-time assistant manager in retail, to a part-time supervisor. But the decision to prioritise my education and thinking of the long-term benefits, made it easier to delegate the rest of my life.
Making my family proud
My reality was that I had to pay my tuition fee again and it had tripled the second time around. I knew that I couldn't waste this time and money, or more importantly I couldn't waste the opportunity again. I had to envision my end goal and the image of my family being at my graduation ceremony kept me motivated. My family are an integral part of my life and I want to make them proud, all I do is for them.
The hard work I put in throughout my three years of study and final year dissertation, along with all the support of my family, friends and academics, empowered me to finish my degree with the highest overall percentage across my course. I received the Top Student Award 2017 by the Royal Society of Biology, and the Best Student Award by my academics in the Bioscience department, for the commitment I showed throughout my course. I was honoured at graduation for these awards with my family watching and so I was content.
After graduating from LSBU, I went on to do an MSc in Global Health and Development at UCL. This was one of the first times I ever felt overly anxious and I felt like I didn't deserve to be there. I found myself dealing with an inferiority complex by attending a Russell Group university. I had all these amazing people as my classmates, and I felt like I was just "regular degular shmegular" in comparison. I lost the value of my bachelor's degree in that space, like I didn't earn it. I even had an anxiety attack on the day of my orientation. But over time, with the continued support of my friends and family, I realised a lot of people were interested in what I had to say, and this feeling of inferiority was all in my head. It's so important to have a good support group around you, to remind you of who you are and that you belong.
Career satisfaction
I thought that a master's degree would help me find a job more easily, but it was still difficult as the market is tight out there. I signed up to LSBU Employment to see what temporary positions I could take and came across a one-year internship supporting the LEAP Programme. I didn't know what LEAP was at the time, but it seemed to be a good role because project management skills are transferable to any field. The internship was like a passport for me. I had so many opportunities to learn, through training, shadowing senior staff, and gaining experience of what it means to run a huge transformation programme. It was this amazing opportunity that led to me being selected for my new role, as a Project Coordinator at the NeuroLeadership Institute.
Career satisfaction to me, means knowing where you are on your journey and knowing how where you are at now, fits into that journey. I think it's easy to be unsatisfied if you don't know where you are going so you need to have a vision for your future. For me in the long-term, I see myself applying my scientific knowledge and project management skills to improving health systems around the world. My heart is for Sub-Saharan Africa, and even though it's a long-distance away and it may be some time before I get there, I believe we shouldn't limit ourselves to what we can see now. There is nothing we can't do, and I don't want to limit myself. I know where I'm going, and I'm determined to get there.
Finding identity
Although our relationship is new, my father is one of the most influential people in my life. Seeing him work, has influenced the way I want to live and what I want to do. He has shown me how one person can make a decision that can impact thousands of people's lives. My mother always inspires me also, as she continuously reaches out to transform the lives of those who are less fortunate than she is in her local area. One person with good intentions and integrity can impact the world for the better and I want to be one of those people. I believe every human has a duty to take care of their neighbour and the world we live in.
My only fear is that because I want to achieve so much, I wonder if I will get it all done in time. I'm very family orientated, and I want to have a family of my own. But, the balance of ambition and work priorities concerns me. I'm not sure if women can really have it all. I'm not sure what 'all' means, but I do want the choice. I don't want any regrets and must keep in mind to do what's best for me.
My identity; knowing who I am, where I come from, where I'm going and why I'm here, makes me feel powerful; knowing the answers to these questions forms my voice. The work that I do now and the work I want to do in the future, requires me to impact for change and most times that means not following the status quo. I want people to remember me as someone who is honest, has integrity, cares about humankind and has made a difference to at least one. My passion for making the world a better place, preparing the world for my children and future generations, inspires me to keep going and achieve my destiny.
Tags