Rachid Okotan, Alumnus, BSc (Hons) Information Technology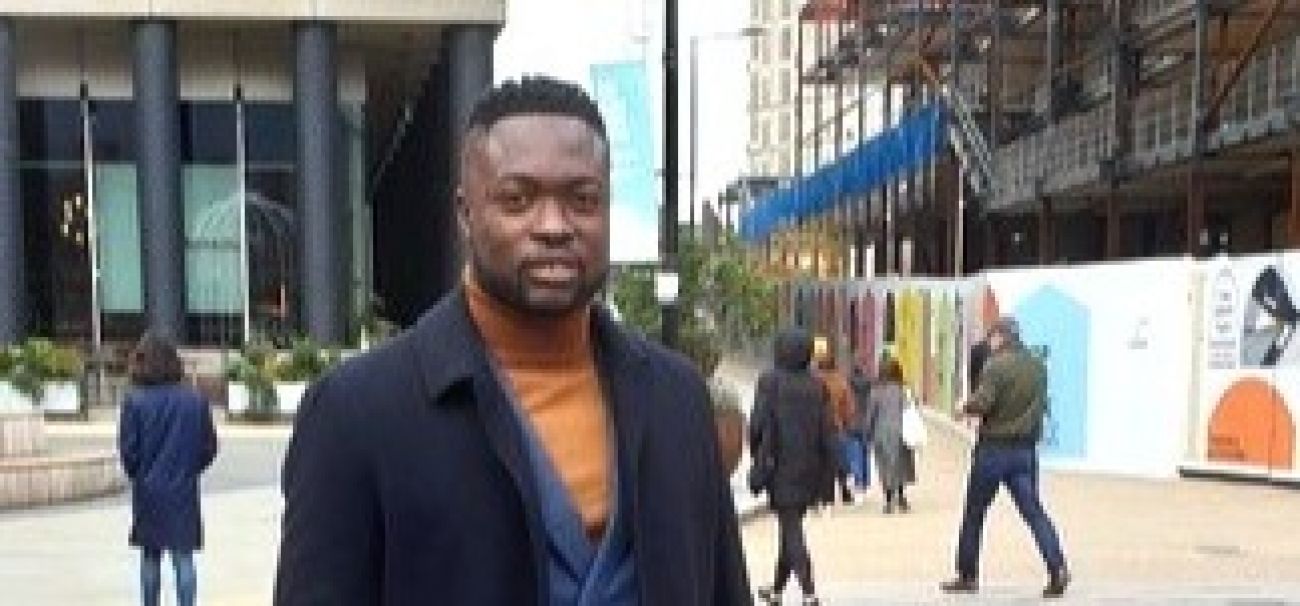 "Don't give up – and be prepared to be flexible"
Rachid Okotan (BSc (Hons) Information Technology, 2021) tells us how connecting with fellow alumnus Moshood Olafunmishe helped keep him focused during his search for work – and ultimately led to a permanent role in data analytics at CBRE.
My first degree was in British and American literature. I grew up in Togo, a French-speaking country in west Africa. I wanted to do a degree in English with the hope of working for an international NGO. That was the plan! Then my situation changed and I came to the UK. I decided to study information technology, a field I believe can take me anywhere in the world.
I chose LSBU for the strong support it offers its students. The university made it easy to connect with alumni who were willing to help. They had been in the same situation and they really understood, so it was brilliant to be able to go to them with queries around coursework and career opportunities. There was also a lot of support to put together our CVs, LinkedIn profiles and job applications. I found that all incredibly helpful.
I was studying full-time, and also working throughout my degree. I worked as a hotel security officer and then as admin support for the Covid-19 vaccination programme at Guy's and St Thomas's Hospital. I worked full time because I needed to earn money to support myself, but I gained a lot from it as well. I learned so much, predominantly how to work effectively with other people. I would recommend that everyone gets some work experience, even if it's not related to what you think you want to do. These lessons are so valuable.
When Moshood Olafunmishe came to LSBU as an alumnus volunteer speaker, what he said really resonated with me. He had graduated from the university a few years prior and struggled to find work before getting into data analytics and finding a job with CBRE. I found what he said about the importance of persevering so inspiring. After his visit I decided to reach out to him and ask if he would be interested in mentoring me. He gave me so much help, with my CV and job applications. But more than that, he kept me going, and gave me the confidence to believe that I really did have valuable skills to offer an employer.
When the opportunity came up to apply for an internship at CBRE, I had a big decision to make. I had been offered a full time job in the NHS. It was an admin role – not really what I wanted to do, but I knew that once I was inside the organisation I could work hard and make the move to cyber security or data analytics, the areas that really interested me. But at the same time, I knew the internship would do so much to boost my prospects even if there wasn't a permanent role at the end of it. I had to take the chance. If you don't take a risk, you've never going to win the prize.
Now I'm in a full-time role at CBRE. The internship was originally for six weeks, then it got extended, and extended again. I focused on increasing my knowledge at every stage of my internship so that I could be valuable to the team, including training in my own time in the evenings. The people I worked with were so eager to help, and so generous with their time and knowledge. Two weeks before my internship was due to end, I was offered a full-time job. I was always hopeful that this would happen and it has been a great reward.
My advice to current students or anyone looking for a job would be don't give up – and be prepared to be flexible. It's hard getting rejected. It can be difficult to pick yourself up. But every time you apply for a job, you're learning something about how to do it better next time. And remember, many roads lead to Rome. You might be determined to be a web developer but if the company you want to work for offers you a slightly different role within your field, take it. So many opportunities will open up once you've got your foot in the door. Also, it's always good to have a mentor!
Now I feel like it's my turn to start giving back. I can't imagine where I would be now if it wasn't for Mosh. He did so much to keep me going and to reinforce my confidence to know that I can go out there and get a good job. And of course he was instrumental in setting up the internship programme at CBRE in the first place, to ensure that future generations of Black students wouldn't face the same barriers he did. I am grateful to him for forging the way. Now Mosh and I are working together to explore how we can support students together. If I could help someone by sharing my own experience and knowledge, that would make me very happy.
Read Moshood Olafunmishe's story
Tags