Laura Sandys CBE, Honorary Doctor of Engineering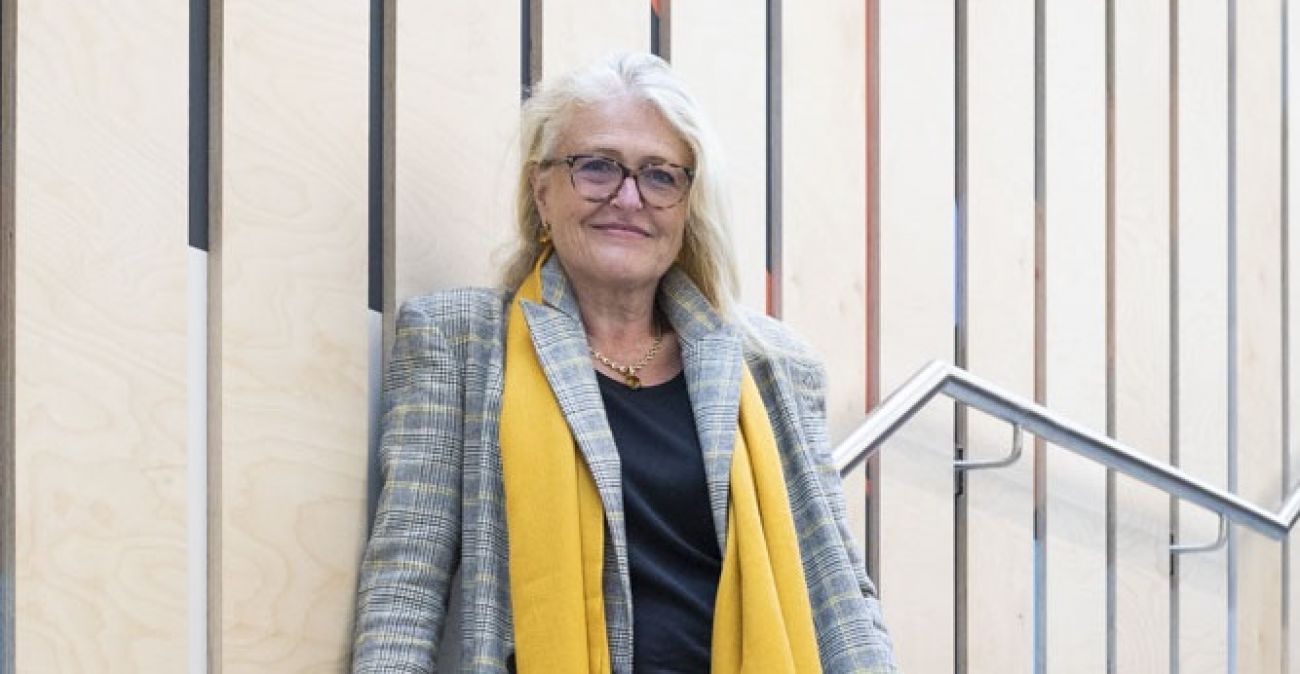 "I like to think of myself as a friendly disrupter"
Laura Sandys CBE set up and sold two consultancy companies while still in her early 20s before becoming an MP. An expert on the Iraq War, a champion for consumer rights, a journalist and an entrepreneur, she now consults and advises on a range of issues including food, energy and resources. She chairs the government's Energy Digitalisation Taskforce and its Energy Systems Data Taskforce, as well as supporting researchers here at LSBU in their work on the digitalisation of surface engineering. She receives an honorary doctorate in engineering.
I was on track to go to university, then everything changed. I'd done my A-levels a year early and was waiting to resit the Oxbridge entrance exam when my father had a severe stroke. Suddenly, I had caring responsibilities – and I needed to bring some money into the house. I had no skills; I couldn't even type. So I went to work as a motorcycle despatch rider.
Experience is important – but it can also be a trap. When I got tired of running around London on my bike, I decided I should find a job. I thought I'd pretend I was something called a PR consultant, in the hope that someone might employ me. In fact, what happened was that I ended up running a company and employing 20 people. We were all equally young and inexperienced, but I think that's why it worked. If you don't know what you don't know, you don't have any fear. That's a powerful thing.
It was during my time at Which? that I first started to develop my political awareness. I was looking at consumer rights and all the ways in which companies are ripping off their customers. That's a theme that's run through my career ever since – trying to ensure that people have a voice and that that voice gets heard.
If I see something that's not right, I'll do whatever I can to try to make it better. That's got me into some difficult situations. With my first PR company, we were asked to do some work on environmental issues for the Peruvian government. A lot of the damage to the rainforest is linked with the cocaine trade and that brought me to the attention of the terrorist group the Shining Path. Then when I set up my second company, we were asked to run a campaign to highlight human rights abuses in Iraq and I ended up on Saddam Hussein's hit list. I'm pretty fatalistic – I just thought well, if someone really wants to get me they will. What mattered more was knowing that I hadn't just stood back and done nothing in the face of these atrocities.
Becoming an MP was never in the plan. My father and my grandfather were both politicians and I'd sworn I'd never do it. Then after I'd finished my masters in international relations I was at a bit of a loose end. Someone suggested I stand and I just got swept along with the whole thing. In fact it turned out to be an amazing learning experience. In my constituency, South Thanet, the average wage was £16,500 a year. There were so many challenges – we had the highest number of children in care in the entire country, for example, and issues with poor housing, poor diets and poor health. I felt really inspired to try to move the dial and slice away at some of these big systemic problems. I'm also very proud of the fact that my colleague Paul Maynard and I were the first MPs to state that we were epileptic. We both felt it was really important to be open and to do what we could to take away some of the stigma that still surrounds the condition.
The Food Foundation came about because of a £1 cottage pie. There's a lot of terrible food out there but for me that cottage pie symbolised everything that's wrong with our food system. It's why we had children coming to school in South Thanet obese and malnourished at the same time. It's not about teaching people to cook, it's not about taking sugar out of products – although that is a good thing – it's about looking at the whole system. We've done a lot of work with Marcus Rashford on free school meals. We're tracking and monitoring food insecurity. And we're lobbying for an increased sugar tax and for increased transparency about what actually goes into our food.
It was my father that first made me aware of climate change. He had this idea of twinning coastal areas in the UK with islands in the south seas to bring home to people the impact of rising sea levels at a time when really no one was talking about it. Energy is a sector that I know about, so that seemed like a place where I had some levers and a chance of bringing about change.
I talk a lot about planning from the future. We need to completely rethink our energy systems to decarbonise, to embrace digitalisation and also to accommodate the democratisation that the introduction of electric vehicles, heat pumps, etc., will bring. To make that kind of change happen, you need to give people something to focus on, a vision of what the future could be. I like to think of myself as a friendly disrupter.
In my world, there are a lot of people that all look the same. That's one of the reasons I set up POWERful women, along with Sandy Verma, who was Minister for Climate Change and Energy when I was an MP. We work with government officials to encourage them to challenge the energy companies and say, we're not going to be in a meeting with you unless you're bringing some kind of diversity with you.
I certainly don't think of myself as a role model. When I was an MP I used to do a lot of talks in schools and the first thing I always said was, don't do what I've done. I've had a crazy life, really. I think what I am good at though is encouraging people, helping them to see opportunities and have the confidence to take them – and not to forget to have fun on the way.
Tags