Jackie Malton, Honorary Doctor of the University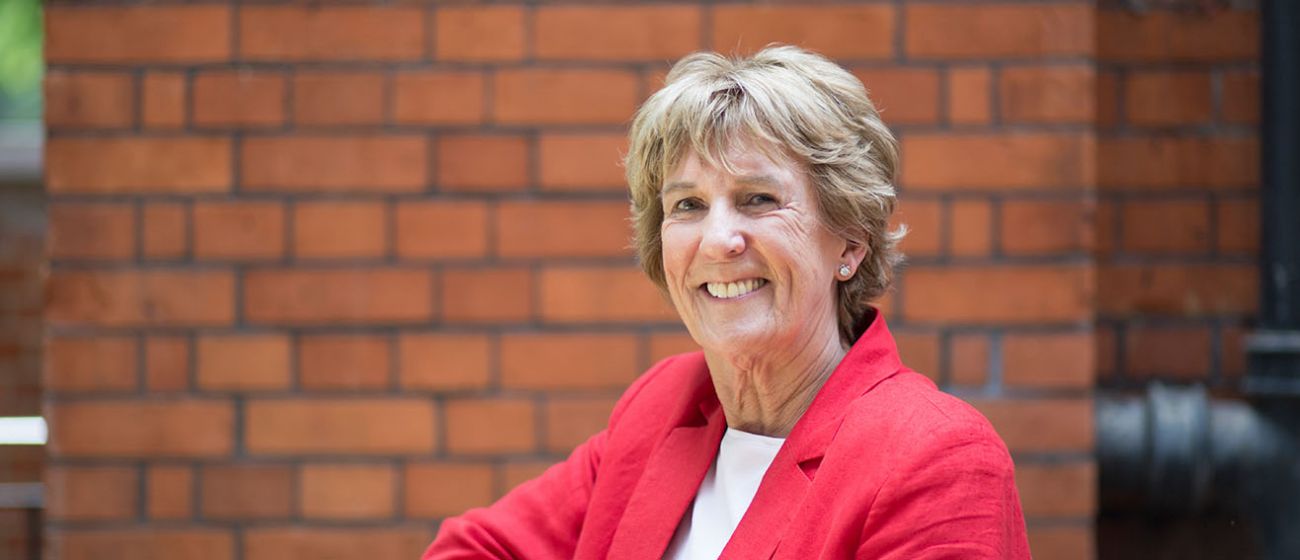 Jackie Malton, who has been awarded an honorary doctorate, is an ex-police officer, now script consultant, TV presenter and addiction counsellor. As one of the UK's only female DCIs, she provided the inspiration for the iconic character of DCI Jane Tennison in Lynda La Plante's Prime Suspect. An alumna of LSBU's MSc Addiction Psychology programme, she is honoured for her contribution to criminology and her commitment to social justice, and for her ongoing support for the University.
Failing the 11-plus was a traumatic experience. It's a terrible thing, to judge a child at that age and tell them they're a failure. But what I think it also did was instil a certain tenacity, a determination to do well and prove everyone wrong.
Joining the police was a logical step. At school, I was fascinated by Elizabeth Fry and penal reform. And I was always drawn to the darker side of life too. I thought about being a probation officer, but you needed a degree to do that in those days. So I joined Leicestershire Police as a cadet.
I had to get used to operating in a man's world from the start. Back then, the women police officers were in a separate department, dealing with sexual offences, domestic abuse – all the stuff that involved women. We were well respected for what we did, as long we didn't stray out of our territory. But I was always itching to get over the road and be integrated with the guys.
One of the first jobs I worked on in the Met was the Deptford fire back in 1981. Then I was part of the team investigating the Brixton Riots. The police commander at the time taught me so much about planning your investigative strategy, preparing for a complex inquest and always being aware of the bigger picture. When he joined the Flying Squad he took me with him.
It's a mistake to think that there's more discrimination in the police than anywhere else. I was the only woman among 40 men in the Flying Squad. I can't tell you what my new partner said to me on first day – it's unprintable. He really thought he'd drawn the short straw, getting a woman. But the police force reflects wider society, and those kinds of attitudes – whether to gender, sexual orientation, race, or anything else – were widespread at the time. It's hypocrisy to pretend that the police force is some kind of isolated bastion of bigotry and discrimination.
I reached breaking point in the early 1990s. I'd blown the whistle on a corrupt colleague a few years before, and all the buried stress and anxiety came to the surface. I started having panic attacks, and my drinking was out of control. I went into recovery, and I left the police. I'd failed the test to become a superintendent because my maths wasn't good enough and I just thought, I'm done.
For me, being in the police was never about the uniform. It was working on behalf of the victims, to pursue justice for those who had been wronged. But it was also about understanding the other side of the story – so many perpetrators have lost their way because of abuse, neglect and adverse childhood experiences.
Working on Prime Suspect with Lynda La Plante was a bit like therapy. I worried initially that I was being disloyal by sharing so much information. It felt uncomfortable too to be telling my truth. I remember taking some colleagues with me to the preview screening and they all applauded at the end. A commander told me how he'd found it really hard to watch, because it was so honest.
Going to university and gaining my masters degrees has been such a validation. Post-Prime Suspect, I was doing a lot of work as a story consultant for police dramas. It's not just about putting people straight on the procedural stuff, you have to be creative too. Stories have always fascinated me so I enrolled for a masters in Creative Writing at the University of Sussex. Then immediately after that I did the masters in Addiction Psychology at LSBU. It was the perfect fit for me – I was in recovery myself, and I was able to do my placement in a prison. I loved it.
I'm currently filming a TV series, The Real Prime Suspects. It's phenomenal to get an opportunity like this, especially at my age! The idea is to take another look at ten high profile murder cases, talking to the investigating officers, the pathologists, the lawyers, the forensics guys, to really get to the heart of the story. It brings home to you how much people bury and suppress. Things have changed beyond recognition in the police in terms of awareness of mental health and the impact of trauma, but for a lot of people – myself included – that desire to get to the bottom of a case, to find the truth, takes a big personal toll.
My life is a lot more balanced now. I've got my work – but I've got a personal life too. I've got a partner, and a dog. I do a lot of sport and I read a lot of psychology books. I'm always want to learn more, to keep developing my mind. The recovery process, and helping other people to deal with their addictions, is so important to me. I get that belief in the value of service, of giving something back to society, from my parents.
My advice to those graduating is, believe in yourself. Don't look for validation elsewhere. I spent decades worrying about what other people thought, and it's a complete waste of time. And be true to yourself, too. For years there was a gap between my inner and outer selves. Recovery made me congruent. Stop doubting yourself. Take that leap of faith.
Tags