Christine Adamson: "Say what you will about the NHS, it's this public-serving body that keeps me motivated, the good bits and the bad bits"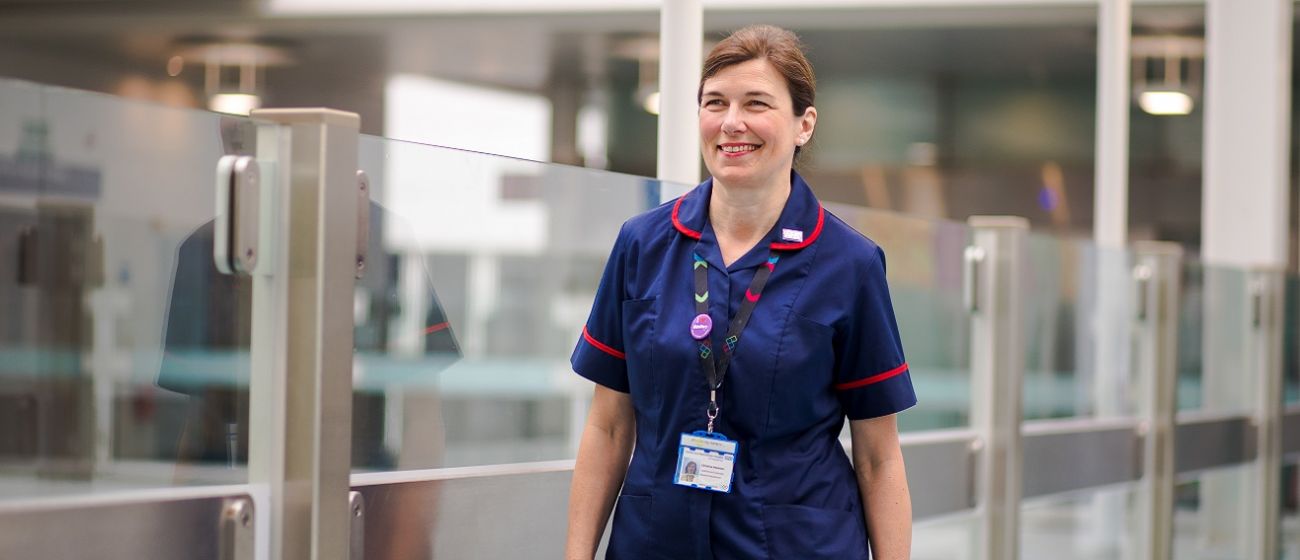 My experience with LSBU is a little bit different to most, as I undertook my BSc in Midwifery with a distance learning course package which was available at the time. Distance learning fitted in perfectly with my lifestyle as a military spouse because flexibility was essential for me.
As I did the distance learning course, I did not spend much time on the University campus - modules were fitted around work and family. I had a full schedule, and had to find time to study. I often got up at 4am to write before getting the kids up, taking them to school and going to work at the hospital.
I trained as a nurse and midwife in the 1980s, so the ability to add academic learning to my clinical experience as I continued to work was a huge bonus. Without a doubt, getting a first and a personal letter of commendation was a high point in my life, and this has made me very loyal to LSBU.
I am passionate about my job
My current role is Lead Research Nurse. I manage a team who undertake clinical research to make tomorrow's healthcare better - I love being part of the solution, and I would not be in my current role without my degree. I am passionate about my job and making a difference brings me great satisfaction. Say what you will about the NHS, it's this public-serving body that keeps me motivated, the good bits and the bad bits.
The most influential people in my life have been the managers, colleagues and academics who believed in me when I didn't believe in myself. And I can't forget my husband, who like me is a life-long learner. These people help me keep my head above water because studying, working and bringing up a family all at the same time often make me feel overwhelmed. I manage my stress reasonably well today. I find yoga, walking my dog, cycling, and singing helps me a lot.
No stranger to self-doubt
I'm no stranger to self-doubt. I think it's something women in particular suffer from, and I often recognise it in myself. I get regular bouts of imposter syndrome. I have, however, learnt over the years, most notably in my current role which involves frequent meetings with leading academics, that there is no shame in admitting that you don't have immediate knowledge and answers. Even professors miss deadlines, forget meetings and get things wrong sometimes. The key is being honest, and having grace, dignity and self-belief. A sense of humour also helps.
Giving back is really important, and I want to increase my involvement with LSBU so that I can help encourage the health care professionals of the future. My advice to them would be to believe in yourself and try to ignore negativity - everyone has something unique to offer. I am keen that my own team engage and support the student nurses and midwives who spend time working with us.
Though it might sound a bit dry, I would like my legacy to be an acceptance of research and service improvement as an integral part of routine clinical care in the NHS, and I am grateful that my current role enables me to make a modest contribution to changing things for the better. This is really important to me, as I do sometimes fear that the NHS needs to make some fairly radical changes to cope with the challenges ahead. I am a very proud LSBU alumna - I always tell people that LSBU gave me the chance to enhance my career and to become the leader I am today.
Find out more about Midwifery at LSBU.
Tags