Alumnus Patty Leo on her career to be an architect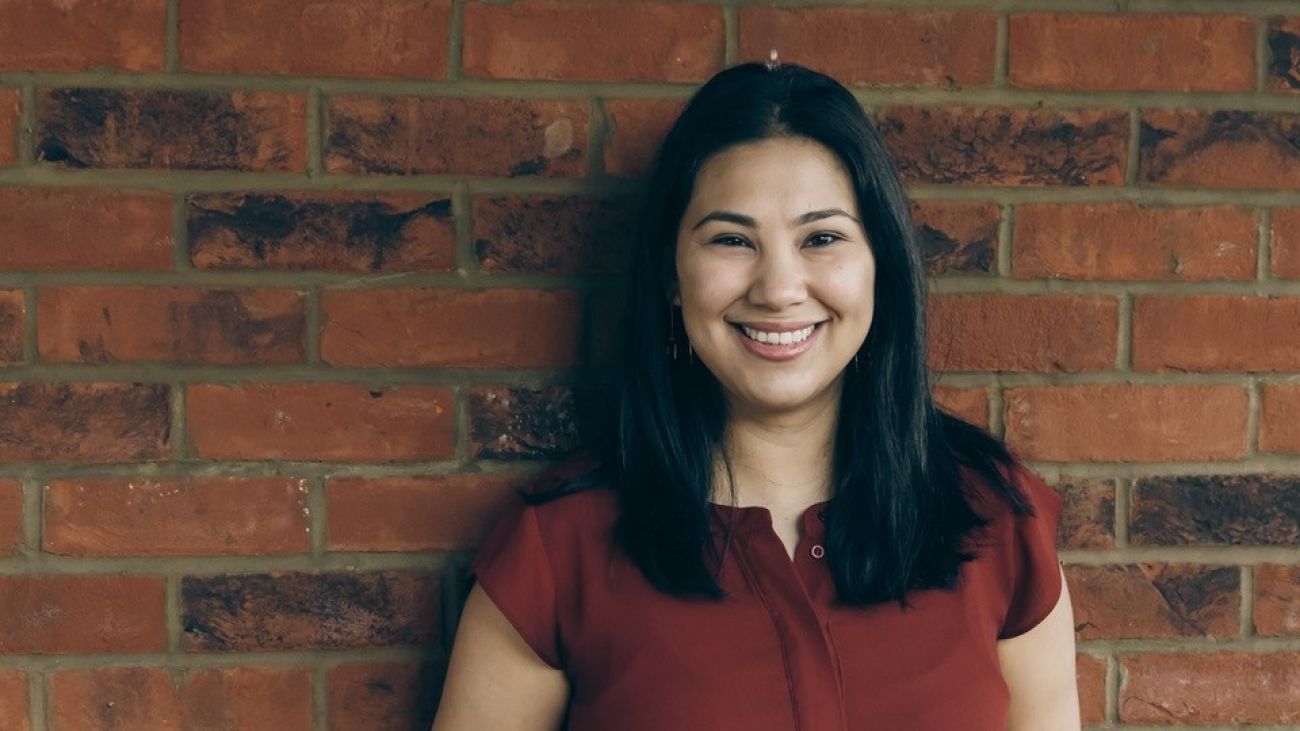 "If you have a dream, follow it. There's always help out there to make it come true"
I've wanted to be an architect from age four, I didn't know what it meant. I use to walk around with a suitcase with Lego and pencils, I would draw and build things and show people, I've just been fascinated by buildings. My dad studied to be one but didn't practice. After high school, I worked to earn money for architecture school.
I was born in Peru and moved to New Jersey in my teens. When I lived there, my dad left and my mum remarried, I never really had a father figure. I ended up in a bad relationship with a man who grew up in a war-torn country so witnessed a lot of bad things. He held me back a lot, I was young naïve and he was 12 years older than me. Because of that relationship, I couldn't trust people, but it taught me to be comfortable on my own, be stronger, I had counselling and was advised to leave my circle. It was hard deciding to leave all I knew but I had to if I wanted to move forward with my life.
In Peru there was a lot of terrorism so everyone was leaving the country, from the age of 5 I kept the same friends, we left Peru together. Before I came to London, when I was 24 I visited all of them, they were all around the world. I went to China, San Francisco even to the Peruvian jungle. It was at a time I needed to spread my wings and do what I wanted to do.
I went to a talk at NYC College about studying abroad and moved to the UK straight away. I have always wanted to go to the Bartlet School of Architecture, UCL, I took my portfolio to the front desk and said "take me", the security guard said 'no' and told me to go through UCAS. I applied and didn't get in and went back to the US. UCAS wrote to me and said you have four more options, so I applied and got into London Metropolitan University (London Met) as it was the cheapest and I had a football scholarship. I told my mum I'd be back in a year but I didn't know how long I would be gone.
When I completed my Bachelor's at London Met I had graduated with a 3rd and it was hard to continue my studies, but LSBU allowed me to continue. They must have seen something in my portfolio.
Helen Parker, Academy of Sports Manager, gave me a scholarship, she knew nothing about architecture but knew I needed the school. I came to LSBU at 31 playing football with 18-year-old girls who were angry and strong, it was challenging. We had a game a week, September to April and I had to play every game, we travelled all over the UK. I volunteered with the football academy but still had to study, work, play semi-pro football, and got married in the process, I don't know how I did it.
Becoming an architect is tough, I don't have one colleague who hasn't had anxiety or panic attacks, its full-on, there were times I wanted to give up and go back to the States. I was at London Met for 5 years and was given a counsellor who stayed with me throughout. He mentally prepared me for my Masters at LSBU. LSBU welcomed me with an amazing mental health team that offered me support from day one, no questions asked, all confidential, I am so grateful. I struggled to write essays, LSBU offered a full dyslexia test with an external consultant. At 33 years old I got diagnosed with dyslexia, it confirmed my struggle but everyone was so surprised.
During the Masters programme, you join a studio that focuses on different subjects and you have to choose one. I chose studio 20 run by Angela Vanezi and Spsyros Kaprimnis. I was lucky as the studios I worked with shaped the architect I am now, I've been to India, Sweden and worked in underdeveloped countries on rural projects. I went on to study parametric design, architecture from natural shapes and geometry. I have always worked with bamboo, it's my favourite material to work with, and in India, I learned how sustainable it is.
In the second year, I chose Studio 22, as the focus was social housing, ran by Hassan and Saam. We studied migrating cities and towns. We went to Beirut and other cities and visited migration camps which was an amazing experience.
Tutors push you hard. Luke, whose the Head of Department, always offered me opportunities, even the Royal Institute of British Architecture (RIBA) scholarship which helped pay for my course. As an international student my course cost £13k a year. I have no debt with for my Masters which is amazing.
When I graduated from LSBU I was at a crossroad as to what I was going to do and got offered a scholarship to teach in Bali for 6 months on bamboo technique, an amazing opportunity. I couldn't go because of visa problems. This offer came after I had won a competition to build a sustainable pavilion made from bamboo for international students to use. It was built, there was an inauguration and I gave a speech, It was a proud moment.
I got a job offer on LinkedIn from a start-up as Head of Design at a company called New Place. We do some really interesting projects, new builds for the younger generation. I'm learning so much, been here two years. The team are my friends from London Met and LSBU, I brought them on board. Even our photographer is the photographer from my wedding. My laptop broke while I studied at LSBU, I found someone to help me fix it, he came to campus and helped all my friends and now he's the IT guy at New Place and has hooked us up. Even Dale from Pencil and Ink works as a consultant here. A true example of who you know, I bring in people I walk with.
I'm looking forward to the future, travel, have a family, I take my husband everywhere with me. He works for council child protection services. I met him while I was at London Met and he did his Masters in Social Work at LSBU, he's the reason I got a family study discount at LSBU.
As an architect, you are a perfectionist spending hours making decisions. You can regret a job and project but you can always learn from it. I'm very passionate about my work. For me, making people's lives better through design is the main thing. Architecture enhances the quality of people's lives.
I studied the impact of homeless in London and surveyed 100 people in Islington. Through my study, I learned 13,000 people are sleeping rough in London. The fact there was a high number in a developed country was shocking to me. Many hostels only take young people, women and family but not men. Some cost £14 a day and you aren't allowed pets.
I created models of temporary accommodation made out of bamboo and my dissertation, about slums in Peru, came from the studies I did in London. My tutor recommended it to RIBA, and I was commended with the Presidency Medal. I made 20-30 parametric models from bamboo about displacement. They were displayed at the British Institute of Architects, they did an exhibition just before the pandemic. Representing LSBU during my final year of work at the exhibition is my biggest achievement.
My advice to anyone is, if you have a dream, follow it, there's always help out there, look at all the help I've received. All my experience has made me who I am and I am so grateful.
Tags