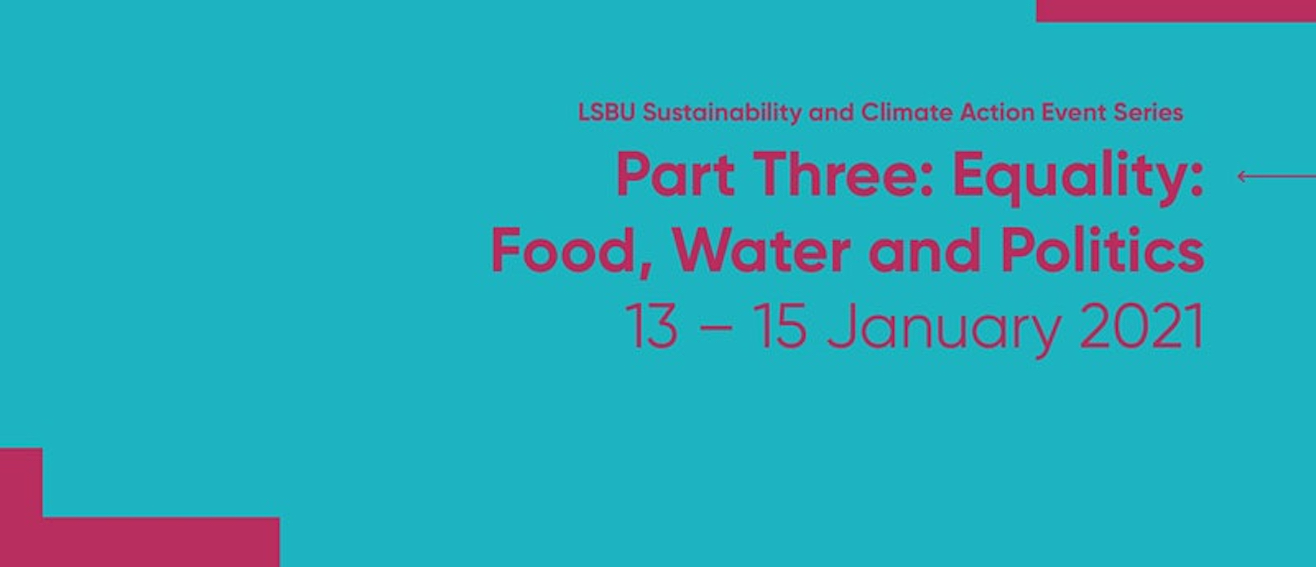 Equality: Food, Water & Politics 
Equality: Food, Water & Politics 
About this event series
Food and water consumption are about to get political. With an increase in floods and droughts and our changing weather systems, threats to global food and water security are increasing. What policies and laws are being put in place to protect all of humanity's access to food and water. What creative solutions can drive fairer access to food and how are climate change and globalisation impacting our psychological behaviour towards food, diets and our physical health.
Our prominent guest speakers will include:
Mercato Metropolitano
The London Food Strategy
Veganuary
Gauthier Soho
Sistah Space
RESTLESS Development
Grace Hull, Sustainability and Social Justice Educator
COP26 Universities Network
More to be announced soon
Keynote speakers
Panel Discussion: The planet & plant-based diets: behaviour change, benefits & barriers
- Toni Vernelli, International Head of Communications and Marketing, Veganuary
Session Host: Dr. Jaya Gajpara
Panel Discussion: Urban Agriculture: A path to the future of food security, poverty alleviation and community cohesion in cities
Prof. Lucia Costa, Universidade Federal do Rio de Janeiro, Brazil
Prof. Ivan Cartes, University of Bio-Bio, Conception, Chile
Prof. Heloisa Costa, Universidade Federal de Minad Gerais, Brazil
Lead: Antonia Noussia, Associate Professor in Urban Design Planning, LSBU
School: Law & Social Sciences
Keynote Address: 'In Support of Artisans' with Mercato Metropolitano – London's first sustainable & inclusive food market
Keynote Address: An introduction to 'Feed Me Good'
LSBU staff
Session: Sustainable Food & Drink Development with LAFIC
Leads: Sam Ash, LAFIC Project Manager, and Adri Bester, Senior Food Technologist, Enterprise Lead for the School of Applied Sciences & Lead Academic at LAFIC, LSBU
Schools/Departments: Applied Sciences & Research, Enterprise & Innovation
Session: How LSBU is supporting London start-ups create sustainable innovation
Lead: Ellen South, Senior Project Manager - Sustainable Innovation, LSBU
Department: Research, Enterprise & Innovation
Session: The Mystery of Sourdough: case closed
Lead: Cristiano Solinas. Lecturer Baking Science and Pastry Technology, LSBU
Session: Water - the forgotten utility
Lead: Chris Barnes, Estates & Energy Manager
Department: Estates & Academic Environment
Keynote speakers
Keynote Address: Capitalism is killing itself - and it's taking the planet with it

Expert: Ash Sarker, journalist and left-wing political activist.
Keynote address: Youth Engagement for Climate Action and COP26 Universities Network
Anum Ahmed, Head of Youth Engagement Team at the Cabinet Office
Alyssa Gilbert, Director of Policy and Translation, Grantham Institute – Climate change and the environment, Imperial College London
Josh Tregale, UK-based youth climate leader and Auther of Mock COP.
Session Host: Thomas Empson, Sustainability Project Manager, LSBU
Panel Discussion: Holding corporate giants accountable – why spoiling the planet is not cool
Host: Thomas Empson, Sustainability Project Manager, LSBU
Session: Education for Sustainability as a Catalyst for Change
Stephen Asek, Founding Board Member of Solidarity 2020, Cameroon
Euphresia Luseka, Water Governance Consultant, Kenya
Rae Merrigan, Teacher, Indonesia
Robson Nyirenda, Project Manager Opportunities for Youth Employment, SNV, Zambia
Lead: Dr Glen Strachan, Education for Sustainability Programme, School of Law & Social Sciences, LSBU
School: Law & Social Sciences
LSBU staff
Session: Can we achieve 17 Sustainable Development Goals simultaneously?
Dr Safia Barikzai Associate Professor of Informatics, an IT and Enterprise champion, Academic Lead for the Digital Grid Partnership and a STEMNET Ambassador
Dr Clare Benson, Senior Lecturer in Chemical Engineering & member of Explosion & Fire Research Group, LSBU
DrJaya Gajparia, Course Director MSc Education for Sustainability and Senior Lecturer in Sociology, LSBU
Dr Liz Newton, Associate Professor of Psychology and Academic Lead for Integrity, LSBU
Session Lead: Deborah Andrews, Associate Professor in Design and winner of 'Sustainability in Action' Award, LSBU
Session: International Law and the SDG's: Responsibility v Legality
Lead: Professor Craig Barker, Dean
School: Law & Social Sciences
Session: The challenges and opportunities for achieving a sustainable world
Leads: Dr Adrian Budd, Head of Academic Programmes, LSBU and Dr Hugh Atkinson, LSBU Visiting Fellow and Distinguished Research Fellow, The Schumacher Institute for Sustainable Solutions, Bristol
School: Law & Social Sciences
Session: Reducing health inequalities in kidney care
Lead: Professor Nicola Thomas, Professor Kidney Care, LSBU
School: Health & Social Care
Session: Supporting the psychological recovery of people after a COVID-19 critical illness; the importance of a collaborative approach
Dr Gaby Parker, Consultant Clinical Neuropsychologist, Central London Community Healthcare NHS Trust
Suzanne Bench, Professor of Critical Care Nursing, LSBU
Alison James, Senior Lecturer, School of Health and Social Care, LSBU
Hitendra Solanki, Senior Lecturer, School of Law & Social Sciences, LSBU
Session Host: Professor Nicola Thomas, Professor Kidney Care, LSBU
Schools: Health & Social Care / Law & Social Sciences
Session: Understanding the intersectional experiences of COVID-19: Structural Racism and Gender Discrimination
Dr Calvin Moorley, Associate Professor of Nursing Research & Diversity in Care, LSBU
Dr Rosetta West, Senior Lecturer in Adult Nursing, LSBU
Nelly Kibirige, Life Coach, former LSBU Student Union president and member of the LSBU Domestic Abuse working group on COVID-19
Session Host: Dr. Jaya Gajpara, Course Director for Education for Sustainability, LSBU
Schools: Health & Social Care / Law & Social Sciences
Keynote speakers
Keynote Address: Holistic Sustainability and Climate Justice
Expert: Grace Hull, Sustainability and Social Justice Educator, Green Soul Grace
Panel Discussion: Catalysing Youth Action for Climate Justice with Restless Development
Jeana Malhi, Systems Change Organiser, UKYCC
Poorvi Mehrotra, Assistant programme Coordinator, Restless Development India
Jevanic Henry, Panelist, Youth Power Panel
Soumita Chakraborty, Youth Advisory Board Member, Global Youth Coalition for Road Safety
Host: Hattie Tollerson, Student Union President
Department: London South Bank's Student Union
Panel Discussion: United by our differences – what bold & diverse organisations can look like
Cllr Marianna Masters, Lambeth Council
Marc McKenna Coles, Global Diversity & Inclusion Manager, Lloyd's Bank
Joseph Galliano, CEO, Queer Britain
Marisha Drayton, Recruitment Partner, LSBU
Session Host: Sanchia Alasia, Head of EDI, and Sebastian Bromelow, Project Manager (OD/EDI), LSBU
Panel Discussion: Migration as a sustainability issue in a time of COVID
Jos Hermans, Founder and Chair, COMMEET
Saima Raza, Trustee with Migrant Help UK, Founder of 'Under One Sky' and Chair of the Refugee Forum in the largest borough in London
Ahmet Sayer, Founder and President , European Migrant Platform
Session Host: Ros Wade, Chair, London RCE and LSBU Emeritus Professor for Education For Sustainability
School: Law & Social Sciences
LSBU staff
Session: LSBU's approach to an inclusive & accessible education journey for South London
Lead: Professor Deborah Johnston, Pro-Vice Chancellor for Education, LSBU
Session: The truth about women's healthcare – past imperfect
Leads: Sarah Esegbona-Adeigbe & Anna Lyons, Senior Lecturers in Midwifery, LSBU
School: Health & Social Care
Session: Sustainable Routes to Resource Acquisition for Racialized Youth: Between Love, Rights and Solidarity
Lead: Esmorie Miller, Lecturer in Social Sciences
School: Law & Social Sciences
In this section
Equality: Food, Water & Politics