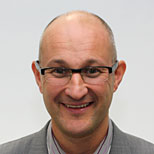 Prof. Graeme Maidment
Professor of Air Conditioning and Refrigeration
Prof. Graeme Maidment's specialist areas include:
Refrigeration and air conditioning
Cooling of the London Underground
Ground source energy systems
Refrigerant leakage and emissions
Graeme has 30 years of experience in refrigeration and air conditioning (RAC). He started his career as an apprentice with J & E Hall Ltd, and has since focused on improving the sustainability of RAC systems, technology and skills.
He leads LSBU's research in Refrigeration and Air Conditioning and teaches in the Department of Urban Engineering.
His major areas of research and interest have included the cooling of the London Underground, ground source energy systems, refrigerant leakage and emissions, and energy use from RAC systems.
Graeme is President of the Institute of Refrigeration, taking on this role in April 2013. He has been a member of the Institute since 1988 and was elected a Fellow of the Institute in 2002.