Overview
This MSc Environmental and Architectural Acoustics can be used as a conversion course for maths, physics, architecture, engineering or audio technology graduates. It's also suitable for professionals from fields such as music production and technology, engineering, environmental health, and many others.
LSBU has been offering courses in Acoustics for over 35 years, and houses the only centre for study with this level of facilities in the South-East of England,including full-size reverberant and anechoic chambers and an exceptionally well equipped and staffed laboratory, with access to the very latest instrumentation and technology.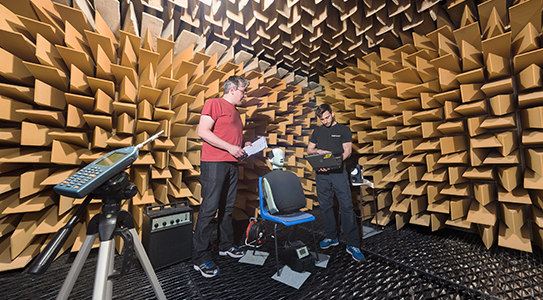 This is a professionally focused applied degree and practical work is an essential part of the course, giving you direct experience of modern measurement equipment and techniques. The modules are directly relevant to the practice of acoustics, and also consider the broader aspects of investigation and control of the built environment. Half of teaching time is spent in the laboratory, and this focus is reflected in the balance between coursework and exams.
Individual modules can be taken separately as part of continuing professional development. For the final project module you'll devise and complete a piece of investigative work in an area of interest in considerable depth; the topic and scope of the project are selected with the guidance of an academic supervisor. For those applicants who already hold an Institute of Acoustics Diploma, there is an option of direct entry to the second year of the part-time Masters course.
Take a tour of the acoustics labs below.
Accreditations
Key course information - ordered by mode
Mode
Duration
Start date
Location

Mode

Full-time

Duration

16 months

Start Date

January

Location

Southwark Campus

Mode

Full-time

Duration

12 months

Start Date

September

Location

Southwark Campus

Mode

Part-time

Duration

28 months / 24 months

Start Date

January; September

Location

Southwark Campus
Case studies
John Zeman wanted to combine his love of sound and his interest in architecture; the Acoustics course at LSBU allowed him to do just that.

Originally from California, Eric came to LSBU to study acoustics via Houston where he worked as a mechanical engineer on drill equipment.
Modules
Descriptions of module content
Acoustics laboratory
This module aims to convey the nature of sound and vibration with a considerable depth of knowledge through practical means, giving you an understanding of how to accurately measure sound, how sound behaves, and practical aspects of noise control. It introduces you to the basic principles of acoustics, familiarises you with modern sound level meters, measurement parameters and measurement techniques for noise surveys, room acoustics, sound absorption and sound insulation. You should be able to produce an accurate report to consultancy level which is critical of the laboratory, experiment, technique or instrumentation by comparison to the appropriate international standard.
Architectural acoustics
The module provides specific acoustics knowledge as relevant to buildings and in particular rooms. The aims of the module are to gain understanding of room acoustics, measurement of room acoustic parameters and the various means of modelling the sound field in rooms across the frequency range.
Measurement and control of sound
This module is designed to teach, at an advanced level, the physical mechanisms by which noise may be created, as well as to provide the analytic and practical skills required to control noise and vibration from a variety of sources. The module instils the knowledge of how to undertake noise and vibration measurements to meet specific acoustical standards and guidance.
Subjective and environmental acoustics
Teaches, at an advanced level, the physical mechanisms by which the ear/brain interact to hear. The aims of the module are to: appreciate how human hearing deteriorates dependent on a number of variables; how legislation has developed to protect workers and how hearing protection can help under certain conditions; to appreciate the difference between subjective loudness and objective measurements; to learn how acoustic comfort criteria and legislation have been developed and applied to protect people in different environments.
Environmental management
The module develops understanding of the way that human social and economic activities impact on the environment. The emphasis is on how managers can assess and influence the environmental impact of their particular organisation, with reference to key technologies and the political and legal constraints within which organisations must operate.
Research methods
This module focuses on the essential communication and analytic skills required in research, including techniques for successful dissertation writing.
Energy engineering project
Assessment
Methods of assessment by module
Module title
Assessment
Acoustics laboratory
100% Coursework
Architectural Acoustics
100% Coursework
Subjective and Environmental Acoustics
50% Examination
50% Coursework
Measurement and Control of Sound
50% Examination
50% Coursework
Research Methods
100% Coursework
Environmental Management
100% Coursework
Employability
Over the past decade a very high proportion our students have found employment in an acoustics related industry, and one or two outstanding students per year go on to undertake research on our sponsored PhD programme.
The supply of new acoustics graduates from UK universities has rarely met the number of job opportunities available in acoustics consultancy. This is particularly true at the moment, when the industry is struggling to recruit sufficient numbers of graduates within a growing sector.

Russell Richardson, Director, RBA Acoustics
Completion of the MSc satisfies the academic requirement for corporate membership of the Institute of Acoustics. The process of attaining Chartered Engineer status is offered through the Institute o fAcoustics or the Chartered Institution of Building Services Engineers.
Our past graduates include award winners and successful figures within the industry:
John Hinton, past president, IOA
Simon Kahn, Technical Director, Mott MacDonald
Dani Fiumcelli, Acoustics Technical Director, Temple Group Ltd.
Russell Richardson, Director, RBA Acoustics
Peter Mapp, Principal, Peter Mapp Associates
Acousticians work in a great variety of industries and environments and this profession is in high demand, especially in London, thanks to the wide range and speed of new infrastructure development.
Architectural acoustics
Many types of new buildings need careful acoustic design to make them sound good, to protect them from nearby noise sources, to make them productive and pleasant places to live or work in and to make them commercially successful. This is especially true for places like concert halls, but equally applicable to universities, residential buildings, leisure centres and many others. Day-to-day tasks could include: design meetings with architects and other engineers, noise surveys of existing and new sites, design using computer and physical models, communication of the design to the client and design team, project management, site supervision and commissioning of the finished projects. This offers a balance between creative, scientific and practical skills and is a career that will always present new experiences and challenges. (www.ioa.org.uk)
Environmental noise
Noise is a major issue for society: 80 million EU citizens live in unacceptably noisy areas. Environmental health officers consider noise in planning new developments, such as housing affected by noise, or new noisy activities, and enforcement of existing noise concerns including the sources of complaints from the public. Consultants in environmental noise work in small specialists firms or large multinational consultancies, including engineering firms. Junior staff measure noise and use computer models to predict noise levels from new developments such as roads, railways and industrial plants. Consultancy can be a demanding job, but one which offers great variety and career progression. (www.ioa.org.uk)
Other areas you could work in include audio engineering, noise control and product sound, musical acoustics, speech and hearing, ultrasound, underwater acoustics.
If there is a clear link between the number of job ads and growing economic prosperity, then it would appear that the acoustics sector is enjoying something of a boom.

Institute of Acoustics, March 2015
Employability Service
We are University of the Year for Graduate Employment - The Times and Sunday Times Good University Guide 2018.
At LSBU, we want to set you up for a successful career. During your studies – and for two years after you graduate – you'll have access to our Employability Service, which includes:
An online board where you can see a wide range of placements: part-time, full-time or voluntary. You can also drop in to see our Job Shop advisers, who are always available to help you take the next step in your search.
Our Careers Gym offering group workshops on CVs, interview techniques and finding work experience, as well as regular presentations from employers across a range of sectors.
Our Student Enterprise team can also help you start your own business and develop valuable entrepreneurial skills.
Professional links
The department has extensive links with industry. This means students have the opportunity to go on site visits, receive guest lectures, take part in research initiatives, go to networking events and collaborate on projects with professionals working in the field. Teaching makes extensive use of industry case studies to demonstrate theory and research techniques. Some of our links include:
Recent guest lecturers include:
Peter Mapp, Peter Mapp Associates (PA System Design)
Bob Peters, AAD Consultants
Professor Mike Barron, Partner, Fleming and Barron Acoustics Consultants
Simon Kahn, Technical Director, Mott McDonald Acoustics
Andrew Parkin, Acoustics Partner, Cundall Acoustics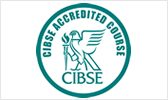 The Chartered Institution of Building Services Engineers (CIBSE) is the standard setter and authority on building services engineering in the UK and overseas. It speaks for the profession and supports career development.
---
The Institute of Acoustics is the UK's professional body for those working in acoustics, noise and vibration. The Institute of Acoustics is a nominated body of the Engineering Council, offering registration at Chartered and Incorporated Engineer levels.
Facilities
LSBU houses the only centre for study with this level of facilities in the South-East of England, including a full-size reverberation chamber, anechoic chambers, two audiometric booths and an exceptionally well equipped and staffed laboratory, with access to the very latest instrumentation and technology.
Our specialised lab equipment includes:
B&K Shaker
B&K accelerometers
B&K head and Torso Simulator
B&K calibrated sound source
BSWA two channel Standing Wave/sound transmission Tube
Microflown Impedance Gun
2 KayPentax Vocal Load APM
Svantek 6 Channel Vibration Meter
JBL 6112 Subwoofer
2 Dodec Loudspeakers
3 Norsonic Nor 140 Class 1 SLM
2 CEL 593 Class 1 SLM
Svantek 958 Noise/Vibration meter
Norsonic Nor 132 Class 2 SLM
6 NTI XL2 Class 1 SLM
10 SoundBadge Dosimeters
Rion Vibration Suite
B&K Standing Wave Tube
Norsonic Sound Insulation Kit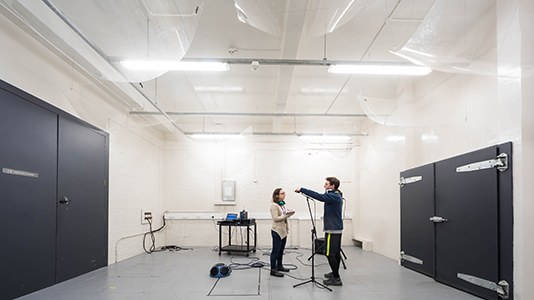 Students work in the reverberation chamber
Our acoustic laboratories offer an outstanding and rare learning environment. Facilities include an Anechoic Chamber and a Reverberation Chamber, which support cutting-edge research in the field of applied acoustics.
Teaching and learning
Members of the teaching team are all highly-experienced and award-winning, and you'll enjoy guest lectures from world experts. In addition,all are actively involved in research and consultancy, which enables staff todraw on the latest industry developments in both lectures and practical work.
Currently 50% of our full-time student cohort is from overseas.This allows our students to network across America, India, the Middle-East,Australia and Europe.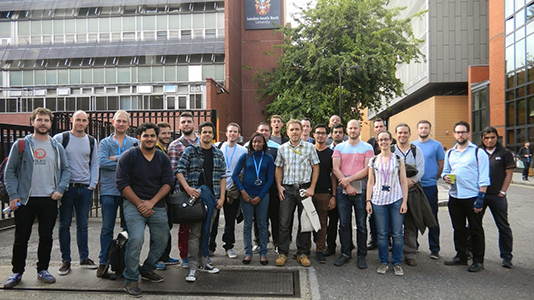 2014-15 acoustics students
Entry requirements
A Bachelor degree equivalent to UK Second Class Honours Lower Division in a relevant subject.
Applications are also welcomed from those without the required qualifications that possess the life/work skills that would make them suitable to study at this level. Those applicants holding an Institute of Acoustics Diploma will be exempted from the appropriate taught units.
How to apply
International (non Home/EU) applicants should follow our international how to apply guide.
Instructions for Home/EU applicants
Mode
Duration
Start date
Application code
Application method

Mode

Full-time

Duration

16 months

Start date

January

Application code

P031423

Application method

Mode

Full-time

Duration

12 months

Start date

September

Application code

P031423

Application method

Mode

Part-time

Duration

28 months / 24 months

Start date

January; September

Application code

P031423

Application method
Full-time/part-time postgraduate students and research students apply through the UCAS Postgraduate. Full details of how to do this are supplied on our How to apply section for postgraduate students and our How to apply section for research students.
Postgraduate applicants are required to provide up to two references as part of their application.
Accommodation
Students should apply for accommodation at London South Bank University (LSBU) as soon as possible, once we have made an offer of a place on one of our academic courses. Read more about applying for accommodation at LSBU.
Finance
It's a good idea to think about how you'll pay university tuition and maintenance costs while you're still applying for a place to study. Remember – you don't need to wait for a confirmed place on a course to start applying for student finance. Read how to pay your fees as a postgraduate student.
Postgraduate Application Service
Book a session with one of our specialist Postgraduate Advisors. Over a one on one Advice Session they'll advise you on postgraduate degrees at LSBU that match your interests and experience. Book an Advice Session.
Fees and funding
Fees are shown for new entrants to courses, for each individual year of a course, together with the total fee for all the years of a course. Continuing LSBU students should refer to the Finance section of our student portal, MyLSBU. Queries regarding fees should be directed to the Fees and Bursaries Team on: +44 (0)20 7815 6181.
UK/EU fee:

£8700

International fee:

£13125

AOS/LSBU code:

5227

Session code:

1FS00
Total course fee:
UK/EU
£8700
International
£13125
UK/EU fee:

£8700

International fee:

£13125

AOS/LSBU code:

5226

Session code:

1FS00
Total course fee:
UK/EU
£8700
International
£13125
UK/EU fee:

£2900

International fee:

£4375

AOS/LSBU code:

5228

Session code:

1PS00
Total course fee:
UK/EU
£8700
International
£13125
For more information, including how and when to pay, see our fees and funding section for postgraduate students.
Possible fee changes
The University reserves the right to increase its fees in line with changes to legislation, regulation and any governmental guidance or decisions.
The fees for international students are reviewed annually and, additionally, the University reserves the right to increase tuition fees in line with the RPIX measure of inflation up to 4 per cent.
Postgraduate loan (PGL) for Masters study
If you are starting a Masters course, studying either full- or part-time, you may be entitled to apply for a postgraduate study loan. Find out more at our postgraduate fees and funding section.
Scholarships
We offer several types of fee reduction through our scholarships and bursaries. Find the full list and other useful information on funding your studies on the scholarships and fee discounts page.
Fee status
Please check your fee status and whether you are considered a home, EU or international student for fee-paying purposes by reading the UKCISA regulations.
Case studies
Select a case study and read about practical project work, students' placement experiences, research projects, alumni career achievements and what it's really like to study here from the student perspective.
Prepare to start
We help our students prepare for university even before the semester starts. To find out when you should apply for your LSBU accommodation or student finance read the How to apply tab for this course.
Welcome Week
Before you start your course we'll send you information on what you'll need to do before you arrive and during your first few days on campus. You can read about the process on our Welcome Week pages.
Top of page