Overview
Fast-moving field
The growth of big data, social computing and the Internet of things are accelerating the demand for high level computing skills. This course offers the opportunity to study both the theory of computation and practical approaches to the design and implementation of systems.
The course is based upon the internationally recognised Association of Computing Machinery recommendations for Computer Science curriculum guidelines and equips students with the solid base of computing knowledge required in this fast-moving field.
We offer the opportunity for all undergraduate Home/EU students to undertake a work placement, internship or work experience while studying a full-time course starting in September 2019.
Why Computer Science at LSBU?
Choose to specialise in a variety of aspects of computer science including computer engineering; big data and business intelligence; collaborative computing and devices and sensors.

Students gain a wealth of experience in using industry-standard equipment, computer programming and simulation facilities.

Top 10 in UK for career prospects in Computer Science and Information Systems (Guardian 2019).

Our London location puts you in the heart of the UK's vibrant and rapidly expanding tech-industry.
Key course information - ordered by mode
Mode
Duration
Start date
Location

Mode

Full-time

Duration

1 year

Start Date

September

Location

Southwark Campus
Modules
The course offers a balanced programme including the theory of computation, machine architecture, machine language, algorithms, data structures, programming and software development, software engineering, operating systems, databases, user-centred design and security. It also offers various speciality areas such as artificial intelligence, mobile and cloud computing.
Principles of data networks
This module introduces the principles of data networks, the inter-networked environment, and various technologies related to data networking using experimentation and programming assignments. The module lays the foundations of the data-networking course. You'll develop an understanding of the networking environment, which forms the basis of the inter-networked computer infrastructure, as well as of the applications and terminology used in an inter-networked environment.
Systems and cyber security
This module covers all aspects of the complex field of security in computer systems and networks. It will teach the fundamental principles of computer security and how they impact the many different areas in which computer technology is used. It will explore the diverse range of threats faced by systems and the network infrastructure that connect them together and the measures that can be taken to counter them. Assessment methods: 60% coursework, 40% exam.
Object-oriented programming
This module will introduce the more sophisticated programming constructs associated with object-oriented programming, the dominant programming paradigm in current use. It will also introduce event-driven programming and how it relates to the development of graphical user interfaces. This module will explore practical application development using graphical user interfaces and will cover the use of classes and objects of a kind found in many real world applications. The use of professional development tools will give a rounded picture of the development process. Assessment method: 100% coursework.
ICT project management in practice
This module provides students with an opportunity to work collaboratively with students from other disciplines on ICT projects. Students will work in teams and will go through the full ICT development lifecycle from requirements elicitation, feasibility study, design and development, testing and deployment. The module involves real clients and users who have genuine expectations that the developed digital solution will address their needs.
Project (double-weighted)
The project is a level 6 double module (i.e. worth 40 credits) for the Honours degree, enabling students to demonstrate the extent of the theoretical knowledge and practical skills which they have gained through prior study and industrial internships, if any.
Optional modules:
Artificial intelligence
This module covers the history and contemporary development of artificial intelligence systems and looks forward to likely near-future developments. It will cover all the major techniques of problem description, knowledge representation and data searching that represent the current toolkit for developing intelligent applications. Assessment methods: 60% coursework, 40% exam.
Data mining and big data analytics
This module provides a broad introduction to the basic theory, concepts, and techniques of data mining, and its role in business intelligence. It will cover the main topics in the area. The focus of the practical aspect of this module is business analytics. SAS® Enterprise Miner and SAS® Enterprise Guide will be taught and used throughout in order for you to develop practical skills in solving real world data mining problems. Assessment methods: 60% coursework, 40% exam.
Mobile computing
Mobile devices are among the most common devices used for every day computing tasks. Their portable nature, inherent connectivity and multiple sensors make them a distinctive platform with unique characteristics. This module explores these unique aspects, the special considerations developers must take into account when developing for mobile platforms and the opportunities for new kinds of applications they offer. Assessment methods: 60% coursework, 40% exam.
Smart internet technologies
Smart Internet Technologies comprise set of enablers to deal with the limitation of existing Internet. This includes but not limited All-IP Networking Architectures, evolution towards Cloud Computing and 5G networking architectures, open-based networking technologies, SDN/NFV challenges and IoT technologies and its interworking with Cloud and 5G networks.
AR/VR technologies
This module covers the technologies and the algorithms required to develop and deploy virtual reality and augmented reality applications. The module will cover VR and AR hardware, stereoscopic vision, rendering, AR/VR software development, 3D user interfaces and presence and 360 video.
Employability
After completing this course you'll understand how to specify, develop, design and test software and use industry-standard software for the specification, design, simulation and prototyping of computer systems.
Career opportunities include computer programming, software and web development, IT consultancy, and application design. You could work in any number of sectors, or choose to start your own business.
Employability Service
We are University of the Year for Graduate Employment for the second year in a row - The Times and Sunday Times Good University Guide 2018, 2019.
At LSBU, we want to set you up for a successful career. During your studies – and for two years after you graduate – you'll have access to our Employability Service, which includes:
An online board where you can see a wide range of placements: part-time, full-time or voluntary. You can also drop in to see our Job Shop advisers, who are always available to help you take the next step in your search.
Our Careers Gym offering group workshops on CVs, interview techniques and finding work experience, as well as regular presentations from employers across a range of sectors.
Our Student Enterprise team can also help you start your own business and develop valuable entrepreneurial skills.
Professional links
LSBU and IBM are strategic partners, and are collaborating on the content of this course.
Staff
School/Division:
Engineering / Computer Science and Informatics
Job title:
Senior Lecturer
Mike Child is a Senior Lecturer in Informatics at London South Bank University (LSBU).
---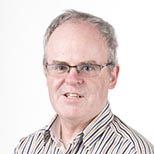 School/Division:
Engineering / Computer Science and Informatics
Job title:
Senior Lecturer and Outreach Lead
Paul specialises in computer networking, managing mobile technologies and the design and development of mobile apps.
---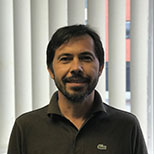 School/Division:
Engineering / Computer Science and Informatics
Job title:
Lecturer in Software Engineering & Complexity
Dr. Christos Chrysoulas' research interests lie in the area of Statistical Analysis, Machine Learning, Big Data, E-Learning systems, Smart Grids, and IoT. He has more than 25 technical papers (Book Chapters, Journal and Conference papers) in these areas.
---
School/Division:
Engineering / Computer Science and Informatics
Job title:
Head of Computer Science and Informatics
Tasos Dagiuklas' research interests lie in the area of smart Internet technologies including open-based networking, digital-immersive media, cloud-computing, QoE Modelling-Management and the Internet of Everything. He has over 130 publications including books and book chapters, journal articles and conference publications.
---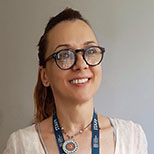 School/Division:
Engineering / Computer Science and Informatics
Maria Lemac is a Lecturer in Informatics at London South bank University (LSBU).
---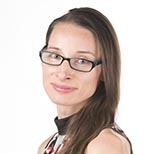 School/Division:
Engineering / Computer Science and Informatics
Lucia Otoyo is a Lecturer in Informatics and Director of QuizSlides Limited.
---
Facilities
Teaching and learning
Our teaching staff are involved in research and consultancy at the forefront of the industry. You'll learn in a modern, well-equipped environment complete with sophisticated technology.
Approach to learning
Taking on both group and individual projects, we assess your work through a mixture of coursework and exams, with project and laboratory work counting towards your final award. You'll be taught problem solving, project planning and team management to give you the best chance of getting the job you want once you graduate.
Personal Tutoring
As an undergraduate or MEng Engineering student, you will be allocated a named tutor during your first three weeks at LSBU. The role of your tutor is to be your primary contact for academic and professional development support.
Your tutor will support you to get the most of your time at LSBU, providing advice and signposting to other sources of support in the University.
Your tutor should be the first person at the university that you speak to if you are having any difficulties that are affecting your work. These could be academic, financial, health-related or another type of problem.
You will have appointments with your personal tutor at least twice a semester throughout your course. You can contact your tutor for additional support by email or in person.
Entry requirements
In order to be considered for entry to the Top-up course, applicants will be required to have the following qualifications:
Higher National Diploma with at least 60 credits at merit in second year modules, or
other equivalent Higher Education qualification
We welcome qualifications from around the world. English language qualifications for international students: IELTS score of 6.0, Cambridge Proficiency or Advanced Grade C.
How to apply
International students
International (non Home/EU) applicants should follow our international how to apply guide.
Instructions for Home/EU applicants
Mode
Duration
Start date
Application code
Application method

Mode

Full-time

Duration

1 year

Start date

September

Application code

G408

Application method
For full-time courses, please send your applications through the Universities and Colleges Admissions Service (UCAS) using our code L75. UCAS is the organisation responsible for managing applications to higher education courses in the UK.
For part-time courses, you can apply directly to the University.
For more details on how to apply (full-time and part-time) see our how to apply page.
See our admissions policy (PDF File 298 KB) and complaints policy (PDF File 127 KB).
Accommodation
Once we have made you an offer, you can apply for accommodation. You can rent from LSBU and you'll deal directly with the university, not third party providers. That means we can guarantee you options to suit all budgets, with clear tenancy agreements and all-inclusive rents that include insurance for your personal belongings, internet access in each bedroom and on-site laundry facilities.
Or, if you'd rather rent privately, we can give you a list of landlords – just ask our Accommodation Service.
Read more about applying for accommodation at LSBU.
Finance
You don't need to wait for a confirmed place on a course to start applying for student finance. Read how to pay your fees as an undergraduate student.
Fees and funding
For more information, including how and when to pay, see our fees and funding section for undergraduate students.
Please check your fee status and whether you are considered a Home, EU or International student for fee-paying purposes and for our regulatory returns, by reading the UKCISA regulations.
See our Tuition Fees Regulations (PDF File 149 KB) and Refund Policy (PDF File 102 KB).
Possible fee changes
The University reserves the right to increase its fees in line with changes to legislation, regulation and any government guidance or decisions.
The fees for international students are reviewed annually and the University reserves the right to increase the tuition fees in line with the RPIX measure of inflation up to 4 per cent.
Scholarships
We offer several types of fee reduction through our scholarships and bursaries. Find the full list and other useful information on our scholarships page.
Stories
Select a story and read about practical project work, students' placement experiences, research projects, alumni career achievements and what it's really like to study here from the student perspective.
Prepare to start
Applicant events
After you've received your offer we'll send you emails about events we run to help you prepare for your course.
Welcome Week
Before you start your course we'll send you information on what you'll need to do before you arrive and during your first few days on campus. You can read about the process on our Welcome Week pages.
Top of page
Top of page