Section Menu
Arturas Bondarciukas, BA (Hons) Digital Photography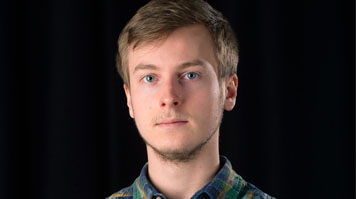 Arturas has found that studying photography at LSBU has given him the necessary skills and experience to succeed as a professional photographer
As a keen young photographer who knew he wanted to turn professional, Arturas Bondarciukas felt finding a degree that offered a combination of technical skills and business know-how was essential – and he found just that with the BA (Hons) Digital Photography course (now Photography) at LSBU.
Strong reputation
"I'd applied to a number of universities, but LSBU initially stood out because of its strong reputation for student success, as well as offering plenty of opportunities for business development and being located in the heart of London," he says. "However, what really stood out about the course was the way it was structured to give me the skills I needed to become a professional photographer. It's run by great lecturers who are active practitioners, and has a strong emphasis on preparing students for entering the profession."
South Bank Collective
Throughout his studies, Arturas kept a keen eye out for opportunities to gain practical, professional experience that would prepare him for the career he wanted upon graduation – and his big opportunity to enhance his CV did not take long to appear.
"During my second year, my senior lecturer, along with a former student, two current students and the Clarence Centre for Enterprise and Innovation, set up the South Bank Collective – a student-led agency – which I have been involved with from the very start," says Arturas. "Working in the agency has been so beneficial. I'm still working as a retoucher and photographer, and have learned so much about communicating with clients, working as part of a team, and improving my own photographic practice."
Commissioned work
Since then, Arturas has had the chance to go to Italy with the South Bank Collective as part of a commission from Italian crane giant Fassi, to shoot the company's 2017 calendar. "It was an amazing experience, working internationally and dealing with large-scale projects," he says.
Elephant Studios at LSBU
Arturas has also been able to extend his professional expertise by making use of Elephant Studios at LSBU, our professional-standard studio suite available to creative media students at LSBU. "It's a great opportunity to practice with professional-grade equipment and realise our creative vision," he says.
"The printing facilities are equipped with the latest computers and grading monitors for high-level retouching, with big format printers at each workstation. The editing suites, separated in soundproof rooms, are also incredibly professional – it's helped me realise my ideas and make my projects look as professional as they could possibly be."
Well-prepared
Arturas is in little doubt that being exposed to so much high-quality professional equipment has left him well-prepared. "I'm now familiar with using a lot of the tools I would use in my career," he explains. "I've already gained skills that would be immediately applicable in the workplace. With the creative industry changing so quickly, hands-on experience like that provided by Elephant Studios is absolutely vital for developing the skills you will need to succeed."
Undoubted inspiration
Looking ahead to his future, Arturas is keen to use the experience he has gained at LSBU to set up his own agency, after first completing a Masters degree. "Working first hand with the South Bank Collective has given me the insight and skills I feel I need to succeed – and being around such talented students and lecturers has certainly provided me with all the inspiration I need."
Arturas's work can be viewed on his portfolio site.
Top of page