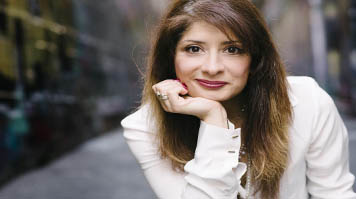 Casual Misogyny and Sexism - Banter or Oppression?
To mark International Women's Day 2019, LSBU would love you to join us for an evening of pure comedy and engaging debate with special guest Shappi Khorsandi!
About this event
Time: All day
Event Name
Casual Misogyny and Sexism - Banter or Oppression?
Start Date
Mar 6, 2019 6:00 pm
End Date
Mar 6, 2019 8:30 pm
Duration
2 hours and 30 minutes
Description

International Women's Day is not only a great opportunity to celebrate the successes, achievements and impact of women around the world, but it's an ideal platform to bring some of the more pervasive and everyday issues that affect both men and women to the forefront of people's minds. Misogyny and sexism are incredibly relevant topics particularly in our current climate with the ever growing awareness generated by the Time's Up and #MeToo movements. It's clear that opinions around this are divided. Many political figures and writers feel that our sensitivities around gender have gone "too far", that what was once considered chivalry and flattery are now deemed, unreasonably so, as "inappropriate" and misconstrued as something more sinister. What are your views? Is it a language vs. context issue? How is humour part of everyday sexism? What are our roles in everyday sexism and more importantly, how do we avoid being complicit in it?

With entertainment brought to you by the hilarious Shappi Khorsandi (comedy icon, author and star of I'm a Celebrity, Get Me Out of Here!) and a panel of fantastic speakers sharing their own experiences, we invite you to join in the discussion that seeks to address whether casual misogyny and sexism can be a case of harmless banter or are they a form of oppression? We look forward to welcoming you to LSBU for a fantastic evening!

PLEASE NOTE: This event will now take place in London Road Building.

Provisional programme

5.45pm Arrival and registration

6.15pm Introduction and keynote speech by Sophia Olorenshaw, LSBU Student Union's Women's Officer

6.20pm Comedy from the wonderful Shappi Khorsandi

6.50pm Panel discussion

7.20pm Q&A

7.40pm Networking and refreshments

8.30pm Close

Panellists (including Shappi Khorsandi)

Torie Chilcott, Director, Paddle Consulting

Our Honorary Graduate from the School of Business, Torie will be speaking about her time in the media industry and working in the world of technology and has been mansplained to more times than she cares to mention!

Stephen Davidson, Gender/Queer Theory Enthusiast, Writer, Director

Stephen runs improvisation workshops for personal and professional development. As a trans man, Stephen's experience in the workplace as a man is very different from his experience as a woman!

Dr Clara Eroukhmanoff, Race, Gender and Sexualities Research Group Lead, London South Bank University

Clara is a senior lecturer in International Relations at the School of Social Sciences. She will be speaking about her experience as a female academic in International Relations and her research on the reactions of Trump's comments that he can 'grab women by the pussy'.

LJ Filotrani, Course Director, Journalism, LSBU (Moderator)

LJ Filotrani is the course director for the BJTC accredited undergraduate degree in Journalism at London South Bank University. As an ex-newspaper journalist, LJ has worked in a number of predominantly male newsrooms, most recently at the Financial Times.