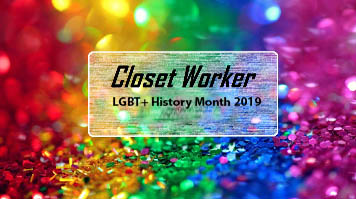 Closet Worker - How LGBT+ rights have shaped the workplace
An informal discussion on the evolution of LGBT+ equality in the workplace with stories from those who have navigated the working world & their sexual orientation.
About this event
Time: All day
Event Name
Closet Worker - How LGBT+ rights have shaped the workplace
Start Date
Feb 28, 2019 6:30 pm
End Date
Feb 28, 2019 8:00 pm
Duration
1 hour and 30 minutes
Description

As part of LGBT History Month, LSBU are pleased to host this panel discussion about LGBT+ rights and the workplace. The position of lesbian, gay, bisexual and transgender people in Britain has transformed beyond recognition during a single generation. The panel will discuss how far we have come and how far we still need to go.

Many individuals enjoy the freedoms of being able to bring their whole self to work, however it is easy to forget that many people still face challengers in the workplace that prevent them from being themselves at work.

As part of LGBT History Month, LSBU are pleased to host this panel discussion about LGBT+ rights and the workplace.

This event will provide an insight into how equality in the workplace has enabled individuals to move forwards with their careers. We will also talk about sectors where equality is still behind and openly discuss how best practice may be passed on.

Programme

18:15 Arrival and registration

18:30 Keynote speech

18:40 Panel discussion and Q&A

19:30 Networking and refreshments

20:00 Close

If you're interested in equality and human rights, this event is a must for you!

During LGBT+ History Month, LSBU will be fundraising for the charity Metro who promote health and wellbeing through their services to anyone experiencing issues relating to gender, sexuality, diversity or identity. For more information about Metro, please visit their website.

Our panellists include:

Professor Helen Woodruffe-Burton, Dean of the Business School at Edge Hill University.

Helen's publish work includes:

2016, Woodruffe-Burton, Helen. "Countering Heteronormativity; Lesbians and Wellbeing in the Workplace." Handbook on Well-Being of Working Women. Springer Netherlands, pp. 47-63.
2013, Woodruffe-Burton, Helen, and Sam Bairstow. "Countering heteronormativity: Exploring the negotiation of butch lesbian identity in the organisational setting." Gender in Management: An International Journal 28.6 (2013): 359-374.

Steve Bowman, Learning and Teaching Librarian, LSBU.

Having identified as Bi since 1971, Steve has long experience of attitudes to sexuality in the workplace. From 1974 to 1988 hee worked in manufacturing (on the shop floor, and as a manager), but since 1988 has worked in education. Qualifying as a Librarian in 1988, Steve is a Senior Fellow of the Higher Education Academy, a Fellow of the Chartered Institute of Library and Information Professionals, and a contributor to the London Bisexual Network.

Maggie Hammond, Solicitor of the Supreme Court (non – prac), Professional Doctorate candidate at The University of Portsmouth and Senior Lecturer, School of The Built Environment and Architecture, London South Bank University

Maggie Hammond began her career at LSBU in 1988, leaving to undertake the final stage of training as a Solicitor at city firm, Taylor Wessing. She was admitted as a Solicitor in 1998, practicing at Lewis Silkin and Winkworth Sherwoo. Maggie left private practice in 2002 to set up her own practice as an in house lawyer and a specialist advocate. She was awarded her LLM (with distinction) in 2010, researching the impact of the Land Registration Act 2002 on property registration fraud. Her interest in property fraud led her to her doctoral studies at the Centre for Counter Fraud Studies at Portsmouth University in 2014. She now teaches full time at London South Bank University while completing her Professional Doctorate.