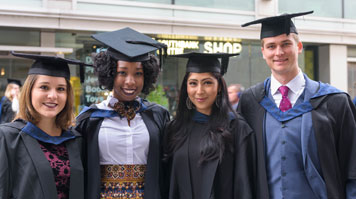 LSBU Graduations 2019: School of the Built Environment; School of Engineering
Graduation is an opportunity for LSBU graduates to recognise their achievement and celebrate the occasion with their family, friends and employers
About this event
Time: All day
Event Name
LSBU Graduations 2019: School of the Built Environment; School of Engineering
Start Date
28 Oct 2019 9:30 am
End Date
28 Oct 2019 6:00 pm
Duration
8 hours and 30 minutes
Description

London South Bank University (LSBU) holds annual graduations in the autumn of each year at the Royal Festival Hall which is part of the Southbank Centre, London.

LSBU holds two ceremonies on Monday 28 October 2019

The School of the Built Environment and Architecture Graduation will be held at 11am

The School of Engineering Graduation will be held at 3pm

All eligible graduates will receive an email invitation to their event in mid August 2019.

Once a graduate has booked their place they will receive a confirmation email which provides information about guest tickets, robe hire, photography, DVD suppliers and graduation merchandise information.

Find out more about graduation.