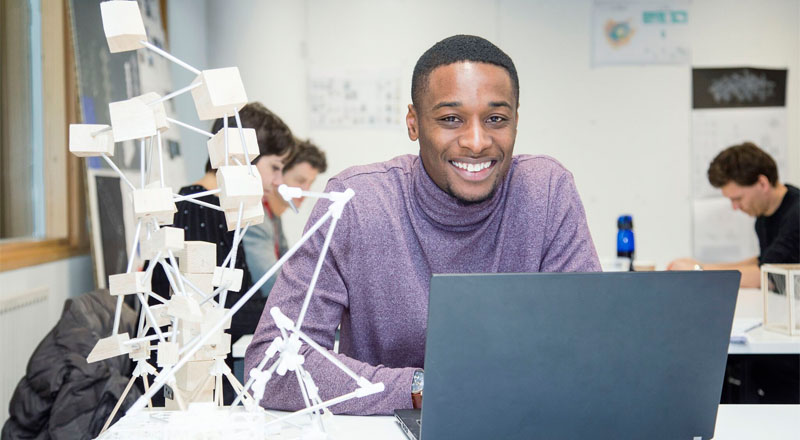 Architecture, Computing and Engineering
Open Day talks
With roots in the London Council School of Building (1904) and Brixton School of Building (1940), LSBU has a long history of education in this sector. Our practical, accredited courses in architecture, computing and engineering will provide you not only with a degree but also with skills and competencies in your chosen area that are valued by employers. We also offer part-time courses allowing you to study alongside your working commitments. There are many things we are proud of but what makes us stand out is our rankings, facilities and experience:
Ranked 1st for overall score in Building and Town and Country Planning amongst London Modern competitors (Guardian University Guide 2021)

Ranked 1st in the UK for Student Satisfaction for Mechanical Engineering (Complete University Guide 2021).

Ranked 1st amongst London modern competitors for Overall Score in Building (Complete University Guide League Tables 2021).

Our facilities include our virtual engineering labs, rapid prototyping technology including 3D printing and specialist computing laboratories with industry-standard software.

Make use of our stand-out facilities including a world-class Advanced Vehicle Engineering laboratory, workshop and computer suite.

100 years of experience offering architectural education.
Missed our open day?
Watch our on-demand presentations below to learn more.
Talk

Description

Architecture

Construction and Surveying

Engineering

Building Services Engineering and Civil Engineering

Mechanical Engineering and Design
Ready to apply?
Apply for Clearing to start in September 2021, and sign up to receive a guide. In as little as 60 seconds, you can find out if you could get an offer using our clearing calculator!