Therapeutic Radiography Integrated Degree Apprenticeship - BSc (Hons)
Overview
Our BSc (Hons) Therapeutic Radiography Degree Apprenticeship enables clinical practitioners working within a radiotherapy centre in a NHS hospital to train to become qualified Therapeutic Radiographer, in just 3 years.
Therapeutic Radiographers work in multidisciplinary teams, in radiation oncology departments, where they play a vital role in treating people with cancer. They're responsible for accurately localising, planning and delivering ionising radiation using state of the art technology.
Develop the highly specialised skills needed to work in the multidisciplinary teams in radiation oncology departments with a combined theoretical and practical education at LSBU, with the support from your NHS employer.
Gain the knowledge and clinical experience that is pivotal to providing personalised care. Plus, learn and develop the excellent communication skills required to support patients and their families through their cancer journey. Our state-of-the-art technology including our virtual environment radiotherapy training, ensures you're at the forefront of the ever-evolving industry during your studies.
Only HEI in London offering apprenticeship pathway in therapeutic radiography
Opportunity to train in a rewarding profession with the security of employment and support from both the employer and LSBU
Specialist skills coaches are employed to ensure that your know how to accurately record all of the training requirements for the apprenticeship pathway.
Unique balance of academic study, clinical placement and the employed job role to facilitate a varied and inclusive training opportunity.
Why Therapeutic Radiography at LSBU?
Ranked 2nd in London overall for Health Professions (Guardian University Guide 2023).

A professional accreditation – approved by the Health and Care Professions Council and accredited by the Society and College of Radiographers.

Great work experience opportunities – with the chance to gain clinical experience in many of London's internationally renowned teaching hospitals.

You'll get access to our state-of-the-art facilities – including VERT (Virtual Environment Radiotherapy Training), a virtual learning environment simulating a radiotherapy treatment room.

Career Opportunities: 94 percent of Health Professions graduates get graduate level jobs or are in further education at professional or higher education level, within 15 months of graduation (Guardian University Guide 2023).

LSBU Health and Social Care graduates are the second highest paid amongst all London Modern university graduates, and the sixth highest in the UK one year after graduating (DfE LEO data 2022).
Mode

Duration

Start date

Application code

Application method

Mode

Part-time

Duration

36 months

Start date

September

Application code

5811

Application method

Direct to LSBU
Location
London South Bank University student union is located at 103 Borough Rd, London SE1 0AA.
If you are visiting our Southwark Campus, you may wish to use our downloadable campus map (PNG File 466 KB). For information on accessibility, see our DisabledGo access guides.
Walk or bicycle
The University is in easy walking distance of underground and leading overground stations. We are only 20 minutes away from the Thames. We encourage walking and cycling and have bicycle racks on campus. Please check the Transport for London cycling website for London cycling maps and route planners.
By bus
LSBU is very well connected, and a large number of buses travel to and connect in the Elephant and Castle area from across London.
By train or tube
The Bakerloo and Northern lines stop at Elephant & Castle underground station, which is right next to campus. The closest rail stations are Elephant & Castle, London Waterloo and London Bridge. To plan your train journey, visit the National Rail website.
By car
London South Bank University does not provide public parking space. There is a limited amount of parking in the area, so we strongly advise using public transport.
Do consider the Congestion Charge if you are driving through London to reach the campus. Find out if you'll be crossing the Congestion Charge zone to reach our Southwark Campus.
TfL journey planner
You can travel to Southwark Campus by using public transport, plan your journey using the Transport for London journey planner.
Admission and selection procedures
All admission and selection procedures are based on:
Fitness for practice
An imperative to ensure flexibility of entry in accordance with Department of Health guidance.
The course team's commitment to facilitate equal opportunities at the point of entry and throughout the course.
The university operates an equal opportunities policy where there is no discrimination in view of age, disability, gender reassignment, marriage or civil partnership, pregnancy and maternity, race, religion or belief, sex, or sexual orientation.
Values-based recruitment
Admissions Process
All offers of places on the programme are conditionally based on:
Satisfactory outcome of a joint interview with the employer and Higher Education Institution.
Occupational Health clearance (confirmed from employer).
Satisfactory outcome of an enhanced Disclosure and Barring Service check.
Completion of apprenticeship pre-course documentation/contract.
Applications from candidates with disabilities are considered and assessment of abilities and needs undertaken sensitively. The safety of the potential apprentices is an important consideration.
Applicants who have previously been enrolled on a Therapeutic Radiography pre-registration programme, or any other health professional education programme, must submit a self-declaration confirming no previous fitness to practise concerns.
All applicants must be 18 years or over at the commencement of the course.
Entry requirements
It is anticipated that applicants will have a wide a variety of academic backgrounds, but should possess one of the following:
112 UCAS tariff points (e.g., 3 A Levels at grades BBC).
BTEC Level 3 extended diploma (before 2010 known as BTEC national diploma level 3) DMM in a health-related subject.
Foundation degree/diploma (or similar), 120 credits.
International Baccalaureate (26 points).
NVQ Level 3 plus one-year relevant work experience.
Access to Higher Education course in Science, Health, Social Care or similar (60 credits, of which 45 credits will be at Level 3 including minimum 30 at distinction grade and 15 at merit grade).
Plus English and Maths GCSE (grade A–C or 4-9) or equivalent.
Course status
Funding
The cost of the apprenticeship is paid fully by the employer (sometimes part funded by the government) through apprenticeship levy. The apprenticeship levy is a pot of money some companies pay into, which all businesses have access to spend on the training costs of apprenticeships. Companies fall into two categories: levy-payers (who pay into the pot) and non-levy payers (who do not). You can find out more in our Levy and Funding section, specifically for employers
The apprentice does not contribute toward the cost of study.
Bands
Apprenticeship standards are all assigned a funding band by the Government – these funding bands are the maximum amount the Government will fund via the levy towards a given apprenticeship standard. There are currently 30 funding bands ranging from £1,000 to £27,000.
Incentives
Employers with less than 50 staff sending an apprentice aged 16-18 will have 100% of the training costs paid by the government. All employers who employ an apprentice aged 16-18 on the first day of teaching will receive a £1,000 incentive from the government. You can find out more in our Levy and Funding section, specifically for employers.
Cost
You can find out the funding band for an Apprenticeship Standard on the Government website. To find out how much we are charging, please get in touch with us at apprenticeships@lsbu.ac.uk
Field trips
Some modules include field with and site visits, which may be residential or outside the United Kingdom, ranging from three to five days. These are organised by the Division and students are required to contribute towards the cost. If there are any field trips or any course visits as part of your course, we will let you know in good time.
Home/EU applicants
Mode
Duration
Start date
Application code
Application method

Mode

Part-time

Duration

36 months

Start date

September

Application code

5811

Application method

Direct to LSBU
An Apprenticeship Standard is comprised of a programme of study, an End Point Assessment and on-the-job learning. This means that in addition to meeting academic requirements, you'll need to be employed in a role related to your apprenticeship. The process of applying depends on whether you have an employer to sponsor (and support) you.
If you are employed and your employer has confirmed they will support your apprenticeship:
You are welcome to submit an application via our application system. You'll need to provide details of your employment/employer as part of the application. You'll also need to ensure you and your employer meet the requirements – find out who can be an apprentice to see if you meet the entry requirements and employer commitments to find out more about your employer's role.
If you are not employed:
You will need to find a job role related to the apprenticeship you wish to apply for, with an employer who is happy to support you. If you would like to find an employer to support your apprenticeship with LSBU, you can search which employers are currently advertising Apprenticeships via the National Apprenticeship Service website searching for 'London South Bank University' as keywords.
If there are no search results, this means there are currently no vacancies. We update our vacancies regularly, so please do check back regularly.
Many employers advertise their apprenticeship vacancies on their websites or via other portals. You could search for 'find an apprenticeship' online.
When you're ready to apply, see the government's advice on how to write a winning apprenticeship application and make your application.
Further information for apprentices
If you're a prospective apprentice, you can find out more about who can be an apprentice on our student pages.
Further information for employers
If you're an employer, you can find information about the employer commitments and further related information on the related pages for business.
See our admissions policy 1.0 MB and complaints policy 516.0 KB.
Prepare to start
There are steps the apprentices, the employer and the University need to complete before you start your course. Take a look at the steps to be completed in the Enrolment section. Employers may also like to look at our steps to offering an apprenticeship.
This programme design aims to ensure that future graduates are able to:
Demonstrate strong professional role identity, autonomy, accountability and resilience;
Work in partnership with peers, colleagues, service users and carers, to promote participation, health and well-being;
Practise Radiotherapy in the context of current and emergent services and work effectively within a changing political and socio-economic climate.
Level 4
Concepts of inter-professional and collaborative practice (20)
During this module you'll be introduced to the place and value of inter-professional and collaborative working in health and social care delivery. The module aims to support the development of the necessary communication, personal, partnership working and reflective practice skills required to meet the needs of clients/carers and diverse populations who are at the centre of inter-professional health and social care delivery.
Assessment methods: 100% Written assignment.
Anatomy and Biological Sciences (20)
This module will provide you with the foundation knowledge of anatomy, the function of the systems comprising the human body, and changes resulting from the development of malignant disease. Assessment methods: 100% exam.
Fundamental Oncological Management (20)
This module is an introduction to the discipline of oncology and the concept of holistic care in the management of people with cancer, with reference to evidence based practice.
Assessment methods: 100% exam.
Introduction to Dosimetry and Radiotherapy Physics (20)
This is a foundation module aimed at students who will be working with ionising radiation in a clinical environment. The module commences with the basic concept of atomic structure and then builds on this to explain how x-rays are produced, how radiation interacts with matter, and understanding the equipment (kV and MV) used in radiotherapy practice.
This module will also introduce students to the key principles of radiation dosimetry, dose distribution and plan interpretation.
Assessment methods: 100% exam.
Practice Placement 1 (40)
This module provides a practical and theoretical introduction to the professional practice of radiotherapy. This module complements the knowledge and learning gained synergistically within clinical practice by focussing on the acquisition of basic clinical skills and knowledge required for the safe, accurate planning and treatment of patients with cancer.
Assessment methods: 50% coursework, 50% poster presentation, clinical portfolio (pass/fail).
Level 5
Appraising evidence for research informed practice (20)
This module will extend your understanding of the concept of evidence-based practice and research in practice. The module will equip you with the core skills and understanding to appraise evidence and assess its appropriateness to be implemented into practice. The steps in conducting research, main research methods, approaches to data analysis and presentation will be explored. You'll be equipped with the knowledge and core skills that are a pre-requisite for critical appraisal and evidence synthesis.
Assessment method: 100% coursework.
Cancer Imaging (20)
This module addresses contemporary imaging methods available in the localisation and verification of tumour volumes before and during radiation treatment delivery. You'll be required to evaluate their relative usefulness in patients undergoing radiotherapy treatments, with specific reference to cancers of the respiratory, upper alimentary, central nervous and endocrine systems. You'll also gain experience in image interpretation of 2D and 3D images.
Assessment methods: 100% Objective Structed Clinical Examination
Applied Oncological Management (20)
This module builds on Level 4 studies and students will have academic teaching to underpin the clinical skills development required for safe and accurate radiotherapy treatment delivery.
Assessment methods: 100% exam.
Applied Dosimetry and Radiotherapy Physics (20)
This module builds on knowledge gained in dosimetry and radiotherapy physics at Level 4 and permits students to demonstrate understanding of the application of dosimetry and radiotherapy physics in the radiation therapy process, for both radical and palliative patients. - The module aims to develop the pre-treatment dosimetry skills for tumour sites of breast and prostate, considering different techniques for 3D conformal external beam irradiation, utilising both forward and inverse planning techniques for IMRT and VMAT. Assessment method: 100% oral presentation
Practice Placement 2 (40)
This module builds on Level 4 studies and requires the student to develop a deeper understanding of the anatomy and physiology of the respiratory and upper alimentary systems. This module complements the knowledge and learning gained synergistically within clinical practice by focussing on the acquisition of core clinical skills and knowledge, required for the safe, accurate planning and treatment of patients with cancer.
Assessment methods: 50% case study presentation, 50% multi-modal clinical judgment assessment, clinical portfolio (pass/fail).
Level 6
Improving quality, change management and leadership (20)
This module is the final inter-professional learning module that will explore leadership, quality improvement and change within organisations from an inter-professional perspective. The module will look at a strategic, evidence-based approach to change management in a range of environments. It will integrate the perspectives of service users and take an inter-professional approach.
Assessment method: 100% coursework.
Advancing Oncological Management (20)
This module builds on students' theoretical knowledge of oncological management, with particular emphasis placed on the management of rare and complex cancer diagnoses. In addition to developing knowledge of anticancer therapeutics, such as chemotherapeutic agents, biological therapies and hormone therapies, this module will support critical discussion of the role of advancing radiotherapy techniques and research in the patient pathway, to improve patient outcomes.
Assessment methods: 100% exam.
Advancing Dosimetry and Radiotherapy Physics (20)
This module builds on knowledge gained in dosimetry and radiotherapy physics at Level 5 and permits students to demonstrate understanding of the application of dosimetry and radiotherapy physics in the radiation therapy process.
Advancements in the forefront of radiotherapy dosimetry, such as advancing techniques, non-photon irradiation, will be explored to ensure that students can justify their clinical decisions relating to dosimetry principles in practice.
Assessment methods: 100% poster presentation
Contemporary Debates in Radiotherapy Practice (20)
This module aims to prepare students to work in a changing environment and develop awareness of issues that impact on patients, service and professionals. Particular emphasis will be placed on the professional and technological developments, and changes in health care policy. It will enable critical evaluation of professional responsibility in relation to clinical, service and patient experience within the context of ethical frameworks and evidence-based practice.
Assessment methods: 100% written assignment
Practice Placement 3 (40)
This module builds on level 5 studies and requires the student to develop a deeper understanding of the practical radiotherapy management of patients with malignant diseases. It provides the student with knowledge and skills relevant to pre-treatment, treatment and verification processes employed in the radiotherapy management of patients. The student will be required to develop and apply critical awareness of advances in technology and practice.
Emphasis will be placed on the management of patients with complex needs or co-morbidities, in the context of practical and logistical implications for radiotherapy pathway.
Students will be provided with opportunities to demonstrate achievement of clinically based competencies, which focus on more complex techniques found in radiotherapy, problem solving skills required for successful performance in clinical practice and transition to a band 5 role.
Assessment method: 50% VIVA and 50% Multi-modal Clinical Judgement Assessment (MMCJA).
Facilities
Therapeutic Radiography VERT Lab
VERT; Virtual Environment Radiotherapy Training, is a virtual learning environment simulating a radiotherapy treatment room. Through captivating 3D views and life size visualisations, VERT is an excellent platform for supplying therapeutic radiography training to students.
You will have the opportunity to interact with a variety of virtual linear accelerators (treatment machines) to set up and treat a virtual patient. The virtual linear accelerator is controlled by hand control pendants and can be moved and orientated in much the same way as an actual treatment machine can.
Other facilities used on the course include an Eclipse Radiotherapy Planning Suite. Eclipse is a comprehensive 3D treatment planning platform that supports a range of treatment modalities, including 2D, 3D and intensity modulated radiotherapy (IMRT) planning. The training begins with comprehensive introduction to 3D anatomy visualisation, contouring skills and basic plan production. You will undertake practice exercises which are presented in a logical sequence, with each practice exercise building on the previous exercises completed. The VERT suite has the facility to load any radiotherapy treatment plan created by trainees so they can review their plans on a virtual patient and gain additional experience that is otherwise only available in the clinical setting.
Careers
Employability Service
At LSBU, we want to set you up for a successful career. During your studies – and for two years after you graduate – you'll have access to our Employability Service, which includes:
An online board where you can see a wide range of placements: part-time, full-time or voluntary. You can also drop in to see our Job Shop advisers, who are always available to help you take the next step in your search.
Our Careers Gym offering group workshops on CVs, interview techniques and finding work experience, as well as regular presentations from employers across a range of sectors.
Our Student Enterprise team can also help you start your own business and develop valuable entrepreneurial skills.
The apprenticeship programme is practice- and work–based centred and directly aimed at developing employability.
With a degree in Therapeutic Radiography, you'll be eligible to register with the Health and Care Professions Council (HCPC) as a therapeutic radiographer.
Progressing in your career depends on taking approved courses and gaining experience. This can lead to additional responsibilities in a particular area, such as treatment planning or teaching; working as a consultant practitioner is one common career path. Once you've qualified, as a clinically experienced therapeutic radiographer you could gain additional specialist skills and expertise through the postgraduate, post-registration and continuing professional development frameworks.
Subject to approval by the professional body.
---
The Health and Care Professions Council is the regulator of health, Psychological and Social professionals.
---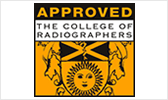 The Society and College of Radiographers is the professional body representing the radiography workforce.
---
Placements
As an apprentice you must complete a variety of placements across all aspects of the radiotherapy pathway, including pre-treatment, dosimetry and treatment delivery.
Apprentices' balance of experiences must include working within a multidisciplinary oncology workforce, with the cancer patient pathway.
Consideration is given to experience of working with people, reflective of the aetiological spectrum of oncology patients and representative of the community.
The majority of the clinical placements will be completed within the employers trust.
So how do the placements work? They're spread over the three year course, with the first one approximately seven weeks after the start. This gives a real taster of the role of the radiotherapy radiographer in the radiotherapy treatment process. And it gives you the chance to make sure you've made the right choice early on. After this, clinical placements follow the same pattern throughout the course.
You'll also get support from a mentor. An identified Link Lecturer and Personal Tutor from the University will be the person you can contact during working day hours while you're on a placement. They'll help you with any concerns or questions that you can't sort out.
Apprentices, when in their host employer organisations, are employees. A comprehensive system of support for the apprentices should include:
Library and/or learning resource facilities located within participating employer organisation.
"Moodle" virtual learning environment and email support from the Skills Coach, Module Leaders or Course Director.
Clinical education and assessment supported by practice educators and mentors within participating clinical sites.
Close collaboration between university and clinical sites via regular meetings with service providers at all levels.
Regular, planned visits to clinical sites to support apprentices, practice educators and mentors.
All apprentices are allocated a Skills Coach for assistance with personal or pastoral issues.
Regular, time-tabled sessions for tutorial support, and resolution of issues within the assessment process, in addition to an 'open access' e-tutorial support philosophy.
Teaching and Assessment
A varied teaching and learning diet is used to allow apprentices to learn in a variety of ways and build competence.
Module co-ordinators provide material on-line and are encouraged to explore the use of on-line technologies that provide virtual teaching and assessment environments
Lectures will be used to introduce and provide new information and update existing knowledge
Seminars and discussions to share varied ideas amongst apprentices
Tutorials with individuals and groups
Formative assessments
Skills lab workshops to prepare apprentices for clinical placements
Critical incident analysis to reflect upon practice-based issues
Structured reading/guided study
Workbooks to develop and update knowledge
Small group exercises
Online group work and e-learning strategies
Assessment methods
A variety of approaches will be used in order to balance the assessment methods and to promote different skills/abilities whilst reflecting the nature of the module of learning. The main rationale for choosing the assessment method is helping apprentices in the development of a wide range of professional knowledge and skills. The types of assignments demonstrate progression of skills and abilities as apprentices progress on the programme.
Apprentices will be assessed in each practice placement against specific practice learning outcomes, incorporated within the practice module. In a similar way, practice learning outcomes will necessarily demonstrate differentiation and progression.
The organisation of theory and practice assessment will promote the integration of theory and practice for apprentices. This coherent approach underpins the structure throughout the programme. The proposed strategy aims to help apprentices to:
Develop key skills such as communication, information technology and professional practice skills
Develop a range of transferable skills
Develop an understanding of the complexity of the professional role
Integrate knowledge from a variety of disciplines to the practice of occupational therapy
Develop skills of self and peer assessment
Become competent in the application of the Therapeutic Radiography process and Radiotherapy treatment delivery
Develop skills in critical reasoning, reflection, analysis, and evaluation
Develop ability to self-direct and self-manage
Gain the necessary competencies, knowledge, values and skills to be eligible to apply to register as an occupational therapist with the HCPC.
Specific details of the formative and summative assessments on each module are written in the Module Descriptors.
Assessment types used by the course include:
Presentations.
Posters.
Critical evaluation.
Examinations.
Objective Structured Clinical Examination (OSCE).
Multi Modal Clinical Judgement Assessments (MMCJA – station based practical exams)
Professional development portfolio and profile.
Reports.
Essays.
Critical reflection.
Placement competencies.
All modules include formative assessments, aimed at supporting students to develop knowledge and skills required for the summative assessment.
Feedback is provided throughout each module through a variety of means e.g. discussion forums, drafts of written work, and assessment tutorials.