Highfield Level 3 Emergency First Aid
Overview
This bespoke 2 day intensive First Aid course can be booked for your organisation. Please contact coachingcourses@lsbu.ac.uk for further information.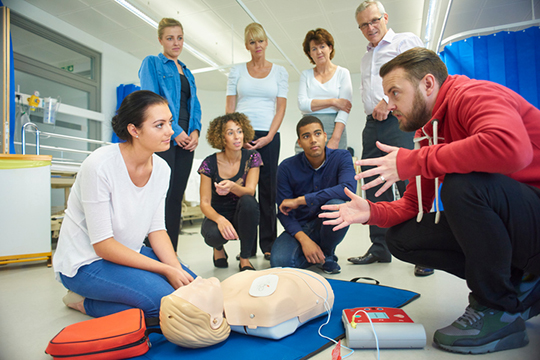 Register your interest
There are no specific entry requirements.
Advanced entry
If you have already completed some studies at another university, we may be able to consider you for advanced entry. Please see our advanced entry page for more information.
Please contact coachingcourses@lsbu.ac.uk for further information.
Prepare to start
All participants will be given details about the course prior to attending, including; the time, location and course structure of the day.
Careers
Employability Service
At LSBU, we want to set you up for a successful career. During your studies – and for two years after you graduate – you'll have access to our Employability Service, which includes:
Free employability workshop and events for student all year round, more details can be found on our event section.
Online board where you can see a wide range of placements: part-time, full-time or voluntary. You can also drop in to see our Job Shop advisers, who are always available to help you take the next step in your search.
LSBU Careers Hub offering group workshops on CVs, interview techniques and support, guidance on future careers, as well as loads of career resources, connecting you with employers, exciting events, 1-1 support and relevant workshops.
Our Student Enterprise team can also help you start your own business and develop valuable entrepreneurial skills.