Highfield Level 3 First Aid at Work (RQF)
Overview
Who is this qualification for?
This qualification is aimed at learners who wish to become first-aiders in the workplace. This qualification meets the requirements for training first-aiders in those organisations that have identified that staff need to be trained to this level within their first-aid needs assessment.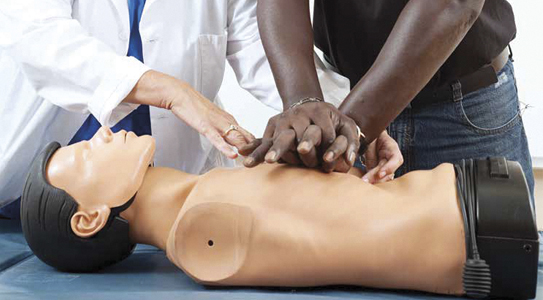 Topics covered
The qualification covers knowledge such as the roles and responsibilities of the first aider, how to assess an incident and recognising signs and symptoms of injury and illness. The qualification also covers first aid skills in CPR and use of an AED and assisting a casualty who is suffering from major injury and illness such as chest injuries, spinal injuries and anaphylaxis.
First Aid training should be risk-specific so please contact us if you would like to discuss a training package based on your specific requirements.
Location
London South Bank University student union is located at 103 Borough Rd, London SE1 0AA.
If you are visiting our Southwark Campus, you may wish to use our downloadable campus map (PNG File 466 KB). For information on accessibility, see our DisabledGo access guides.
Walk or bicycle
The University is in easy walking distance of underground and leading overground stations. We are only 20 minutes away from the Thames. We encourage walking and cycling and have bicycle racks on campus. Please check the Transport for London cycling website for London cycling maps and route planners.
By bus
LSBU is very well connected, and a large number of buses travel to and connect in the Elephant and Castle area from across London.
By train or tube
The Bakerloo and Northern lines stop at Elephant & Castle underground station, which is right next to campus. The closest rail stations are Elephant & Castle, London Waterloo and London Bridge. To plan your train journey, visit the National Rail website.
By car
London South Bank University does not provide public parking space. There is a limited amount of parking in the area, so we strongly advise using public transport.
Do consider the Congestion Charge if you are driving through London to reach the campus. Find out if you'll be crossing the Congestion Charge zone to reach our Southwark Campus.
TfL journey planner
You can travel to Southwark Campus by using public transport, plan your journey using the Transport for London journey planner.
There are no specific entry requirements.
Advanced entry
If you have already completed some studies at another university, we may be able to consider you for advanced entry. Please see our advanced entry page for more information.
To book your place on the course, download and complete the booking form and return by email to coachingcourses@lsbu.ac.uk.
Applications will be accepted on a first come first served basis, your place will only be confirmed on receipt of full payment and completion of the application form.
Once you have returned the booking form, you can pay by card at our
online store
or come into the LSBU Sports Centre to pay in person.
| | | |
| --- | --- | --- |
| Course 1: | | |
| Wednesday | 5 September 2018 | 9.30-16.30 |
| Thursday | 6 September 2018 | 9.30-16.30 |
| Friday | 7 September 2018 | 9.30-16.30 |
| Course 2: | | |
| Monday | 10 December 2018 | 9.30-16.30 |
| Tuesday | 11 December 2018 | 9.30-16.30 |
| Wednesday | 12 December 2018 | 9.30-16.30 |
| Course 3: | | |
| Monday | 20 May 2019 | 9.30-16.30 |
| Tuesday | 21 May 2019 | 9.30-16.30 |
| Wednesday | 22 May 2019 | 9.30-16.30 |
Prepare to start
All participants will be given details about the course prior to attending, including; the time, location and course structure of the day.
Careers
Employability Service
At LSBU, we want to set you up for a successful career. During your studies – and for two years after you graduate – you'll have access to our Employability Service, which includes:
Free employability workshop and events for student all year round, more details can be found on our event section.
Online board where you can see a wide range of placements: part-time, full-time or voluntary. You can also drop in to see our Job Shop advisers, who are always available to help you take the next step in your search.
LSBU Careers Hub offering group workshops on CVs, interview techniques and support, guidance on future careers, as well as loads of career resources, connecting you with employers, exciting events, 1-1 support and relevant workshops.
Our Student Enterprise team can also help you start your own business and develop valuable entrepreneurial skills.