Architectural Technology (Design and Construction Management Degree Apprenticeship)
Overview
Architectural Technologists are enlisted on architectural projects to translate a designer's intentions into feasible development proposals. They are specialists in analysing the requirements and challenges of a construction project and applying the best fit technology, materials and processes. A fully qualified Chartered Architectural Technologist is qualified to manage construction projects from design through to build.
This course prepares students with design, technical and management skills, and teaches them to apply scientific principles and practical knowledge in constructing buildings to meet building performance criteria. Students gain a sound understanding of advanced computer technology in 3D Computer Aided Design and visualisation in the production of design details, and knowledge of administering contracts and projects in fulfilling client and current regulation needs.
The BSc (Hons) Architectural Technology aims to:
Produce graduates who are committed to a career in architectural technology.
Produce graduates equipped to take up responsible professional employment in the architectural design industry and become lifelong learners with an appreciation of the value to society of an education in architectural technology.
Produce graduates who have a breadth and depth of knowledge and understanding of the key aspects of the scientific, technological and organisational principles of technical design problems in architecture.
Allow graduates to acquire and develop analytical and problem-solving skills, and subject-specific skills. To acquire and develop the ability to evaluate evidence, arguments, and assumptions, to reach sound judgements, and communicate effectively.
To develop graduates who approach design problems creatively and who have the technical skills to see their ideas through to realisation.
Provide an opportunity to those in full-time employment to study towards a degree in Architectural Technology on a part-time basis.
To create a unique educational environment that seeks to benefit from the practical experience of mature and part-time students.
Provide an education centred within the Built Environment that recognises the important roles of other professions in the development of the Built Environment and cultivates interaction and teamwork with these other professionals.
Why Architectural Technology at LSBU?
Ranked 3rd amongst London Modern competitors for Overall Score in Architecture (Complete University Guide 2021).

The course is led by highly qualified professionals, including chartered members of CIAT and CIOB, as well as SFHEA.

Students will have the opportunity to learn and work with students from other disciplines, and to develop team-working skills as well as working as a practitioner.
The full apprenticeship standard and assessment plan can be found on the Institute for Apprenticeships.
Apprenticeship Employment Guidelines (PDF File 736 KB)
Apprenticeship Evidence Pack Guidance (PDF File 737 KB)
Mode

Duration

Start date

Application code

Application method

Mode

Part-time

Duration

3 years + EPA

Start date

September

Application code

4951

Application method

Direct to LSBU
Register your interest
In order to be considered for entry to the course applicants will be required to have the following qualifications.
HNC in related subject with merit grade or;
Level 4 Apprenticeship in relevant subject or equivalent level 4 qualification
Applicants must hold 5 GCSEs A-C including Maths and English or equivalent (reformed GCSEs grade 4 or above)
On application we will also ask applicants to complete a skills scan against the knowledge, skills and behaviours in the apprenticeship standard to assess eligibility for funding.
Funding
The cost of the apprenticeship is paid fully by the employer (sometimes part funded by the government) through apprenticeship levy. The apprenticeship levy is a pot of money some companies pay into, which all businesses have access to spend on the training costs of apprenticeships. Companies fall into two categories: levy-payers (who pay into the pot) and non-levy payers (who do not). You can find out more in our Levy and Funding section, specifically for employers
The apprentice does not contribute toward the cost of study.
Bands
Apprenticeship standards are all assigned a funding band by the Government – these funding bands are the maximum amount the Government will fund via the levy towards a given apprenticeship standard. There are currently 30 funding bands ranging from £1,000 to £27,000.
Incentives
Employers with less than 50 staff sending an apprentice aged 16-18 will have 100% of the training costs paid by the government. All employers who employ an apprentice aged 16-18 on the first day of teaching will receive a £1,000 incentive from the government. You can find out more in our Levy and Funding section, specifically for employers.
Cost
You can find out the funding band for an Apprenticeship Standard on the Government website. To find out how much we are charging, please get in touch with us at apprenticeships@lsbu.ac.uk
Field trips
Some modules include field with and site visits, which may be residential or outside the United Kingdom, ranging from three to five days. These are organised by the Division and students are required to contribute towards the cost. If there are any field trips or any course visits as part of your course, we will let you know in good time.
International students
The course is not currently open to international students.
International (non Home) applicants should follow our international how to apply guide.
Home/EU applicants
Mode
Duration
Start date
Application code
Application method

Mode

Part-time

Duration

3 years + EPA

Start date

September

Application code

4951

Application method

Direct to LSBU
An Apprenticeship Standard is comprised of a programme of study, an End Point Assessment and on-the-job learning. This means that in addition to meeting academic requirements, you'll need to be employed in a role related to your apprenticeship. The process of applying depends on whether you have an employer to sponsor (and support) you.
If you are employed and your employer has confirmed they will support your apprenticeship:
You are welcome to submit an application via our application system. You'll need to provide details of your employment/employer as part of the application. You'll also need to ensure you and your employer meet the requirements – find out who can be an apprentice to see if you meet the entry requirements and employer commitments to find out more about your employer's role.
If you are not employed:
You will need to find a job role related to the apprenticeship you wish to apply for, with an employer who is happy to support you. If you would like to find an employer to support your apprenticeship with LSBU, you can search which employers are currently advertising Apprenticeships via the National Apprenticeship Service website searching for 'London South Bank University' as keywords.
If there are no search results, this means there are currently no vacancies. We update our vacancies regularly, so please do check back regularly.
Many employers advertise their apprenticeship vacancies on their websites or via other portals. You could search for 'find an apprenticeship' online.
When you're ready to apply, see the government's advice on how to write a winning apprenticeship application and make your application.
Further information for apprentices
If you're a prospective apprentice, you can find out more about who can be an apprentice on our student pages.
Further information for employers
If you're an employer, you can find information about the employer commitments and further related information on the related pages for business.
See our admissions policy 1.0 MB and complaints policy 516.0 KB.
Prepare to start
There are steps the apprentices, the employer and the University need to complete before you start your course. Take a look at the steps to be completed in the Enrolment section. Employers may also like to look at our steps to offering an apprenticeship.
The course is delivered on a semester pattern at LSBU, each semester being 15 weeks in duration. Students study six modules at each level.
The course is three years, part-time, taught one day per week over six semesters, two or three modules being taught in each semester.
Level 5
Theory of architectural design and conservation
This module is an in-depth review of key aspects of architecture theory, modern design and conservation through the study of selected British case studies.
Property inspection, repair and maintenance
This module focuses on the range of techniques used by building surveying professionals in the undertaking of different types of surveys on commercial and large residential properties. It also focuses on the development of planned maintenance programmes and reviews financial controls and planned roll-out programmes of work, facility and asset management, building and fire safety legislation, post occupancy legislation incl. the Party Wall etc Act.
Construction contract law
This module examines the various types of construction contracts, including families of standard construction contracts, and the common law and legislation and administrative procedures which govern them. It provides a working knowledge and understanding of construction contract legal problems, and related applicable law, such as non-contractual liabilities. It examines when a dispute arises in legal terms, and how dispute resolution methods may be employed to resolve problems and disputes.
Measurement, cost planning and tender process
This module is designed to provide you with an overview of cost control of construction projects. It introduces basic measurement and documentation and sets these skills in the tender and contract formation process. Basic analytical and approximate estimating skills and procedures are also covered.
CAD and Building Information Modelling
This module introduces the concepts of Building Information Modelling (BIM) through the development of architectural 3D models on industry standard parametric CAD systems. The module covers the practical competence of architectural modelling and provides exposure on co-ordinating building information models.
Architectural design procedures
This is an individual architectural design project embracing design studio and technology studio against a defined brief.
Level 6
Research project
This module applies research method skills on a project-based, applied research topic chosen by you, which includes two main phases: an initial research project proposal submitted for approval and the preparation of the full research project at the end of the module.
Contract practice and administration (non QS)
This module provides the knowledge necessary for the execution of the contractual duties of the quantity surveyor and commercial manager in contracting and development companies, consultancy practice, public service and private corporations. It's designed to build on and apply knowledge obtained from a study of construction law. The module is an introduction to the period of professional training necessary to qualify as a professional and covers key areas of practice.
Sustainable construction and the environment
This module looks at the increasing important role of energy and environmental factors that are increasingly impacting on buildings, their use, and their occupants.
Architectural design project
This module will require you to develop an architectural design project embracing design studio and technology studio against a defined brief.
Architectural design and technology
This module provides the elements of design and technology research in preparation for the architectural design project in the second semester.
Architectural practice management
This module looks at the role of managing an architectural practice, the forms of ownership, managing human resources, sources of finance, budget and accounting, marketing, and leading project work.
Careers
Employability Service
At LSBU, we want to set you up for a successful career. During your studies – and for two years after you graduate – you'll have access to our Employability Service, which includes:
Free employability workshop and events for student all year round, more details can be found on our event section.
Online board where you can see a wide range of placements: part-time, full-time or voluntary. You can also drop in to see our Job Shop advisers, who are always available to help you take the next step in your search.
LSBU Careers Hub offering group workshops on CVs, interview techniques and support, guidance on future careers, as well as loads of career resources, connecting you with employers, exciting events, 1-1 support and relevant workshops.
Our Student Enterprise team can also help you start your own business and develop valuable entrepreneurial skills.
On successful completion, students would be eligible (subject to grades) to progress onto a range of postgraduate courses within the division.
A successful apprentice will be eligible for membership of the Chartered Institute of Architectural Technologists (CIAT) and Chartered Institute of Building (CIOB), or equivalent professional body. They can then work towards professional registration at Chartered level.
Staff teaching on the course have a vast array of experience coming from a variety of academic and industry related backgrounds with many having close links with the professional bodies associated with these subject areas.
The Chartered Institute of Architectural Technologists (CIAT) is an internationally-recognised organisation representing professionals working and studying in the field of Architectural Technology, and offering chartered status to its growing network of members based around the globe.

The Chartered Institute of Building (CIOB) focuses on those entering and already in a management career in construction. It delivers qualifications and certifications that meet the needs of a changing industry.
Accreditation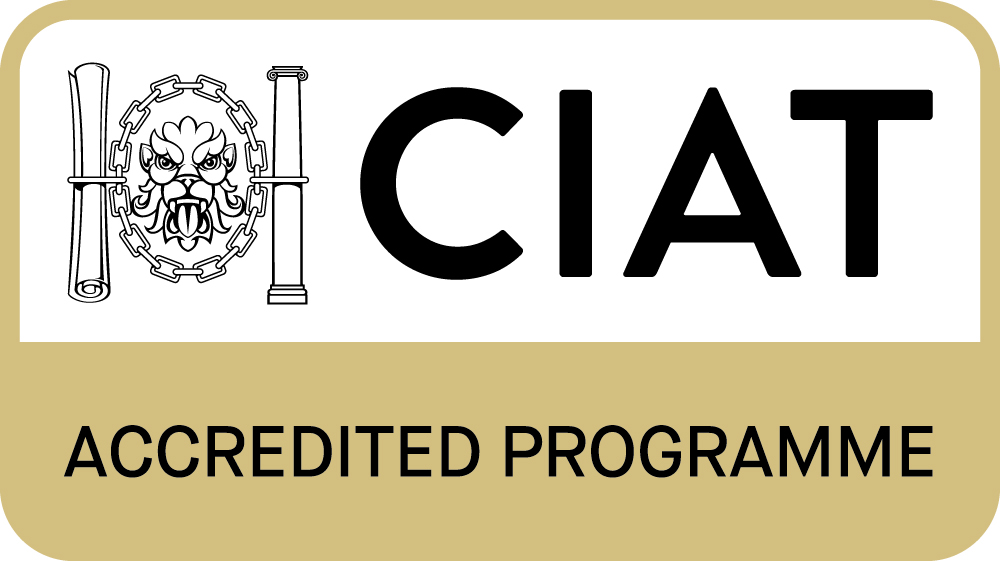 The Accreditation of our Level 6 Design and Construction Management Degree Apprenticeship by CIAT (Chartered Institute of Architectural Technologists) ensures that the programmes have been assessed for their content, structure and resources against standards set by the Institute and this is an assurance that our course have been developed with the academic, analytical, communication and employability skills required for a career in the industry.
Teaching and Assessment
The course will be a mixture of lecture, tutorials and practical based exercises and will be assessed by a wide variety of methods including, written coursework, presentations, projects and multiple choice examinations.
All students are allocated a personal tutor who they will normally meet with once per semester. As an apprentice they will also be allocated a Skills Assessor who will be ensuring that regular progress reviews take place and that they are on track for completion of the apprenticeship.
Contact information
Course Enquiries - UK
Tel: 0207 815 7500
Chat with a course student