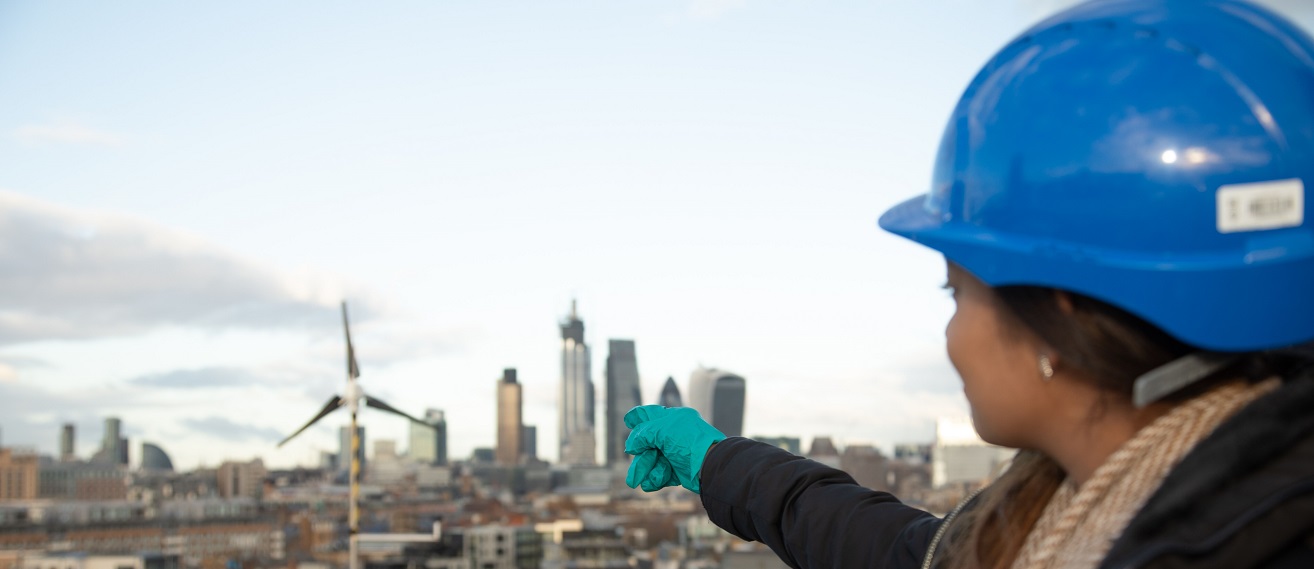 BSc (Hons) Construction Management (Construction Site Management Apprenticeship)
Southwark Campus
Mode: Part-time; Day release
Construction Management (Construction Site Management Apprenticeship)
Overview
The construction industry is both varied and exciting. With the driving force of major projects in London, such as crossrail and LSBU's local area regeneration, the construction industry is experiencing a need for well-qualified personnel to be involved in all stages of such exciting developments.
The course seeks to provide students with the breadth of technical and managerial expertise in construction, and an up-to-date knowledge of legislation and regulations. The course intends to provide forefront education for our graduates to face exciting and demanding challenges as leaders of a multidisciplinary project team, and also provides the opportunity to use modern equipment within a well-resourced environment. The knowledge gained enables students to have the confidence to work with other professionals and to deliver in complex project or process environments.
The BSc (Hons) Commercial Management (Construction Site Management Apprenticeship) aims to:
Produce graduates who are equipped to take up responsible professional employment as quantity surveyors and commercial managers in the construction industry.
Maintain recognition and accreditation by the appropriate professional institution.
Develop the intellectual and practical skills required to collect, analyse and interpret information, evaluate evidence and opinion, solve problems, reach sound judgements and communicate them effectively.
Produce graduates who have knowledge and understanding of the construction industry, construction technology and the organisation and management of construction procurement.
Develop understanding of the context within which graduates will work and the impact of changing social, economic, legal, cultural, environmental and technological frameworks on their working lives.
Prepare students for work in a business-based and project-based, multidisciplinary industry.
Develop specific skills and expertise relating to the procurement and financial management of construction work.
Develop transferable skills that are required for study and employment and give students the confidence and ability to embrace change, engage in future study or research and career development.
Why Commercial Management (Quantity Surveying) at LSBU?
No. 1 London university: for 'satisfied with teaching' and 'satisfied with assessment' in Building, town and country planning (Guardian League Table 2018)

History: we've been educating building professionals for over 100 years – and have strong industry connections.

Professional accreditation: we're fully accredited by the Chartered Institute of Building.

Our subject-specific facilities include a Building Information Modelling (BIM Centre)
The full apprenticeship standard and assessment plan can be found on the Institute for Apprenticeships.
Apprenticeship Employment Guidelines (PDF File 736 KB)
Apprenticeship Evidence Pack Guidance (PDF File 737 KB)
Accreditations
Key course information - ordered by mode
Mode
Duration
Start date
Location

Mode

Part-time

Duration

3 years + EPA

Start Date

September

Location

Southwark Campus
Modules
The course is delivered on a semester pattern at LSBU, each semester being 15 weeks in duration. Students study six modules at each level.
The course duration is three years, part-time, taught one day per week over six semesters with two or three modules being taught in each semester. Final completion of the apprenticeship is subject to successful completion of the End Point Assessment.
Level 5
Measurement 1 and documentation (QS)
This module provides an understanding of the fundamental concepts underlying the requirement to quantify and specify construction work. You'll establish the underlying principles required for the independent production of tender documents. The module will also provide the basic practical skills in measurement required for private practice, contracting and public service.
Construction contract law
This module examines the various types of construction contracts, including families of standard construction contracts, and the common law and legislation and administrative procedures which govern them. It provides a working knowledge and understanding of construction contract legal problems, and related applicable law, such as non-contractual liabilities. It examines when a dispute arises in legal terms, and how dispute resolution methods may be employed to resolve problems and disputes.
Estimating and tendering process
This module is designed to provide you with an understanding of the basic methods of procurement, the characteristics and operation of each method, and the skills to decide the most suitable method for various circumstances. In addition, you'll develop an understanding of the methods used for preparing an analytical tender and the choices available to the builder when submitting his bid to obtain a project.
Production management
This module will introduce the concepts of site investigation, tender, pre-construction and construction planning. You'll receive basic knowledge in temporary works, choice of plant, erection systems for traditional and multi-storey steel and concrete structures. You'll learn about site layout planning, materials handling, build ability, method, work sequence and basic programming. Theory will be underpinned by application to practical problems.Health, safety, welfare and environmental systems, procedures, inspections, statutory records will be examined within the requirements for safe practice, environmental protection, economy and general welfare.
Construction planning
This module focuses on the management of the production phase in the construction of buildings, and the need to complete the project within an agreed time span, to an appropriate quality and to an agreed cost using appropriate resources. A working knowledge of planning and programming techniques and the associated analytical skills will be developed so that strategies can be formulated to achieve a satisfactory product matching the needs of the client. The module will emphasise analysis, decision making and team work, together with a good standard of presentation.
Management of organisation
This module has two broad approaches. The first is an analytical approach to understanding organisations and managerial actions by considering the development of management theory, through the Classical Schools of thought up to the present day. This includes the nature of the roles of management, and the competencies required to manage organisations. The second approach introduces human resource management, the principles of personnel management and industrial relations, with particular reference to the construction industry. In parallel to the above broad areas of analysis and management practice, you'll spend time developing aspects of personal skills important in carrying out future management roles.
Level 6
Contract practice and administration (non QS)
This module provides the knowledge necessary for the execution of the contractual duties of the quantity surveyor and commercial manager in contracting and development companies, consultancy practice, public service and private corporations. It's designed to build on and apply knowledge obtained from a study of construction law. The module is an introduction to the period of professional training necessary to qualify as a professional and covers key areas of practice.
Corporate management and finance
This module will provide an introduction to financial and corporate management through an outline of the types of firm, their sources of finance, and the requirement to keep accounts and develop corporate strategy to match the firm's specific objectives. The module will explore the changing nature of financial and business markets, the need to budget and to plan in uncertain environments, and will provide an understanding of corporate governance and business ethics. The development of an understanding of finance and accounts supplemented by an understanding of markets, of opportunities and threats, will lead to the wider issues of corporate and strategic planning.
Research project
This module applies research method skills on a project-based, applied research topic chosen by you, which includes two main phases: an initial research project proposal submitted for approval and the preparation of the full research project at the end of the module.
Project management
In recent years the specialism of construction project management has been developed by construction professionals working within construction companies, construction consultancies and the public sector. This specialism is required to achieve effective and efficient management of the whole construction process from inception to completion. This module seeks to support this response by introducing the theory underlying project management and applying this to practical issues and problems in the construction industry.
Sustainable construction and the environment
This module looks at the increasing important role of energy and environmental factors that are increasingly impacting on buildings, their use, and their occupants.
Construction Management Project
This module will require you to prepare a case study based on a site of your choice, for the evaluation and development of that site for a beneficial and viable purpose. It will include a large amount of field work, and you'll work away from the classroom. It will focus on using your own initiative and entrepreneurial skills to develop and satisfy certain criteria. The aim of this module is to draw upon a significant pool of knowledge from other units of study and to demand advanced understanding of the whole construction process.
Employability
On successful completion, students would be eligible (subject to grades) to progress onto a range of postgraduate courses within the Division.
Employability Service
We are University of the Year for Graduate Employment for the second year in a row - The Times and Sunday Times Good University Guide 2018, 2019.
At LSBU, we want to set you up for a successful career. During your studies – and for two years after you graduate – you'll have access to our Employability Service, which includes:
An online board where you can see a wide range of placements: part-time, full-time or voluntary. You can also drop in to see our Job Shop advisers, who are always available to help you take the next step in your search.
Our Careers Gym offering group workshops on CVs, interview techniques and finding work experience, as well as regular presentations from employers across a range of sectors.
Our Student Enterprise team can also help you start your own business and develop valuable entrepreneurial skills.
Professional links
This apprenticeship will include the knowledge, skills and behaviours typically required to achieve full member or chartered status with the industry's recognised professional bodies. The final assessment process for this apprenticeship will typically be partly representative of the review process required for professional registration.
Staff teaching on the course have a vast array of experience coming from a variety of academic and industry related backgrounds with many having close links with the professional bodies associated with these subject areas.
The Chartered Institute of Building (CIOB) is the professional body representing the building industry. It focuses on those entering and already in a management career in construction and it delivers qualifications and certifications that meet the needs of a changing industry.
Teaching and learning
The course will be a mixture of lecture, tutorials and practical based exercises and will be assessed by a wide variety of methods including, written coursework, presentations, projects and multiple choice examinations.
All students are allocated a personal tutor who they will normally meet with once per semester. As an apprentice they will also be allocated a Skills Assessor who will be ensuring that regular progress reviews take place and that they are on track for completion of the apprenticeship.
Entry requirements
In order to be considered for entry to the course applicants will be required to have the following qualifications.
HNC in related subject with merit grade or;
Level 4 Apprenticeship in relevant subject or equivalent level 4 qualification
Applicants must hold 5 GCSEs A-C including Maths and English or equivalent
On application we will also ask applicants to complete a skills scan against the knowledge, skills and behaviours in the apprenticeship standard to assess eligibility for funding.
Advanced entry
If you have already completed some studies at another university, we may be able to consider you for advanced entry. Please see our advanced entry page for more information.
How to apply
International students
International (non Home/EU) applicants should follow our international how to apply guide.
Home/EU applicants
Mode
Duration
Start date
Application code
Application method

Mode

Part-time

Duration

3 years + EPA

Start date

September

Application code

4950

Application method
Accommodation
Once we have made you an offer, you can apply for accommodation. You can rent from LSBU and you'll deal directly with the university, not third party providers. That means we can guarantee you options to suit all budgets, with clear tenancy agreements and all-inclusive rents that include insurance for your personal belongings, internet access in each bedroom and on-site laundry facilities.
Or, if you'd rather rent privately, we can give you a list of landlords – just ask our Accommodation Service.
Read more about applying for accommodation at LSBU.
Finance
You don't need to wait for a confirmed place on a course to start applying for student finance. Read how to pay your fees as an undergraduate student.
Prepare to start
Applicant events
After you've received your offer we'll send you emails about events we run to help you prepare for your course.
Welcome Week
Before you start your course we'll send you information on what you'll need to do before you arrive and during your first few days on campus. You can read about the process on our Welcome Week pages.
Preparatory Reading List
Temple, M.(2004) Studying the Built Environment. Hampshire: Palgrave Macmillan.
Parker, D. (1994) Tackling coursework: assignments, projects, reports and presentations. London: Letts Educational
Domone, P. & Illston, J., 2010: Construction Materials. Their Nature and Behaviour
Using Light Steel Framing: Design of Residential Buildings
Seward, D., 2009: Understanding Structures(4th Ed), Palgrave Macmillan
Taylor, G.D., 2000: Materials of Construction (3rd Ed), Longman
Bradney, A., Cownie F., Masson J., Neal A.C., Newell D., (2010) How to Study Law (6th edn.) Thompson, Sweet & Maxwell, London.
Coyle, D., (2004) Sex, Drugs and Economics, an Unconventional
Introduction to Economics, Thomson, Australia, New York.
Mankiw, N.G., and Taylor, M. P., (2010), Economics, Thomson, London.
Turner C., and Hodge S., (2010) Unlocking Torts (2nd edn.) Hodder, Turner, London.
Turner C., (2010) Unlocking Contract Law (3rd edn.) Hodder, Turner, London.
McMullan R, Environmental Science in Building, Macmillan, 6th Edn, 2007
Hall F and Greeno R, Building Services Handbook, Butterworth Heinemann, 5th Edition, 2009
Irvine, W, Surveying For Construction 8th Edition McGraw Hill, 2008
Uren and Price, Surveying For Engineers(5th Ed), Palgrave Macmillan
Brookes, A.J. & Meijs, M., Cladding of Buildings, 2007
Eisele, J. & Klaft, E. (Eds.), High Rise Manual: Typology and Design, Construction and Technology, 2003
Reichel, A., Ackermann, P., Hentschel, A. & Hachberg, A., Building with Steel: Details, Principles, Examples, 2007
Fees and funding
For more information, including how and when to pay, see our fees and funding section for undergraduate students.
Please check your fee status and whether you are considered a Home, EU or International student for fee-paying purposes and for our regulatory returns, by reading the UKCISA regulations.
See our Tuition Fees Regulations (PDF File 160 KB) and Refund Policy (PDF File 102 KB).
Possible fee changes
The University reserves the right to increase its fees in line with changes to legislation, regulation and any government guidance or decisions.
The fees for international students are reviewed annually and the University reserves the right to increase the tuition fees in line with the RPIX measure of inflation up to 4 per cent.
Scholarships
We offer several types of fee reduction through our scholarships and bursaries. Find the full list and other useful information on our scholarships page.
Contact information
Course Enquiries - UK/EU and Employer-sponsor
Tel: 0800 923 8888
Tel: +44 (0) 20 7815 6100
Due to COVID-19, call waiting times may be longer than usual. Click here to start a live chat with us (Mon-Fri, 9am-5pm)
Get in touch