London-based designer Lozana Rossenova undertakes a PhD in collaboration with Rhizome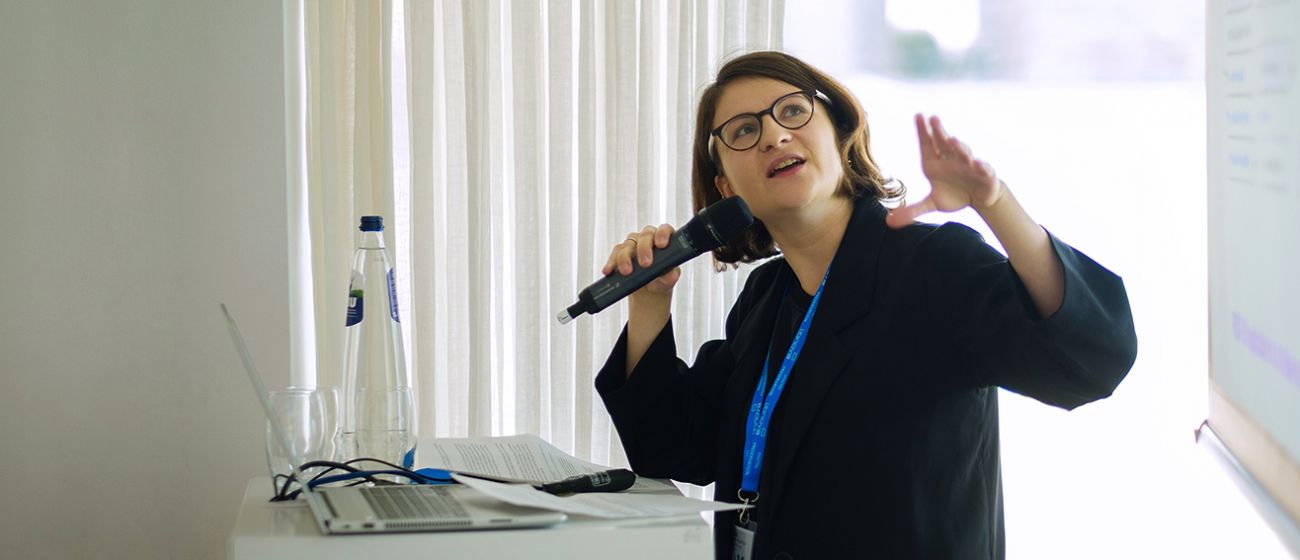 Lozana Rossenova is a London-based designer and researcher. Her design practice aims to interrogate established and experimental approaches to publishing, circulating and archiving information. Lozana is currently undertaking a PhD at LSBU in collaboration with Rhizome , a not-for-profit arts organisation that supports and provides a platform for born-digital art. Lozana's research focuses on new design approaches to Rhizome's online art archive.
How did you come to decide on your area of research?
It's a long story, but it started out with my first degree. I have a BFA (4-year) degree from the US, with a double concentration in graphic design and art history, so I've always been interested in the intersection of art and design. For my MA, I wrote a thesis on the graphic design of contemporary art documents (publications, artists' books, exhibition catalogues, etc.). After my studies, I worked for about 4-5 years in various design agencies and focused heavily on digital design, design for non-profit and education institutions. I worked on a few large-scale digital archive projects and realised the limitations of the commercial agency model – there was simply never enough time to do proper research and develop truly useful, functional and sustainable products for the clients. The focus was always on speed and getting in the next project. So when the PhD opportunity came about it was the perfect mix of art, design and technology – plus it gave me the opportunity to slow down, do in-depth research and investigate properly how we can design and build ethical and sustainable technology for cultural heritage.
What brought about your decision to study your PhD at LSBU?
It was the collaboration with Rhizome, really. I was following Rhizome's social media at the time, and I saw a post on Twitter that they are looking for a PhD researcher. When I read more into it, I was also impressed by the supervisors (Annet Dekker and Andrew Dewdney), who seemed like a good fit for my interdisciplinary approach, as well as the research centre they had set up at LSBU – the Centre for the Study of the Networked Image (CSNI). Because my interests at the time were so cross-disciplinary, I knew I didn't want to do a PhD in a strictly siloed department – like design, or art history, or human-computer interaction. I think CSNI provided that challenging and interdisciplinary environment, which could foster a PhD like mine.
How did your collaboration with Rhizome come about?
This was set up before I applied for the PhD, which also helped greatly. Annet Dekker, Andrew Dewdney and Katrina Sluis (the three co-founders of CSNI) had co-authored the original grant proposal for the research and through their own practice and networks in the art world, they had secured the collaboration with Rhizome. So I was applying for a fully-funded PhD, set up to collaborate with a world-leading arts organisation. It really was a dream setup and I was incredibly honoured when I found out I had been selected for the position.
What do you think is the most rewarding aspect of your research?
The most rewarding aspect has been the freedom to develop the research in the direction I wanted and was most interested in – which is interface design, even though the original research application called for practitioners from curatorial or computer science backgrounds. My supervisory team – both the academic team at LSBU, as well as the practice supervisors at Rhizome – were able to see that there is potential in a designer doing this research project, rather than a historian, curator or programmer, and besides that, they have been incredibly supportive in providing critical guidance which sharpened the theoretical and conceptual underpinnings of my design practice.
My PhD is practice-based, so in addition to writing a thesis, I am also producing actual design artefacts – data models and information architecture, user testing insights and interface design prototypes for the digital art archive, which are all being adopted and implemented by Rhizome. Over the past three years, I have gained a great deal of practical and theoretical knowledge with the help of my supervisors. The value and impact of the PhD, I hope, will be in being able to apply that knowledge to a practical outcome, which will be influential not only for one arts organisation, but also among the wider network of arts organisations and practitioners Rhizome is in active collaboration with. This includes large national institutions like the BL, TNA (National Archives), Tate, V&A, just in the UK, as well as smaller local initiatives.
Are there any lecturers, fellow students or support staff who inspired you during your PhD?
Yes! Too many to name! Between the CSNI network and Rhizome's own cultural heritage network, I've met a lot of people, who have deeply inspired and supported my research. My supervisory team, of course, as well as other researchers at CSNI, particularly the PhD students who were a few years ahead of me, really helped me navigate the academic requirements of the PhD. Through Rhizome's cultural connections, I've made valuable and lasting contacts at institutions such as the BL, TNA, Tate and the V&A, as well as other institutions in the US, like NYU and SFMoMA. I've been able to do various collaborations with these scholars and practitioners, do panels or run workshops together, publish papers, etc. The collaborative setup of most CSNI PhDs is so vital in breaking up the traditional model of the isolated PhD student, which I really feel is outdated and doesn't work at all within the highly networked digital environment we all operate in, and which is of course also the focus of our research at CSNI.
What keeps you motivated?
The incredible people I get to work with! Being able to pursue my research interests without the pressure of a profit-driven commercial environment. Knowing that my work will have real-world impact.
How do you deal with stress?
For the first couple of years after I started the PhD it was quite stressful, mostly because I didn't have a very clear idea of where the research was going to go, whether I will be able to find a productive direction, or will just fail. Imposter syndrome is a real issue with PhDs, particularly in the beginning, as I've come to find out and discussed with other students. Mostly I've just managed to get through it, and after having done the larger part of the research, I feel confident in my current work and position. Supportive network of colleagues and friends is crucial, though. Exercise and time for doing things that get your mind off the work (which is actually surprisingly hard) are vital. For me it's been running, yoga, meditation, and playing video games. It sounds like luxuriating, but when I didn't do these things, I would get into patterns of insomnia, headaches, IBS, etc, which is common among other students too, so it's worth taking time off in order to avoid burnout.
Can you recall a time you doubted yourself?
Yes, first two years of the degree – the self-doubt was almost constant. I think it's something that a lot of people go through, because especially in the beginning there is very little guidance about what and how to do it. I know it's part of the PhD process in general, but for young career researchers it can be very stressful. I think that with interdisciplinary degrees the situation is exacerbated, because with more siloed disciplines there are many-decade-old established patterns – e.g. there are pretty formulaic ways how to do an art history PhD, for example, or a social science one. But with interdisciplinary and particularly degrees focused on new technology, there are no established routes to follow. This is also exciting and offers many opportunities, of course, but it can be stressful in the beginning.
What advice would you give to those considering a PhD to help them succeed and reach their potential?
Do a PhD in an area that you really care about. Find supervisors that are a good fit for your interests and the disciplinary direction you want to go into. Build a network of like-minded researchers and colleagues around you. This is part of the work, it's not just reading away in the library or working alone in the studio. Sharing and being open about your research will open more doors. Opportunities to collaborate with others are more valuable to growth as a young researcher than solo publications. Don't work all the time and avoid burnout.
Finally, the PhD should be a time for personal and professional growth. Sometimes this means not working on the main PhD project all the time and leaving space in between writing or reading sprints. I've also worked on several other smaller projects throughout the PhD, which have helped me see my own ideas through different perspectives and to develop them deeper, in ways that wouldn't work if I tried to do the research in a linear, uninterrupted way.
Check out Lozana's website or follow her on Twitter.
Find out more about our PhD Arts and Creative Industries.
Tags