Dame Elizabeth Nneka Anionwu CBE OM DBE FRCM, Honorary Doctor of Science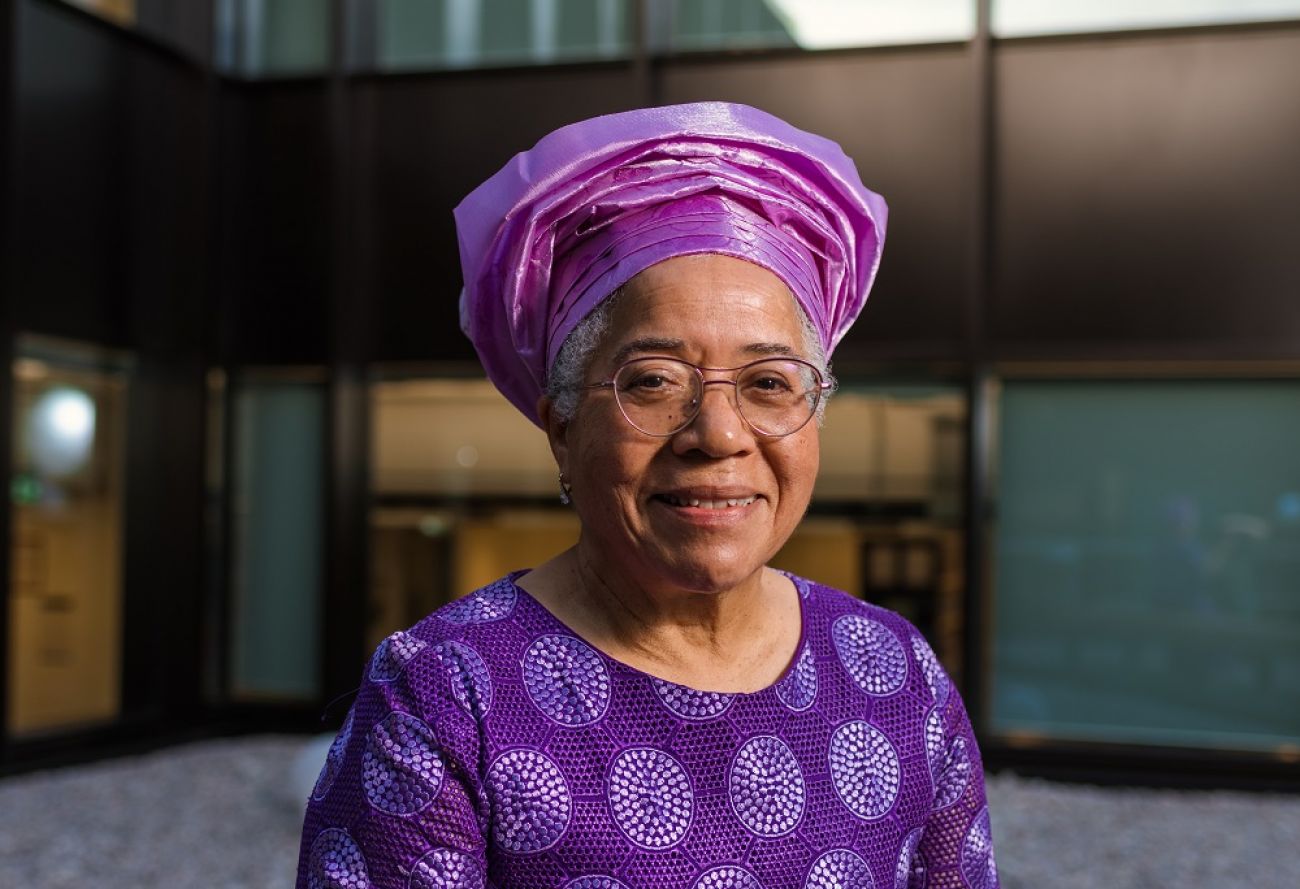 "I'm not interested in talking about why we have health inequalities – I'm interested in what we're going to do about it"
The mixed-race child of a single mother, Dame Elizabeth Anionwu's turbulent upbringing instilled in her a passion for caring – and a determination to fight inequality and discrimination. The UK's first nurse specialist in sickle cell disease and thalassaemia, she went on to found the Mary Seacole Centre for Nursing Practice at the University of West London. Made a Dame in the 2017 Queen's Birthday Honours List, she won the Pride of Britain Lifetime Achievement Award in 2019, was named one of the BBC's 100 Women of the Year in 2020, the same year she appeared on Desert Island Discs. She is made an Honorary Doctor of Science.
I knew from an early age that I wanted to be a nurse. I spent the first nine years of my life in a children's home, run by nuns. I had really bad eczema and it was very painful to have my dressings changed. One of the sisters – I called her the white nun, because of the habit she wore – would distract me by making me laugh. It was only later than I realised she was actually a nurse. That was it. I just knew that was what I was going to do with my life.
Working as a health visitor brought me into contact with families affected by sickle cell disease for the first time. I felt helpless, and embarrassed. And I was angry that neither my nurse nor my health visitor training had taught me anything about it, even though I was studying and working in areas with large minority ethnic communities. So I started going out to the US, where things were much more advanced, and gained a qualification. I came back to the UK and helped set up the country's first nurse-led Sickle & Thalassaemia Screening and Counselling Centre in Brent, back in 1979, working alongside consultant haematologist Dr Milica Brozovic.
Today there are more than 30 sickle cell centres around the country. Awareness and understanding have increased hugely, but there's still a long way to go. I hate to make comparisons but more people are affected by sickle cell than cystic fibrosis. If you look at the levels of understanding, the levels of funding, though, sickle cell is still lagging behind. This is what we mean when we talk about health inequalities. But I'm not interested in talking about why – I'm interested in what we're going to do about it.
In my view, there's another big gap in the nursing curriculum where Mary Seacole should be. I didn't know anything about her until 1984, when her autobiography, The Wonderful Adventures of Mrs Seacole in Many Lands, was reissued. I couldn't believe I hadn't been taught anything about her, particularly as I then discovered she was buried less than a mile away from the hospital where I trained. When I got the opportunity to set up my own nursing research centre at the University of West London I decided to name it after her, so that anyone that didn't know who she was would have to ask!
My main contribution to the campaign to erect a statue of Mary was to go around the country and speak about her. I felt absolutely passionate about doing what I could to support the effort, led by Lord Clive Soley. The statue, which now stands in the gardens of St Thomas' Hospital, is actually the first statue of a named black woman in the entire country. I'm very proud of what we achieved.
Writing my memoir, Dreams From My Mother, was a cathartic experience. It allowed me to explore a whole load of complex feelings about my upbringing, including my time in children's homes and my dysfunctional relationship with an abusive stepfather, and it also helped me to understand my mother better. When I was interviewing one of my half-sisters as part of my research, she said to me, you know, you've lived the life that mum should have led. She had to drop out of university when she got pregnant with me. Her personal life was very satisfying, but she'd been a brilliant student – she won a scholarship to Cambridge to study Classics in the mid-1940s – and I think she could have been another Professor Dame Mary Beard. The mores of the time meant she never got the chance.
Being invited on to Desert Island Discs was a real career highlight. I absolutely loved it! Music has been such an important part of my life. The first song I chose, Faith's Song by Amy Wadge, is a love song but it also spoke so strongly to me about what patients and staff – particularly those from black and minority ethnic backgrounds – were going through during the Covid-19 pandemic. That's something I've thought and spoken about a lot over these past two years.
I actually turned down the first honour I was offered. It was back in the 1980s, for services to sickle cell. At the time I just felt very angry, it was like, thank you very much, but what I'd really like is for this disease to be taken seriously. Then in 2001 I was offered a CBE, this time for services to nursing. I was in two minds whether to accept, then someone whose opinion I really respected said to me, "Don't think about the Empire bit. Think of it as Cool, Black and Exceptional". I felt a lot happier with that! Then being made a Dame was a complete shock, but also a huge honour. I'm just happy to have a light shone on the areas of nursing I've worked in and the causes I believe in.
Tags