Alister D'Souza, NHS Placement, COVID 19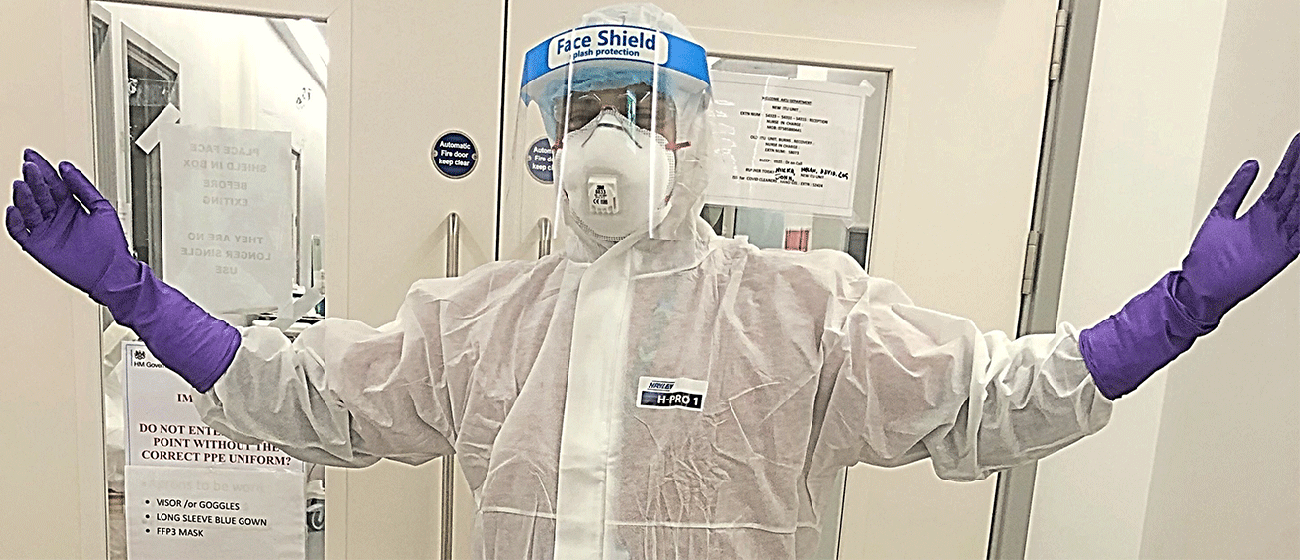 Alister D'Souza, BA (Hons) Accounting and Finance student, shares his experience of working on a placement with the NHS during the COVID-19 pandemic. Alister worked on a Financial Systems and Admin placement in the Accident and Emergency and Intensive Care Units at Chelsea and Westminster/ West Middlesex University Hospital and Harbour Yard.
Placement with NHS
I was going to do my 3rd year straight away but decided to ask Lyn Hamblin (LSBU Business School's Commercial Student Experience Partner) to see if there is any opportunity for me to do a placement - this is how I got in. Lyn asked me for my CV, I sent her my CV and later on had an interview with finance manager and deputy head of finance. During the interview process they asked about my experience, why I liked studying accounting and finance and about my previous experience at Lloyds Bank.
My friends had applied to and got their NHS placement a few months before me and learnt from their experience and saw how valuable and interesting it was. They really enjoyed working there and recommended me to apply. From this, I realised I was also intrigued to undertake this experience and I contacted Lyn Hamblin, who was involved in helping me secure a placement at the NHS. The application process was straight forward; I had an interview with the Assistant Head of Finance and the Head of Capital Accountant. Lyn contacted me saying I have secured the role and was offered a Financial Systems Placement and Accidents and Emergency (A&E)/ Intensive Care Unit (ICU) Admin.
I had to do the stock take at both Chelsea and Westminster and West Middlesex University Hospital. Working with different Departments and getting to know the staff has helped me meet new people and take on another admin role within the hospital. I had a stock take task where I had to work in both Chelsea and West Middlesex Hospital. Working in different departments has given me the opportunity to interact with different people and this is how I managed to get a part time role in A&E and ICU.
I also worked across Accounts Payable, Accounts Receivable, Stock Take, Financial Systems and many more. For the Admin side I checked patients in from the ambulance, scanning patient's details, and call/pick up next of kin calls for regular updates. I book patients in when they come straight to A&E, take patients details etc. And the same with walk ins. In ICU I had to answer phone calls and update next of kin regarding their relative's conditions during COVID-19.
Alongside the placement in Finance, I also joined the Accident and Emergency department at the Chelsea and Westminster hospital to do some admin work by booking and scanning and updating patient's important details.
COVID-19
During the COVID-19 pandemic, I also offered to help with admin in the Intensive Care Unit where COVID-19 patients are being kept on a ventilator. With the COVID-19 patients, I was in a COVID-19 ward wearing PPE looking after the reception area, picking up important phone calls and updating patients live results with the doctors and nurses.
I help by covering 12 hour long night shifts and helping out the team by doing some admin work; such as, managing the reception phone answering calls from patient's relatives or other wards/departments, updating spread sheets when relatives call to make sure information is up to date, keeping a tracker of generic smartcards and unblocking them. All NHS staff have a smart card, and I was given the access to unblock their card and to activate them whenever it was blocked.
Opportunities with LSBU
LSBU has given me the opportunity to get real life experience where I can put my skills and knowledge to use and to broaden my understanding of the subject. I was able to meet people already in the field who taught me valuable lessons. It also gave me a chance to work for the NHS who is on the front-line on the fight against the COVID-19. I was able to play a part in trying to help different teams during a particularly uncertain time.
Advice to a prospective student
I would say definitely take up the opportunity of the placement program as it gives you a real-life experience as well as the opportunity to gain contacts which will help you as a graduate.
Read more about our BA (Hons) Accounting and Finance.
Tags