Architecture end of year exhibition
The annual end-of-year Architecture degree show showcases the innovative and inspiring projects of both undergraduate and postgraduate students
Architecture end of year exhibition
And the team effort that made it come to life is something else altogether.
Innovative design themes
The display of undergraduate student work includes projects like the House of Light and the Future Cinema as well as a series of projects exploring the impact of CIVIC on Elephant and Castle.
Students also presented observations on the demolition of the Heygate estate. They spent one week using film and mix media to explore and record this moment of transformation.
"It's been amazing working together on this exhibition", shared student Mathew Mauro. The banners upstairs in the Student Centre display the work of the best nine students out of a total of sixty, selected by our tutors. I am thrilled to be one of them."
Postgraduates showcased more complex projects such as urban situations, the long term interaction and tools of the 'architecture of metabolism' in Marseilles, London and Beirut. Students also questioned what architects can do for the City as well as how innovative material and systems choices affect our environments.
Real-world practice
All projects were judged by the South London Architecture Society.
"The competition forms the high point of the exhibition. It connects the student's work to practice and gives them a chance to have their efforts independently recognised", said Mary Jane Rooney, Director of Architecture at LSBU.
After careful examination, the five best student projects were awarded by Debby Flevotmou, chair of the Society.
All undergraduate students have been distinguished into groups depending on their core technical skills, preferences and passions.
Working together
Students were please to secure this opportunity to work in a cross-disciplinary manner that reflects the design process experienced in the real-world environment.
Student Harminder Shergill says, "You definitely get to know the other students during the course, too, through working together on group projects, site trips, and participating in 'crits', or critiques of each other's work. And the critiques are what highlight areas for development in your work."
"It's really exciting to see everything come together. It has been all hands on deck for everyone, with everyone doing everything depending on their skills," says student Madeeha Maham.
Huge preparations
It goes without saying that the exhibition is a culmination of dedication, planning, and more planning!
"We've been really busy preparing for this exhibition. The aim was to present our work in a way that was coherent and consistent and that best represented not only our studio, but the School itself. Everything was planned in advance – right down to the size of the panels in the wall displays," says student Aman Sawndh.
Showcasing skills
Students were also positive about the employability opportunities as they were expecting the potential employers to visit the event.
"We know that potential employers come to these exhibitions to scout talent," says Aman.
"That's why the way you demonstrate and present your skills is so important. You need to showcase your skills and show what you're capable of."
A fantastic experience
"It's been exhausting, but it's worth it when you have your friends and family come in to see you work. It has been enjoyable working together as a team. We all know each other really well. It's been a fantastic experience," says Tyren Webb.
The opening night was attended by the South London Society of Architects (SLSA), a regional branch of the Royal Institute of British Architects (RIBA). Angela Brady of Brady Mallaieu Architects, former RIBA president David Gloster and Professor David Porter from the Central Academy of Fine Art also attended.
The five winners of the awards for Design Excellence were:
Year One: Edward Hancock (Light Scoop)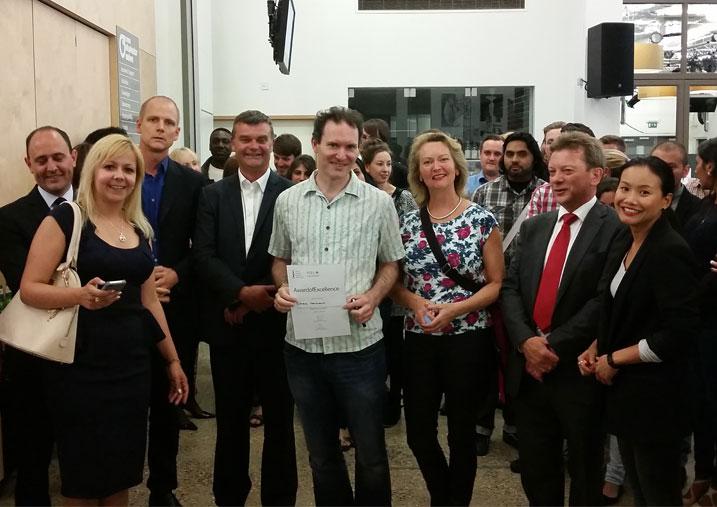 Year Two: Ng Yung Man Benjan (Future Cinema, Kings Cross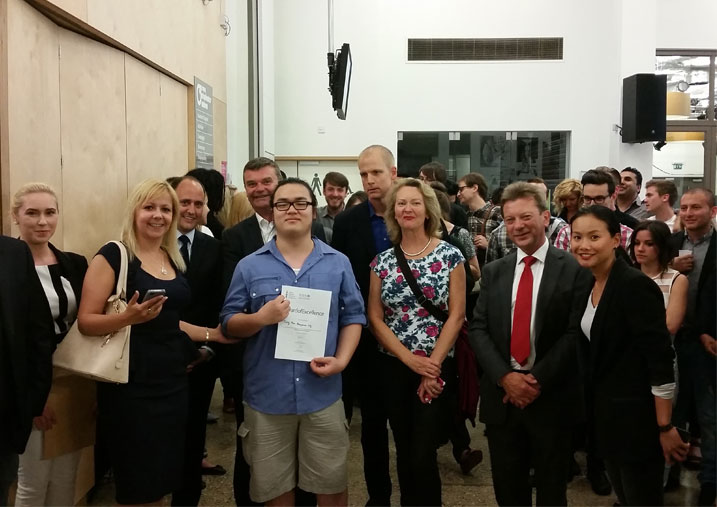 Year Three: Tanya Vshnyakova (New Coronet)
Year Four: Bethany Alexandra Brown (Marseille Project)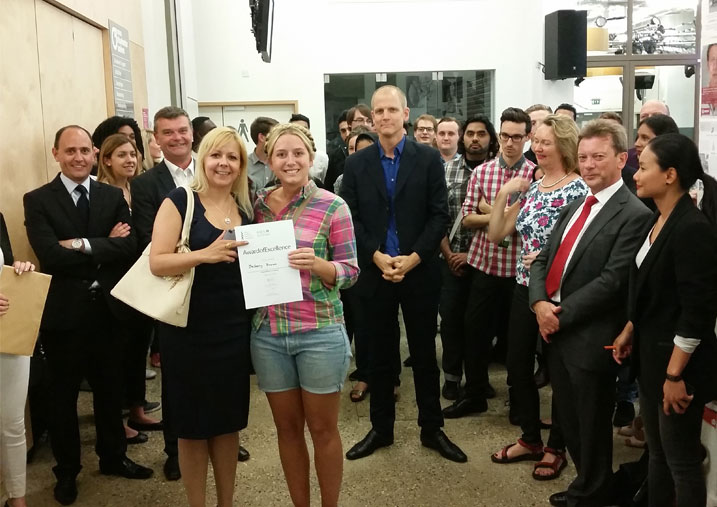 Year Five: Sherelle Mattan