Occupational Therapy Integrated Degree Apprenticeship - BSc (Hons)
Overview
Occupational therapy is a unique career where you can enable people to improve their health and wellbeing and enjoy higher quality of life through preventing and overcoming barriers to participation in the everyday activities they value. This rewarding profession will teach to you to support your clients in gaining back their independence. The Apprenticeship programme will provide you with an understanding of the science and artistry of occupational therapy. Develop the unique skillset needed to be a successful occupational therapist, including leading activity-based therapy, rehabilitation, communication skills and more. Plus, gain experience and expertise on a variety of practice placements outside the university and in our specialist Occupational Therapy Labs and their simulated living spaces and artistic intervention tools.
Why study Occupational Therapy at LSBU?
Ranked 1st amongst London competitors for Graduate Prospects and Overall Score in Occupational Therapy (Complete University Guide 2023).

Our Occupational therapy course is delivered through a hybrid learning approach, using a wide variety of teaching and assessment methods to tailor for diverse learning needs.

Professional accreditation: we're accredited by the Royal College of Occupational Therapists

Professional links: this course can enable you to become a registered occupational therapist, approved by the Health and Care Professions Council.

Work placements across a variety of clinical settings, such as NHS acute Trusts, community placements and the independent sector.

LSBU Health and Social Care graduates are the second highest paid amongst all London Modern university graduates, and the sixth highest in the UK one year after graduating (DfE LEO data 2022).
Student Story
"The tutors are very kind, and I received a lot of support from my personal tutor and Disability and Dyslexia Service. The range of experience both at university and on the placements has been valuable and I have learnt so much about myself."
Mode

Duration

Start date

Application code

Application method

Mode

Part-time

Duration

4 years

Start date

September

Application code

5810

Application method

Direct to LSBU
Location
London South Bank University student union is located at 103 Borough Rd, London SE1 0AA.
If you are visiting our Southwark Campus, you may wish to use our downloadable campus map (PNG File 466 KB). For information on accessibility, see our DisabledGo access guides.
Walk or bicycle
The University is in easy walking distance of underground and leading overground stations. We are only 20 minutes away from the Thames. We encourage walking and cycling and have bicycle racks on campus. Please check the Transport for London cycling website for London cycling maps and route planners.
By bus
LSBU is very well connected, and a large number of buses travel to and connect in the Elephant and Castle area from across London.
By train or tube
The Bakerloo and Northern lines stop at Elephant & Castle underground station, which is right next to campus. The closest rail stations are Elephant & Castle, London Waterloo and London Bridge. To plan your train journey, visit the National Rail website.
By car
London South Bank University does not provide public parking space. There is a limited amount of parking in the area, so we strongly advise using public transport.
Do consider the Congestion Charge if you are driving through London to reach the campus. Find out if you'll be crossing the Congestion Charge zone to reach our Southwark Campus.
TfL journey planner
You can travel to Southwark Campus by using public transport, plan your journey using the Transport for London journey planner.
112 UCAS tariff points (e.g. 3 A Levels at grades BBC) or;
BTEC Level 3 extended diploma (before 2010 known as BTEC national diploma level 3) DMM in a health-related subject or;
Foundation degree/diploma (or similar), 120 credits or;
International Baccalaureate (26 points) or;
NVQ Level 3 plus one year relevant work experience or;
Access to Higher Education course in Science, Health, Social Care or similar (60 credits, of which 45 credits will be at Level 3 including minimum 15 at distinction grade and 30 at merit grade).
Plus English and Maths GCSE (grade A–C or 4-9) or equivalent.
Course status
Home/EU applicants
Mode
Duration
Start date
Application code
Application method

Mode

Part-time

Duration

4 years

Start date

September

Application code

5810

Application method

Direct to LSBU
An Apprenticeship Standard is comprised of a programme of study, an End Point Assessment and on-the-job learning. This means that in addition to meeting academic requirements, you'll need to be employed in a role related to your apprenticeship. The process of applying depends on whether you have an employer to sponsor (and support) you.
If you are employed and your employer has confirmed they will support your apprenticeship:
You are welcome to submit an application via our application system. You'll need to provide details of your employment/employer as part of the application. You'll also need to ensure you and your employer meet the requirements – find out who can be an apprentice to see if you meet the entry requirements and employer commitments to find out more about your employer's role.
If you are not employed:
You will need to find a job role related to the apprenticeship you wish to apply for, with an employer who is happy to support you. If you would like to find an employer to support your apprenticeship with LSBU, you can search which employers are currently advertising Apprenticeships via the National Apprenticeship Service website searching for 'London South Bank University' as keywords.
If there are no search results, this means there are currently no vacancies. We update our vacancies regularly, so please do check back regularly.
Many employers advertise their apprenticeship vacancies on their websites or via other portals. You could search for 'find an apprenticeship' online.
When you're ready to apply, see the government's advice on how to write a winning apprenticeship application and make your application.
Further information for apprentices
If you're a prospective apprentice, you can find out more about who can be an apprentice on our student pages.
Further information for employers
If you're an employer, you can find information about the employer commitments and further related information on the related pages for business.
See our admissions policy 1.0 MB and complaints policy 516.0 KB.
Prepare to start
There are steps the apprentices, the employer and the University need to complete before you start your course. Take a look at the steps to be completed in the Enrolment section. Employers may also like to look at our steps to offering an apprenticeship.
The Occupational therapy programmes at LSBU aim to provide an education centred on the meaning and performance of occupations in life. Occupational therapy as a profession is concerned with key concepts such as occupational performance, occupational identity and how the environment and cultural factors together influence effective participation in unique and individual lives; from childhood through to older age and including end of life. The course begins with modules that introduce the concepts and theory of occupation and occupational therapy practice. Case studies are used to show the diversity and range of people and conditions that an occupational therapist can work with. Relevant anatomy, physiology and psychology are covered. Apprentices get opportunities to apply the theory taught at university to practical placements that occur each academic year. Apprentices will develop their professional identity as the course progresses.
Level 4 modules
TOT-4-010 Exploring Occupation. 20 credits.
An introduction to the theory of occupation and activity analysis.
TOT-4-011 Occupational Therapy Practice 1. 40 credits.
This module includes the theory of the Occupational Therapy Process and the first practice 6-week placement.
TOT-4-012 Occupational Performance Analysis and Human Function. 20 credits.
This module includes anatomy, physiology, and normal movement patterns.
TOT-4-013 Introduction to Occupation Focused Practice. 20 credits.
This module builds on the previous studies and includes the use of frames of reference and models.
IPL-1. Concepts of Interprofessional and Collaborative Practice. 20 credits.
This is an interprofessional module studied with other allied health care students.

Level 5 modules

TOT-5-010 Occupational Therapy Practice 2.40 credits.
This module builds on TOT-4-011 and includes the second practice 7-week placement.
TOT-5-011 Delivering Occupation Focused Practice.20 credits.
This module builds on TOT-4-013 and develops the concepts further.
TOT-5-012 Occupational Therapy Practice 3.40 credits.
This module builds on TOT-5-010 and includes the third practice 10-week placement.
IPL-2. Research and Evidence-Based Practice. 20 credits.
This is an interprofessional module studied with other allied health care students.

Level 6 modules

TOT-6-010 Professional Identity, Autonomy and Accountability. 40 credits.
This module has a focus on accountability, professional behaviours and continual professional development.
TOT-6-011 Research and Evidence-Based Practice. 20 credits.
This module builds on IPL-2.
TOT-6-012 Occupational Therapy Practice 4. 40 credits.
This module builds on TOT-5-012 and includes the fourth and final practice 10-week placement.
IPL-3. Leadership and Service Innovation in Occupational Therapy. 20 credits.
This is an interprofessional module studied with other allied health care students.
Facilities
Occupational Therapy Laboratories
We have three Occupational Therapy Laboratories, including an Art and Music skills laboratory, Splinting laboratory and Assisted Daily Living (ADL) laboratory. You will carry out a range of activities to practice your skills including using art, music and role play as intervention. You will practice making hand splints using thermoplastic materials as well as anatomy practicals using anatomy models. The simulated kitchen, bathrooms and bedroom spaces are used to practice patient transfers, wheel chair manoeuvering and planning activities for intervention using activities from daily life. You also practice using a wide range of standardised assessment tools such as: assistive devices for dressing, kitchen work and mobility.
The laboratories enable you to practice problem identification, intervention planning, implementation, communication skills, risk assessments, problem solving skills and group work skills; all to learn how best to work with the patient.
Careers
Employability Service
At LSBU, we want to set you up for a successful career. During your studies – and for two years after you graduate – you'll have access to our Employability Service, which includes:
An online board where you can see a wide range of placements: part-time, full-time or voluntary. You can also drop in to see our Job Shop advisers, who are always available to help you take the next step in your search.
Our Careers Gym offering group workshops on CVs, interview techniques and finding work experience, as well as regular presentations from employers across a range of sectors.
Our Student Enterprise team can also help you start your own business and develop valuable entrepreneurial skills.
Once you graduate you'll be eligible to eligible to apply for registration as an occupational therapist with the Health and Care Professions Council (HCPC). This allows you to practice within the NHS, community services and local authorities, as well as the private sector. Thanks to this course, you'll be equipped with the skills you need to work as an occupational therapist with both adults and children who have complex health and social needs. The Royal College of Occupational Therapists have a website Choose OT which explains if this career is right for you and the possible routes your career could take.
There are a range of further study option at postgraduate level. You can find out more about courses in our online CPPD prospectus.
Completion of this course entitles you to become a registered occupational therapist, approved by the Health and Care Professions Council.
---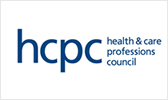 The Health and Care Professions Council is the regulator of health, Psychological and Social professionals.
---
The Royal College of Occupational Therapists is the professional association for staff in Occupational Therapy.
---
Teaching and Assessment
The course is taught in the form of lectures, seminars, tutorials and practical sessions.
There are a range of assessments including essays, examinations and presentations. The placements are also assessed by the practice educator at the placement site.
Every apprentice is provided with a professional and personal tutor (called a Skills Coach) who supports the apprentice throughout the course.
Apprentices must demonstrate competence in all skills, knowledge and behaviours as defined by the Institute of Apprenticeships, Apprenticeship Standards, Occupational Therapist (Integrated Degree) (2018). In order successfully to complete the award, apprentices must also evidence a minimum 20% of their time in 'off the job training' activities. These can be achieved by attending lectures, seminars/workshops, tutorials, skills lab sessions, e-learning, blended learning and self-managed learning."